The world was not prepared for the physical separation that the global pandemic necessitated. With every aspect of life as we know it changing, the adjustment has been an uphill battle for most of the world's population. One of the areas that have been affected by the pandemic is learning. Students have been pushed into remote learning, which had parents and students ready for a return to normalcy – but not all. Even as the slow return to 'normalcy,' remote learning has opened up possibilities that have enticed a percentage of students who now prefer remote learning to traditional classroom settings.
With some students thriving in the remote setting, schools should now consider evolving their learning to incorporate remote learning capabilities for these students. However, even as this happens, a more pressing discovery has taken place during the pandemic. When students were displaced from the classroom setting, many had to convert corners in their homes into study areas. One of the things that were quickly apparent is the need for ideal study equipment to boost productivity.
As the future of remote learning begins to take shape, it is important to incorporate learning materials into this evolution. Ergonomic equipment has dominated the work environment since it came to be. With medical experts discussing the risks of sedentarism, many office and remote workers have switched their work furniture for ergonomic options. This needs to be applied to students as well.

Ergonomics for students
The old flip-desk at your school or lecture hall is among the most uncomfortable pieces of furniture ever made. Truth is, these pieces of furniture were not built for the modern school environment. With the advent of computers for students, these desks are looking more and more unfriendly. Ergonomic workspaces for students are important; they are pivotal to the productivity of students.
One of the reasons why the traditional desk and chair don't cut it anymore is the strain they cause to the body. With the right equipment for their workstation, students can avoid musculoskeletal complications. According to experts, training your posture early is beneficial in the long term. Though students might not feel the effects of using the wrong furniture in their studies, the effects are bound to show up in the near future.
Some other problems that students can avoid with ergonomic workstations include:
Eye strain – this is due to the unfavorable placement of your computer monitor or laptop. Leaning forward to use your laptop is detrimental to your eyesight.
Neck and back pain – The traditional chair doesn't have sufficient neck and back support. It is also very difficult to find a comfortable position. Therefore, you'll end up sprawled more often than not. You can avoid this with an ergonomic chair.
Wrist-hand affliction – Your keyboard should always be elbow level from you. This ensures that you don't strain your wrists when trying. It is also important to use the right mouse.
Fatigue – Ergonomic workstations have proved effective in helping people work for long periods without exhaustion. Shifting back and forth from sitting to standing helps your body muscles stretch and move providing relief from the previous posture.
At home ergonomic solutions
Before you gather enough money to purchase the right ergonomic gear for your space, you can use some makeshift solutions to tide you in the meantime:
Use a pillow on your seat to provide cushioning and elevate your height. You can also use a pillow for back support before you get the right chair.
When using a laptop, place a pillow under it to elevate it to your eye level.
For wrist support, use an external keyboard with your screen or laptop elevated.

The ideal workstation
Creating a mentally and physically fitting study space for students is critical for academic performance. It also helps students save time and be more productive within the time they are studying. Therefore, choosing the correct equipment for your study setup is crucial. In addition to this, it also helps with your health.
Studies have suggested that sitting for lengthened periods is even worse for your body than smoking. A sedentary lifestyle has been found to kill more people than even HIV. With technology gluing most people to their gadgets, a whole generation of college students is at risk from sedentarism. Add this to online learning where they don't need to leave the comfort of their homes, and you have a compounded problem.
As the modern worker adopts standing desks, accessories, and chairs that promote their health and productivity, students should fall in the same line. The solution for this is to set up an ergonomically correct study area at home or dorm room to facilitate your learning.
Even with comfort as a key consideration, you should examine many other factors as you set up your study area. These include:
The distance of the computer screen or laptop from you
The height of your screen from your eye level
The lighting in the room or study area
Back and neck support with your chair. This should also include a cushioned seat and height adjustment settings.
Correct keyboard and mouse positioning for wrist support
The features of the ergonomic equipment – consider height adjustment for tables, size, load capacity.
Where technology fits in ergonomics
With the adoption of ergonomics by workers and students, the industry has evolved to incorporate technology into these pieces of furniture. Ergonomic designs now include tech aspects into their standing desks and chairs to make them better for the users. 
As the world settles into the new normal, ergonomic spaces are increasingly important. Most people have accepted by now that the 'new normal' of remote working and learning is here to stay. Technologically inclined study equipment has proved more effective with students, especially Gen Z'ers. With the most common ergonomic gear being standing desks, let's look at some of the best standing desks available for students.
Top 5 innovative desks for the next normal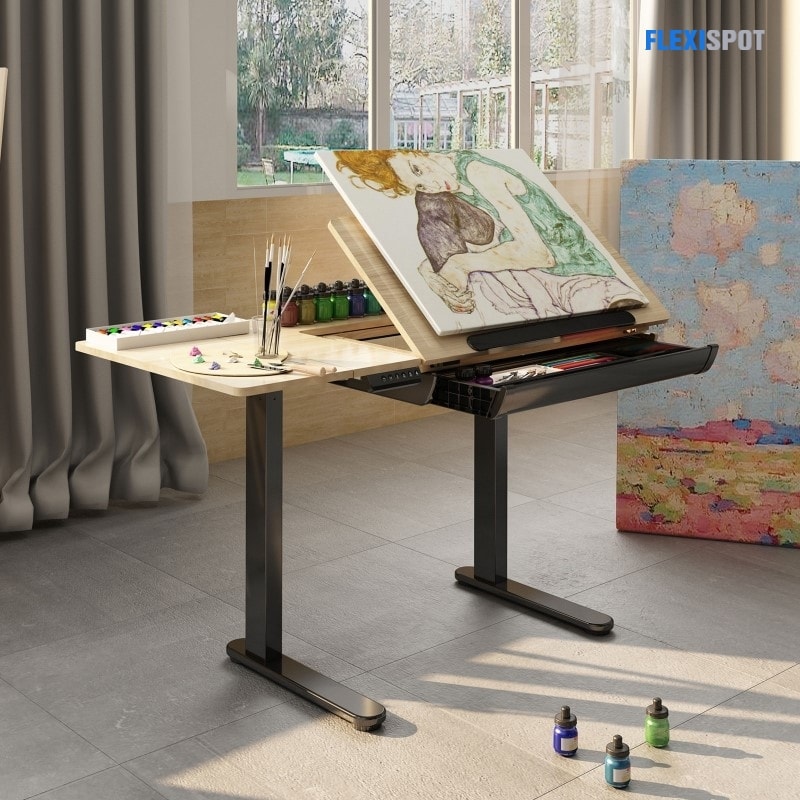 Flexispot ED1B height adjustable drafting table
A drafting table and standing desk in one. The Flexispot ED1B height adjustable desk is a perfect addition to a student's study corner. The standing desk allows you to switch between sitting and standing as you read, draw or write. The electric standing desk is uniquely designed with a tiltable tabletop that allows you to work on large-scale drafting and painting projects comfortably. The tabletop tilts 0-40 degrees and features a safety ledge stopper to hold your study materials in place. It is also an expandable desktop to accommodate more study materials with a foldable drop leaf design.
UPLIFT V2 standing desk
The UPLIFT V2 model is an electric standing desk that is a great investment. Being the upgraded version of the V2 regular standing desk, the new version is fitted with improved features to better the UPLIFT experience. It is fitted with 35% thicker legs and a stability crossbar. The height adjustments take place in three stages and can accommodate 95% of people in terms of height differences. This desk model is ideal for a modern study space that requires a durable and effective ergonomic standing desk.
Sabine electric standing desk
After you're done appreciating the sleek desk surface of this desk, you can then delve into the impressive features of the Sabine standing desk. The assembly time for this desk is less than 10 minutes, and you get extra storage for your stationery. You get a sturdy desk that doesn't wobble even at the highest height setting. You also get a built-in USB port for charging and a cable management system to keep your study area organized. The desk can rise to 48 inches, and the controller is programmable.
SHW electric computer desk
Another electric adjustable computer desk that adjusts up to 45 inches. The desk is also fitted with a digital display that has memory settings for your preferred height settings. This is ideal, so you don't have to spend time looking for the ideal height setting when you are working on a project. In all honesty, the SHW electric is an affordable option, especially for students who don't have much to spend on a standing desk. You can fit three monitors on this desk, and the desk is stable even at the highest height setting. The oak finishes are not too bad to look at either.
Storkstand portable standing desk
This is by far the cheapest standing desk on this list. What it lacks in technology, it makes up for in portability and affordability. While this might not deliver the tech benefits that students are looking for, it will not dent your pocket. This is a foldable desk that attaches to the back of your chair. It is sufficient for a laptop or one monitor. The best thing about this desk is that you can fit it into a larger laptop bag and take it with you anywhere. This is perfect for students who live in dorms that don't have a lot of spare space.
To wrap up
The Covid-19 pandemic has reminded the world of the value of health. It is important to put your health and comfort first, even as you try to catch up on schoolwork and beat deadlines. With the evolution of ergonomic gear, there are many available solutions for students to consider. Ensure to set up your ergonomic equipment correctly to get the best results.