Standing desks have taken over the office space, and it's easy to see why. They allow workers that want more physical activity in their day a healthy way of working while also strengthening core muscles, improving circulation and blood flow for increased energy levels during work hours. Prolonged sitting has been scientifically proven to cause many health conditions such as neck aches or back pains, among other problems like heart disease and diabetes, which makes standing desks so important!
Even when you sit "properly" for long hours or exercise, excessive sitting is still detrimental to your health. A solution to this problem has been found in the height-adjustable standing desk, which allows you to seamlessly transition between sitting and standing while working. In the early days of the standing desk revolution, there wasn't a wide range of L-shaped standing desk options available in the market. This was an issue until just recently when L-shaped desks became available from a wide range of retailers and sites across the web. As such, you can be sure to find an ideal L-shaped electric height adjustable standing desk that suits your exact needs, including a budget, space requirements, desktop arrangement, and existing office décor. With all these great options in L-shaped models available now, it's never been easier or cheaper to switch from traditional desk formats without sacrificing other points on your list like price point or design aesthetic. An L-Shaped electric height adjustable standing desk, also referred to as a corner standing desk, is essentially a combination of two workstations linked to form an L-shape. These desks are a beneficial addition to your workspace, providing plenty of benefits, including allowing seamless height adjustments, saving office space by making the most of unused space, and providing a significant working surface. 
Get all the benefits of a standing desk without sacrificing your L-shaped workspace! FlexiSpot's adjustable height electric standing desks are perfect for working in any office and can fit almost anywhere. Their versatility is unmatched by competitors, giving you an easy way to optimize your workspace environment. FlexiSpot has designed its stand-up/sit-down desks with so many handy features that it will be hard not to fall in love at first sight. 
Read on to find out why you might require this L-shaped standing desk. 

Criteria for Selecting an L-Shaped Desk 
L-shaped standing desks offer plenty of benefits compared to their rectangular counterparts. From providing a more extensive working area to ensuring free movements for the ultimate working comfort and greater flexibility and versatility, L-shaped desks certainly stand out among the different office desks. 
When choosing your ideal L-shaped desk, there are several factors you ought to consider to find one that suits you and your office space. Some of the factors to consider when selecting a standing desk include: 
One of the most critical factors you'll want to consider is your primary hand. Are you left-handed or right-handed? If you're a leftie, a left-standing desk will suit you. On the contrary, if you're right-handed, purchase a right corner L-desk. 
Construction quality. When choosing a standing desk, put more emphasis on its build quality. Premium constructions offer you great value for your money since excellent build guarantees durability. 
Choice of material and color of the desk in regards to aesthetics. L-shaped desks come in a variety of materials, including premium quality wood, veneer, and laminate. For the color, consider shades that boost overall motivation, morale, and productivity. You'll also want to go for a color that matches your office décor. 
Office layout plays a significant role in selecting an L-shaped desk. The good thing with an L-shaped standing desk is that it makes ample use of compact space, therefore, is compatible with a wide spectrum of office spaces. However, you'll want to determine the size of your office space as well as its organization to choose the best standing desk. 
Customization options. L-shaped standing desks support tons of customization options. Find out the supported customization options before settling to buy your selected desk. 
Storage. L-shaped standing desks come with either one-side storage or dual storage. Depending on your storage needs, you can opt for one with a pullout shelf just below the desktop or a row of storage drawers on both sides.  

The L-Shaped Electric Height Adjustable Standing Desk Overview 
The L-Shaped Electric Height Adjustable Standing Desk is an excellent option if you're considering a corner desk to upgrade your workspace. This L-shaped standing desk is designed to effortlessly fit into the corner of an office or home workspace and comes in both the L-right and L-left variants. The desk can fit in narrow corner spaces and still offers plenty of desktop space for maximum productivity.
The double steel tubing on the entire frame ensures maximum stability even at the highest height setting, so you never have to worry about it wobbling or breaking while in use. Better still, its powder-coated finish helps make your new workstation last longer than ever by resisting scratches, water, stains, and other unsightly marks that can accumulate over time with standard wood desks.
Dealing with the demands of a sometimes strenuous office job can be taxing. Fortunately, this innovative desk is designed to keep you comfortable throughout your day! Constructed from thick and durable material, it also features an ultra-quiet motor for easy adjustments in seconds; we're talking less noise than ever before. This state-of-the-art design includes three programmable presets that let you save your preferred seated, standing, and underdesk cycling heights so that getting back into work mode after taking breaks doesn't require any hassle whatsoever!
What's more, you can quickly view your exact height on the energy-efficient LED display, plus set up the convenient activity alerts to remind you of the right time to stand or sit at regular intervals. 
The L-Shaped Electric Height Adjustable Standing Desk is indeed designed to be entirely versatile and customizable. You can use it with other products or accessories to achieve a truly personalized, healthy, and productive workspace. The desktop space offered by this desk truly sets it apart from other corner desks. With a desktop size measuring 63"by 43.3" by 23.6" by 23.4", this desk offers plenty of desktop space allowing for more monitors and other accessories and equipment for maximum productivity. 

Design and Aesthetics   
The L-Shaped Electric Height Adjustable Standing features an elegant, L-shaped design and comes in both L-right and L-left variants. The desk is designed with sturdiness and stability in mind coming with double steel tubing ensuring unmatched stability even at the highest point. The tubular steel frame is strong enough to support heavy desktop equipment up to 275 lbs. - more than enough to support a wide spectrum of workspace setups. The base is also wide enough to distribute the weight and enhance overall stability. 
The L-desk features a high-end 1" thick desktop constructed from eco-friendly chipboard, which is amazingly smooth and built to last. Better still, the desktop also features rounded corners and edges to prevent wrist strain witnessed over long working hours. The premium woody finish on the desktop means that the desk can effortlessly combine with office furniture and the décor. 
Size 
The L-Shaped Electric Height Adjustable Standing desk offers plenty of space to accommodate your entire desk setup. The desktop measures 47.2" -78.7"(W) x 21.6"-31.5"(D) (35.4"-43.3" for longer side) - spacious enough to accommodate your entire desktop setup. The desk's height is adjustable from 23.62" – 48.43" with the base measuring 26.77" on the shorter side and 35.43" on the longer side. The desk is pretty spacious with such measurements and supports greater height and length adjustability, allowing for greater space compatibility.  
Comfort 
The L-Shaped Electric Height Adjustable Standing Desk is designed to be ergonomically comfortable for you. The desk's edges are rounded, and the surfaces are made with smooth corners to reduce strain on your wrists from long periods of working. The desk's wide surface ensures that there will never be an awkward bend in your back when using it. In addition, the frame is powder-coated and has rounded edges to prevent potential injuries that could result from sharp edges. Overall, the desk is ergonomically designed, ensuring a comfortable working experience. 

Extra Features and Tech 
The L-Shaped Electric Height Adjustable Standing is the ultimate desk for those who want a wholesome, active work experience. It's designed with features that will satisfy any professional or fitness enthusiast looking for an efficient and convenient workspace. The height-adjustable design allows you to save your preferred seated position, so it will be easier than ever before when switching between sitting and standing postures while working on essential tasks or exercises like cycling underdesk! The display cuts down on the overall energy by switching to sleep mode when the desk is stationary.
The L-Shaped Electric Height Adjustable Standing also comes with a sit-stand reminder to alert you to stand or sit at regular intervals as per your specifications. However, you have the option of turning off the alert if you find it completely unnecessary.  
Quality Material 
The L-shaped electric desk has an unmatched, durable construction with quality guaranteed by the double steel frame, which can support any weight from 275 lbs upwards without wobbly heights or loose joints! The broad base coupled with the industrial-grade double-steel frame ensures that wobble is kept to a minimum, guaranteeing top safety for your equipment. The desk features a 1" thick, eco-friendly medium density chipboard that is easy to clean. It's made from combining natural wood with recyclable products and covered in PVC laminate for durability and water resistance.

Adjustability 
The L-Shaped Electric Height Adjustable Standing Desk allows for both horizontal and height adjustability. The desk supports 43.3"-70.8" horizontal adjustments, allowing for customization based on the size of the room as well as one's specific needs. Its height-adjustable frame facilitates smooth and comfortable height adjustments ranging from 23.6" to 48.4" at just the push of a button. 
The conveniently placed 7-button digital display panel allows users to seamlessly raise or lower the desk to their preferred height. By supporting both length and height customization options, the L-Shaped Electric Height Adjustable Standing Desk is compatible with a wide range of spaces as well as users whose height ranges from 5'2" ~ 6'6". Overall, the desk is smooth, easily adjustable (both length and height), and makes no annoying noise during the adjustments. 
Customization 
The frame is available in black or white. At the same time, you can choose between a brownish arboreal color or even opt for a sleek and modern black finish on your desktop, allowing it to seamlessly blend into the interiors of modern spaces while still retaining high levels of functionality needed by business professionals today. This fantastic desk comes with an option of either L-left or right variants so that it's easy to optimize the workspace as required.
In addition to these customization options, the L-Shaped Electric Height Adjustable Standing Desk is compatible with several standing desk accessories such as a dual monitor arm, cable spine, cable management kit organizer set, ergonomic office chairs, under desk drawers, and more. 
Cost/Budget/Price Point     
The FlexiSpot strives to make life easier by providing durable, customizable desks that don't break your bank and keep you healthy at the same time! The L-Shaped Electric Height Adjustable Standing Desks retail for $599.99 on FlexiSpot's website. Using the coupon code "FLEXI100" saves you $100 when buying this desk. With several handy features and adjustable heights with an ergonomic design, this corner workstation should be on anyone's list who wants prolonged health in their current or future office space.

Cost to Benefit Analysis 
The L-Shaped Electric Height Adjustable Standing Desk is highly customizable and versatile, providing plenty of benefits. The sleek, minimalist design means that the desk can fit in compact spaces such as a bedroom home office, allowing you to remain healthy and productive. The desk is reasonably priced and offers plenty of desktop space to accommodate your entire office setup. However, amidst its excellent benefits, the L-Shaped Electric Height Adjustable Standing Desk has some shortcomings which drag its overall standing. Take a look at some of the pros and cons of the desk. 
Pros 
Offers plenty of workspace for maximum productivity 
The double-tubing design with a broad base makes the desk super stable and sturdy 
The motor system is pretty stout, allowing for smooth, quick, and quiet height adjustments ensuring minimal destructions.  
Allows for numerous customization options to achieve a truly personalized workspace 
By supporting length adjustments, the desk can effortlessly fit in a wide range of corner configurations.
Experience exceptional durability thanks to the outstanding build quality 
Compatible with users of a wide height spectrum 
Features a waterproof and anti-scratch height programmable control panel with four memory buttons to save four sitting and standing heights. This allows you to alternate between sitting and standing with just a press of a button. 
It's a budget-friendly option and offers great value for money  
It comes in both L-right and L-left variants to fit the diversity in dominant hands. 
Cons 
Assembling the desk can be a little challenging and might require two people. 
The color range on this particular model is a bit limited but versatile enough to work into most office decor.
Lacks anti-collision technology found on higher-end Flexispot adjustable desks.
Verdict
The FlexiSpot L-Shaped Electric Height Adjustable Standing Desk features a sleek and modern design that is not only functional but also appeals to the eye. It can be adjusted in height with ease for any office worker's needs; whether you're looking for something for your cubicle or just want an ergonomic upgrade, this desk has it all!
The L-Shaped Electric Height Adjustable Standing Desk is a fantastic option for busy professionals who want to work on their health and maximize productivity while they're at home or in the office. This desk provides people with more space, allowing them to be active throughout the day by standing up instead of sitting down, leading to back issues that may affect your overall well-being.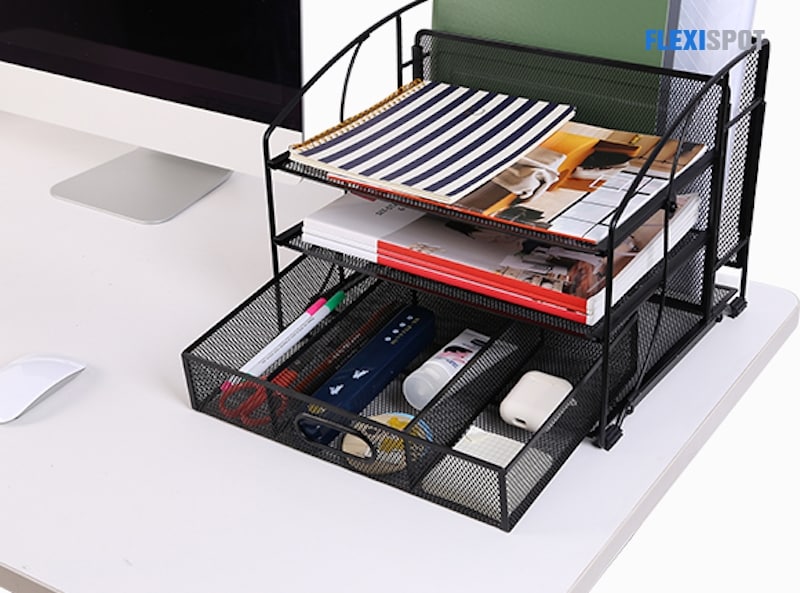 The L-Shaped Electric Height Adjustable Standing Desk is a fantastic option if you're considering a corner desk to enhance your workspace to help safeguard your health and stay productive while working from home or at the office. Some of the products you can purchase together with the desk include Mesh Desk Organizer DO01,  Under Desk Drawer S01,  Ergonomic Office Chair OC7,  Cable Management Kit Organizer Set CMP013,  Cable Spine CMP017,   Dual Monitor Mount D5D/F8LD, and  Mobile File Cabinet 027. These products will enable you to achieve a truly personalized workspace for maximum productivity while still staying healthy.