With a snap of a finger, you can access anything and everything online. Maybe you want to play games or read what's happening around the world. Maybe you want to watch viral videos from another country or listen to podcasts or new songs on streaming platforms. You will find everything under the sun, whether you need something to lift your mood up or you want to watch films to stimulate your mind visually. Vlogs personally spark my interest and I find them very entertaining to watch.
So what is vlogging? It is a form of blogging through the use of videos or uploading content on the World Wide Web in video format. A person, pair, or group explores a subject and talks about it in a vlog. Vlogs can reach international audiences, resulting in cultural immersion and the building of a global community. Topics vary from one vlog channel to another. Creators make tutorials on their expertise, share travel videos, narrate life stories, animate figures, visit abandoned places, and give a glimpse of their creative processes. There are creatives and gamers who also do live streaming via social media sites such as Facebook or Instagram and upload it to their video channels like YouTube or Vimeo.

The Early Days of Vlogging
Believe it or not, vlogging started way back in the 1980s. Its early days were traced in none other than the Big Apple, New York City. Artist Nelson Sullivan recorded something in a vlog format which he shot around South Carolina and New York. It did not gain footing at that time but this kind of content creation stayed and got its momentum from the year 2000 to the present. It is known that creator Adam Kontras made a series of videos for his blog, recording his highs and lows of pursuing a show business career.
He was moving across the country to Los Angeles, California, and the vlog was his way of updating family and friends. It is the longest video blog in history.
In the same year, another creator, Adrian Miles would create a video in the said format but added the same text on a still image. He is the man responsible for coining the term vlog to refer to his video blogs. There was also a Luuk Bowman that came afterward who captured attention through his aesthetic videos of his travels post-graduation. He was a filmmaker and musician at that time.

YouTube and Vlogging
YouTube was founded in February 2005, where the real era of vlogging began. The platform was founded by three PayPal employees who did not have the money and machinery for an elaborate office. They took office above a small restaurant in California. Jawid Karim, a co-founder of YouTube, led by example and posted not only his personal first but also YouTube's first-ever video which featured Karim's adventure day with the San Diego Zoo elephants.
This paved the way for future vloggers. It was only a few months after that YouTube would be named as the fifth most popular internet site. It boasted of 100 million daily views and 65,000 new uploads. The momentum was there and later that very year, Google would buy the company for a whopping 1.65 billion dollars. As of the moment, YouTube is currently valued at between $140- 300 billion dollars.

Fame and Fortune in Vlogging
If you want to become famous, then dapping into vlogging may help build a name for you. There are many social media celebrities who have done just that, and successfully so. Video blogs were soon monetized and according to reports, the highest annual revenue earned by a vlogger is 26 million dollars. Because of the fortune, you can make through vlogging, a lot of people wanted to join in the fun.
It's not all butterflies and rainbows though. Like any other thing in life, it takes years to build a following and garner millions of views across the world, views that are needed to make money for a vlogger's channel.
Creating a channel and uploading vlogs has its perks and benefits. You can keep your memories intact on the internet which serves as your journal. You can update your friends and family with entertainment and educational content.
Five or ten years later, your children would have been all grown up. They could go to your channel and see how life was back then when they were little and knew nothing much why a camera was a regular sight at home. Your whole family can binge and relive all your travel and bonding moments together.
If you want to exercise your creative juices, creating a vlog will help you practice and hone your skills. First, determine what story you want to tell. Make a script, shoot it and go back to your editing cave. You need to compile all the videos, and sound effects, and make it as cinematic as it could be.
You will be able to connect with humans from all over the world through your vlog. You will be so happy to have built trust in your audience that they take your word for recommendations of places to visit or food to eat. You can also create tutorials or show a process on how to bake cookies for example. Sharing all these in your vlog would highlight your area of expertise. It will build a name for yourself and your personal brand will be clear to others, friends, and most especially, potential bosses.

Start Vlogging
You're reading this and we know you've already decided whether or not vlogging is actually good for you to delve into. You might even have hurt your wallet for not having anything when the bill arrives. So now, you are looking for ways on where to get extra money to pay for your bills and be able to do the things you want to do in life. So how do you get started?
First things first, decide what your niche is. What is the topic you like to explore and vlog about? Or will your vlog channel be sort of a diary for you? You can watch other creators in this niche so you have an idea of their style and what works for them. You may see them as inspiration for your own ideas to make your vlogs unique and your own.
Secondly, decide what equipment you will be using. When you're just starting out, you don't need to use expensive equipment. As your channel grows and profits rake in, you will be able to upgrade and invest in better quality equipment.
Make your videos as interesting as possible so that people will get hooked on your channel. You could use your phone camera and still make your channel grow if you manage to create interesting content. Afterward, edit the video and optimize it, share it on your socials, and hope that it will reach as many people as possible for views and subscribers.
When vlogging at home, it's a brilliant idea to use a stable desk where you could put your tripod and your camera on top. You will not run out of great, high-tech, and durable desks from FlexiSpot.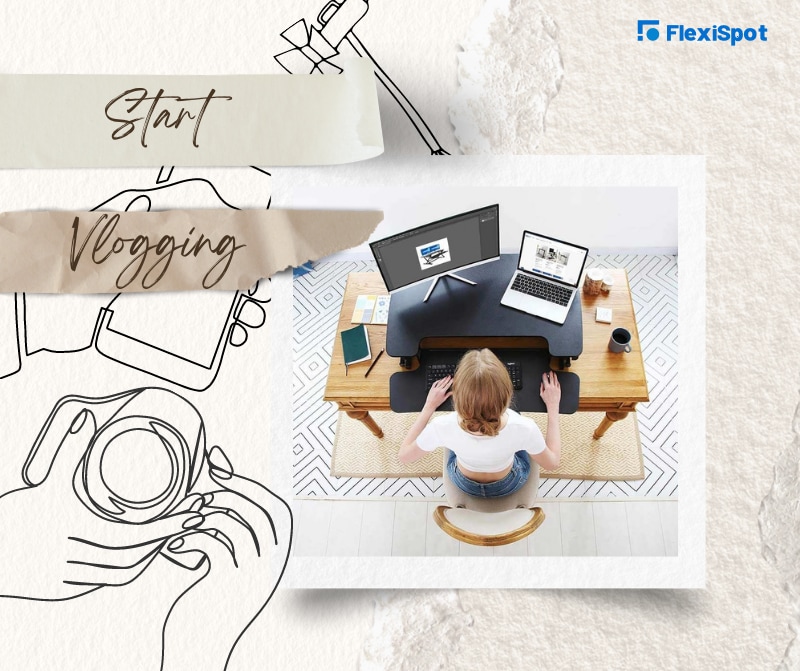 FlexiSpot Standing Desk Converters could also add height to your short-legged tripod. My personal favorite is the EdgeRiser Standing Desk Converters M8MB - 35" because it's very spacious and you can fit your camera, laptop, and phone on the desktop. It also has a very intuitive height adjustment keypad so you can record at a perfect angle.