You started 2020 with a fresh list of New Year resolutions to tick off the whole year. A few months in, you give up crossing any of the resolutions, and not because you run out of motivation to do so. COVID-19 has put the whole world into a halt and you don't even know when the gym is going to be open again. 
Suddenly, it was a new year altogether, only without fireworks and parties. It was a new year forcing you to rethink how you'll live another 10 months in uncertainty. One of your resolutions in your now defunct list was to lose your post-pregnancy weight gain. You already signed up for a gym membership and were looking forward to hitting your fitness goals. But with almost a year of little to no activity, you didn't know where to start. There was no gym, no instructors available to teach you the right form, and nearby salad bars were open for a post-workout meal. 
But the learning curve was not steep. Because there was no choice but to stay at home, many people quickly adjusted to starting or doing their activities while at home. A significant lot subscribed to fitness channels, with newbie artists, old and new, all wanting to build a name for themselves. Regardless of the creators' intention, millions have become avid fans of Chole Ting, Pamela Reif, and whatnot. 
Many started from somewhere, with some not even knowing a single exercise stuck in their mental system. If you've never exercised and want to start a routine with items friendly for people at all fitness levels, this list is for you. We've listed down four Flexispot products that you may get your hands on right now to jumpstart an active second half of 2021 for you. 

Adjustable Dumbbell 
Flexispot carries a Lionscool 5-In-1 Adjustable dumbbell system with three options available: 25 lbs, two 12.5 lbs, and 55 lbs. With just one swing of the handle, it's easy to change the weight of the dumbbell. It has a textured handle that is both non-slip and ergonomic. There's also a built-in safety lock that secures weight plates are locked the second time around. And this adjustable dumbbell is made to last for a long period of time with ultra-durable and anti-rust weight plates. 
https://www.flexispot.com/health-fitness/fitness/adjustable-dumbbell-lcl

VB1 (Vibration Plate Exercise Machine) 
Just stand up on top of a vibration plate exercise machine VB1 and you're ready to exercise. The way it works is that it creates a full-body variation stimulating extra muscle contraction and increased activation at all stages of your workout. Its speed settings can range from 1 to 99, so you can be assured to meet your goals for any sweat session. The VB1 also comes with loop bands that you can use to build upper and lower body strength. Its maximum user weight is 330 lbs. During the exercise, it's easy to change the program and speed using the VB1's LED Touch Screen and remote control. 
https://www.flexispot.com/health-fitness/fitness/vibration-plate-exercise-machine-vb1

AB Foldable Rowing Machine 
This 2-in1 Rowing and Ab machine is a game-changer. It promises to revolutionize your workout and become an overall powerful workout machine. You may shift from Abdominal Mode to Rowing mode and vice versa. It comes with a large LCD monitor that displays time, count, calories, total count, and scan. It makes use of non-slip foot pedals with large velcro straps. Rowing mode can be changed from Level 1 to level 2, depending on your desired resistance. The pulley set can also be used for double dynamic handles and more exercises. 
As an ab machine, it will have a comfortable knee, back-to-back cushion. The armrest has soft rubber and the pulley set is much quieter and smoother. 
https://www.flexispot.com/health-fitness/fitness/ab-foldable-rowing-lcl

V9U (Under Desk Bike) 
The Under desk Bike V9U is your best standing desk mate. This is perfect for any fitness level and anyone can pick it up to break some sweat while working. It can be used with a height-adjustable standing desk. With easy-rolling caster wheels, the V9U can be moved around the office easily. It comes fully assembled when it arrives on your doorstep so there won't be any need to install it. 
Another notable feature is its height-adjustable seat. With no more than a gentle press, the user-friendly pneumatic adjustment lever moves the seat up or down. It also has a whisper-quiet pedaling system with eight resistance levels for healthy movement. An LCD displays time, distance, and calories burned. 
https://www.flexispot.com/health-fitness/fitness/under-desk-bikes-v9u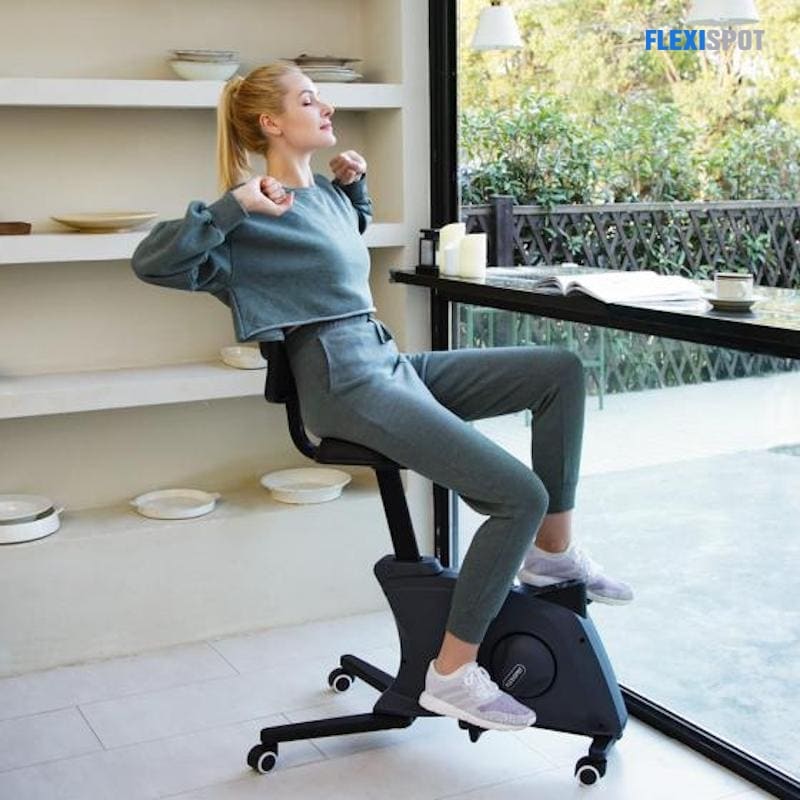 Flexispot has two more desk bike options namely the Sit2Go 2-in-1 Fitness Chair that comes with a breathable mesh backrest and costs only $30 more. The Home office All-in-One Desk Bike or the Bike Workstation V9 comes with a detachable keyboard stand. Its main goal is to keep you active while doing sedentary activities. 
These two desk bikes both have comfortable, height-adjustable seats. They also come with casters that help one to move around the room. 
With a company that prioritizes ergonomics, it's hard to imagine its catalog without a fitness or workout product. 
Final Thoughts 
Everyone starts from somewhere. If you're just beginning your fitness journey and are intimidated by different gym equipment, then this article is for you. Start slow and steady with machines that cater to low-impact exercises. In the next few days and weeks, gradually go up to the next level by playing with resistance. 
Even though we are in a pandemic, we can still aim to achieve our fitness goals while at home. We don't need to wait for gyms to be fully operational; we can work out from home without disturbing anyone. If time is a problem, we can even work out while working! Flexispot products are designed for every fit employee there is.