Content creation was mocked when it was first introduced. Back then, creators or influencers, as they are now referred to, were frequently the target of jokes since they could make money by posting a sponsored video on Tiktok or Instagram as if they were "celebrities" or "models". Many people did not view the job as a lifetime career since they do not see it as a secure or stable source of income.
A professional job is one that, in accordance with the US Equal Employment Opportunity Commission (EEOC), necessitates a specified level of college education, often a bachelor's degree or more, in order for a person to carry out its tasks and obligations.
So do you think creating digital content fit under this? We've seen creator after creator from a variety of age groups, some of whom aren't old enough to go to school, some of whom dropped out of college, and some whose work has nothing to do with their bachelor's degrees. In light of this, do you believe producing digital content is a profession? Is asking it even the correct thing to do?

Let's first define a content creator before moving on. A content developer is someone who produces captivating and inspirational content for an audience, according to DigitalMarketing.org. It can take the form of any online media form, including a blog, vlog, pictures, or layouts, and can be either informative or entertaining.
Today, content producers may be found on sites like Facebook, Tiktok, Instagram, YouTube, Twitter, and their personal blogs.
The average yearly pay for them in the United States, according to Glassdoor, is $47,154. One might make up to $50,000 per year through YouTube, $2500 per month from Twitch, and $16 per hour from WikiHow.
The hourly wage for freelancers ranges from $20 to $77. Depending on the size of the audience and the type of content, it varies tremendously.
For us, it is no longer relevant to say if creating content is a "genuine" or "professional" type of employment. The hate may still exist, but it won't stop the reality that the industry we're talking about is expanding quickly and will continue to do so with no sight of decline.
How can we gain a market share is the issue that we should be asking right now. There are undoubtedly a lot of chances out there for us to use our skills and imagination. For instance, some of us can start and expand their own channels on YouTube or there are a few of us who can start a podcast with our closest friends. Some might wish to dominate Instagram reels or expand their Tiktok following. There are countless options out there (but do take note that picking the right one to focus on is also a crucial step!)
Here at FlexiSpot, we take pride in our quality products and know that what we create can help people with the jobs that they choose to invest their time on everyday. We gathered a few of our products to come up with a list that can help those who want to have thriving careers as digital content creators.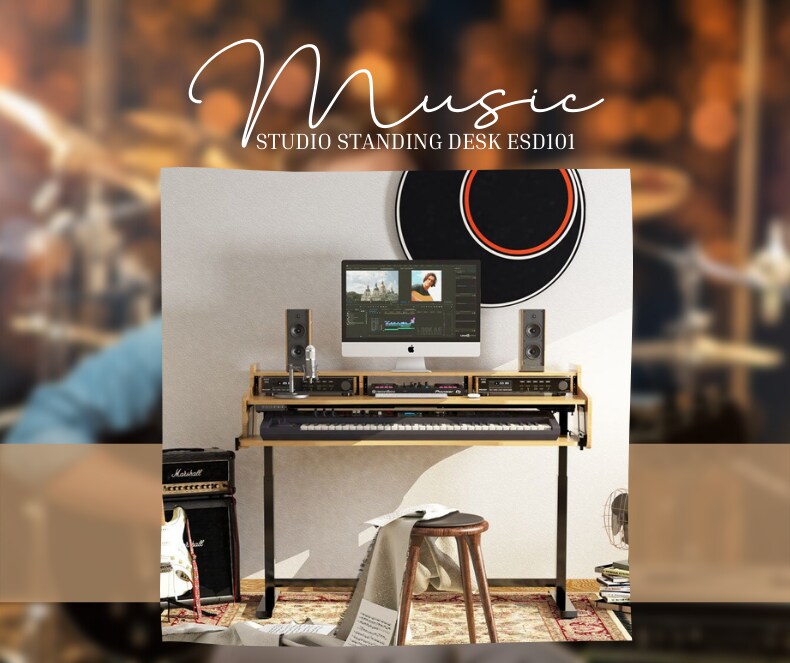 The competition is tough in the digital content creation space so if you have a talent in producing music, why not delve into this so that other creators can use your music in their videos and help it spread? If you've always wanted to pursue this as a career or even just make a hobby out of it, make professional records right at home with FlexiSpot's Studio Standing Desk.
For $999.99, you already have your very own music studio at home. It has an 88 keyboard tray and a spacious working surface with a 6U rack space (for the amplifier and equalizer) and a large topshelf (for two display monitors and speaker monitors). It also comes with a programmable controller that allows you to shift from sitting to standing while making your own music.
Moreover, it has an enhanced anti-collision feature that ensures that all your expensive and heavy equipment is safe during movement of the desk.
You can also use it as a gaming desk, a DJ table or a podcast desk when you're not making music.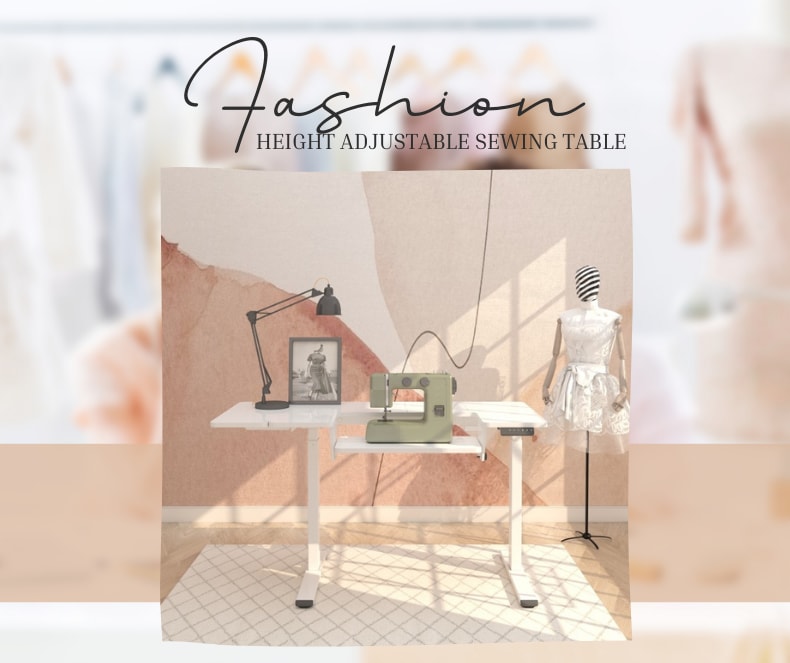 If you have a passion for fashion, you can start taking on sewing projects such as making clothes from scratch or repurposing what you already have in your closet with the perfect sewing table.
This FlexiSpot desk has a height programmable control panel that makes it convenient to be used by any aspiring seamstress in the family. Its sewing platform can be adjusted separately and it comes with a knob allowing the user to lower or raise its workbench above or below five steps. Its weight capacity reaches up to 26 pounds and is enough to carry the weight of an average electric sewing machine.
The workspace is also very spacious because aside from the sewing machine platform, a detachable side table that measures 9"* 24" can be added to the already 43"*24" table where the sewing platform is attached.
There is also no need to worry about scratching or staining the desk frame because it is made of high-grade steel. It is guaranteed to be stable even at the highest adjustment point and because of its two-state legs, smooth and fluid-like transitions are not surprising throughout the day.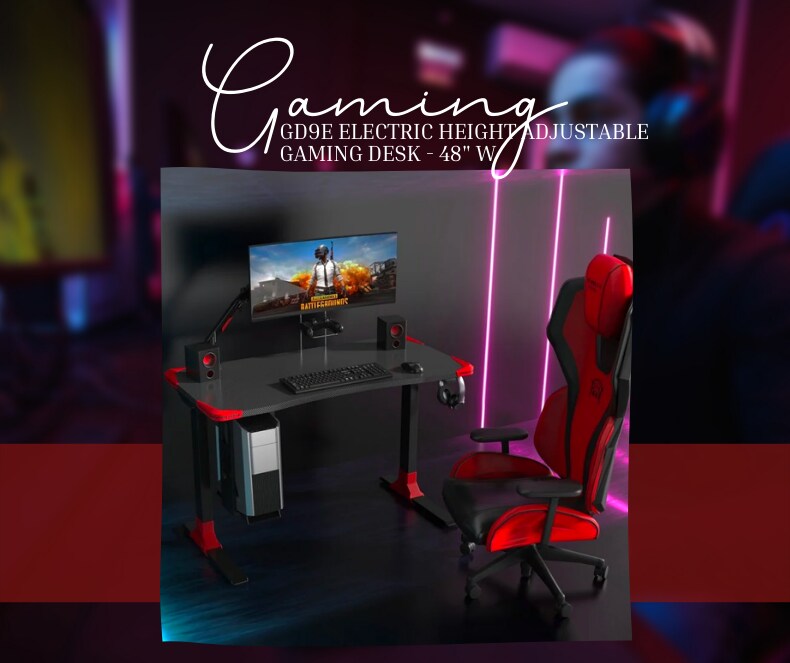 Some of the most famous YouTubers are game streamers like VanossGaming and Markiplier. These people have made a fortune out of people watching them play games, a hobby that they enjoy a lot. You can of course jump into this world with a handsome gaming setup starting off with a gaming desk. This FlexiSpot choice has a one-touch control desktop with a carbon fibre textured top that's water-, stain-resistant, and non-slip.
Its desktop is curved with a C-Leg design that gives room for the computer, drawers, and other accessories. It can be assembled in under 15 minutes and has adjustable foot pads to enhance stability. It also comes with an anti-collision safety function.
Or you know, you can make content out of reviewing FlexiSpot's rich catalogue of ergonomic products. The brand carries electric scooters, mobile file cabinets, under desk bikes and treadmills, work hammocks, bed bases, and a lot more accessories that can be great to review in order to help people in the workforce have more informed decisions when buying ergonomic furniture.