With FlexiSpot's anniversary just around the corner, the brand has announced "Standiversary" at the end of September. FlexiSpot Standiversary is more than just the biggest Anniversary Sale of the year. It is also one of the most awaited events of 2021 as it brings loads of fun activities that customers can participate in to win exciting prizes that range from Gift Cards to Standing Desk Gifts.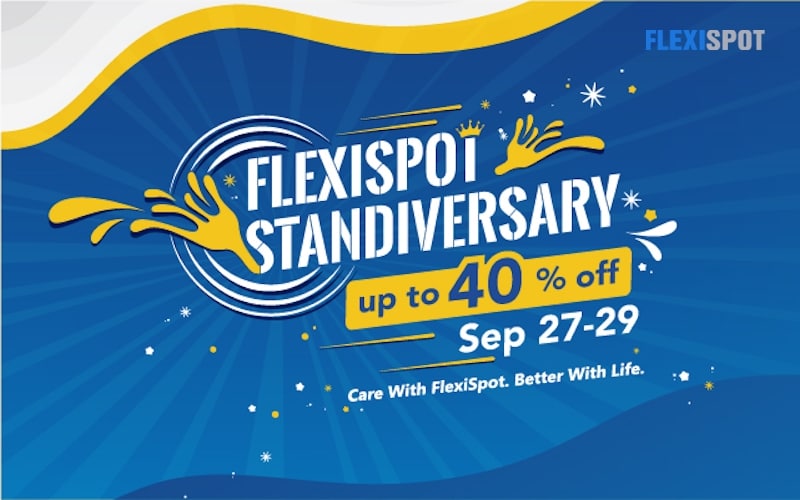 One of the activities that we are looking forward to the most is "Spin & Win." As the name suggests, all customers have to do is spin the wheel to win prizes. Every participant gets one FREE spin. However, they take more spins by subscribing and sharing online posts to enhance their chances of winning. Spin & Win will be available for customers from September 20 to September 30, 2021.  
Prizes include cash coupons, discount offers, gift cards for up to $927, and FlexiSpot products, including the Kana Bamboo Standing Desk and Seiffen Standing Desk. In line with FlexiSpot's collaboration with One Tree Planted and the brand's goal to give back to nature, you may also win a chance to "plant a tree" at the Win & Spin. All prizes will be delivered in the form of coupons valid from September 27 to September 30, 2021.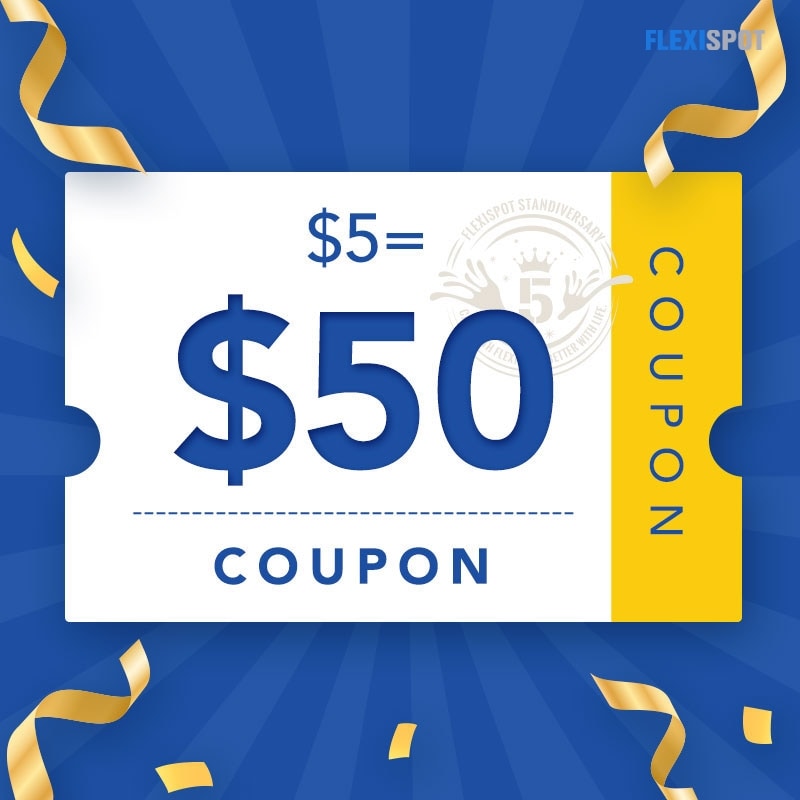 Another highlight of the FlexiSpot Standiversary is the "$5 to $50" offer. This offer allows customers to pay a $5 deposit between September 20 and September 26, 2021, to avail a $50 discount on the purchase of any of the three standing desks: Electric Height Adjustable Standing Desk E2AL, Ergonomic Gaming Desk with Mouse Pad, or Smart Bike Trainer Stand BT0. Customers can avail of this discount on purchases from September 27 to September 29. However, the $5 deposit is subjected to the 30-day free return policy.

Customers and participants can also participate in the "9.27s Challenge", available from September 20 to September 30. To win the prize, the participant must press and hold the timer and release the button to stop the clock at any of the four special numbers: 7.7s, 9.99s, 2.22s, and 9.27s. Participants can try their luck as many times as they want to win coupons. Prizes include discounts, Comhar Standing Desks, Stanmore II Bluetooth Speakers, and Canyon Roadlite Bikes.  
Stopping at the special number combination will also get you into the lottery pool. The winner will be selected at random and announced on October 7.  
Talking about the upcoming event, Melody Chen, Marketing Director at FlexiSpot, stated, "Standiversary is a time for celebration. The event is about coming together to celebrate the FlexiSpot and its customers who have shown tremendous trust and appreciation to FlexiSpot over the years. Any celebration would be incomplete without our customers. Therefore, I welcome everyone to enjoy and participate in FlexiSpot Standiversary to make the most of this event."
Considering the fun activities and amazing prices and discounts, it is easy to imagine why FlexiSpot Standiversary is one of the most awaited events of 2021. So, mark your calendars to join the brand in celebrations and participate in games and activities to win extraordinary prizes!
About FlexiSpot
FlexiSpot is the leading manufacturer of eco-friendly ergonomic products in Europe and the USA. The brand aims to provide improved and green solutions that improve working conditions worldwide. Learn more about FlexiSpot at https://www.flexispot.com/about-us.