Have you ever experienced the dreaded water spill on that gadget you have saved up for months? In less than 20 seconds, you would see your life die before you---those files you need for work and the only photos you have of your precious memories. To add insult to injury, you would suddenly remember that your insurance doesn't cover spillage (because more often than not, they don't) so you get caught up in a state of shock and wouldn't know what to do.  
Now don't be too hard on yourself; an accident is an accident. You might just be stressed with everything that is going on with your life and it probably is a wake-up call to always back up your files if not keeping an organized workstation. As the all-too-familiar expression goes, "It's better to be safe than sorry," here are some tips to avoid any gadget tsunami from happening in the first place: 
1. Elevate your gadgets
Placing your gadget on a height is always recommended for a reason. Aside from helping airflow and preventing overheating, it also prevents nearby liquids from giving your device its death sentence. 
Flexispot has the following products that you can use to elevate your gadgets: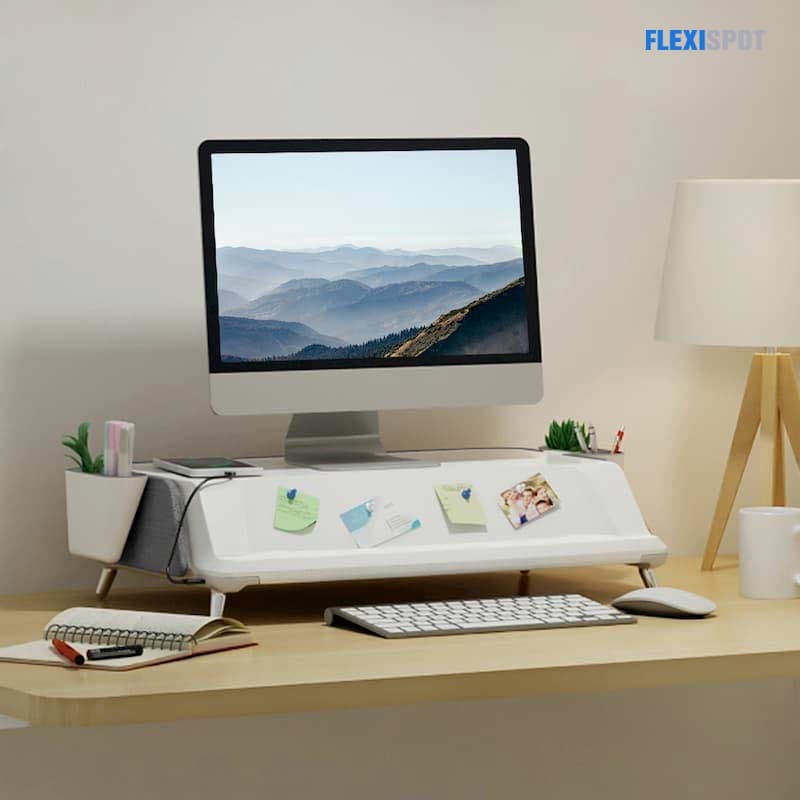 a. MonitorStand Workstation S5/S6
This bestselling product is your ultimate lifesaver. 
Not only is it aesthetically pleasing, but it is also very functional. It puts your monitor at a height and provides a built-in drawer to store your desk essentials inside. It also has a USB charging port to charge your other gadgets such as your phone and tablet. Moreover, it has an integrated UV sterilization that will disinfect and sanitize your keyboard, mouse, and other desk items within reach. 
https://www.flexispot.com/monitorstand-workstation-s6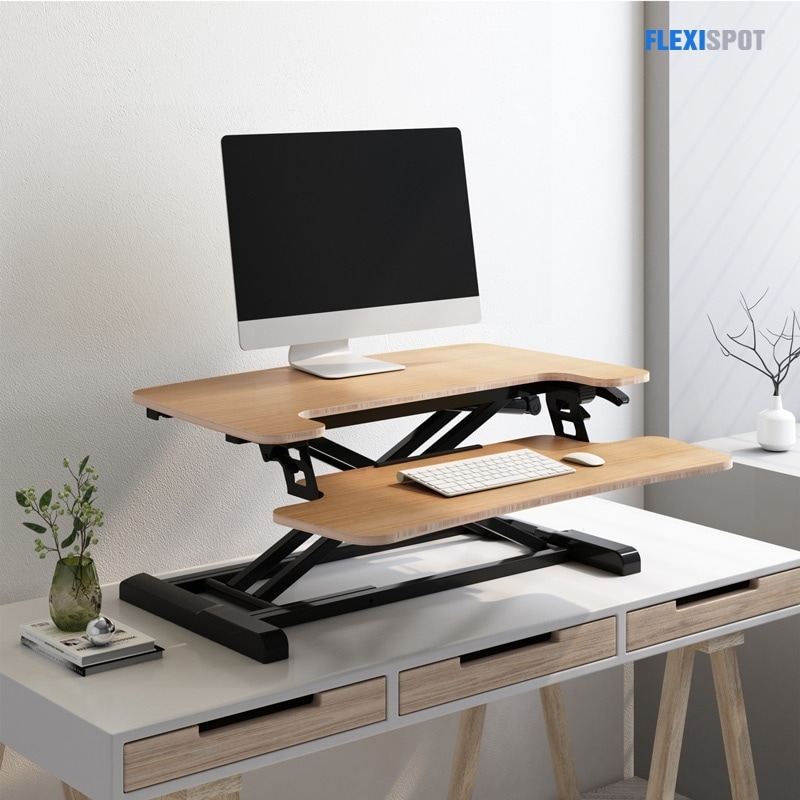 b. AlcoveRiser Bamboo Standing Desk Converter
Put this on top of your desk and you instantly have a three-level workstation. 
Made out of bamboo, the product is eco-friendly, steady, and sustainable. It is engineered with a bracing system that even with a full load, it won't suddenly crash and drop your gadget/s. You could easily adjust the height that perfectly suits your needs. Plus if you're using a laptop and don't need a keyboard tray, you could easily remove it. 
https://www.flexispot.com/alcoveriser-bamboo-standing-desk-converters-28-35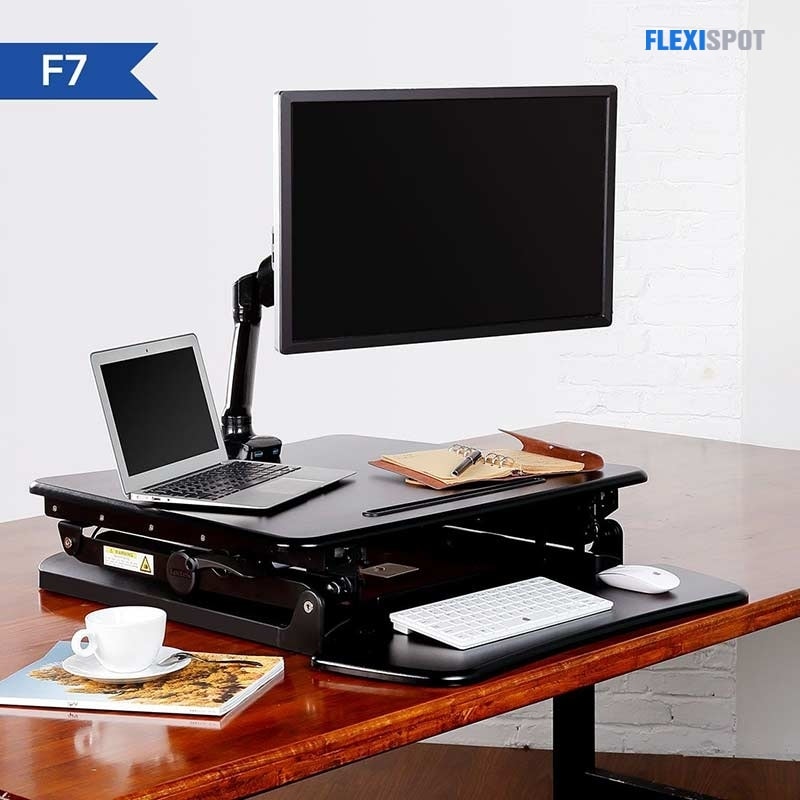 c. Single Monitor or Dual Monitor Mount
For a more sleek look, you could opt for a Single or a Dual Monitor Mount. It has a fully adjustable arm that could easily be rotated, extended, swiveled, or tilted. Moreso, it accommodates a 360-degree rotation that could be of great use for graphic designers and web coders. It's easy to install and has a built-in cable management system that could hide your wires to remove desk clutter. 
https://www.flexispot.com/standing-desk-accessories/monitor-mounts/single-monitor-mount-f7-f8l
https://www.flexispot.com/standing-desk-accessories/monitor-mounts/dual-monitor-mount-f7d-f8ld
2. Have different compartments for your desk items
An organized workstation helps you be more efficient and keeps unwanted incidents from happening. It limits your movement so you'll be avoiding hours looking for a lost item and lessen the chances of toppling over a water mug or glass.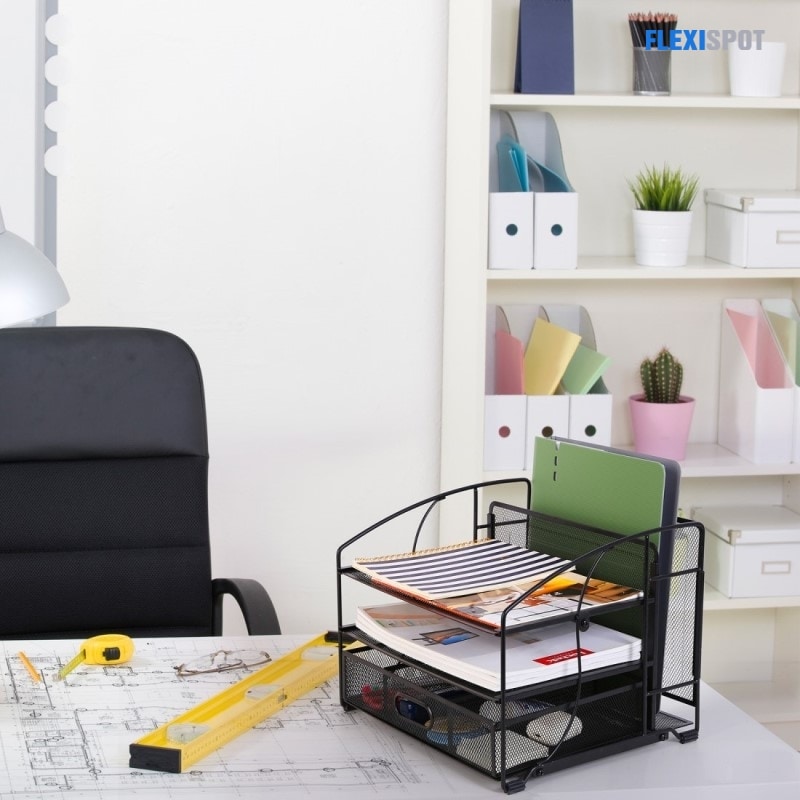 a) Mesh Desk Organizer
To have your essentials in one place, use FlexiSpot's Mesh Desk Organizer. Easy to lift as a whole and slide per drawer, you won't have a problem using this three-tier desk organizer. It has a rubber footpad and a vertical upright section that could keep it in place. Sturdy and durable, this item that comes in black would last you for years. 
https://www.flexispot.com/mesh-desk-organizer-do01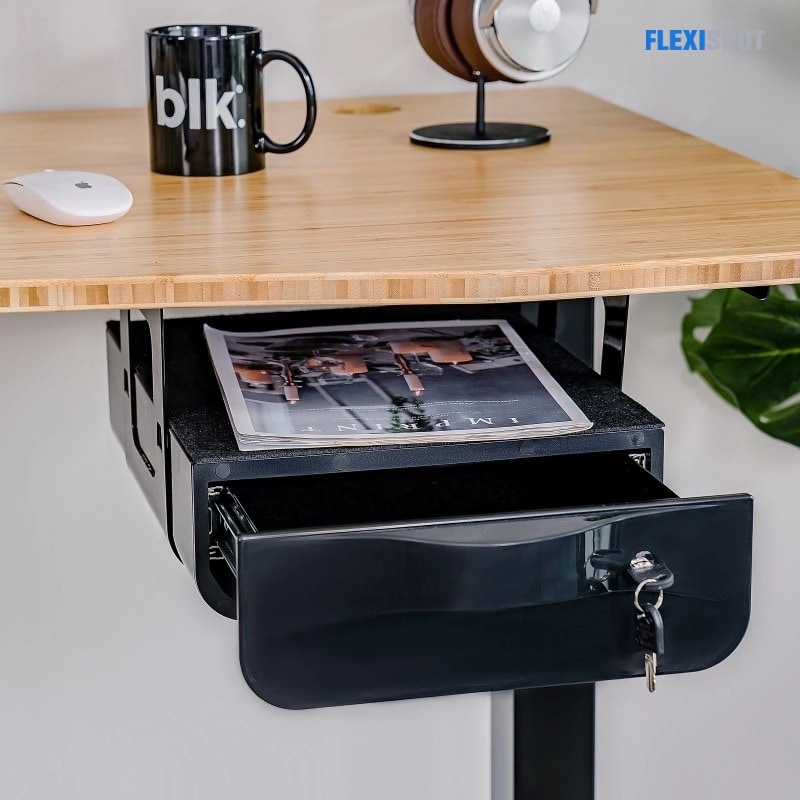 b) Under Desk Drawer
If you want easier access to your work essentials, you could opt for this Under Desk Drawer. It could be mounted under any board or desk which means it won't take up any desk space. It's easy to slide, heavy-duty and spacious that could hold up to 22 pounds. What's more, is that it comes with a lock and two keys for extra security and privacy. Comes in white and black, you wouldn't have a problem in terms of it complementing your desk aesthetic. 
https://www.flexispot.com/under-desk-drawer-s01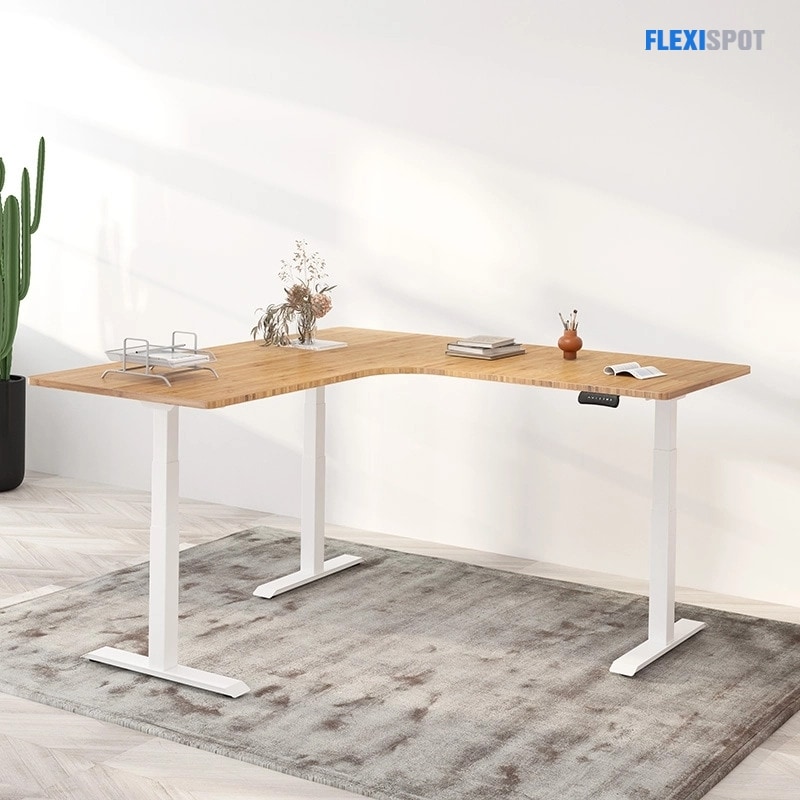 c) L-Shaped Standing Desk E4L
We just don't run out of solutions because here's another offer especially if you want an irregular-shaped desk. 
The L-Shaped Standing Desk E4L is shaped as it is called. It has a premium keypad that allows you to easily adjust height. It also has an anti-collision safety feature that ensures the safety of your gadgets and desk essentials. With this desk, it's easy to separate your desk items and avoid mixing all of them that may cause water spillage. 
https://www.flexispot.com/l-shaped-standing-desk-e4l
3. Use water tumblers or mugs with lockable lids
If you're really clumsy, another tip to avoid a wet accident is to opt for water tumblers with lockable caps or mugs that come with lids. The market also even has anti-spill tumblers now with smart grip technology that when you accidentally knock over, won't budge or move completely. 
4. Use a waterproof case or buy a water-resistant gadget
If you have the extra dough, why not invest in a waterproof case or a water-resistant gadget. When purchasing a case, check the submersion factor or how long it will last underwater before your gadget loses power. A water-resistant product can also be an option since many are already available in the market. You'll have to pay some extra bucks in the store but overall, it might just be worth the investment and might even cost you less in the long run. 
If you haven't waterproofed your station yet and water did spill already on your gadget, here are steps that you could do to save it when the damage has already been done. 
1. Grab your gadget from the crime scene immediately.
2. Switch your gadget off and take the pieces apart.
3. Dry your gadget with a soft cloth or preferably a microfiber cloth.
4. Put your gadget inside a resealable bag with rice.
5. Be patient and wait before turning your gadget on. 24 hours is usually enough waiting time to check if your gadget's still alive.
6. Go to the service center and report what happened. 
We hope you take extra care of those gadgets by organizing your workstation. Not only will it save you a lot of stress, but it will also help you be more productive at work and generally put you in a lighter mood.