The physical benefits of active workspaces have been discussed at length. However, a little-known fact is the benefits to your mental health. While ergonomic furniture has mainly been discussed in the office context, it is important to note that it also applies to studies, gaming, and even freelancing.
Ergonomic furniture is designed for efficiency and comfort. This furniture specifically ensures that the user's body is in the right posture and there's no strain on any muscles. They also help reduce stress on the hips, back, and feet. If you look at research conducted on workplace injuries, many have been found to be a result of unsafe furniture. Health experts have also expressed concerns over the reigning sedentary work lifestyle, highlighting the dangers of prolonged sitting.
Ergonomic office furniture, that is, chairs, sit-stand desks, desk converters, and everything in between, enable people to create better work environments. Though our focus is on office furniture, you can borrow this advice as it applies to students and remote workers. Therefore, having an ergonomically designed office space is great for physical as well as psychological health.
The physical benefits of ergonomic furniture
There are countless physical benefits of ergonomic furniture. Before we get into the mental benefits of ergonomics, let's have a quick run-through of some of the physical benefits. Top on the list is posture; this is one of the biggest struggles that people who sit for long hours face. Bad posture is the cause of many health problems. In addition to posture, using standing desks, for instance, helps with fitness and burning calories. It also encourages an active lifestyle. Another physical benefit of ergonomic furniture, especially chairs, is the back and neck support, reducing stress on the hips and feet.

Ergonomics for better mental health
Fact is, ergonomics can improve your psychological health. Studies into the benefits of standing desks have uncovered that they can increase your brain's performance and boost your energy levels. 
But that's not all.
Height adjustable desks and chairs have proven beneficial for mental health. However, they were initially intended to improve physical health by tackling musculoskeletal disorders, heart problems, eye strain, back and neck problems. However, addressing these issues led to improved psychological health for ergonomic furniture users.
Your mental wellness is as vital as your physical health. If you are not at your best, it affects your productivity and overall psyche. The thing about the human body is that it feeds off itself, in the sense that your physical state directly affects your psychological state and vice versa.
Therefore, if you only pay attention to your physical health, your mental health will still affect your productivity. Some of the benefits of ergonomic office furniture on psychological health include:
The work environment is often supercharged, making it quite stressful, especially when facing challenges, deadlines, and pressure. Ergonomic furniture is specifically designed to reduce any extra pressure and discomfort that you may experience. Picture this, you are on a very tight deadline, but your uncomfortable chair keeps hurting your back and neck. In this case, your ability to focus on your work is divided. Naturally, if you're comfortable, then you perform better, have less pressure and stress. 
Your mental health snowballs into other parts of your life. An active work lifestyle, facilitated by ergonomic furniture, helps your body relaxing, easing stress from your body. This leads to job satisfaction, higher performance, mental well-being, and happiness.
One of the negative outcomes of a sedentary lifestyle is its effect on your mood. If we're honest, being stuck in one position for six to 10 hours is mentally exhausting. Your brain needs stimulation to boost your energy levels. Working while standing improves your mood by keeping you active and reducing anxiety from doing the same thing too long. The sit-to-stand transition and back keep you energized for work.
Increased brain performance
Activity is very beneficial for your brain. It enhances blood circulation and oxygen expenditure which help keep you engaged. Your brain performance is much higher when you work while standing or switch from sitting to standing throughout your workday. This also improves your concentration in your work.
Improves psychological involvement
In a slouched or seated position, people rarely engage their psychological power. Yes, we do have that! When you are concentrated on a major task, your brain is still hard at work on small tasks like finger tapping, moving your feet, swaying side to side, and so much more. This is only possible when you're active. However, this is why using a standing desk is beneficial. You might have noticed yourself do this; it improves your concentration bettering your productivity.
With enhanced concentration and performance comes better creativity too. Standing at work keeps your brain busy, which opens it up to generating and developing new ideas. An active brain is always more creative and imaginative.
How to transform office spaces
It's simple, really. Office environments should be safe for all employees. Investing in ergonomic furniture is beneficial not only for your employees but the business and quality of work. If you're wondering where to start, standing desks are a pretty good place to begin. Adjustable standing desks will not only transform your workspace but also prove beneficial for the workers. The next thing to check on is ergonomic chairs as well.
If we're honest, no one can stand for six to eight continuous hours; therefore, the desks should be adjustable for work. People should switch between sitting and standing. The time spent sitting should be spent on an ergonomic chair. After standing, sitting in an uncomfortable chair negates the progress and energy you've built when you were active.
Taking care of your well-being, both mental and physical, should be a key concern. The good news is that more people and employers are taking this seriously. Mental health at work is often ignored, and burnout is often brushed off. However, taking necessary measures, like ergonomic office furniture, is helping people be healthy at work. It has also greatly helped that psychological health has become a mainstream discussion, raising awareness on the need for healthy changes.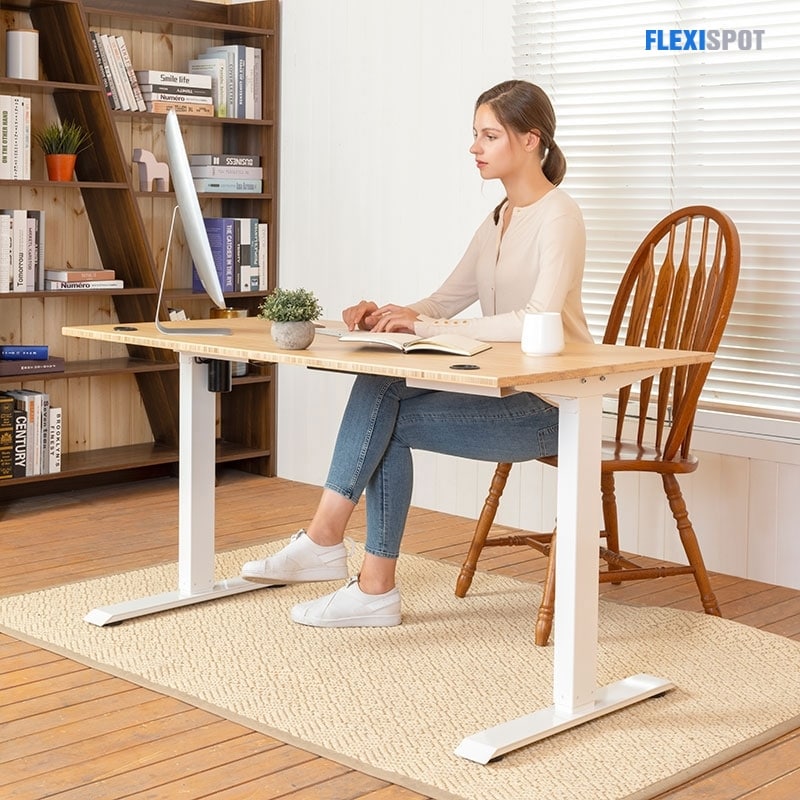 Height adjustable desks have proved quite useful. We've detailed the dangers of a sedentary lifestyle; therefore, a standing desk is a solution you need for your office. Thankfully, standing desks are more accessible and popular nowadays. They have both physical and mental benefits that help you better your performance at work.
When looking for a standing desk, consider your available space and the features you need. Budgets also play a role in your choice. The Flexispot Kana Bamboo standing desk is a good place to start. It is a $449 adjustable desk that is made from earth-friendly materials. The Flexispot Kana Bamboo desk is durable, stable, and has a load capacity of 220lbs. The desk surface is elegant bamboo and features a powerful dual motor lifting system. Even the advanced control panel is easy to use.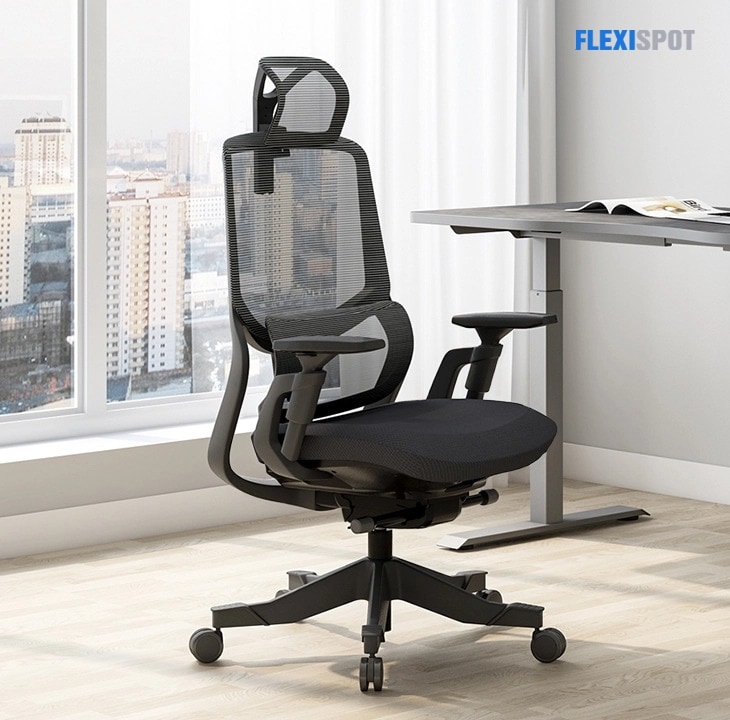 Being on your feet all day is not exactly the alternative to prolonged sitting. The best balance is switching between sitting and standing. You can do this with an ergonomic office chair. One such example is the Flexispot Soutien ergonomic chair that will cost you $289. An ideal chair should provide adequate back support, and the Soutien chair is built for lumbar support. It features a 3D lumbar support system, 135 degrees lounge tilt, and 45 degrees backrest tilt. The chair is built for elegance and active living. 
Flexispot Soutien adjustable chair also features three height settings to ensure maximum comfort when you're working. The cushioned 4D armrest provides support for your arm to ease strain when typing and better your posture.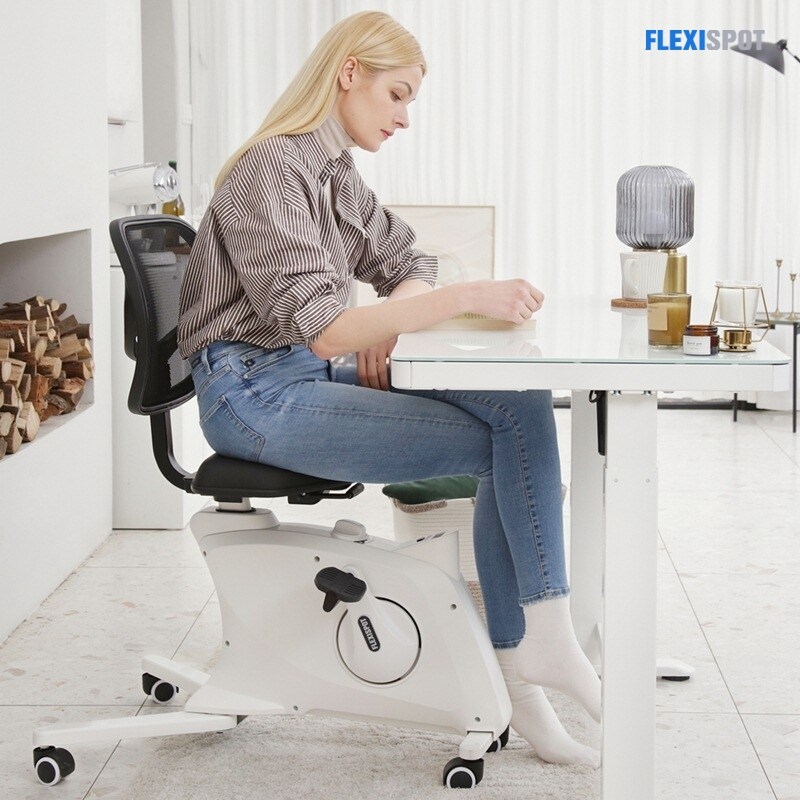 In addition to purchasing ergonomic office furniture, you also have accessories that can better your workspace. Take anti-fatigue mats, for instance. If you're not in a position to alter your office furniture, you can still make your office ergonomic by adding accessories to it. Desk converters, for instance, help convert your traditional desk into a standing desk. 
Combining work and fitness is quickly becoming popular, which is making desk bikes and treadmill standing desks popular. The Flexispot Sit2Go fitness chair is a good example of that. This ergonomic work equipment helps you keep fit, stay focused and get your work done. They also help reduce stress and improve your mood.
Flexispot is home to many ergonomic furniture solutions that can make your work life better. As we mentioned, your physical and mental states play off of each other. Get the right furniture for your workspace to improve your psychological health.
The bottom line
The demand for height adjustable ergonomic office furniture is on the rise. Manufacturers like Flexispot are hard at work to ensure that modern workers have access to the most comfortable furniture pieces that foster healthy workspaces. The innovative functions fitted in the furniture enable people to be more productive and embrace active living. As experts continue to uncover more psychological benefits of ergonomic furniture, it is time for you to commit to the shift. Put your mental health first!