Proving the power behind ergonomic desks and chairs
Who doesn't want an ideal and relaxed workspace? On a particularly hard day to work such as a Monday, it's much more important that you feel comfortable in your "home away from home." We acknowledge how difficult it is to accomplish while juggling work stress, working hard to be successful, and addressing issues in the workplace.
This is why people have the tendency to forget about their physical and mental health when absorbed by their work. Studies have shown that standard desk chairs and office desks would do you more harm than good. The goal of most workplaces is for their employees to clock in work for 8 hours a day without minding about how this would affect the health of their employees.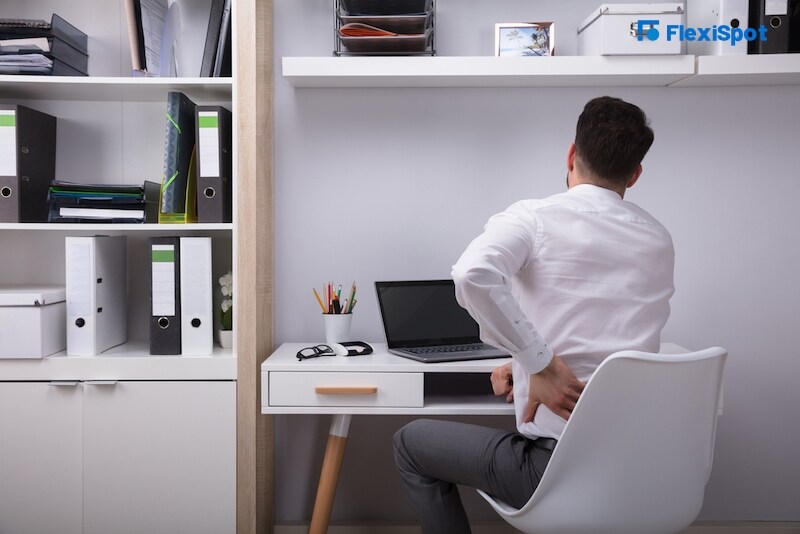 Preventing health issues among employees is not a small concern but rather, should be a top priority for every workspace. Your health can slowly be affected by the average office chair and desk and could develop into the following conditions:
● Poor circulation and blood pressure
● Risk of obesity
● Loss of focus and ambition
● Unneeded pressure on your hips and back
● Potential lower back pain
● Potential risks to your mental health
● Issues of worsening an existing injury
There are several more issues that might arise from extended sitting in a standard office chair and working at a standard office desk.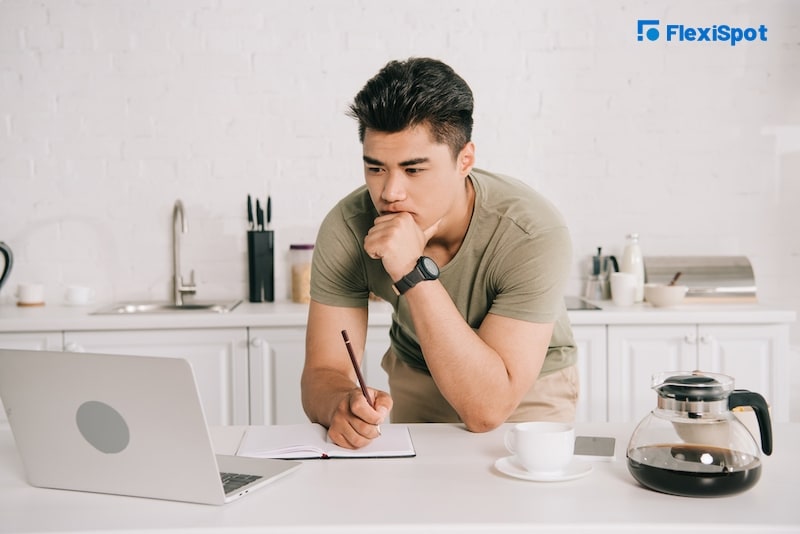 There were many employees who were sent to work at home because of COVID-19, and over time, some of them have decided to invest in desks and chairs while others are settling with what they already have. These people are often spotted working on their kitchen tables, kitchen counters, and yes, even the living room couch.
Everything may seem well with you making do of what you have but it could be just as bad if you were working in your usual work environment. You may think that you feel so much better with the work-from-home setup because it is less stressful. There are many who deal with anxiety and depression so working at home has given them a more relaxed environment.
It can be a struggle to maintain good mental and physical health while you work from home. Distractions are very accessible. You don't only lose your focus at work; you may also lose focus on keeping yourself healthy. It doesn't mean that when you work out at home, you are already being healthy. It's just being counterproductive if you still use a standard desk or office chair in your workspace.
In line with that, what healthy habits or things you can do to guard your health while in the workspace? Which way do you go or how do you even press the go signal? You can always run to a company that many people have invested their trust in for 6 years and counting. Trusting that the company can also do the same for you is a step towards the right direction.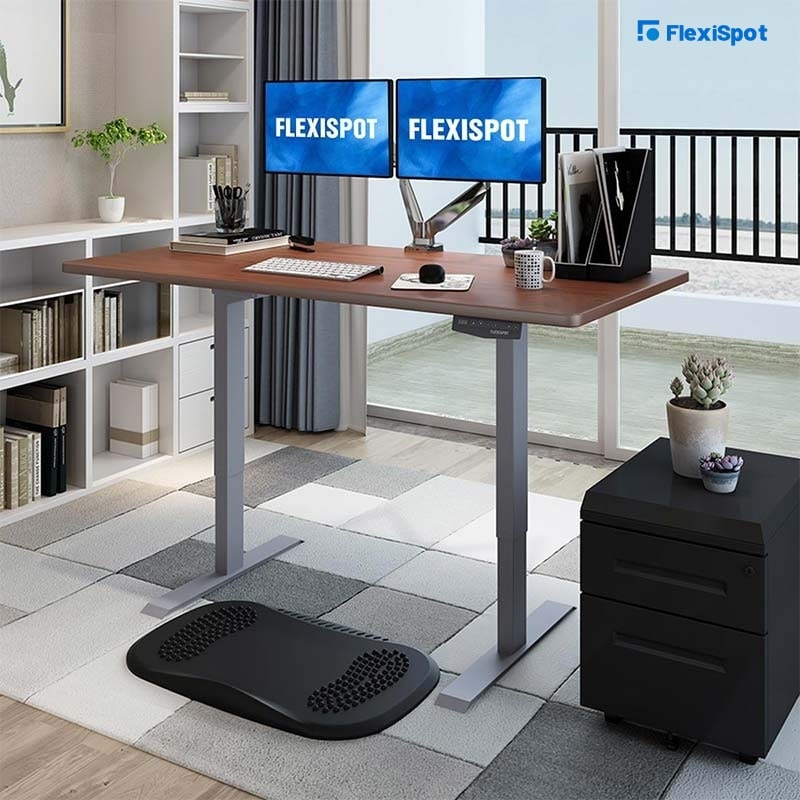 Since 2015, FlexiSpot has been providing products for people to have a better quality of work life. The company strongly believes that there's an available option today for a healthier way to work. FlexiSpot is extremely passionate about transforming the conventional workspace into an active environment that will support better physical and mental health.
The company's goal has always been to provide wellness support and productivity for every employee. With its innovative designs, well-thought-out science, and care behind all of its ergonomic items FlexiSpot has proven it has what it takes to be an ally in your health. FlexiSpot knows that ergonomic office desks and desk chairs are the true way to experience a workspace.
Every day, FlexiSpot has focused on ways to continue to make people healthier in the workplace. These days, many companies feel that ergonomics is the best way to support their employees. These companies feel that the more they focus on their employees and their health, the happier they will be.
To be a productive employee is to be happy and healthy. Since many companies are wanting their offices to be fully converted to ergonomic office items, FlexiSpot is there to provide their expertise and support.
FlexiSpot has shown many small and large companies why their ergonomic office products have results. They have proven their worth to many companies like:
Walmart
Amazon
Home Depot
eBay
Wayfair
And many more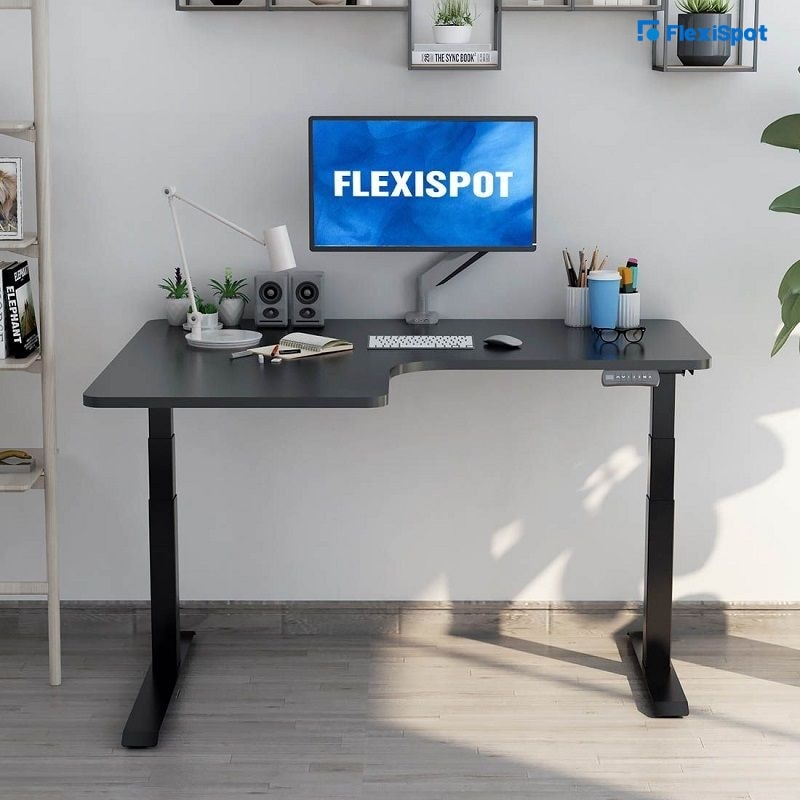 Over the years FlexiSpot has provided so much help to people that the proof improved health and productivity that more companies are wanting to partner with them. They have been innovative with the designs and products they have come up with. FlexiSpot has made so many great products for people from basic use to more advanced users in the workplace.
FlexiSpot has made so many great products like standing desk converters, height-adjusted standing desks, comfortable ergonomic office chairs, and even bike desks to help you get a workout while you work.
Because of all these great ergonomic office desks and chairs, FlexiSpot is continuing to show people why ergonomic workspaces are here to stay. They want to continue to show people that it is very easy to be healthier while you work. FlexiSpot knows that its products do work and are there to improve the wellness of anyone who uses them.
Not only is your wellness, health, and posture important to keep in a healthy state but so is your mental health. Mental health issues are becoming more and more of a focused issue for people. Many companies have become more involved in helping their employees with bettering their mental health by providing many benefits.
As we all know, mental health is just as important as your physical health. If not properly taken care of, your mental health can affect how you feel physically as the days go on. This is a big reason why many companies are partnering with FlexiSpot to fully change their workspaces to strictly ergonomic office desks and chairs.
The designs that FlexiSpot has come up with over the years keep in mind the effect it can have on your focus, mental health, and productivity. This is a big reason why they have provided so many ergonomic standing desk options to their customers.
Ergonomic standing desks are designed to give you an option to go from sitting to standing easily.
As we have evolved over millions of years to be more active and withstand harsher conditions, we didn't evolve to sit all day most of the week. We are meant to sit, stand, run and jump. If we are sitting all day the reasons we are built are going to waste and diminishing our health.
FlexiSpot feels that ergonomics are an easy springboard to a better and healthier life. Over time ergonomic office desks and chairs will give you more energy, focus, and even feel better than you ever have before. These and more are many reasons why FlexiSpot has always provided the best in ergonomics.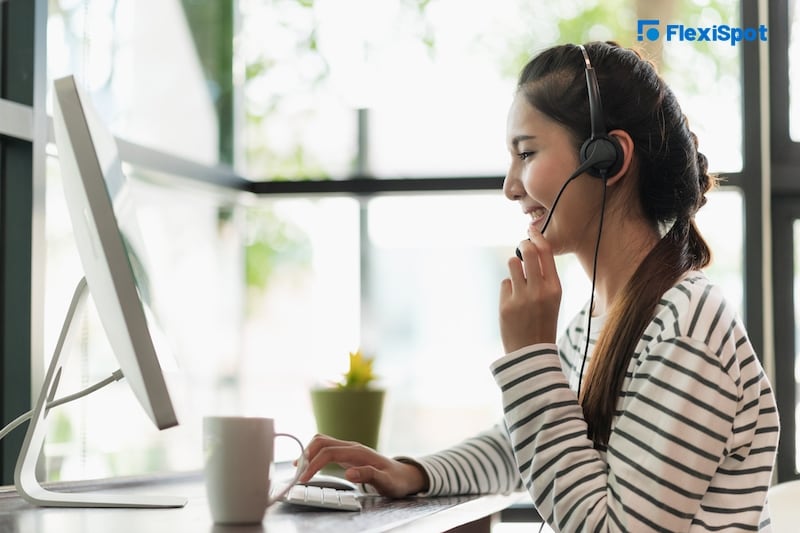 They have trained their customer service agents to be experts when it comes to ergonomics. When a customer calls at any time, FlexiSpot's customer service agents walk them through all the best products for them, based on what the customer is looking for.
If you are looking for just the basic start like a standing desk converter, FlexiSpot's customer service will compare your current workspace situation and the variety of products that would be helpful for you. They will even go over the health benefit comparisons of what you have, to what you could have with one of their amazing products.
You may want to go all out and invest in a complete overhaul for the perfect ergonomic workspace. FlexiSpot's customer service will spend time asking about your goals, as well as providing you with many different choices. They may suggest a customizable height-adjustable desk, a desk bike, or maybe an ergonomic desk chair with a headrest to help you feel the best while you sit.
FlexiSpot has gone above and beyond for its customers since they first started the business so that they can provide the best ergonomic experience for anyone. They will be a business that will be around for many more years to come. FlexiSpot plans to continue to improve the ergonomic experience and invest in better health for you.
They are so confident with what their products can do for your health that they offer free shipping for all customers. FlexiSpot even has an easy return policy, just in case, they may not be the best fit.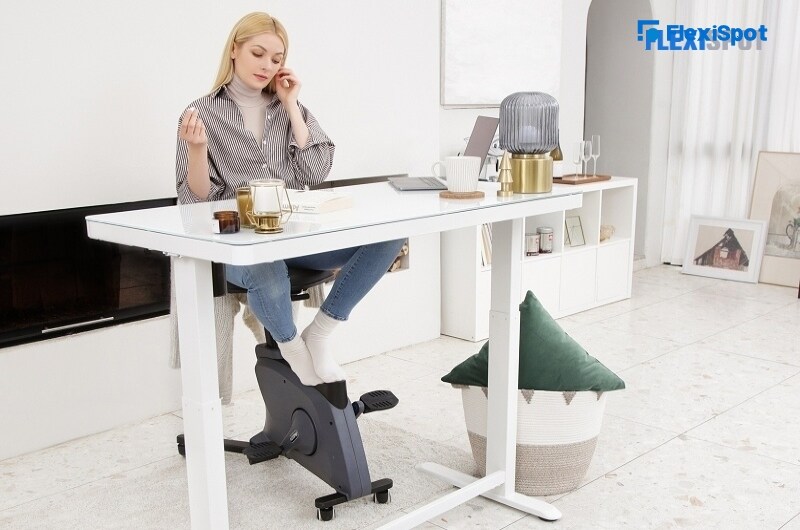 Even if you don't choose to go with them, they still feel accomplished educating people on the importance of ergonomic desks and office chairs. The great thing is that most people who have spent the time talking to FlexiSpot tend to see the amazing potential in them very quickly.
When a customer gets FlexiSpot's products delivered, set up, and start using them they feel the effects fairly quickly. Going from your standard office desk to a comfortable ergonomic workspace experience will make you feel better as the days continue.
FlexiSpot has continued to do all of this and more as their company continues to grow. More companies, more people, and more lives are making the change to FlexiSpot because of all the amazing things they have done.
The company takes pride in striving to be the best and will continue to provide the best products for every desk employee. But you'll probably never believe us if you haven't tried it yourself. Check out FlexiSpot's amazing products and experience their great customer service for yourself by clicking on the website here.