There are proven benefits to both, but it has been medically proven beyond all doubt that sitting for hours every day has enormously negative effects on your health. If you work in an office environment, it is highly likely that you sit for 7-8 hours per day. You even have lunch at your desk. Then you sit on your way home, either in your own car, or a taxi, bus, or the subway. You sit down for supper, then watch TV for another hour or so. That can add up to sitting for 11-12 hours per day.
The health risks that can be incurred are serious and debilitating:
type 2 diabetes
heart disease
obesity
colon or breast cancer
death
Many companies have come around to the idea that standing rather than sitting has health benefits. These are not necessarily all altruistic; healthy staff means less down time, fewer health benefit claims, higher productivity – which all translate to higher profits down the line.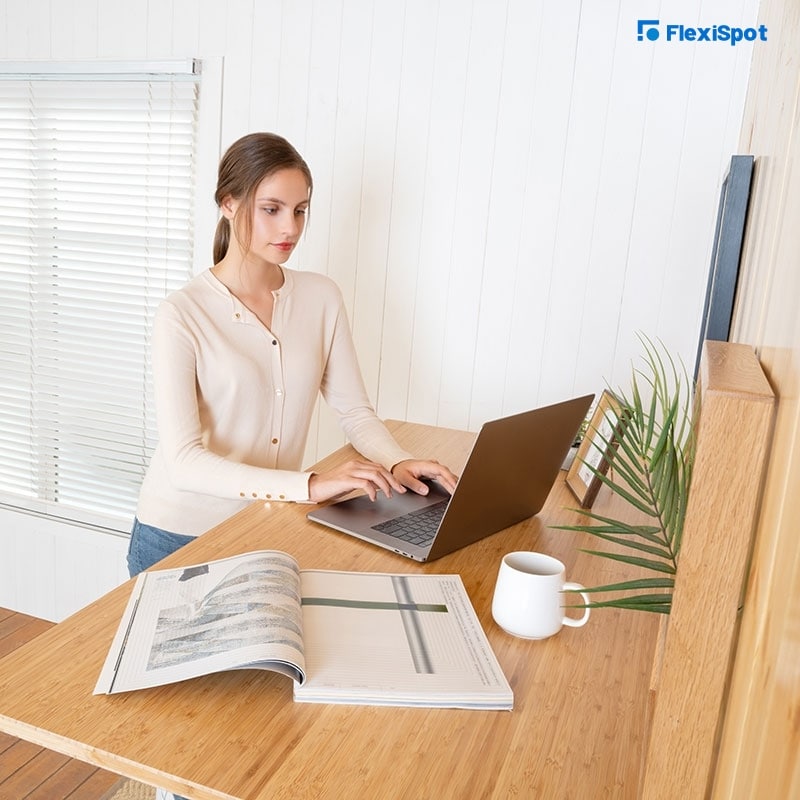 Standing desks are becoming all the rage. These are now easily available and have become popular for a reason. They work. They can be used in a formal office or a home setting and can convert your conventional desk into a healthier option within minutes.
But the big question remains. How long should you really stand at a standing desk?
There is no longer any question that you should move regularly during your working day. If you are using a standing desk, this does not mean you should stand all day either. This can cause health problems in its own right, such as varicose veins, thrombosis, or blockages to the carotid arteries.
As with almost everything in life, balance is key.
You should alternate standing and sitting by about 50% each way in a full day. Within that, you should alternate sitting and standing about every quarter to half hour. Your body acclimatizes to sitting within 30 minutes and your lower body muscles switch off. You need to keep your metabolism working, i.e., keep your blood moving.
However, if you are not used to standing for any length of time, do not push your body to a level of discomfort. Ease into it and find your comfort levels.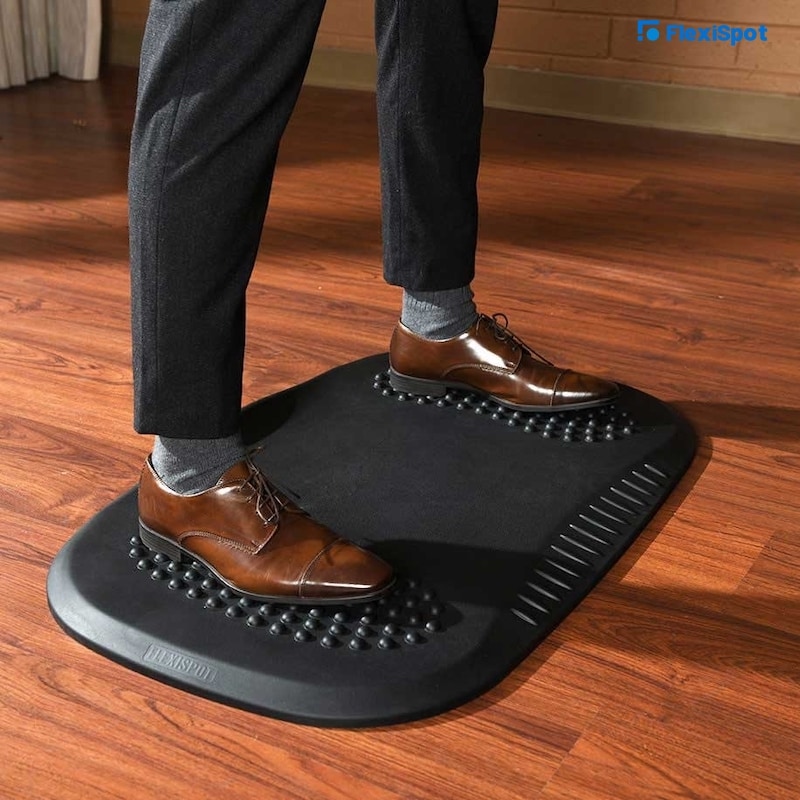 You may wish to make use of an anti-fatigue mat. These are designed for dynamic movement, whether you are bare-foot, in your socks or wearing shoes.
The FlexiSpot Anti Fatigue Mat DM-1 cushioning distributes the forces of gravity of your body, reducing pressure and increasing comfort.
The multiple massage points and mounds increase blood circulation and invigorate tired feet with a constant massage process.
The polyurethane mat measures 32.3" x 20.5" x 0.98" and weighs 7.26lbs, making it effortless to move wherever you need to use it. It has a maximum weight capacity of 300lbs.
It won't move unless you want it to, as it has a built-in no-skid design with a grooved underside that won't slip but can be moved at the touch of your foot.
The FlexiSpot Ergonomic Anti Fatigue Mat DM1 retails for $57.99 cash or $11 per month.
Thirty-six clients reviewed this product, giving it an overall five-star rating. Only two reviewers (6%) gave it 4 stars. All customers agreed the product is comfortable and well-made; the only negative comment was that it is 'prone to attract dust'. A quick rinse under the tap will solve that!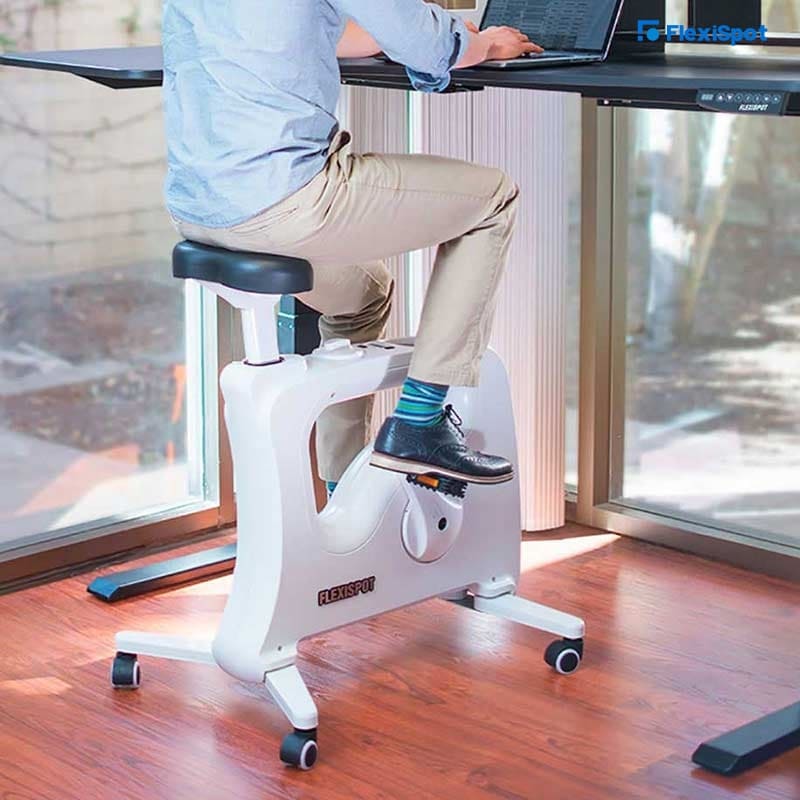 Sitting in one place in one position is numbing not only to your body but to your mind. But you have deadlines to meet, clients to satisfy and a boss to please. You feel you cannot afford to take time away from your desk to take a short walk or limber up with exercises as many experts recommend.
The solution is painless. Invest in an under desk bike and combine sitting with exercise in one go.
The FlexiSpot Under Desk Bike V9U – Best Standing Desk Mate needs no installation or tools. The large, comfortable, cushioned seat is height adjustable between 29.6' – 37.2", using pneumatics as you press down while cycling. There are no knobs to turn or levers to adjust. The rubber sleeves covering the pedals are comfortable even for bare feet.
It weighs in at just 51lbs and is easy to fit under a desk with its dimensions of 37.6" (L) x 22.8" (W). It best fits users who are between 5'1" to 6'2" tall and has a maximum weight capacity of 300lbs. It has eight magnetic resistance levels, giving you as much of a challenging workout as you desire. A built-in LCD display shows your time, distance and calories expended. The movement is quiet and smooth, so will not disturb colleagues nearby, and will suit users of any age and fitness level.
The FlexiSpot Under Desk Bike V9U retails for $299.99, a saving of $50 on the normal price. If you'd prefer to buy on terms, this will cost you $28 per month.
Customers who reviewed this product gave it an overall five-star rating. Of the 307 reviews received as of November 2020, 290 (94%) gave it a 5-star rating, 16 (5%) gave it 4 stars and one person gave it 3 stars.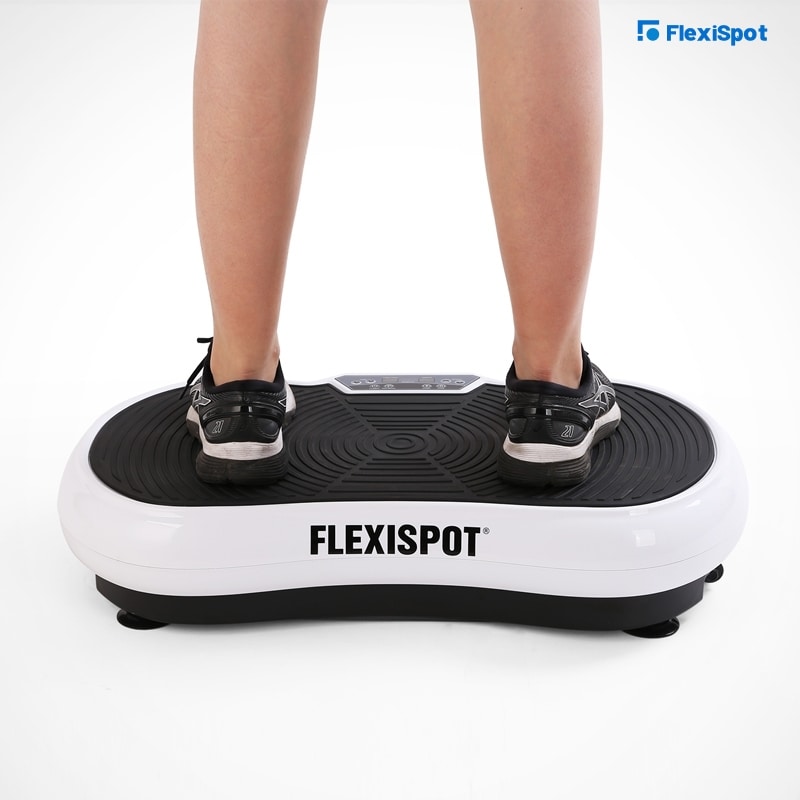 If the idea of cycling and working simultaneously isn't your idea of comfort, but you still like the idea of literally getting your vibe on, try the FlexiSpot Vibration Plate Exercise Machine VB1.
With a choice of three colors – white, black, and blue, this will fit any décor while helping you tone and lose weight.
The FlexiSpot Vibration Plate Exercise Machine generates a full body vibration, stimulating and contracting your muscles. It will increase bone density and limit stress on your joint, while it boosts your metabolism and improves circulation at the same time as burning fat.
You can start slowly and build up your tolerance with 99 speed settings, which you keep track of on the LCD screen. Changing speed is easy with the remote-control. Additional yoga straps and loop bands make this an ideal cardio workout in any environment.
The feet are wrapped in rubber which ensures both protection for your floor surface while maintaining stability. Compact and with a hidden handle, it's convenient to carry or store. It has a maximum weight capacity of 330lbs.
It retails for $149.99, a saving of $30 on the normal price of $179.99. If you'd like to pay on terms, this will cost you $14 per month.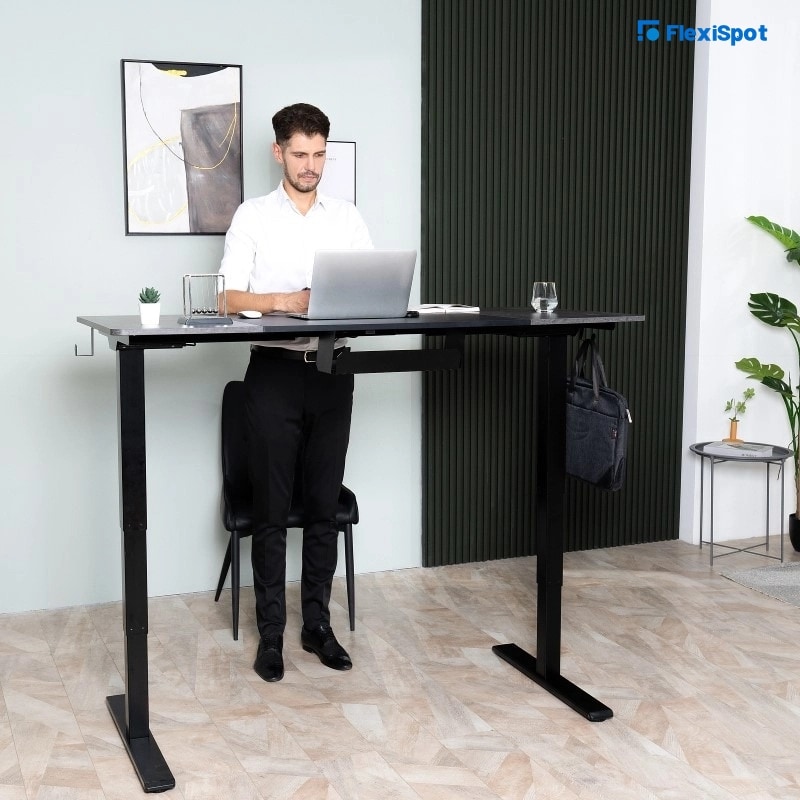 Along with getting exercise and taking regular micro breaks, there are other methods you can utilize to stay comfortable at your desk. Regardless of whether you are sitting or standing, make sure you follow these guidelines:
desk height
Many workers are allocated to a desk that may have had an occupant of different body proportions from yours. Make it comfortable for yourself. A standing desk should be at elbow height, allowing your elbows to be at 900 to the floor.
computer screen
It is generally agreed that the top of your screen should be at eye level, and placed 20" – 28" from your face. However, you must not strain your neck upwards or downwards either.
keyboard and mouse
Your keyboard and mouse should be used at the same level. Keep your wrists straight.to avoid strain. However, your wrists should be tilted slightly upwards if you are at a standing desk. Consider using cushioned arm supports if you experience wrist discomfort.
Numerous medical studies have been conducted on the optimum time you should sit and stand. In March 2019, Science Daily published a study conducted by the University of Pittsburgh which found that not enough research had been conducted on a wide enough spectrum of subjects to form a definitive outcome. Fifty-three studies were completed with subjects in the areas of
behavior
discomfort
physical effects
work performance
psychological effects
posture
It was determined that using a standing desk caused most change in the first two points, and that minimal changes were obtained for the remainder.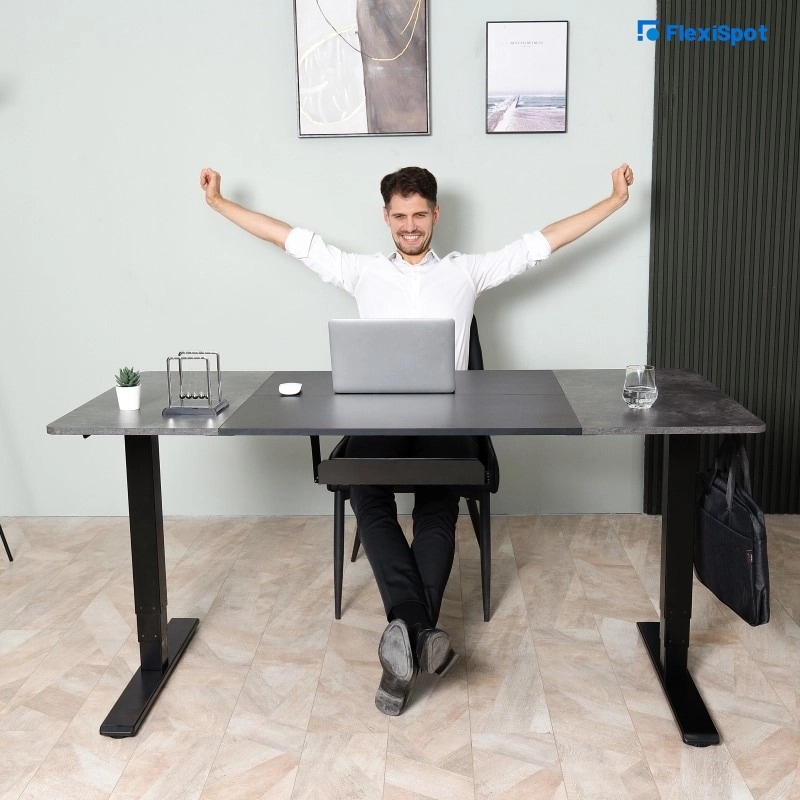 Although there is a measurable change in blood sugar levels in users standing rather than sitting, there is minimal weight loss. The physical benefits of standing include reduced neck, shoulder, and back pain as well as the musculature issues discussed previously. Standing uses around 88 calories per hour as opposed to 80 while undertaking normal work such as typing or watching TV. However, walking for half an hour can burn 100 calories.
If you can't walk during your lunch break, walking meetings are becoming popular. These are simpler to manage with 2-3 people, where you literally walk as you talk. Otherwise, take the stairs rather than the elevator; if you work on the 25th floor, this may not be viable, but getting off a few floors early will work those muscles.
A full gym workout is the ideal cardio solution, but whatever measures you take now to improve your health will only aid you in the long run.
Have we answered the question of how long you should really stand at a standing desk?
In reality, no-one can answer that but you. Your body will tell you when it's ready for a break or change in position, all you have to do is listen to it.
Follow the sensible guidelines as to posture and ideal positioning of your desk, screen, and peripherals, take regular breaks, eat sensibly, remain hydrated and you will have short odds for a long and healthy life.