You will perform your best work if you prioritize comfort and tranquility in your workstation - when your productive workspace is created with your health and wellness in mind. 
To increase productivity, you must pay attention to your physical work environment. These suggestions will assist you in making the most of your office space to boost your health and productivity.
How concentrated you are (and how long you stay focused) and how productive you are overall can impact how you operate in the office. So, no matter where you work, whether at home or in a major corporation, the design of your productive workstation is critical.
What do we achieve when we use productivity hacks? How will you stay focused if your work environment or best desk setup for productivity does not encourage it? Using these criteria, make any necessary improvements to your productive working area.

Achieve Your Dream Setup During FlexiSpot's Standiversary
On flexispot.com, you will find a wide selection of low-cost ergonomic products on sale. There are some fantastic bargains to be had. From September 27 to 29, you may save up to 40% on select goods.
This is a once-in-a-lifetime opportunity, so do not waste it. If you want ergonomic products but cannot afford them, now is the time to take advantage of the current promos and special deals.
Now is the time to indulge yourself and make a financial investment in your well-being. You can live a healthier life and better integrate ergonomics into your daily routine withFlexiSpot Standiversary.
You might save a lot of money if you buy their stuff immediately. Now is the moment to add items to your shopping cart and check out!
List of Products You Can Add to Your Workspace

Chair and Desk
The most productive workplace arrangement nowadays is defined by seated work for the bulk of the day, which necessitates an ergonomic chair that is both pleasant and appropriate for your body.
Monitors should be placed at or below eye level, 24 to 36 inches away from your eyes. Lower back discomfort is reduced when you recline your chair slightly to relieve strain on your spine. 
Place your feet on a footrest or the floor at a level close to your standing workstation.
FlexiSpot's Amazing Deals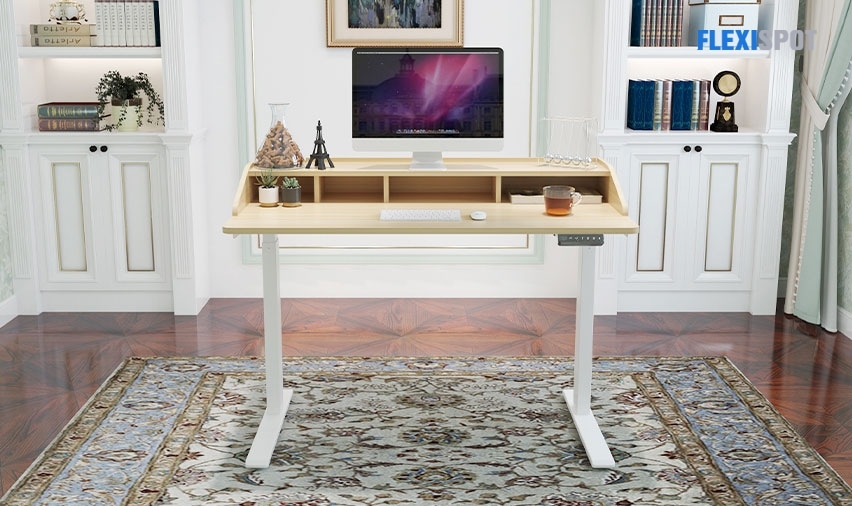 Esben Standing Desk UD5 You can purchase this $429.99 instead of the $499.99. Esben has a clean, minimalist look that allows you to focus on what matters. The unique design lifts your spirits and energizes you for the task at hand. This wonderfully crafted centerpiece will elegantly connect your home office. This desk combines a secretary's desk's charming hutch appearance with the healthy ergonomics of a sit-stand desk.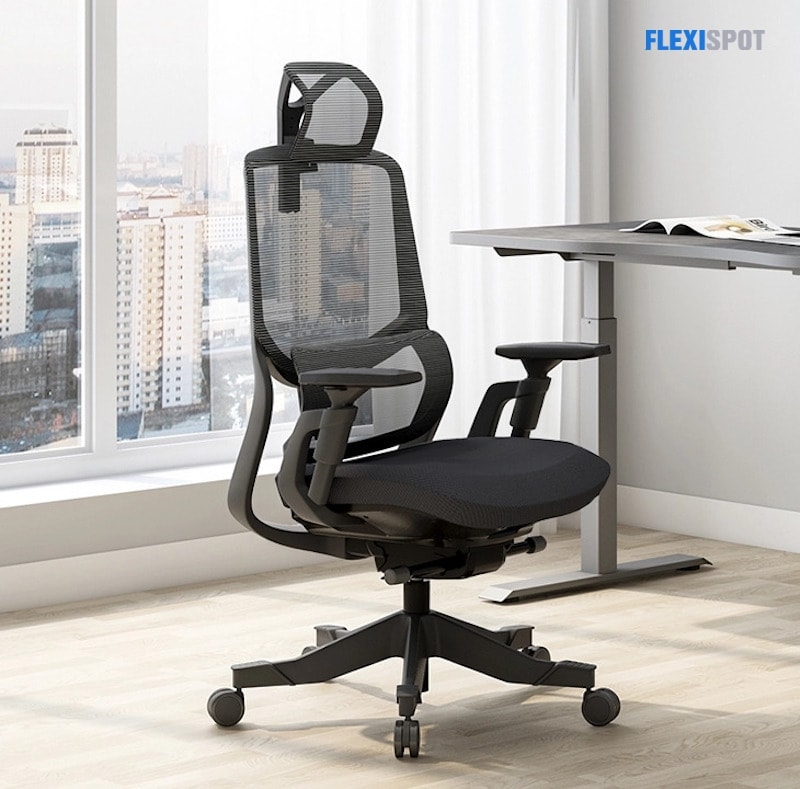 Soutien Ergonomic Office Chair- On FlexiSpot's Standiversary, you can get this chair for only $269.99. This saves you $30.00. The Soutien provides the ultimate seated experience behind your desk, with its 3D lumbar support system, 135° lounge tilt, and 4D adjustable armrests. The gracefully curved backrest ergonomically fits the neck and spine for optimal headrest and lumbar support, with three height adjustment options and a mild rebound system.

Lights
Lighting is one of the most critical aspects of your productive office layouts for staying focused and inspiring you to create, and it is, nevertheless, the one that is most often missed. 
Exhaustion, eye strain, irritability, and crankiness are all symptoms of poor lighting.
Allow natural light into your home office by opening the windows and doors. On overcast days or at night, use lamps to illuminate diverse places.
A Better Workspace

Organizing Clutter
When you work from home, you run the risk of being distracted throughout the house or apartment. With the assistance of a professional cleaning company, keeping your home clean is much easier. Spend at least 10 minutes each day making sure your ultimate desk setting is tidy and clean.
Additional Tips to Keep Your Work Area Optimal
Our moods and brain function are affected by the colors around us, and your productivity can be affected by choosing colors for your workstation. During the cold months, pile on the sweaters or keep your feet warm with a foot heater.
In the same way that color influences your mood and mindset, the smell in your workspace also affects your productivity. Burn candles, incense, or use essential oils to create a meditative environment.
To fill your home with an incredible, soothing aroma, simmer herbal and spice blends in the kitchen. It is essential to keep your workplace scents subtle since most people will not be accustomed to them.
Final Thoughts
It is still possible to create a productive workspace even if you have limited resources. Arrange the desk and chair in a way that promotes separation, and you should think about the sources of distraction in your home.