If you work from home, have a desk job, or you're a dedicated gamer, chances are that you spend a great deal of time sitting. However, no matter how ergonomic your office or gaming setup is, sitting for long hours is incredibly unhealthy. It's a scientifically proven fact that prolonged sitting causes a myriad of chronic health issues including diabetes, heart disease, some types of cancers, muscle degeneration as well as mental issues. Excessive sitting is harmful, but so is prolonged standing as it causes several health issues including muscle pains, back pains, and varicose veins. Creating a balance between sitting and standing alleviates the health risks associated with prolonged sitting and standing. 
If you're mindful of your personal health and concerned about professional productivity, an ergonomically sound work setup is point blank essential. In recent years, standing desks have become a vital part of an ergonomic workstation, allowing desk workers to seamlessly transit between sitting and standing for a healthy, productive, and efficient working experience. 
Introducing the Seiffen Laminated Standing Desk- A budget-friendly desk that combines advanced functionality with unmatched elegance. With its outstanding quality available at a reasonable price, it doesn't come as a surprise that the Seiffen Laminated Standing desk is among the bestselling electric height-adjustable desks from FlexiSpot. Read on to learn more about this environmentally and budget-friendly sit-stand desk with lots of offerings in its confines.  

Seiffen Laminated Standing Desk Overview 
The Seiffen Laminated Standing Desk is one of the best-selling electric height adjustable desks made by FlexiSpot. Designed by experienced, professional home office furniture designers, the desk offers advanced functions with infinite customization options. The desk is available in different sizes ranging from 42x24" to 60x30" as well as a wide range of finishes including white, black, mahogany, walnut, marble, graphite, and special walnut. 
The frame is available in three color options: white, black, and grey to match your taste and preference. The desk surface is an elegant, inch-thick laminated chipboard that feels good for a better working experience. If you aren't impressed with the laminated chipboard, you can choose the MDF (Medium Density Fiberboard) tabletop designed with smooth and round edges for enhanced wrist comfort during long working hours. 
The Seiffen Laminated Standing desk is pretty stable even at tall heights thanks to robust and sturdy construction. The three-stage low-range steel frame features double steel tubing to prevent wobbling during height adjustment and ensure maximum stability even at the highest height setting. What's more, the frame is powder-coated to resist water, stains, and scratches, providing unmatched durability.
The desk's frame offers advanced functionality as it is available in three choices: Eco (2-Stage), Pro (2-Stage), and Pro (3-Stage). The Eco (2-Stage) is a cost-effective option designed to provide reinforced tabletop support to meet the needs of most users. The Pro (2-Stage) frame option offers a higher weight capacity, enhanced stability, and faster-lifting speed owing to the dual-motor lifting system. The third frame option, i.e Pro (3-Stage), is tuned to offer the ultimate standing desk experience featuring a wider adjustable height range coupled with an even faster-lifting speed. 
The desk offers varied height-adjustable ranges based on the frame making it compatible with a wide spectrum of potential users. It features a convenient programmable 7-button digital display panel that facilitates seamless, hassle-free sit-stand transitions at the lowest noise level (50 dBs). With a simple press of a button, you can go from sitting to standing in just seconds. The Seiffen Laminated Standing desk also integrates three programmable presets, allowing you to save your preferred seated, standing, and under-desk cycling heights. 
The LED displays your precise desk height every time you switch between standing and sitting. To conserve energy, the LED display enters sleep mode every time the desk is stationary. Like most premium standing desks, the Seiffen Laminated Standing desk features a sit-stand alert to remind you to sit or stand based on the set intervals. You also have the option of turning the sit-stand alert off when not using it. 
With three frame colors, two high quality, environment-friendly desktop surface options available in seven different colors, two keypad options, three frame options to choose from, and multiple add-on accessories, the Seiffen Laminated Standing desk offers lots of customization options allowing you to truly make it your own, without breaking the bank. 

The Seiffen Laminated Standing Desk Specifications 
Dimensions 
Rectangle tops available in 48x30, 48x24,55x28 and 60x24

Contoured tops available in 48x 30 and 60x24 

Laminate top thickness: 1" 
Desktop Materials and Colours
Chipboard- A sturdy and durable material that sustains enormous pressure. It has no weak spots and provides symmetrical patterns as well as consistently matching colors. 
MDF (Medium Density Fiberboard) - Provides a highly smooth surface with the absence of knots and kinks that disrupt the smoothness of the surface.
Available colors: White, Maple, Mahogany, Ebony, Black, White Wood Grain, Grey Wood Grain, Marble Grey, and Special Walnut. 
Frame Specifications 
| | | | |
| --- | --- | --- | --- |
| | Eco(2-stage) Frame- EC1 | Pro(2-stage) Frame-EN1  | Pro(3-stage) Frame-EC3 |
| Motor( Lifting Mechanism)  | Single-motor  | Dual-motor  | Dual-motor  |
| No. of Leg Stage  | Inverted 2-stage  | Inverted 2-stage  | Inverted 3-stage  |
| Height Range( with 1'' desktop)  | 28" - 47.6" | 27.2" - 46.5" | 22.8" - 48.4" |
| Weight Capacity | 154 lbs. | 220 lbs. | 275 lbs. |
| Lift Speed  | 1"/sec | 1.26"/sec | 1.5"/sec |
| Horizontal Adjustments | 32.6" - 50.7" | 43.4" - 66.9" | 43.4" - 66.9" |
| Applied Desktop Size  | 39.3" - 63" (W) | 47.2"-78.7"(W) | 47.2"-78.7"(W) |
| Noise Level  | Under 50 dBs | Under 50 dBs | Under 50 dBs |
| Sit-Stand Reminder Setting-0-99 mins customized reminder setting   | No | Yes | Yes |
| Three Programmable Memory Presets  | No | Yes | Yes |
| Certification  | FCC,UL | FCC,UL | FCC,UL,BIFMA |
Keypad Specs 
| | | | |
| --- | --- | --- | --- |
| | Basic Keypad  | Standard Keypad  | Advanced Keypad  |
| Up-Down Button  | Yes  | Yes  | Yes  |
| Digital Height Display  | No | Yes | Yes  |
| Memory Presets  | No | Yes | Yes |
| Sit-Stand Reminder  | No | Yes | Yes |

Assembly Time 
30-90 minutes based on your mechanical skills. You may need a helping hand during certain steps in the assembly. 
Warranty 
Structural and mechanical parts: 5 years
Electronics -2 years
Shipping & Return Policy 
Free shipping in the lower 48 states in the U.S. via FedEx. Shipping to Hawaii or Alaska attracts some charges based on the FedEx rates. If shipping to any country outside of the US, contact FlexiSpot on (855) 421-2808 for advice on the shipping fee. 
FlexiSpot offers a 30-day return policy with no restocking or shipping fee applied. However, the 30-day risk-free return policy only applies to products shipped within the United States. 

Assembly 
The Seiffen Laminated Standing desk is pretty heavy owing to the steel construction. As such, you may need someone to help you hold the relevant pieces so that you could place several screws in their respective holes before getting everything tightened up. In addition, basic mechanical skills coupled with a bunch of equipment such as a cordless drill with flathead and key bits can be of much help in assembling the desk. You'll spend around 30-90 minutes assembling the desk. Preferably, assemble the parts on a workbench to avoid straining your muscles. 
The steps in assembling the desk pretty much vary depending on the type of frame, i.e., EC1, EN1, and EC3. FlexiSpot offers a detailed, step-by-step guide on assembling each frame, allowing for fast and precise assembly. Assembling the desk is relatively straightforward and pretty easy, especially if you have someone to help. 
The Seiffen Laminated Standing Desk Key Features 
Among the most noticeable feature on the Seiffen Laminated Standing Desk that makes it the bestselling standing desk from FlexiSpot include: 

Elegant Desktop Surface 
The Seiffen Laminated Standing Desk comes in ten colors of MDF (Medium Density Fiberboard) and durable chipboard. The chipboard option offers unmatched durability and great symmetrical patterns with an extensive range of solid colors and wood grains to choose from. In addition, it has passed the product safety testing and certification conducted by the Underwriters Laboratories (UL), ensuring maximum user safety. 
The other option, the MDF desktop, offers well-contoured, smooth, and round edges replacing traditional sharp corners to prevent bumps, bruises, and strain on your wrist when working for long hours. The MDF meets EPA and CARB standards meaning that it's environmentally friendly. Even better, it features dual cable management holes helping you maintain an organized and tidy workstation. 

Robust and Stable Frame Construction 
The desk frames feature steel construction providing much-deserved stability even at the highest height settings. The thick, double steel tubing on the frames ensures maximum structural integrity for smooth and safe height adjustments. What's more, the frames are powder-coated, making them resistant to scratches, stains, and water. 
As mentioned earlier, there are three frame options to choose from: EC1, EN1, and EC3. EC1 is a more cost-effective option but offers a higher height range compared to the rest. However, it has a shorter applied desktop size, slower lifting speed, and horizontal adjustment compared to the rest. It also lacks vital features, notably memory presets and a sit-stand reminder. 
The EN1 frame provides a higher weight capacity with increased stability and better weight lifting capability owing to the dual-motor lifting system. It's ideal for heavy workstation setups or larger and broader desktops. As such, it is suitable for forex traders or gamers requiring multiple desktops or equipment for better performance. EC3 offers the ultimate sit-stand experience thanks to a faster lifting speed. It's compatible with a wide spectrum of users including kids and can be used in different scenarios such as complex crafting, live streaming, gaming, and more.

Advanced All-in-one Keypad 
The Seiffen Laminated Standing Desk features an advanced all-in-one smart, 7-button control panel that allows you to seamlessly transit between sitting and standing in a matter of seconds. The keypad features an energy-efficient LED display that informs you of your current sitting or standing height. The LED display automatically switches to sleep mode when idle to conserve energy. 
The advanced smart control panel also features three programmable height presets, allowing you to save your preferred standing, sitting, and under-desk cycling height. This feature is beneficial, especially in shared workspaces enabling you to attain your correct sitting or standing height without adjusting the desk's height every time you want to stand or sit- a tedious and time-wasting process. While there is a basic keypad option, you should choose the advanced all-in-one keypad option to access the above-mentioned features. 

Accessory Compatibility  
The Seiffen Laminated Standing Desk is compatible with a wide range of accessories, enabling you to add new capabilities to your standing desk. Some of the accessories you may want to try out with this desk include the Sit2go fitness chair, ergonomic office chairs, gaming chairs, vibration plates, monitor stand & arm, desk organizer, under-desk drawer, standing desk mats, and clamp power strips among others. 
Verdict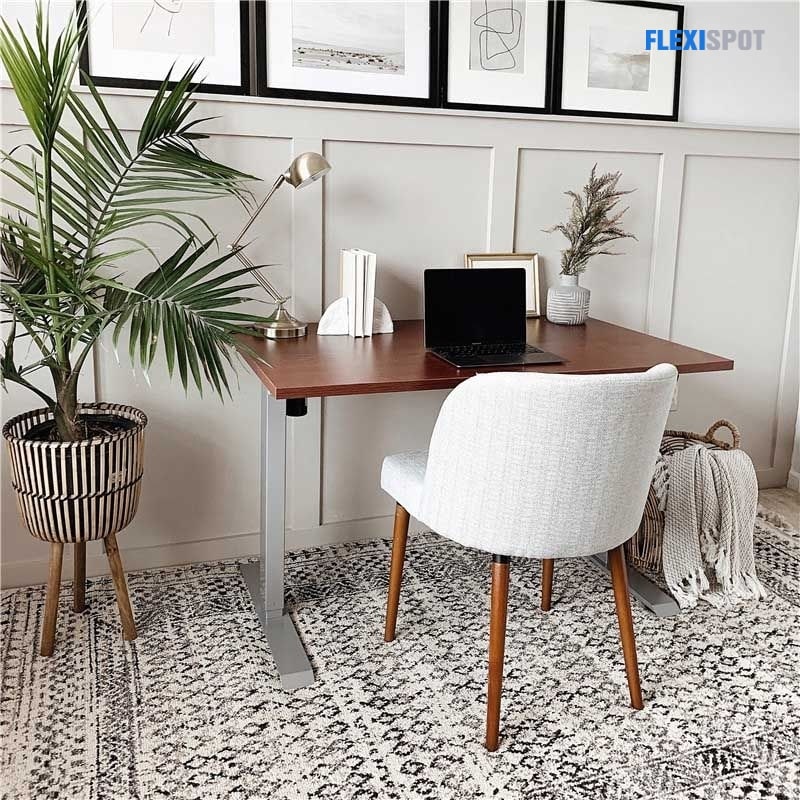 It's a no-brainer that the Seiffen Laminated Standing Desk is among FlexiSpot's best-selling standing desk models, thanks to its premium features available at a lower price. The desk offers you plenty of customization options and is compatible with plenty of accessories allowing you to create a truly personalized workstation whether at your home or in the office. Most importantly, it's available for under $210, offering you a great bang for your bucks.
Positives: Limitless customization options, robust and stable construction with double-steel tubing, extremely stable even at the highest height setting, advanced all-in-one keypad with three programmable presets and sit or stand alerts, quick, whisper-quiet, and smooth adjustments, generous five-year warranty for frame and motor and two years for electronic components, great value for money.
Negatives: Assembly may require two people, lacks anti-collision technology.