In our increasingly sedentary world, it's more important than ever to take steps to reduce the amount of time we spend sitting down. According to a growing body of research, sitting for long periods of time has been linked to a host of health problems, including obesity, heart disease, and even early death. In fact, some experts have even labeled sitting as the new smoking. While it may not be possible to completely eliminate sitting from your day-to-day life, there are steps you can take to reduce the amount of time you spend being sedentary. One solution is a sit-stand desk.
A sit-stand desk allows you to alternate between sitting and standing throughout the day, giving your body a much-needed break from being in one position for too long. Standing desks also have a number of benefits including improving posture, increasing energy levels, decreasing risks of lifestyle diseases, improving your circulation, and reducing muscle strain.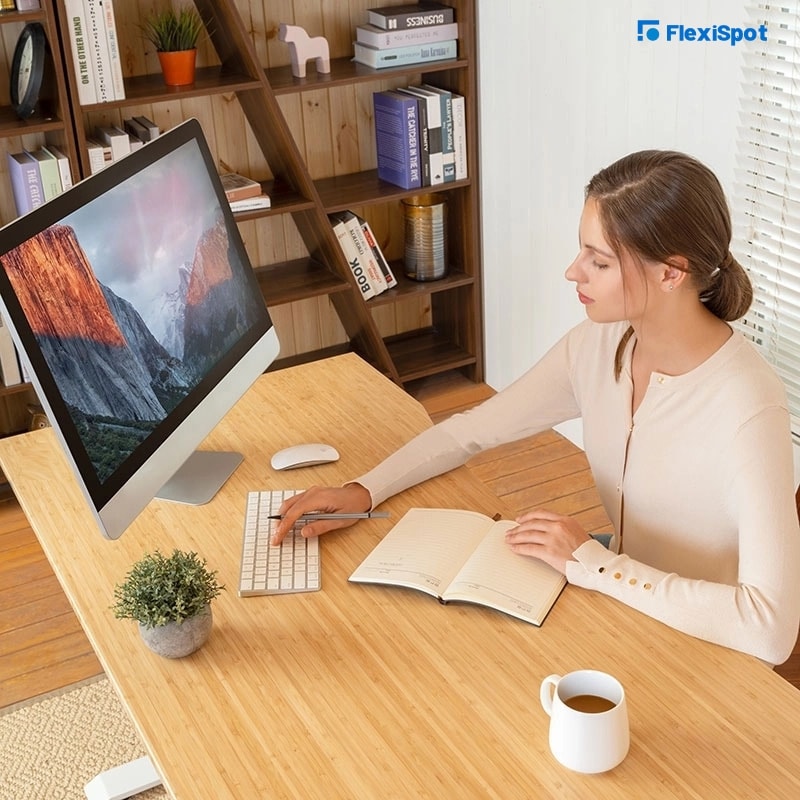 There are plenty of Sit-stand desks to choose from, whether you're looking for a simple height-adjustable desk or a more sophisticated model with built-in storage and cable management. But one sit-stand desk that is gaining popularity for its health benefits and environmental friendliness is the Kana Bamboo Standing Desk.
This popular model has received rave reviews for its quality construction and ease of use. But is it truly the best standing desk on the market? In this review, we'll take a close look at the features that make this desk so popular, as well as some potential drawbacks. By the end, you'll have a better idea of whether the Kana Bamboo Standing Desk is right for you.
If you're looking to save on your purchase of the Kana bamboo, we have a Flexispot 525 brand day that will begin on 25th May 2022. There will be tons of activities, deals, and flash sales, which you can take advantage of to get the best deals on various items. So if you're looking for the best deal on the Kana bamboo, make sure to check out our Flexispot 525 brand day. You won't be disappointed!
Why We Love the Kana Bamboo Standing Desk
There are many reasons why people love the Kana Bamboo Standing Desk. Some of the key features we like include

Material (Desktop)
The Kana Bamboo Standing Desktop is made of, quite obviously, bamboo. And while that might not be the first material you think of when considering a desk, it's actually an extremely sustainable and environmentally friendly option. Here are just a few reasons why you might consider the bamboo material for your desktop:
1. Its strength and durability. This natural material is two to three times stronger than traditional wood, making it ideal for furniture and other household items that see regular use. Bamboo is also highly resistant to damage, meaning it will last longer and require fewer repairs over time. Not to mention, the tensile strength of bamboo is about 28,000, greater than that of steel (23,000)– making it one of the strongest materials on the planet!
2. Bamboo is a beautiful, natural material that can add a touch of luxury natural, organic aesthetic to any desktop. Its warm tones and unique grain patterning make it an eye-catching addition to any space.
3. The surface of a bamboo desk is coated with a carbonized 2H lacquer coating that resists scratches, water, and insects.
4. Flexispot is committed to sustainable sourcing, and their bamboo standing desks are no exception. The bamboo used for the desktop is harvested by hand from sustainably managed plantations, and no chemicals are used in the production process. The farmers use traditional methods to grow and harvest the bamboo. As a result, the Flexispot Bamboo Standing Desk is a sustainable and eco-friendly product that will help to reduce your impact on the environment.
5. The Kana Bamboo Standing Desk only uses aldehyde-free glue in the production process, which has a very low impact on the environment. The desktop material also meets the E0 eco standard, meaning it has a low emissions profile contributing to a more climate-positive workstation and a reduction in the carbon footprint.
6. For every purchase of any of their bamboo product, Flexispot donates to onetreeplanted.org to help plant a tree. So, not only does the desk help you lead a healthier lifestyle, but it also helps to make the world a little greener.
As more and more people become concerned about the environment, the Kana Bamboo Standing Desk provides a refreshingly sustainable option. All of these reasons make the Kana Bamboo Standing Desk a great choice for the eco-conscious consumer.

Desktop Customization
The Kana Bamboo Pro comes with a variety of customization options to ensure that it fits your needs. There is a wide selection of sizes available ranging from 48" x 24" all the way up to 78" x 30". You can make the decision of the size based on the space you have in your office and the number of devices you might require on your desk. However, keep in mind that the price is not uniform and you will pay more as you increase the size. The largest size will cost an additional $ 210.
In addition, the frame width can be adjusted from 43.4" to 74.8", giving the users plenty of flexibility to choose their desired desktop size. However, different frames have different width adjustability ranges, so be sure to check that out and ensure they are compatible with the desktop size you have chosen.
For shape, you can choose between rectangular and curved shapes. The inwardly curved shape goes for an extra 10 dollars and offers a more ergonomic design–designed with an optimal reach zone, which prevents you from leaning forward unnecessarily when reaching out to use devices on the desk.

Frame Options and Customizations
The Kana Bamboo Pro frame comes in either black, grey, or white options and features a Nordson Enviro Coat powder-coated finish that gives it a superior look and feels fine to the touch. This, combined with the seamless welding technique used results in a sleek and minimalist appearance.
The frame is made from industrial-grade steel, which makes it durable and strong. Also, the thick leg columns and the carbon steel T-shaped base offer outstanding levels of stability and sturdiness even at the highest height setting.
And if that wasn't enough, the Kana Bamboo Pro frame is also FCC, UL, and BIFMA certified, making it one of the most stable desks on the market.
When it comes to choosing a frame for your Kana Bamboo Pro, you have a few different options to choose from. E1, E3, E5, and E7 are all different frame options that come with different height and width adjustability, maximum load support, no. of leg stages, price, lift speed, and certifications.
E1 is the entry-level option and thus has the lowest values in all categories. If you're looking for a more affordable option, then this is the frame for you. However, keep in mind that you'll be sacrificing some features and functionality that the higher-end frames offer.
If you're looking for something in between, the E3 and E5 might be the perfect choice for you.
Finally, we have the E7 frame, which is the top-of-the-line option. It offers the best in height and width adjustability, maximum load support, lift speed, and certifications–but all this at an added cost.
So, which frame is right for you? It all depends on your needs, desktop size, and budget. If you need the best possible adjustability and functionality, then go with the E7 or E5. However, if you're looking for a more affordable option, then the E1 or E3 might be a better choice.
Here is a table showing a comparison between the different frames :
| | | | | |
| --- | --- | --- | --- | --- |
| Comparison Factor | EC 1 | EC 3 | EC 5 | EC 7 |
| Height adjustability | 28"-47.6" | 27.2" - 46.5" | 24.4"-50" | 22.8" - 48.4" |
| Width adjustability | 33.5"-50.8" | 43.4" - 66.9" | 43.4"-66.9" | 43.4" - 74.8" |
| Lift Speed | 1.26"/sec | 1.26"/sec | 1.38"/sec | 1.5"/sec |
| Maximum load support | 154 lbs | 220 lbs | 220 lbs | 355 lbs |
| No. of leg stages | Eco 2-stage Frame | Enhanced 2-stage | Inverted 3-stage Frame | Enhanced 3-stage |
| Certification | FCC, UL | FCC, UL | FCC, UL, BIFMA | FCC, UL, BIFMA |
| Price | 329.99(basic setup) | E1+$100 | E1+$100 | E1+$260 |
Motor
Dual motors are standard on all but the EC1 model. These motors offer an average lift speed of 1.26"/s to 1.5 "/s, depending on the frame model selected. This allows for quick transitions between different positions. The quiet performers also produce less than 50dB noise levels, so they won't be a distraction in your workspace. Finally, the motors can lift a maximum weight of 275 lbs, which is sufficient to lift and hold several pieces of equipment without any struggle.

Keypad
There are two options for the Kana Bamboo Pro desk keypad–the basic keypad and the advanced keypad. Both types of keypads are intuitive and easy to use, so you can choose whichever one you prefer. But you would rather go with the latter as it gives you more control.
The basic keypad just has simple up and down buttons used to adjust the height of the table. Nothing more.
With the advanced keypad, you get additional controls, such as preset heights, which will come in handy when saving your preferred sitting and standing heights to enable you to alternate between the two seamlessly. To add to that, you also get features like anti-collision and child lock features.
And when you're not using the desk, the LED display will automatically enter sleep mode, saving on energy
Height Adjustability
If you're looking for a sit-to-stand desk that can accommodate a wide range of users, the Kana Bamboo Pro is a great option. Its height adjustability ranges from 43.4" to 74.8", making it suitable for users of different heights. This inclusive design is perfect for accommodating users of all height sizes, from 4.2 ft to 6.7 ft. However, be sure to confirm the different height ranges of the frame options before purchase to ensure that they will meet your needs.

Assembly
Though it might take some time, the process is not overly complicated and can be done by most people with basic handyman skills. It will probably take you 30 minutes to an hour, depending on your experience level.
While the manual does provide instructions on how to put it together, some people might find it difficult to understand some sections. However, this should not be a problem because the desktops and frame come predrilled, so there's no need for any complex carpentry. This makes it easier for you to put it together without any errors. In addition, Flexispot also includes all the tools required to assemble the desk, but you might still need some other tools to help with the assembly, just in case, e.g. electric drill.
That said, it's always helpful to have an extra set of hands when assembling furniture, so if you can rope in a friend or family member to help, it will make the process much quicker and easier.
But all in all, assembling a Flexispot Kana Bamboo Pro should be a relatively straightforward process.
Warranty
When it comes to warranties, the Kana Pro standing desk is one of the best in the business. The minimum warranty for their desks is 5 years, but some models have a warranty as high as 15 years. That's a testament to the quality of their products. Their warranty covers all the desk components, including the metal and mechanical parts, motors, and electrical components. So, if anything goes wrong with your desk, you're covered. That's peace of mind that you can't put a price on.

Pros and Cons of the Kana Bamboo Pro Desk
Here are some pros and cons of the desk:
Pros:
Motor can handle a load capacity of up to 275 lbs
Comes with anticollision and child lock safety features
Whisper-quiet motor operations
Very stable and sturdy even at the highest height setting
Great design and finish with several customization options
Easy assembly process
Cons:
Minimal cable management is included in the desk (only hides the desk and motor cables), so you might have to purchase external cable management solutions

Get Your Kana Bamboo Standing Desk Today
The Kana Bamboo Standing Desk is one of the most popular choices for a standing desk on the market today, and it's not hard to see why. It's made from eco-friendly bamboo, which gives it a natural look that other desks can't match. It's also incredibly stable even at its highest height setting, thanks to its strong steel frame, base, and powerful motor. The smooth finish on the desktop provides a comfortable surface to work on, and the overall design of the desk makes it a pleasure to use. It's sure to add a touch of style to any office or home.
It's also quite affordable, especially when compared to other standing desks on the market. And now, with FLEXISPOT's brand day flash sale on the Kana Bamboo Standing Desk, you can get it at an even better price.
Here at Flexispot, we know that everyone loves a good deal. That's why we're excited to announce our upcoming Flexispot 525 brand day. Taking place from 25th May 2022, this special event will feature a range of activities, discounts, and flash sales on various items.
There will be a flash sale on the Kana Bamboo Standing Desk on the 27th of May 2022(00:00 PST-23.59 PST), and during the sale, you can get it for just $299.99. That's 19% off the regular price, So be sure to mark your calendar and don't miss out on this incredible offer!