Something about living life dripping in opulence makes people wonder if one day, they would get there. After all, our appetites for more are hard to satiate. We tend to yearn for better things, a better career, and an overall better life. Although the way to achieve those might be paved with obstacles and hurdles that we need to get over, no one ever said that it is impossible.
Nevertheless, there would be moments where we may not be nearing the summit of our version of success. It can make us feel utterly helpless too. If only there was a way to feel luxurious while staying on a budget, then maybe we would not feel this way. But alas, FlexiSpot can show our dear readers how to create a luxurious office within the comforts of their homes without going over the budget!
Luxury and budget may not be the two words you think of in one sentence but we can guarantee that this is possible. With a little bit of ingenuity, resourcefulness, and a clear vision in mind, the luxury office would be right in the palms of your hand. 
So, here are the ways you can make any drab and gloomy office look luxurious while spending less!

1. Look for Opulent Inspirations Everywhere You Can Think Of
You cannot start creating a luxurious office without looking around for inspiration. It is also important to take note that different people have varying ideas for what constitutes luxury. Some want the pastel colors adorned with over-the-top excess of the Rococo period. If that is not your preference, maybe a sleek black and pure white office accented by bright gold would be your choice. 
There are many opulent styles to choose from. While we cannot go over these by one (maybe in another article), what matters is you need to have a strong vision to successfully execute what you want.
Having a hodgepodge of clashing ideas can break the luxurious feel you are going after. You can mix and match different style eras to suit your needs and vision, but you have to have a keen eye for details to make this work. If you are worried that this may not go according to your plan, fear not. You just have to list down the things you want for the office as well as others you can live without. Take a look at your style as well. Those who wear understated clothes may eschew the lavish decorations that others may wholeheartedly love and vice versa. And if the outside is not inspiring enough, the inspiration could have been inside you all along. 

2. Scour Local Thrift Shops and Flea Markets
While some may turn up their noses to secondhand items, the rich will truly know the value of an item even if it is not brand new. And contrary to popular belief, vintage items which may be hard to find tend to be priced more than mass-produced ones. Although finding rare items of worth in a secondhand store may be a one in a million chance, there is still a possibility that you would score an office decor for less than if you bought it brand new.
You can score just about anything in thrift shops and flea markets too! If you want a beautiful painting without resorting to digital reprints, these two shops can offer a wide array of paintings from either local or obscure artists.
If you want a statement piece to accent the luxury office, there are a myriad of decors available as well. From Erté-inspired art deco figurines to pencil holders decked out in shiny faux diamonds, thrift stores and flea markets are the places to be! Just make sure that you thoroughly check the items for any damages before heading for the cashier. Although this step may seem unnecessary, ensuring that the goods you will buy are, you know, good, will help blend well with the luxury look you are going for. So keep your eyes sharp as obviously damaged and beyond repair goods have no place in your vision.

3. 50 Shades Of Luxury
Choosing the right color for the luxury office of your dreams can be a tough challenge as this would be the canvas for the whole endeavor. 
If you want a fresh, clean, and understated look, creamy whites, cozy beige, and muted greens can be used to highlight and complement your vision. For those who want bolder and out-of-the-box hues, striking red, cool ocean blue, and sharp grays will make a head-turner statement for the place. If you are having trouble with deciding which hue to go for, try dividing your choices into three. The first one would be the base shade. It would be the all-over paint for the area meaning it should be bright yet pleasing to the eyes. The second one would be the accent color. It can be painted to the corners and borders of the office to provide a contrast from the base shade. You can also choose to color one side with this color to have an accent on the room. The third choice would be made for the decors that adorn your office. Gleaming gold, sleek silver, vintage bronze, or fresh rose gold are the perfect examples of decor colors. 
4. There is Luxury in Ergonomic Office Solutions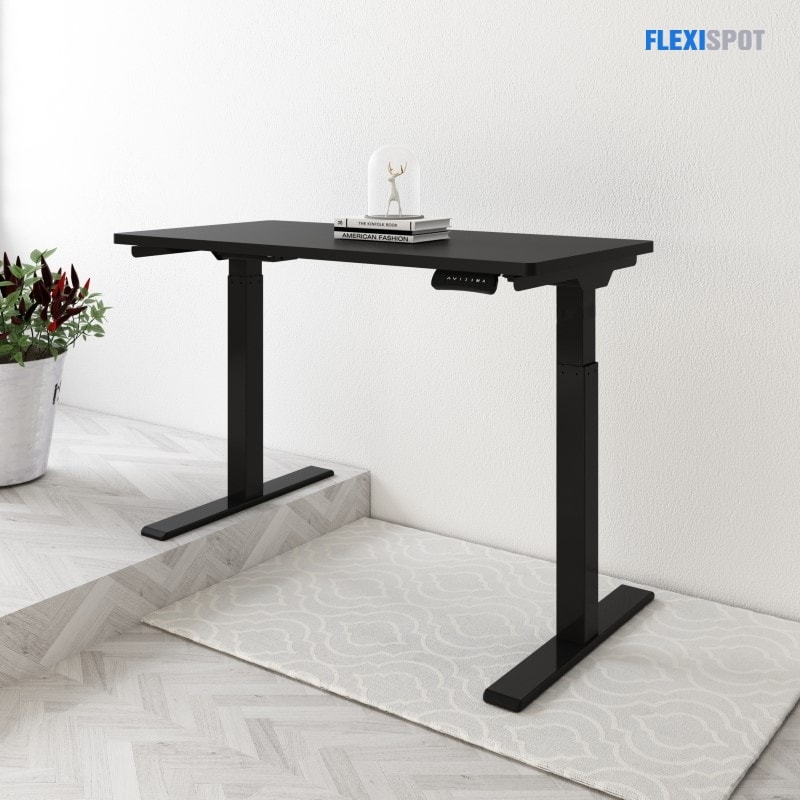 Using ergonomic office solutions in a luxurious office will portray to the world that you have made it. After all, an ergonomic standing desk is not entirely easy on the pockets. Nevertheless, FlexiSpot came up with ergonomic office solutions that look amazing while not going over the budget. The Electric Height Adjustable Standing Desk E2AL, for example, offers a wide array of color and texture options that will match the luxury office of your dreams. It also provides a healthier way to work as you would not be sitting all day thanks to the durable dual motors that help make height adjustment easier for you.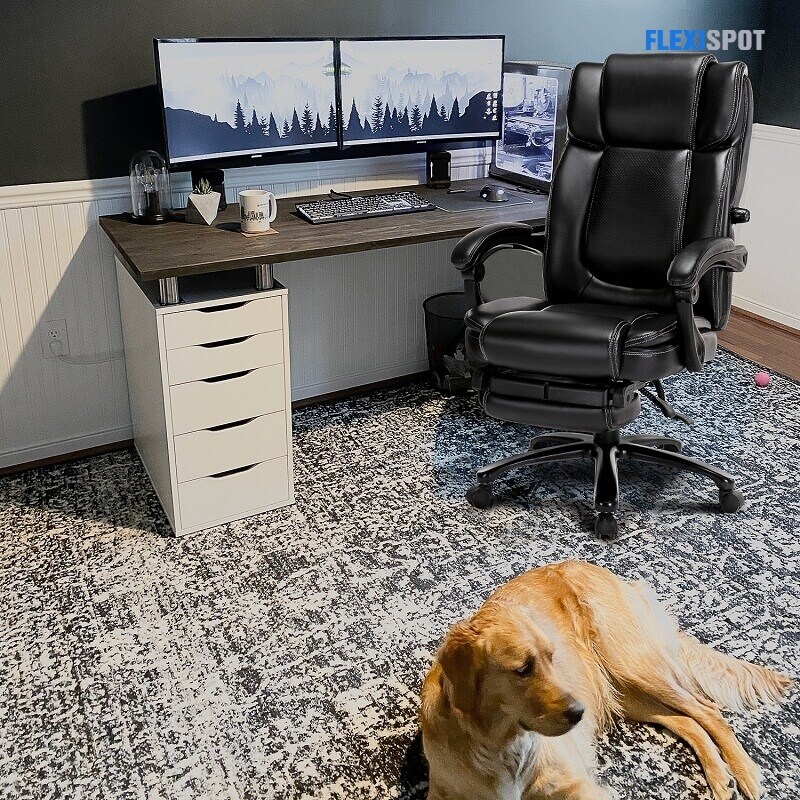 Although standing from time to time while at work can be beneficial to your health, you would still need to sit back and relax because you deserve it. The Big and Tall Reclining Executive Office Chair with Footrest 290 is upholstered in a sleek faux leather which screams opulence in all the right ways.
Final Thoughts
Something about living a luxurious life makes people wonder if one day, they would get there. But you do not have to wait any longer thanks to FlexiSpot's office solutions and our tried and tested fancy yet economical tricks that would surely help you achieve that luxury office feels that you want at home.