An office chair is a major purchase. After all, it's something that you will use on most days of the week. With an increasing number of employees now working from home, it becomes even more critical as it can have a significant impact on your comfort and health.
When you think of an office chair, the two popular options that come across people's minds include mesh chairs and leather chairs. While some of you may think about what difference does material makes there are several differences that you may experience simply because of the differences in the material.
Mesh office chairs are affordable and breathable, but the timeless appeal and warming comfort of leather office chairs attract many. However, the ultimate choice of the office chair material that's perfect for you comes down to several factors, including your preference, your budget, and the durability of the chair.
In this post, we look at the pros and cons of mesh vs. leather chairs to make your choice even clearer, followed by a discussion on how to find the right office chair for you.

Pros and Cons of Leather Office Chairs
As the name suggests, leather office chairs are made up of leather. But they aren't entirely made of leather. Rather the seat, backrest, and armrest are made of this natural material, whereas the frame and other parts of the chair are constructed using metal or plastic.
Leather office chairs have a classic and timeless visual appeal. They are known for warmth and comfort, and if made from high-quality leather and maintained appropriately, leather office chairs can turn out to be extremely durable. The plush leather office chair is synonymous with luxury, style, and comfort. But there are a few undesirable aspects of this type of chair.
Let's look at the pros and cons of leather office chairs.

Pros of Leather Office Chair
Classy Look
A leather office chair makes a major investment for your home office that provides comfort, but it is also regarded as a piece of furniture that can transform the feel and ambiance of your office. One cannot achieve the classic appeal that a leather chair adds to your office with any other type of office chair.
Leather chairs make one of the best choices if you want elegance and comfort at the same time.
Durability
A good quality leather chair can last for a long period. While most people may assume otherwise if you maintain your leather chair well, it can last for decades. So while leather office chairs may appear like a pricey choice, given that it serves you for years, it is worth spending some extra money to get the chair that you can use for decades.
Exceptional Comfort
Leather office chairs make one of the most comfortable seating options for office chairs. The plush leather chair offers great comfort that you may not experience with other types of office chairs.
Moreover, since leather is a natural material, it keeps you cozy during the cold weather by utilizing the heat from your body. During the hotter days, it can even absorb perspiration and keep you cool and comfortable.
Ease of Maintenance
Unlike what most people assume, leather office chairs do not need a lot of maintenance. Since leather is a natural material, it sustains and protects itself without much effort. Moreover, it is easy to clean and maintain leather chairs. So, for example, if a beverage is dropped on your leather office chair, all you need is a dry, soft cloth to wipe it off. Similarly, in case of dirt and debris, you can simply use a dry cloth to wipe the chair or brush it off your seat easily.
For more extensive cleaning of your leather office chair, you can use a soft wet cloth or even mild soapy water to give a thorough cleaning to your chair. However, if your leather office chair is made of aniline-dyed leather, this cleaning method is not appropriate as it can damage the fine leather.
While maintaining a leather office chair is easy, it's important to refer to the manufacturer's instructions about cleaning and maintaining the chair as you want to ensure that the leather stays in good condition for a long time.

Cons of Leather Office Chair
Higher Costs
The most significant con associated with leather office chairs is their high price. Leather office chairs are more expensive compared to other types of office chairs.
However, the luxurious appeal, exceptional comfort, and durability that leather chairs offer to make it a worthy investment.
Prone to Scratches
Leather office chairs may be easy to maintain. However, they are prone to scratches. Any sharp object can damage your leather office chair. Hence it is important not to use any sharp objects while using your leather office chair.
Difficult to Identify Genuine Leather
Another major drawback of choosing leather office chairs is that it is difficult to differentiate between fake and genuine leather. Since a leather office chair is a huge investment, you wouldn't want to gamble a huge amount of money when you know there is no guarantee that you would end up with an office chair made from genuine leather.
Leather Office Chairs May Bleach out or Crack
When using leather chairs, make sure they are not exposed to too much heat and light. Prolonged exposure to sunlight can crack or bleach out the leather and spoil the entire appeal of the chair.

Pros and Cons of Mesh Office Chairs
Mesh office chairs are made of mesh fabric and make a great alternative to fabric and leather office chairs. They are ergonomically designed breathable office chairs that are lightweight and easy to maintain. Moreover, mesh office chairs make an affordable solution to office furniture. However, there are a few concerns about this type of office chair's comfort and durability.
Let's look at the pros and cons of mesh office chairs.

Pros of Mesh Office Chair
Breathability
The mesh office chairs are made from a breathable mesh fabric that allows air circulation between the body and the back and seat of the chair. Unlike fabric or leather chairs that create heat accumulation during prolonged sitting, mesh office chairs give a lot of free space to help your skin breathe.
Lightweight and Ease of Maintenance
Mesh office chairs are a lightweight alternative to fabric and leather office chairs. Since it is has a minimalistic design, it is relatively easy to move the chair around and even lift them.
Moreover, mesh office chairs are easy to maintain. You can clean it using a vacuum cleaner, and a wet cloth is good enough to clean the spills and stains from mesh office chairs.
Readily Available, Pocket-Friendly Alternative
You can find mesh office chairs at any furniture store as the chairs are readily available. Moreover, mesh office chairs make a pocket-friendly alternative compared to fabric and leather chairs.

Cons of Mesh Office Chairs
Comfort
Mesh office chairs are ergonomically designed and provide adequate support; however, it doesn't make a comfortable seat when used for a long time.
Durability
Another major concern associated with mesh office chairs is durability, as the chairs are not as durable as fabric or leather office chairs.

Mesh vs. Leather Chairs – Which One is For You?
When you are confused about choosing between a mesh office chair and a leather office chair, always remember that several factors can influence your choice. Some of these factors include
Your Preference
If you are looking for a super comfortable sitting experience that looks luxurious, then leather office chairs make the best choice.
Moreover, if you prefer a durable office chair that can serve your years, then leather office chairs are what you need. But if you are looking for an office chair that you intend to use temporarily, then a mesh office chair makes the right choice for you.
Your Budget
Apart from your preference for comfort, style, and durability, the other critical factor influencing your decision is your budget. If you are willing to spend a higher amount on an office chair and consider it as an investment, then a leather chair makes the right choice for you. But, if you are looking for a more economical alternative, mesh office chairs are for you.
Space Considerations
The availability of space also makes a critical deciding factor when choosing between mesh chairs vs. leather chairs. If you have a huge office space that can accommodate a mighty-looking piece of furniture, you can go for leather office chairs. But when space is a concern, it's best to opt for mesh office chairs.
Final Words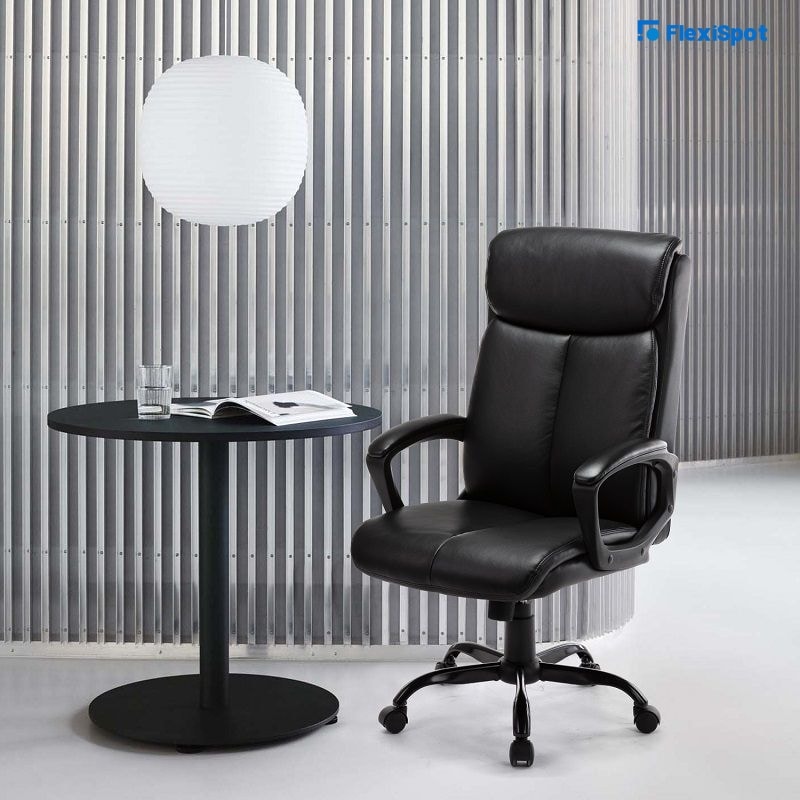 Deciding on which type of chair is best for you is a personalized decision that depends on several factors. If you have space and are willing to spend money on a luxurious and classic office chair, nothing beats the luxury and appeal of a leather office chair. The High Back Office Chair 2191E by Flexispot makes one of the best leather office chairs you can find on the market. The strong and sturdy chair has a high back for exceptional support and comfort and makes a durable and affordable investment that's easy to assemble and maintain.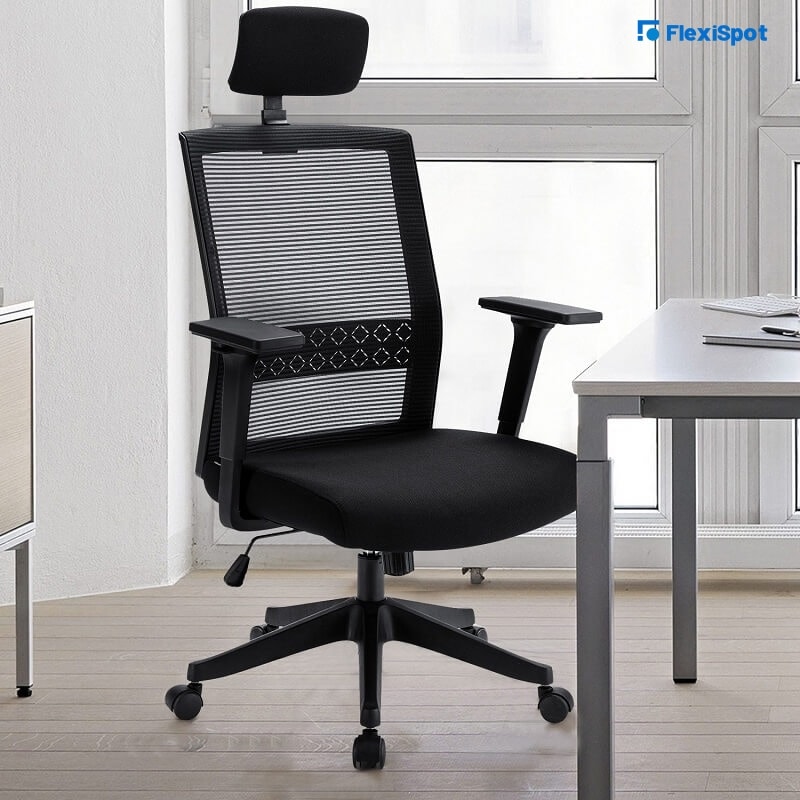 But if cost and space are a constraint and you prefer to keep things to a minimum, then a mesh office chair is for you. And if you are looking for high-quality mesh office chairs, then Flexispot is your one-stop solution to ergonomic office chairs.
Visit the website today to learn more about mesh, fabric, and leather ergonomic office chairs.