Justin has always wanted to create videos for a living but he needed to delay the dream for a job his parents wanted him to do. For three years, he had been watching YouTubers on the daily, learning the ins and outs of the industry while he worked as a chemical engineer for a major food corporation. He would shoot and edit videos on the side and never upload them, but Justin never lost the dream. 
Although thoughts of other people thinking he's crazy to haunt his mind, he knows that one day he'll become a successful YouTuber. When the pandemic hit and his work hours were divided from home and the office, Justin finally mustered the courage to drop all his guards and execute the plan. He won't leave his 9 to 5 job just yet but would already start uploading content on the side. 
Justin is not an isolated case. He represents a significant part of the new generation wanting to make a name for themselves by using a free platform to showcase their talents. It may sound easy for a nobody to becoming a star overnight but it's the exact opposite. The market is oversaturated and the competition is stiff. Only the toughest of the tough make it through. But Justin is taking it to step by step, one day at a time. His first agenda was to research and invest in high-quality items for his vlogging station and editing nook at home. Here's what he prepared: 

1. Camera 
With many people fighting for YouTube space, videos should come in a full stunning package to be noticed. Yes, the content comes first but camera quality also adds more oomph than low-res videos uploaded online. 
Phone cameras have been upgrading in recent years with megapixels reaching up to 108MP this 2021. Sony and Canon have been battling it out, releasing DSLRs that can shoot videos up to 120 frames per second. Lenses, even the third party ones such as Sigma, enable movement to be captured in its most crisp form. The bottom line is there are many cameras available in the market; one just has to look for the best one that has the specifications capable of executing his vision. Drones, action cameras such as GoPro and Insta 360 are also great additions to the camera bag and will elevate any video product in an instant.
2. Microphone
Sound quality is another area to focus on. No one wants to watch a video that has a noisy recording or with unclear voices, no one will understand the script. Investing in a good microphone with a condenser such as those offered by Sennheiser, AKG, and R0DE will definitely yield better results at present and in the long run. 
3. Lighting Equipment
To achieve good image quality, lighting is very crucial. Usually, a softbox or two with durable light stands to illuminate the workstation will do the trick. Place your vlogging station near the window where the sunlight hits perfectly for some natural lighting magic. Adding a backlight or a key light will also add more effect; ultimately, it depends on the look that you are trying to achieve. 
4. Laptop or Desktop
Investing in a heavy-duty laptop or desktop is never a bad idea. Buy a unit with a good graphics card, a fast processor core (Intel i5/i7/i9 models or the latest Apple M1 chip), and a large storage capacity not lower than 256 MB. 
Buying a good laptop or desktop will save you time in video editing and produce the best quality in terms of color grading and sound enhancement. Also, consider buying an external hard drive for an even bigger memory. 
5. Standing Desk or Standing Desk Converter
The work-from-home trending item as of the moment is a standing desk and for good reason. It guarantees to enhance work efficiency and improve one's posture while working.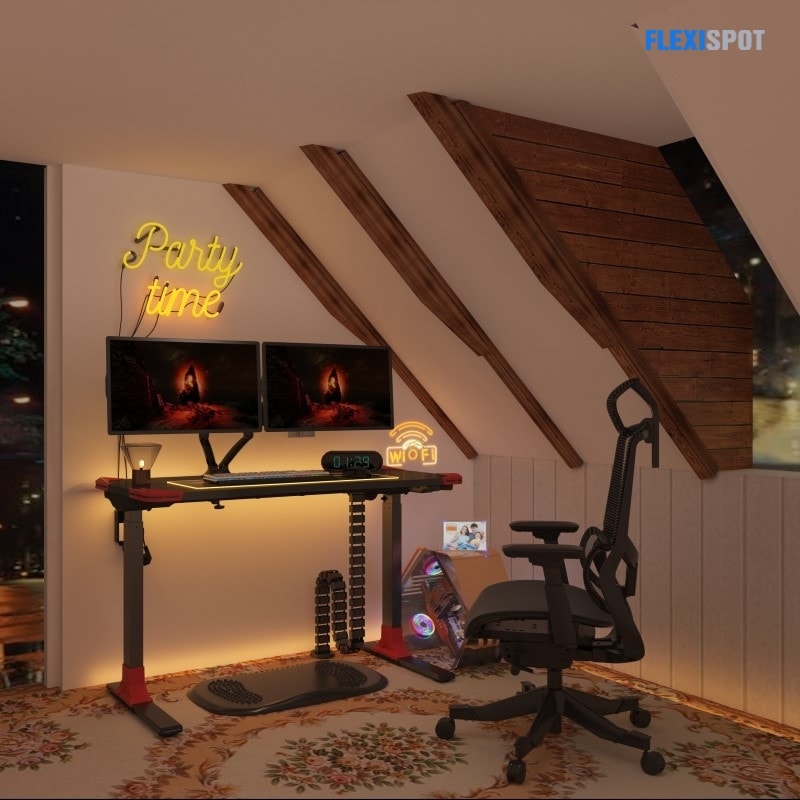 Flexispot has an Electric Height Adjustable Gaming Desk. It has a carbon fiber textured top that is water- and stain-resistant and non-slip. If you look closely, it has a curved shape that helps in supporting the elbows and wrists. It also comes with adjustable foot pads that keep the desk even and stable on uneven ground. 
https://www.flexispot.com/height-adjustable-desks/electric-height-adjustable-gaming-desk-48-w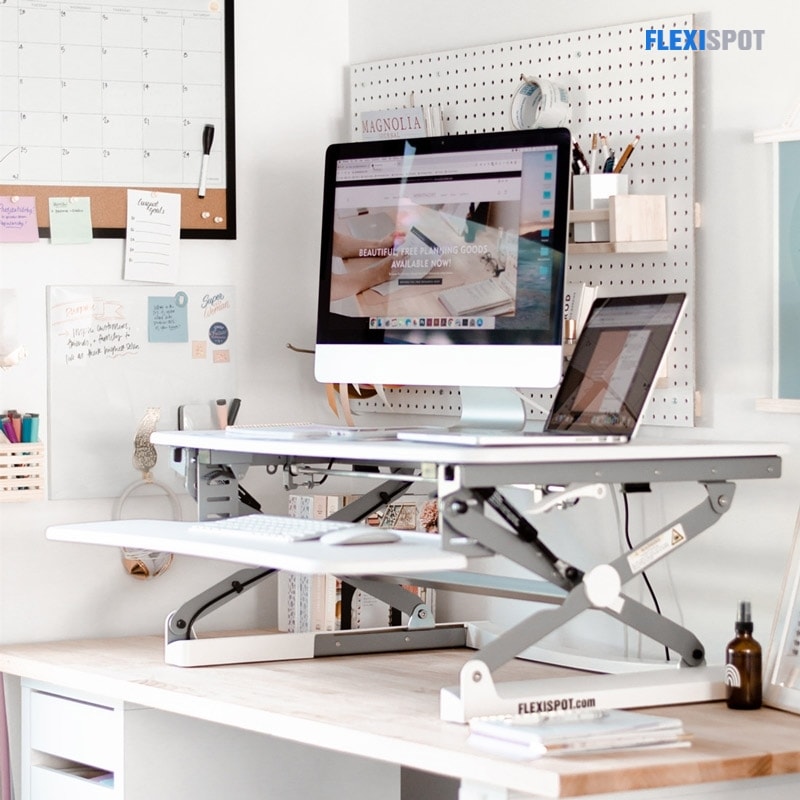 You could easily upgrade the workstation without taking desk space by mounting a standing desk converter. It could carry up to a maximum of 35 pounds per desktop tier and could accommodate the height of different users up to 6'5" tall. It's easy to lift using the single-hand bar that would need 13 pounds of force upward and 3 pounds only downward. 
https://www.flexispot.com/classicriser-standing-desk-converters-m3
Working remotely without a deadline will certainly challenge your motivation and discipline. Help yourself by designing a workstation that will boost efficiency and productivity. 

6. Monitor Mount
It's much easier to edit and go through loads of footage with a wide or two screens. Don't take up additional desktop space and clamp Flexispot's Monitor Mounts securely to your desk. You may opt for a single monitor mount or two. The monitor mounts can hide the cords to make the workspace clutter-free. It's also easy to install, adjust the height, and rotate to an angle that you need while editing or watching raw footage. 
https://www.flexispot.com/catalog/product/view/id/863/s/dual-monitor-mount-f7d-f8ld/category/66/

7. Gaming Chair 
The long hours of editing up to the wee hours of the morning can be tiring especially if you're juggling the job with another. 
Flexispot's Gaming Chair GC01 is the answer to your dream. It's an ergonomic chair with an ultra-wide design and a high seatback. The head pillow and lumbar pads are removable and its backrest can be adjusted up to 135 degrees. For sure, even if you edit for long hours, this gaming chair will relieve you from body pain. Another cool detail is its extendable footrest that you can use if you want your feet up. 
https://www.flexispot.com/office-chairs/gaming-chair/gaming-chair-gc01
8. Power Strip 
With many devices to charge, long cords usually take up desktop space or entangle with one another. Power strips will save you the hassle of decluttering and make sure that no one will trip because of twisted cords. Flexispot's Power Strip With USB PS12S comes with three AC outlets, 1 USB port, and 1 Type C port. 
Treading unfamiliar territory has always been terrifying for the first time but not even fear should stop you from pursuing your dreams. Save money, invest in the right tools, and work hard to get that dough.