Most of us fall into this trap. We set out to do one goal but we fail to deliver because even before we act, we already face a mountain pile of excuses we ourselves made. This is especially true when one tries to get the body to exercise. 
We get it. It's hard to get up and move. It's easy to just lie down and binge-watch a new Netflix series all your friends are talking about. Just thinking about exercise and the strain it will put your body into already feels overwhelming. 
Sometimes, we come up with the most "valid" excuses. We say we're too busy with work and we don't have time for an add-on in our lives such as exercise. We say we don't have the equipment at home. We think our bodies are just born to be overweight. We think we are inclined to eat junk food and by limiting our diet, we are depriving ourselves of happiness. The list can go on and on but the feeling of accomplishing and sticking to a strict exercise routine would never be met if these excuses were always entertained. 
Come to think of it, we do have time! No matter how busy we get, we still spend a good hour scrolling on social media. One misconception that people have is that exercise takes a lot of time in a day. It can actually be just five minutes and by allotting this much time every day, we make a habit out of it and it becomes easier for us to push ourselves and exercise some more. 
In reality, exercise will help us live a better quality of life. Studies show that it adds years to one's life and helps prevent chronic diseases such as heart disease, cancer, and diabetes to develop. It sharpens focus and stimulates creativity. It uplifts someone's mood and gives a rush of endorphins after a calorie burnout.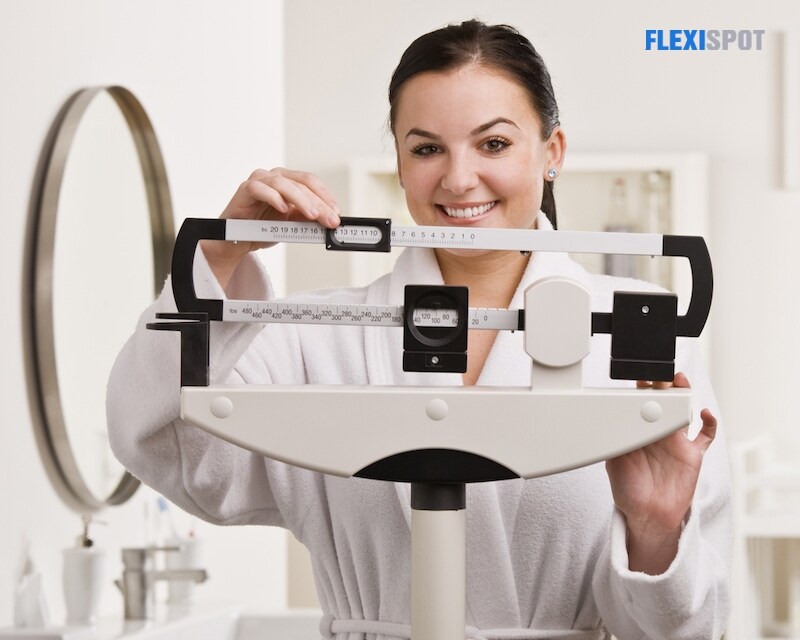 But if your goal has always been weight loss—may be because you're obese or overweight or you simply want to shed some pounds—there are reasons that could probably motivate you to finally exercise and grind it out. We list some of them below: 
1. When you're overweight, your joints hurt and you can't move freely. Obesity increases your chances of getting osteoarthritis. When you get a chronic disease such as osteoarthritis, your joints will frequently hurt which makes you want to move less. This means that your muscles would be weak and would worsen your condition even more. When your osteoarthritis becomes severe, it would mean more pain for you. 
2. When you lose weight, you'll have a better quality of sleep. When you have more body fat, you are more likely to suffer from sleep apnea which means your upper airway gives up and cuts off the entry of oxygen. According to Precision Nutrition, sleep apnea means you stop breathing. 
3. You'll be craving less for sugar and unhealthy fats. People tend to eat more food when they can't taste it well which experts say may be the reason why overweight people eat more food. By building healthy habits and losing weight, flavors may be perceived differently and vegetables or fruits may be more enjoyable for the obese and overweight. 
4. You will have a healthier immune system. More body fat leads to more infections or illnesses such as gum infections, nose infections, herpes, and stomach infections. Because your body is exposed to fat for a long time, this might make it harder for the immune system to identify outside infections and stop them. 

How To Lose Weight With FlexiSpot
A quick check on the site would lead you to FlexiSpot's catalog of fitness equipment. From a vibration plate exercise machine to adjustable dumbbells and rowing equipment to folding treadmills, FlexiSpot can help you target your arms, back, core, and legs. 
Two of our favorite offers from FlexiSpot that help employees inject movement in their sedentary jobs are the desk bike and the folding treadmill. We break down two below: 

Bike Workstation V9
The Bike Workstation V9 comes in black and white, depending on what color you prefer to add to your workstation. We're proud to say that this particular design was a 2018 Honoree in the CES Innovation Awards. It will help you to stay productive at work while living an active lifestyle. Even if you are performing a sedentary task, you'll be able to burn a significant number of calories and lose weight. 
The seat is easily adjustable to anyone's height because of the bike's built-in pneumatic adjustment lever. It has an integrated digital display that shows readouts for workout time, calories burned, and speed. It has eight resistance levels to choose from for light or strenuous exercise. Since the goal is to lose weight, we recommend challenging yourself to go on a higher resistance from 5 to 8. 
The bike has lockable gravity casters so you don't have to worry about it suddenly rolling away from your desired area of the room. It also has a spacious desktop where you can put your laptop and phone, and can also be removed when you don't feel the need for it. Lastly, it provides a smooth cycling experience because of the whisper-quiet operation. 

Folding Treadmill 08
An Under Desk Treadmill, you can use this anytime while working on your desk. This has a multifunctional LED display to track time, calories, speed, distance, and step. Speed could be adjusted based on your fitness level, goals, and activity at that time. Since the goal is weight loss, try using the speed of 2 to 4 mph more frequently.
This treadmill can accommodate a weight of 265 pounds. Its 2.5 horsepower is ensured to be a low noise motor that wouldn't go disturbing others in your household or your next-door neighbor. It features what it calls as SAFE or Spacious Exercise Suffer. The 15" x 41.3." running belt is made up of rubber and is shock-absorbing and non-slip. 
The treadmill can be connected to your phone through the Fitshow APP that will give you real-time fitness data and allow you to exercise with others in the community for more motivation. Your phone may serve as a remote control to adjust running speed, mode, and program at your convenience. 
Moreover, there is no need to install this treadmill. It has its transport wheels and is 5.5" thick that can be hidden under the sofa, bed or placed in one corner of the room when not being used.