Having a bun in the oven for the first time is an exciting phase for a new household. Even though you've been dog parents for a while, a human baby will entirely breathe new life into your dynamics at home. Certain adjustments have to be made, and you're probably already renovating a room to become a nursery, complete with toys and books that your kid will hopefully enjoy. But have you thought of what it will be like to raise a kid with a pet? 
According to the Royal Society for the Prevention of Cruelty to Animals (RSPCA)*, dogs and babies have different communication patterns. Babies don't talk like adults; instead, they cry, scream, crawl, run and play with their arms. When they see a pet, they would want to play, hug, hold and kiss them even though the pet doesn't want any affection at that particular time. This situation can become dangerous because the pet might attack and bite the little one it sees as a threat. 
It doesn't mean that you have to get rid of your beloved dog or cat for three years. Yes, there are new safety measures to be put into place, but nothing life-endangering that the benefits won't outweigh the risks. American Academy of Child and Adolescent Psychiatry* lists the advantages of pet ownership to a kid. Eventually, when the kids could talk, having a pet means there would be someone to share their secrets to, they would learn about responsibility such as feeding the dog or cat at the right time, they would be taught how to respect other living things, and they would witness life events such as birth and death. Add to that, they'll have lots of physical activity with the pet, comfort within hand's reach, and experience love, loyalty, and affection that comes with growing up and taking care of a pet. 
*https://www.rspca.org.uk/adviceandwelfare/pets/dogs/company/children
*https://www.aacap.org/AACAP/Families_and_Youth/Facts_for_Families/FFF-Guide/Pets-And-Children-075.aspx
So how do you exactly create a safe space for your kid and your pet to get along? Here are six pointers that might come in handy to avoid accidents or, God forbid, sending the pet away for good. 

1. Never leave your baby and pet alone
Since they couldn't understand each other's cues just yet, it's best to be safe than sorry. Do not leave your kid and pet together with no supervision. Make sure always to know where they are and what they are up to. Consider installing a security camera or placing a standing desk in your kid's playroom to watch over them while you work.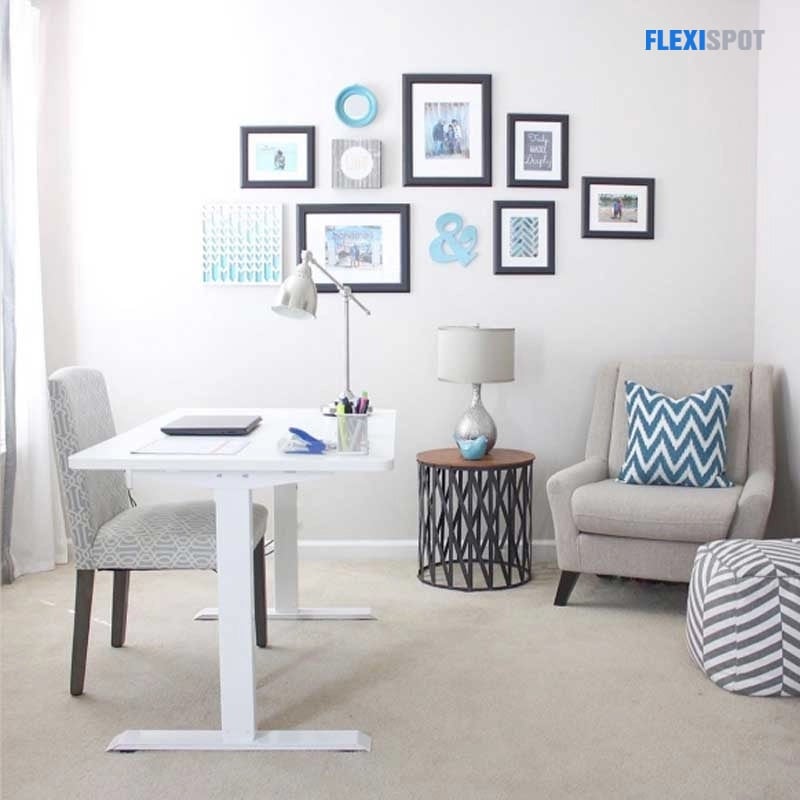 The Eco Seiffen Laminated Standing Desk from Flexispot is designed for you to get moving and avoid the sedentary way of life. It's strong and could carry up to 154 pounds. It's 39.3" to 63" in width that could easily fit your laptop and other work essentials. It also comes with a built-in keypad that you may conveniently adjust up and down. It comes in 7 different neutral colors; it wouldn't be a challenge to match it with your kid's playroom aesthetic. 

2. Put fragile and essential things on a height
As we all know, kids and pets could get very playful. You can try to scold them, but it won't stop them fooling around and having the best laughs without noticing the mess they have made. 
With this in mind, you know not to leave your important belongings and fragile decor within their reach. Flexispot has floating shelves that you could easily install on your wall. It comes in a set of three, and each has two hooks to give you more storage capacity. 17.7" long, 0.98" thick, and 6.67" wide, they have ample room for books, photo frames, vases, plants, household items, and more. They are guaranteed sturdy and can hold up to 44 pounds. 
https://www.flexispot.com/floating-shelves-wsf1
You may also put fragile home decor in a height-adjustable standing desk from Flexispot instead of a low center table. The height is easily adjustable with built-in up and down buttons. 

3. Give your kid an activity to do
If your pet is not in the mood to play, make sure your kid has an activity to do. It could be coloring sketches in a book, painting a white canvas with hands, hosting a tea party, or having Buzz Lightyear and Woody fight. The bottom line is to make sure the kid stays away from your pet when it doesn't want to be bothered. 
For a growing kid, this height-adjustable ergonomic study desk would be perfect for different activities. Its height range is from 29" to 48.6". Because of its soft-touch keypad, your children can easily adjust the height of the desk themselves. There's also no need to worry about your kids' safety using the desk as it's robust and stable. 
https://www.flexispot.com/desks/height-adjustable-desks/height-adjustable-ergonomic-study-desk
4. Train your dog
Make sure your dog is trained in the basics of sitting, walking with a leash, Down, Stay, and Come. If your pet is trained, it'll be easier to set boundaries, such as not disturbing the dining area at mealtimes. When your kid and the dog are playing together, prepare your treats and a trained dog would know what to do at your command. 
You could also train your kid to handle your pet gently. Do not come near when the pet is eating or playing with a toy. 

5. Understand your dog's behavior
Understanding your pet's cues will help you determine if it's safe for it to play with your kid. For instance, if your dog's body is in a relaxed position, mouth open, wagging tail, and eyes in regular shape, the dog is happy. If its posture is stiffened with weight forward, teeth showing, and tail down or up and stiff, then that dog is unhappy or angry. 
If you know their behavior, you will sense danger and that you could easily separate your kid from the situation. 
6. Allocate separate and shared spaces at home
Set clear divisions as to which space will be for a dog's feeding station, play area, etc. Install a safety fence or a gate door to establish separate and common areas that will isolate pets and your babies in their corners.