Humanity is at the verge of a detrimental end, as the BBC reported about the assessment of the UN Panel, which implies that severe climate changes such as wildfires and extreme flooding are starting to ravage more countries. What's worse is that IPCC found out that humans are the culprit for the 90% of damages that caused the melting of glaciers and the diminution of the Arctic sea ice. Indeed, the glacier melting and Arctic sea-ice diminution are because of the carbon footprint and greenhouse gases. Hence, massive flooding in most areas surprisingly takes place. 
The Brighter Side
Even though humans are partly at fault for this global catastrophe, there are still individuals, civic groups, and companies that advocate for the conservation of the environment and lessening carbon footprints. One of these companies is Flexispot-the home of the well-renowned standing desks, stand-up desks, stand-up desks, and ergonomic chairs. 
Indeed, Flexispot has made various standing desks that are eco-friendly, in particular. In this dissertation, the products mentioned could protect your children once they use these pieces of equipment. 
Choosing the Top 3 Eco-Friendly Desks for Your Kids
Flexispot sit-stand desks are known for their flexibility, height-adjustability, and durability that protect the kids' ergonomics. However, there are more things to be in awe of with these standing desks. So, now you might still face hurdles this 2021; thus, Flexispot can help alleviate your worries about your child's ergonomics. 
At Flexispot, you may ensure that your children use standing desk products that would not expose them to harmful toxins. One of these stand-up desk products is the Kana Bamboo Standing Desk.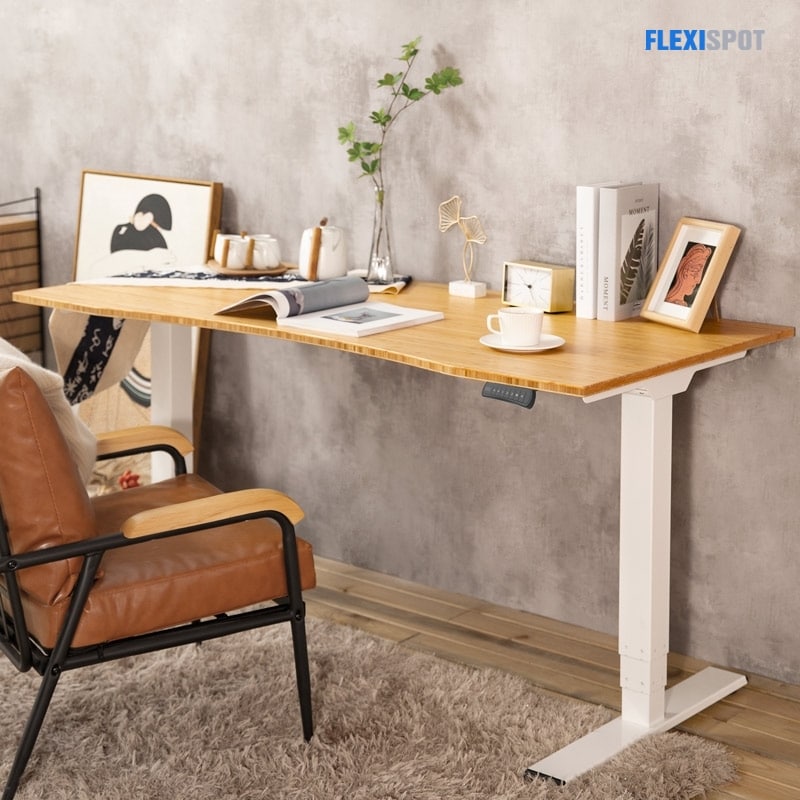 The first eco-friendly desk, the Kana Bamboo Standing Desk, is a desk that has two models: EC3 (Pro 2-stage) and the EC4 (Pro 3-Stage). Both models have materials that are non-toxic and are suitable for kids. Both models under this product have a dual-motor lifting system. So, if you choose any of these tables, you may ensure that your child would not get exposed to stage frames that are rust-prone and are low-grade quality steels. 
What's excellent about this desk is, it has a bamboo desktop. Bamboo desktops are eco-friendly. Bamboos can create 35% more oxygen than ordinary woods, although the bamboo grows in a 2-3 year period, unlike the natural wood with a growth periodicity of 10 years. With the amount of oxygen that the bamboo could make, it would already be helpful for humans. 
When we talk about CO2 absorption, bamboo can do excellently with that. It can absorb 12 tons of CO2 per hectometer in a year. So, the implication is the more the products use bamboo as a material, the more there would be a chance for cleaner air and fewer carbon footprints. Hence, this kind of material is the one Flexispot uses for Kana Bamboo Standing Desk. You would not just help the environment have fewer carbon footprints; you can also protect your children from toxins affecting their brain development. 
Thus, to protect your children from these toxins, you may consider Kana Bamboo Standing Desk.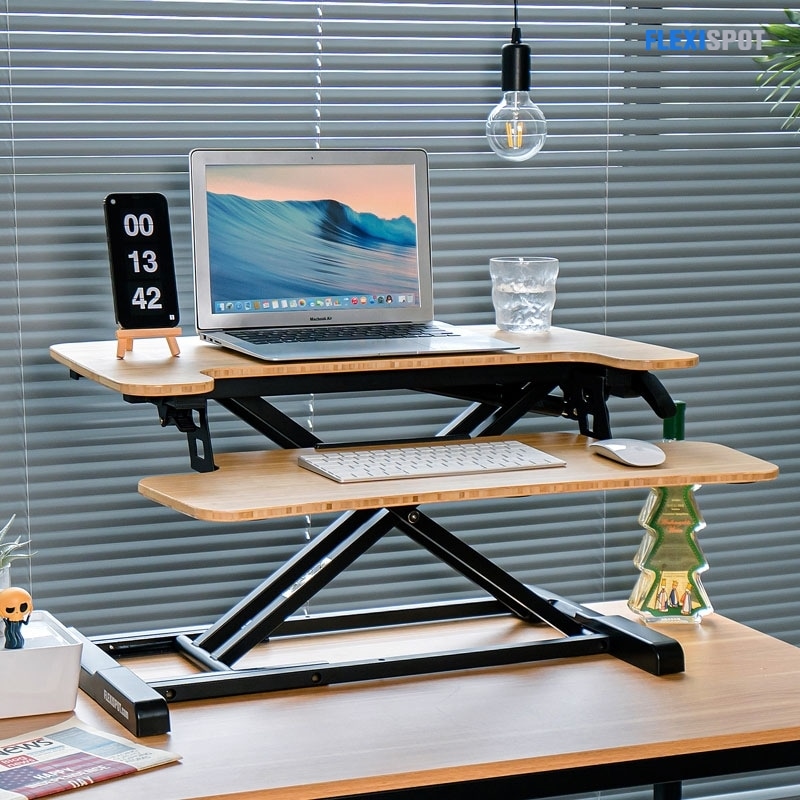 The second in the list also has the bamboo desktop but is minor and more convertible than Kana Bamboo Standing Desk. This one is the AlcoveRiser Bamboo Standing Desk Converters. 
The AlcoveRiser has two converters: the 28"M7Z and the 31" M7MZ. Both have the same load capacity: 33lbs for the desktop weight, while the keyboard tray could bear 4.4lbs. So, with these load capacities, you may ensure that the bamboo material used for this product is highly durable and thick enough to carry the particular load. 
This product also uses a bamboo material; however, it differs from the Kana Bamboo Standing desk because you can help your child carry this product around if he needs to practice sitting and standing while studying.   
The incredible thing about the bamboo material used for these standing desks and desk converters is that bamboos are highly resistant to fire. They could bear a temperature of up to 4000-degree Celsius because of its contents: silicate acid and water. 
So, we could see that bamboo could conserve the environment more and protect people from accidental fires. Hence, the products mentioned above could help you decide on the products that your children could use.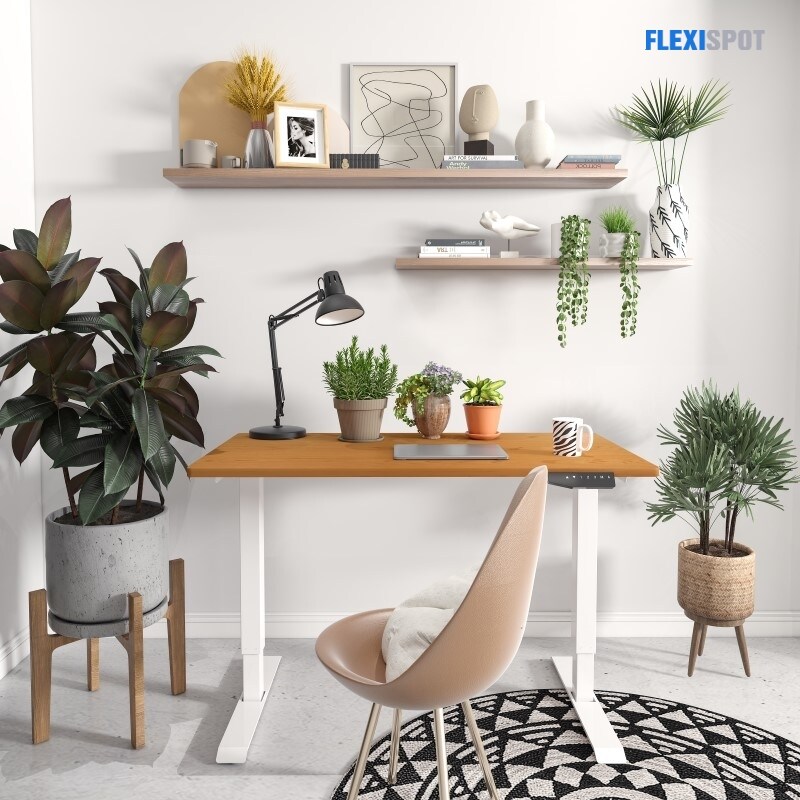 Moving forward now with the third desk product from Flexispot. This standing desk is the Willow Solid Wood Standing desk. It has a desktop that has Rubberwood and solid veneer materials. You won't need strong cleaning materials; you need the mild soap mixed in water, then apply it on a piece of cloth and spot clean the desktop. You don't need to do it every day; you can allow two weeks to maintain the cleanliness of this table. What's impressive about this Flexispot product is it is water-resistant, so you don't need to worry that the table would absorb the moisture and break the wood itself. This feature proves that this Flexispot Standing Desk can provide your kid with the best ergonomic protection because of its durability. 
Another fantastic thing about the Willow Solid Wood Standing Desk is it has 2-stage and 3-stage leg frames. Hence, you may ensure that when your child uses any of the models of this standing desk, you can make sure that it could carry the desktop without exposing your child to possible collision or collapse. 
Further, the models of this standing desk have the single-motor lifting system and dual-motor lifting system, which make the lifting speed very fast (in less than 2 seconds, actually) and add mobility to your child. 
Most of all, the Willow Solid Wood Standing Desk is eco-friendly because of the Rubberwood (a material known to be fire-resistant too) that is more sustainable compared to ordinary woods. 
Final Thoughts
So, looking at these features of the standing desks from Flexispot, we may say that these pieces are the best choice for your kids. It's because when you choose these products for your kids (especially that the new school year of 2021 is about to happen), you may have a bigger chance to help produce more products made from the most environmentally friendly materials such as bamboo and rubberwood.