In today's global situation, the risk of acquiring diseases is higher than ever, especially with the continuous mutation of deadly viruses such as the Covid-19 strains like Lambda and Delta. Thus, all people, especially the ones from the working class, must stay healthy. It's because they are the individuals that get exposed to the risk of having a weak immune system. Hence, they need absolute protection like vitamin supplements, enough exercise, and an active lifestyle at home and work. 
Now, as the transition from the absolute traditional on-site work to the remote work setting continues, the challenge to all the working individuals is how they could sustain the work-life balance if they experience a sedentary lifestyle. In what ways would the working persons amplify their health, especially their ergonomics? Now, as we move along, let us discuss the effects of a sedentary lifestyle on the workers' ergonomics. 

Battling a Sedentary Lifestyle
Before the pandemic of 2020, the threat of passive activities has already occurred among the working class. Weight problems are the common predicaments that corporate people have been experiencing for years. Every individual at work has tried to win over the struggle to avoid obesity and other cardiovascular diseases. Yet, for some, they could not stand a chance in this battle.
More and more people have experienced getting overweight over one year from the first month of lockdowns. As they ventured on remote work, they had less time to exercise because most gyms needed to stop operating, parks closed during the pandemic, giving smaller chances to people to go for a jog. 
As more workers need to work remotely this 2021, the bigger the need for superb ergonomics occurs. Thus, there is a need for a provider of ergonomic solutions. That brand is FlexiSpot. It is a well-known product of the most brilliant standing desks, sit-stand desks, stand-up desks, and ergonomic chairs. 
When we talk about the real deal with ergonomics, FlexiSpot aces the competition for several reasons. So, if you plan to upgrade your worker's work pace and protect their health and well-being as they venture on the remote working, then you may rely on FlexiSpot because of the superb services they provide to all those who need the best ergonomic solutions. 

Choosing FlexiSpot's Ergonomic Products; Choosing Superb Quality
For years, FlexiSpot has created a wide selection of the best ergonomic products-from the standing desks like Kana Bamboo Standing Desks to the ergonomic chairs such as the Ergonomic Office Chair OC3B. This brand can satisfy the needs of your workers especially when it comes to desk products. 
At FlexiSpot, some of the superb and best-selling desks are bamboo products. Kana Bamboo Standing Desk, indeed, is one of the prime selections of bamboo desk products. Its stylish design can complement the functionality and robust frames of this desk product. Hence, the Kana Bamboo Standing Desk remains one of the best-selling desks at Flexispot. It is indeed a product that makes practicality and style meet.
Further, its bamboo materials create magnificent protection against air pollutants for anyone who'd decide to place it in the work area. It's because bamboo is popular to be a natural air humidifier due to the moisture it adds. Hence, when your employee has this in their workplace, you can ensure that they are safe from the air pollutants. 
Indeed, bamboo is a beautiful product that has various benefits, not just as an air humidifier. Hence, let us know the other wonders of the bamboo and why choosing FlexiSpot products that use this material can help your employees have a well-protected work area. 
The Superb Properties of Bamboo
a. Bamboo is Not Easily Damaged: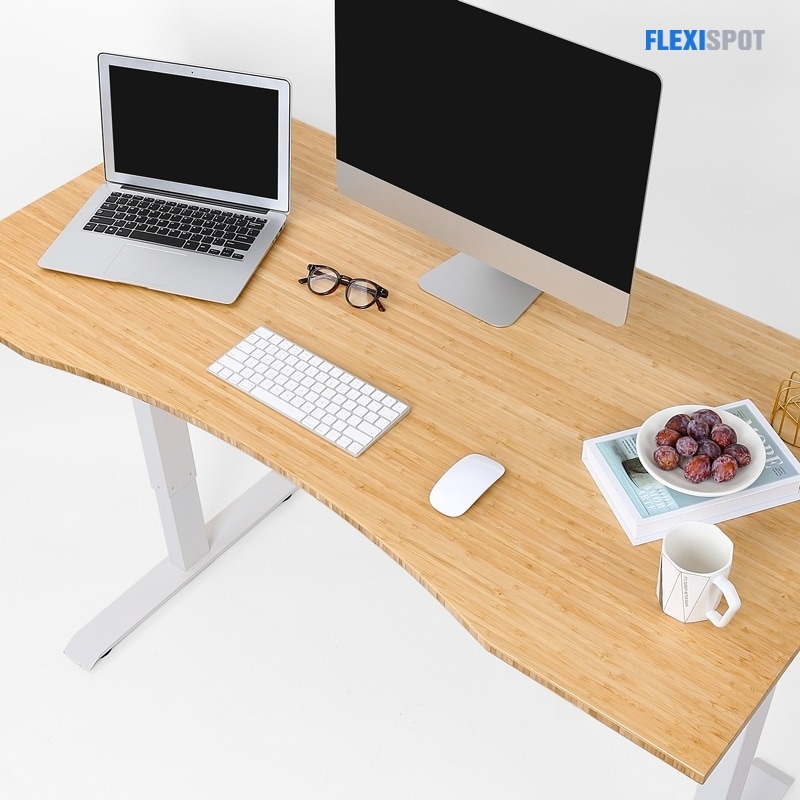 Developers of infrastructure materials needed for construction in developing countries like Asia and Africa discovered that bamboo has higher mechanical properties, especially along the fibers, making them not prone to damage even when an earthquake strikes. That's why in most earthquake-prone areas, bamboo is a material. So, if these materials are for construction, they could be great for furniture products. Hence, FlexiSpot created products like Kana Bamboo Curved Office Standing Desk that your employees can utilize with devices with such weight. They could place huge monitors and other office materials atop this standing desk without breaking the desktop itself. Hence, it proves that FlexiSpot engineers every desk product with such a tensile material. 
b. Bamboo Is Highly Renewable: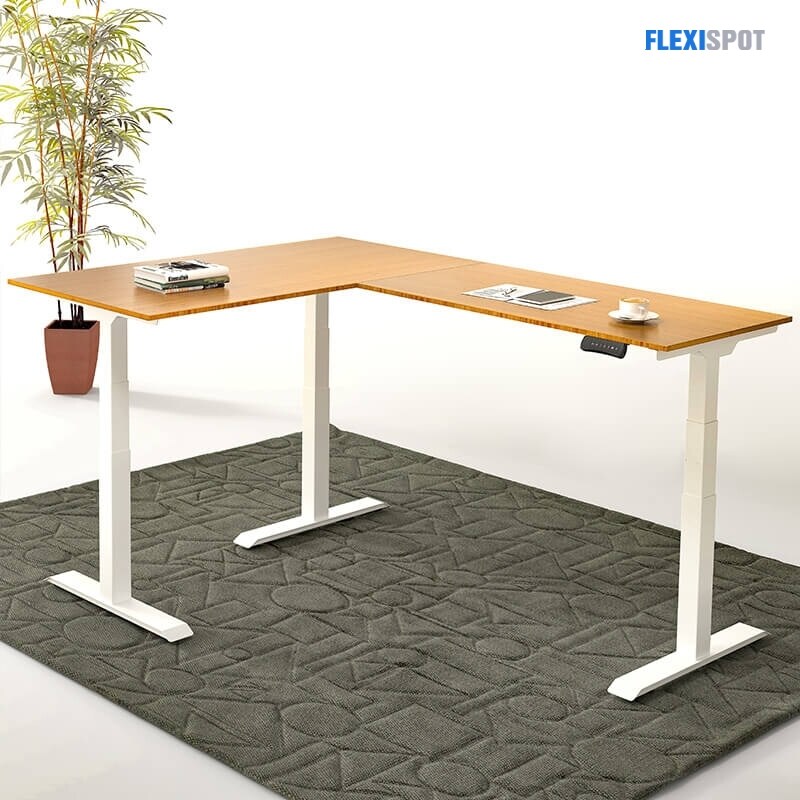 Experts agree that bamboo is a low-cost and sustainable material. They quickly grow in different regions compared to other materials. Hence, FlexiSpot chose this material to ensure that there would be the most diminutive carbon footprint. Indeed, that's what the company has built their sit-stand desks with, such as the L-Shaped Standing Desk E4L (A stand-up desk with a bamboo desktop; it's sturdy and can hold a weight capacity of 330lbs.). So, as FlexiSpot continues creating products like the E4L, you don't need to worry that there would be scarcity in the supply of these materials. 
c. Bamboo is Highly Fire Resistant: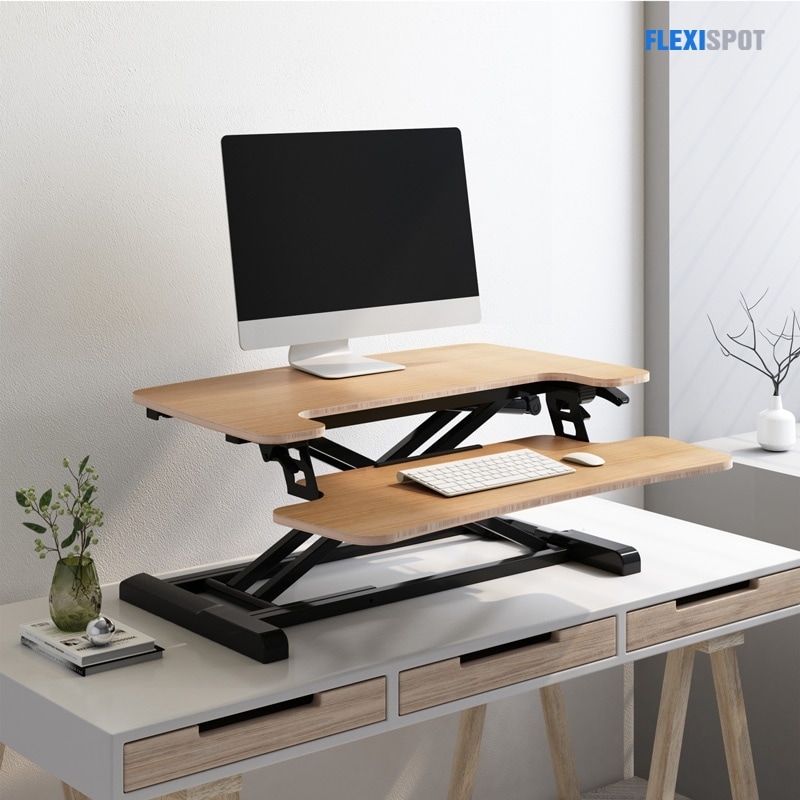 Using a bamboo product is very recommendable because bamboo has the highest fire resistance among the materials used for furniture products. It can resist heat up to 4,000 degrees celsius. So, let's say you would purchase the AlcoveRiser Bamboo Standing Desk Converter 28" for your employees. You can ensure that he could use a desk converter that is safe for them. 
d. Bamboo is a Lightweight Material: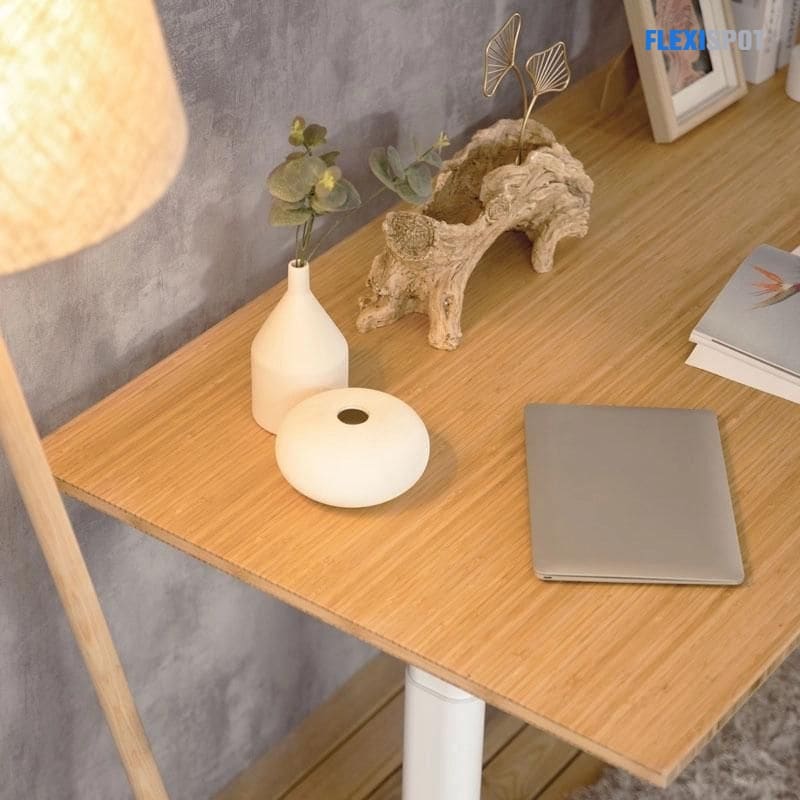 When you choose products for your employees, then bamboo is a great choice. Compared to other materials, you can ensure that a bamboo stand-up desk would be easy to carry and keep. Hence, your employees would not have a hard time moving from one place to another. 
e. Bamboo is Eco-Friendly: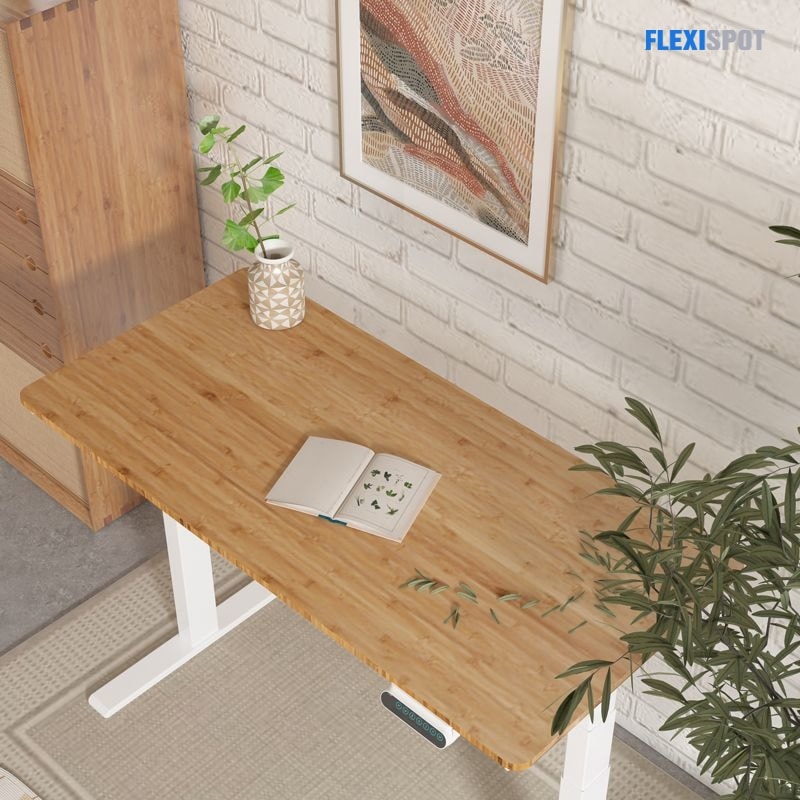 Bamboo is an environment-friendly material that expels carbon dioxide. It can help clean the air. Using it as a material can help your employees keep a greener workplace. Most of all, creating a product with bamboo material means zero-waste production and a minimum creation of carbon footprint. 
Sustaining Biodiversity with FlexiSpot Bamboo Products:
When you choose bamboo products from FlexiSpot, you decide to save Mother Earth by planting trees. It's because FlexiSpot has ventured on helping sustain biodiversity through the growth of trees in the forest. Last August, Flexispot had its partnership with OneTreePlanted.Org. The company's contribution has helped the organization plant 500 trees. So, once you purchase a bamboo product from FlexiSpot, you can make a difference and help in the sustenance of trees in the forest. Indeed, you would not just show compassion to your employees by providing them with ergonomic products; you could also contribute to the conservation and restoration of the forests. So, what's keeping you? Visit the website: https://www.flexispot.com for the desks with bamboo desktops.