Beyond the designs and styles of the best standing desks, stand-up desks, sit-stand desks, and ergonomic chairs from Flexispot is the product feature that most people trust; the other reason most patrons in the market rely on the brand. Indeed, those are the ergonomic properties of each of the products. 

Flexibility for Kids and Adults
From the brand's award-winning Deskcise Pro V9 (an honoree in 2018 at the CES Innovation Award) to the environment-conserving standing desk like the Kana Bamboo standing desk, Flexispot has proved that people of both ages could have the proper spine-health and would be protected against the ergonomic pain. 
The height adjustability of these products is the feature that allows it to be more flexible for users who experience biomechanical pain. Thus, if you are looking for the best ergonomic products for your child this new school year of 2021, then Flexispot is the most ideal brand for you. 
Ergonomic Benefits of Flexispot Products in 5 Ways
If you are planning to make an upgrade in your child's study area or you want to proactively set a more ergonomically protected surrounding for him then choosing Flexispot is a good choice. The following are the proofs that Flexispot is a Child-friendly brand.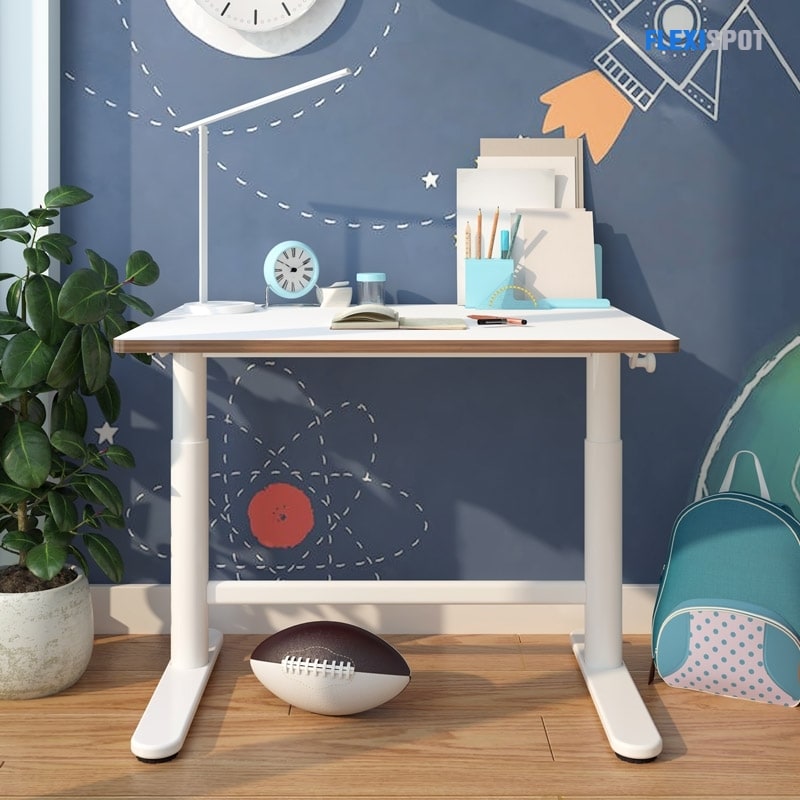 First, Flexispot has made more than a thousand homes, ergonomically safe through the wide selection of ergo standing desks, sit-stand desks, stand-up desks, and ergonomic chairs. 
Every ergonomic product that Flexispot creates has the most precise measurements-from the edges to the motors used for each standing desk and height adjusters for the ergonomic chairs. Flexispot ensures that the creations from the company will give absolute protection as they always commit to achieving in engineering their creations. 
Second, the threat of a sedentary lifestyle that most children experience these days also proves that there is a need for the use of these ergonomic products.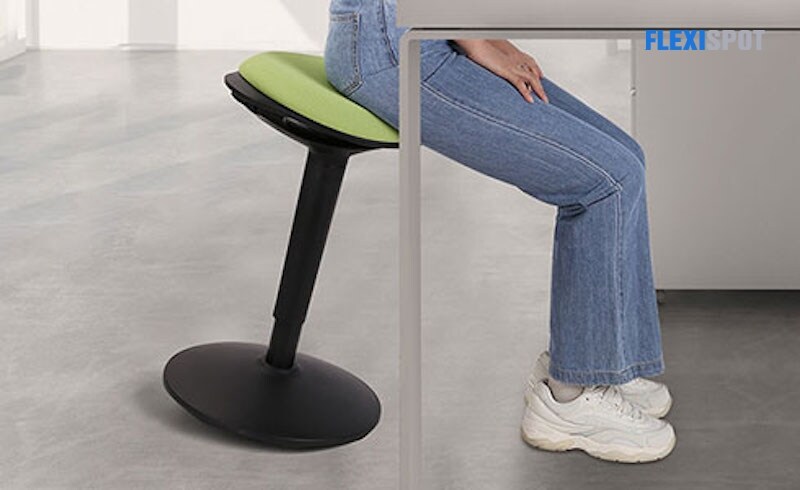 The sufficient findings shared by Active Living Research have proven that in 2014, more kids and teenagers have spent 6-8 hours doing sedentary activities. That's only 7 years ago and because of the increasing number of online games. With live streaming, remote instructions, and online activities, more children and teenagers face the threat of obesity and sedentary pain. With the Flexispot fitness equipment and ergonomic chairs such as the Vibration Plate Exercise Machine VB1 and Wobble Stool BH2, your child could have a more active sitting experience.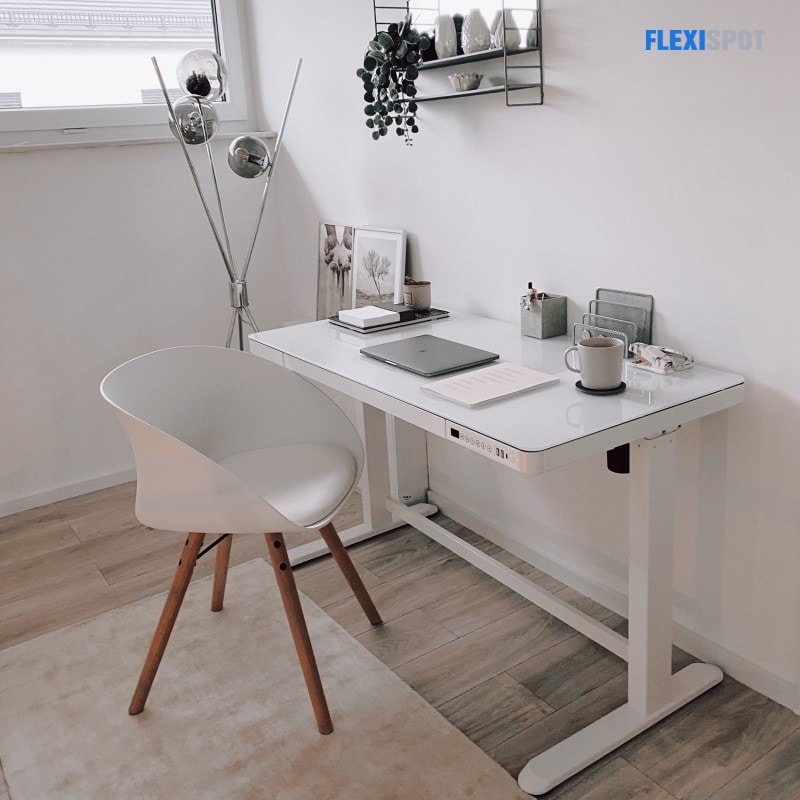 Third, Flexispot meticulously creates all their sit-stand desks such as the Comhar All-In-1 Standing Desk Glass Top (a product that has built-in charging ports). Products like this could be suitable for your children because it has a height adjustment range that does not exceed more than 47.6"; that's the tallest height range that this standing desk has.
Hence, when your child uses this, he would not find it difficult and it would be easier for him to alternate his movements when studying or watching TV. He would not feel stagnant and he would not be totally tired. You could ensure that he would not get stuck up when he is at home. In the same finding, it was noted that more teenagers spend more screen time than doing more physical activities. 
Another advantage of using the Comhar All-In-1 Standing Desk Glass Top is he would be encouraged more to engage in his lessons while using this desk because he could choose to stand while studying. As a result, he would not need to feel the pain around his back and hips. 
Lastly, when you check this standing desk, you would notice how fine the edges of this table are. Its round edges are made properly and would not cause accidents to your children at all compared to the non-ergonomic standing desks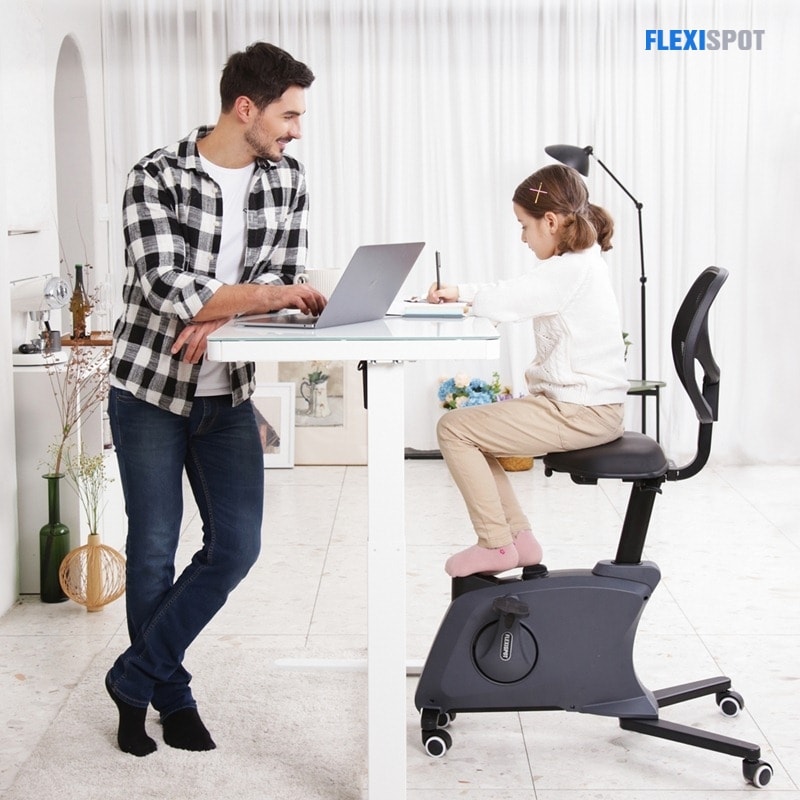 Fourth, Flexispot is a child-friendly brand because even the chairs that they create are height adjustable and are convenient to use. An example of this chair is the Sit2Go 2in1 Fitness Chair. 
The Sit2Go 2in1 Fitness Chair is a kind of chair that can be utilized as a chair and as a fitness chair. So, if you let your child sit on this product, you may ensure that he would have more time to strengthen his legs and feet. It's because this chair has caster wheels and comfortable pedals. Through these wheels and pads, your child can ensure his productivity because as he cycles on the pedals, he could feel more energized and his muscles could stimulate more-making the blood flow more active and giving more oxygen to the brain. 
This fitness chair has mesh brackets that are breathable. So when your son sits here, he would feel that there is a free airflow on his back and he would not sweat because of this. 
Some chairs do not have the parts that offer breathability. Unlike with the Flexispot fitness chair, your child could experience active airflow. It's important that the material of the chair that your child would be breathable because there are kids that tend to sweat more hence this kind of chair is suitable for them plus, they could stay active because of the pedals that your child could freely cycle. 
Most of all, the last proof that Flexispot is child-friendly is the anti-collision function in most of the desk products such as the Height Adjustable Drafting Table ED1B. This is a standing desk that is known for its anti-collision function. So, when your child decides to draw on his tablet, he may put his device safely on this desk's chipboard which measures
47.2 x23.6". With this size of the desktop, you may ensure absolute durability plus the desk would not get damaged and would not collapse once used. Your child would enjoy his activities on the drafting table without the danger of getting injured while working. 
Final Thoughts
As our children continue learning and honing their skills and knowledge, they start to be exposed to ergonomic dangers even at home. Thus, you must provide them the absolute protection against biomechanical pain and accidents that might take place. You can rest assured that the ergo chairs and desks that you're going to buy from Flexispot are child-friendly.