Renewable materials are the sources of most manufacturers across the globe. Since the time that global warming had created a significant impact on the environment, individuals, non-profit organizations, and international companies such as IBM and General Mills have found solutions to reduce carbon footprints and go green in creating their products. 
The Contribution of a Global Ergonomics Brand
Indeed, Flexispot-the global brand of the best standing desk products like Kana Bamboo Standing Desk and Kana Pro Bamboo Standing Desks- also participates in saving nature against the worst and detrimental calamities that cause global warming like the other international companies. 
In many countries, global warming has caused more deaths due to the worst floods and climate changes. One of the reasons is the rampant use of plastic materials and other chemicals that generate greenhouse gases. Moreover, deforestation is another cause of this global issue. 
As science testifies, the damage of global warming has reached a critical level-ozone layer has already depleted, and greenhouse gases have warmed the atmosphere too much. It increased the warming effect, making glaciers melt and making sea levels rise. The worst part is the last refuge of other creatures in the rainforest and jungles had gone down. Hence, deforestation. The ecosystem would not thrive if trees were cut down and replaced with new shoots or young trees. Therefore, FlexiSpot has found ways to take part in finding the solution to mitigate the worsening crisis. Through their tree-planting drive, FlexiSpot has already contributed 500 trees together with OneTreePlanted-a non-profit organization that aims to save the forest and protect it from deforestation that made most species extinct and other animals lose their habitats. 
The Flexispot's Tree Planting Drive:
Indeed, as FlexiSpot creates the best sit-stand desks, stand-up desks, and ergonomic chairs, they make sure that they fulfill their social and corporate responsibilities according to environmental policies and legislature that opt to protect the environment. The company encourages patrons and subscribers to purchase other bamboo products such as the L-Shaped Standing Desk E4L and AlcoveRiser Bamboo Standing Desk. 
The purchases they make can help FlexiSpot raise contributions to plant the trees, and in return, buyers will get a certification that states that they have produced a tree. It's indeed an act that can help the proponents and the company promote reforestation. It might take years to see these trees grow, but the act of assisting the company in contributing to the environment is such a rewarding feeling. So, join FlexiSpot in promoting reforestation and have a fulfilling endeavor. You would not just own unique ergonomic pieces that can mitigate biomechanical pain such as spine strain and neck soreness. Still, you could also have the chance to become healthier with these products with sustainable materials. 

The Advantages of Utilizing Products with the Renewable Materials:
The FlexiSpot products from renewable materials can give the utmost comfort, and they have the best features and functionalities. For example, is the standing desk product like the Kana Bamboo Standing Desk. This table has motors that can help lift the product quickly. So, you can set the height of the desk with no difficulties or whatnot; you can easily aim for the height level that best suits your posture and work performance. 
Moreover, the desktop of the Kana also has a great thickness that ensures that the desk would not get broken. This standing desk can reach a weight capacity of 275lbs depending if you're getting the Pro-3 Stage model or not. For this reason, I would not worry that you would not be able to put your heavy devices. This remarkable capability is possible because bamboo (a renewable material) also has a sturdiness that can withstand heavyweights. It's one of most contractors' most sought-after building materials because they can last for a long time. Hence, when you have the bamboo for a sit-stand desk, you can ensure that it would not break, and you can have a furniture piece that you can utilize for a long time. 
Another, when you purchase a product with renewable materials, you can ensure that new shoots or plants will thrive in just a few years or less than one year. Hence, there's no need to worry about deforestation because you can ensure that these sources are infinite, and once they get harvested, new shoots and plants will grow, plus the fact that there are efforts to keep the forest alive and thriving with new trees.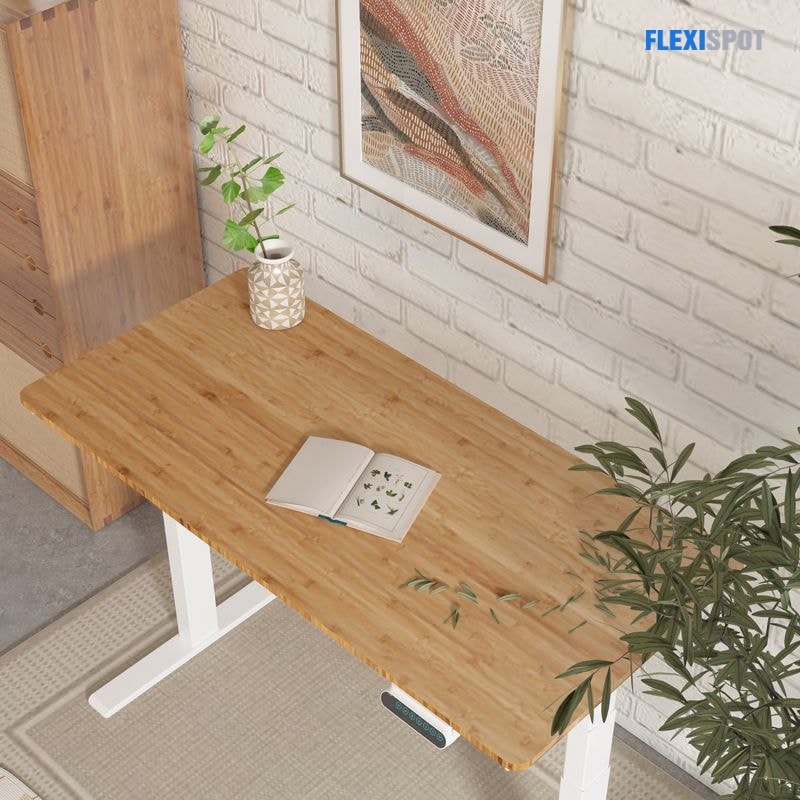 When you purchase bamboo products from FlexiSpot, you can ensure that you have furniture pieces that are natural air freshener. It's because bamboo gives out more oxygen. So, as you place the bamboo product in your home office, you could ensure that you can get protection from air pollutants that can cause severe coughing. So, when you purchase a standing desk like the Kana Pro Bamboo Standing Desk, you can ensure that it can help you defend yourself against sickness-causing germs and viruses. 
The products made from renewable sources do not use cancerous toxic chemicals. Indeed, there are industrial materials that use highly toxic chemicals that can cause cancer. However, with organic materials like bamboo, you can ensure that you would not get exposed to the dangers of getting sick. Hence, you can be one hundred percent sure that with the ergonomic pieces from FlexiSpot, you are safe from these toxic chemicals.
Final Thoughts:
So, all these advantages of using products with renewable materials can help you create a conducive and safe workplace whether you're a WFH person or a hybrid office worker. Indeed, when you purchase these products, you can mitigate the environmental issues that people are facing these days. A single purchase can help a lot, and you can aid in finding the solutions in a crisis that not only a few experience. Little by little, we can survive life-threatening catastrophes if we keep focused on the goal of saving nature. And together with companies like FlexiSpot, you can help give a brighter tomorrow for the next generations.