Talk to any gamer, and they will illustrate to you how deep gaming is for them. For most of them, it is their entire life, a means of shutting themselves away from the world and even earning a living. According to the State of Online Gaming, the average time people spend gaming is about 8 hours and 27 minutes. That's a third of the entire day.
Spending this much time in front of a screen is no small feat. The body may not register it right away, but you are more likely to start feeling some strain on your neck and back. The only way to counter this would be to invest in a good and reliable gaming chair.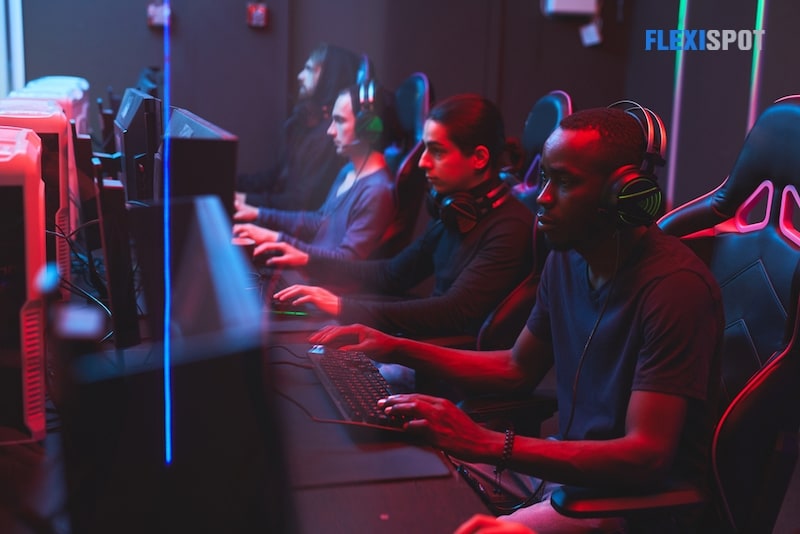 We are going to explore the best gaming chairs in the market today by looking at their best features that make them ideal for gaming. If you have been hunting for gaming chairs for your setup, then stick around to the end, and you just might find your dream chair.
E-Sports Gaming Chair
Sitting down for up to 8 hours requires a high level of comfort that the mercurial E-Sports Chair with Headrest and Lumbar Pillows can offer. Right from its aesthetic design to the solid construction, the chair screams nothing but class. It boasts of an ergonomic structure that can fit any size without developing any complications, no matter how hard you may end up pushing it. If you are a professional gamer, you will understand how important it is to have a good chair of this caliber to increase your reaction speed as you battle with other players online.
The chair has the following stand-out features.
A well-padded seat that gives your lower body the cushioning it needs to feel comfortable as you shift and move from time to time. You will barely notice the strain.
Solid construction using flexible materials allows the user to lean as far back as they can to get that perfect angle to execute a move while playing.
An adjustable height and backrest that allows you to set the right position that gives you the best body posture.
It is a sizable chair that can accommodate even large players, all thanks to high-quality materials that absorb all the pressure, distributing it evenly around.
Razer Iskur
The Razer brand is synonymous with gaming accessories that range from machines to gaming pads, among many others. As it turns out, they also have a hand in gaming chairs, the one that stands out the most from their wide range catalog is the Razer Iskur.
Based on appearance alone, it is easy to dismiss it due to its plain black appearance. But it is only after you have sunk yourself into the chair when you will realize you are dealing with an advanced gaming chair. The matte black chair doesn't come cheap, costing almost $500, but it makes up for that with some exciting features that include the following.
It is constructed using premium materials that give it the strength to accommodate any player's size without compromising its structural integrity.
It comes in PVC leather of a beautiful shade of matte black, and this gives it a simple but refined and classy look for people who love a low-profile gaming chair.
It has soft padding on the armrests, the seating area, and the backrest that ensure you have all the support you need to keep neck and back issues at bay.
Corsair T2 Road Warrior
It would be a travesty to mention anything to do with gaming without talking about Corsair products. Just like Razer, the brand is heavily embedded with the gaming world, and among the many things it makes for gamers are gaming chairs. The most prominent one they have ever produced is the Corsair T2 Road Warrior.
Costing around $400, this gaming chair has all the makings of a professional product that checks all the necessary boxes and more. It has a wider seat and firmer cushions that are just comfortable enough for the player to sustain a long gaming session without feeling the effects on his body. It has a carrying capacity of about 300 pounds which is more than enough for heavy and tall players. Combine it with the right gaming desk, and you will have the best gaming experience you could ever wish for.
The chair has the following features.
A microfiber-coated lumbar cushion that adjusts to the back of your spine and neck comfortably to give you the right posture when gaming.
It comes with smooth rollerblades at the bottom for quick movements around the gaming station. This could come in handy if you are dealing with multiple screens at the same time.
Assembling the chair is also a very quick thing as it comes with a clear manual and an Allen key. You can handle the operation on your own in minutes.
The chair is height adjustable which allows you to position it to your preferences for the best gaming experience.
Secretlab Titan Cyberpunk 2077 Gaming Chair
Based on the famous Cyberpunk 2077 game franchise, this chair combines comfort and colorful style in a balance that not many gaming chairs on this list cannot achieve. In terms of size, the chair doesn't hold back as it is humongous with one of the largest seating capacities around, the perfect gaming chair for the heavy and tall pro-gamers who weigh up to 300 pounds.
The backrest on the Secretlab Titan Cyberpunk 2077 Gaming Chair is also equally tall and provides an anchorage area for the neck, which allows the players to lean back when they want to take a short break. The secret lab gaming chair can also be extended backward to low angles when the need for it arises without anything coming apart. With beautiful artwork adorning its black and yellow body, the chair has the following features.
A large frame capable of accommodating very huge players comfortably without as much as a squeak.
Well, padded seat and backrest provide ample support to the body making gaming more enjoyable.
It has a beautiful design that includes detailed embroidery, which gives it a stunning look that transforms your gaming station.
It supports quick assembly, and everything can be set up from scratch without any help in less than 15 minutes using a manual.

Big & Tall Massage Gaming Chair with Footrest
Another plus-sized chair for plus-sized gamers who require a chair that accommodates them without squeezing them in any way, something that is rare. Coming in three shades of white, blue, and red, this chair has all the qualities you would expect from a high-end offering, and all this comes at a paltry $209, making it the best bargain deal on this list.
Comfort is assured, thanks to a design that allows the chair to tilt back as far as one can go without anything coming apart. The Big & Tall Massage Gaming Chair also has a uniquely high backrest that is sufficiently padded to accommodate a tall person, massaging their neck and back for maximum protection and good posture. The following are some of the standout features of this amazing gaming chair.
Every single part of this gaming chair is adjustable, meaning you can customize this chair to your exact preferences to the smallest detail.
It is designed for huge players, and it comes with a high backrest and wide seat with a 350-pound capacity, the heaviest on this list.
It comes with a padded back and armrests, and seat, which provides all the comfort the player needs to clock as many hours while playing as they want.
It has an explosion-proof gas piping within the integrated metal frame that keeps the player safe from any injuries.
Three unique colors to choose from.
Herman Miller X Logitech Embody Gaming Chair
The Herman Miller X Logitech Embody Gaming Chair is the most advanced gaming chair you will come across in the market right now. It is considered to be the best high-end chair, and unfortunately for many that may wish to get their hands on it, it costs a whopping $1,595.
The chair has everything you would expect in a futuristic product. The design is super sleek, with a color scheme that incorporates some glowing lights that make the experience even more exciting. It has the best back support that comes with tension kob which allows the user to adjust the chair to hug the back and the shoulders a little more for a comfortable fit. The upholstery itself is breathable and makes it easy to clock hours playing your favorite game without running your t-shirt into a wet mess. The following are some of the features worth your attention.
A knob for adjusting the backrest to cover more of the shoulders, neck, and spine when gaming for long hours.
The backrest is well aerated to stop the player from sweating unnecessarily once they have played for too long.
It comes with a colorful design that transforms the gaming area, and this can boost the player's mood.
A 12-year warranty shields the player from financial liability for damages incurred without their direct involvement.
Conclusion
Finding the best gaming chair is paramount for a gamer's efficiency at playing and overall health. These chairs have a very huge influence on the gaming process, and this is the reason why you should take your time checking out the options in the market before making those final decisions. There are other good offerings outside this list, but you can get your bearings from here as you begin your hunt.