It's been 18 months of working at home and now, employees across the world are slowly returning to the office. Even though this has been a long time coming, the return to the old set-up has not been smooth-sailing and has sparked a lot of discussion on what could be the best model out there. New COVID-19 variants are emerging, lockdown rules are changing, and there's a whole new list of needs and expectations from employees after having experienced remote work themselves for more than two years.
To work it out for the meantime, big companies started with a rotational or a part-time arrangement for their returning employees or new hires. For companies that have multiple satellite offices, some have been playing with the idea of a site-by-site set-up. Some decided to postpone their big decision until the situation would become more stable. Other businesses have resorted to a work-from-home set-up completely, even giving employees the choice.
With different options on the table, many have been wondering whether there is an approach that is the most ideal or the standard that should be followed. Of course, there won't be a singular answer to that as every company culture and format is different. But by observation the past few months, the experts are sure of one thing—the future of work is hybrid.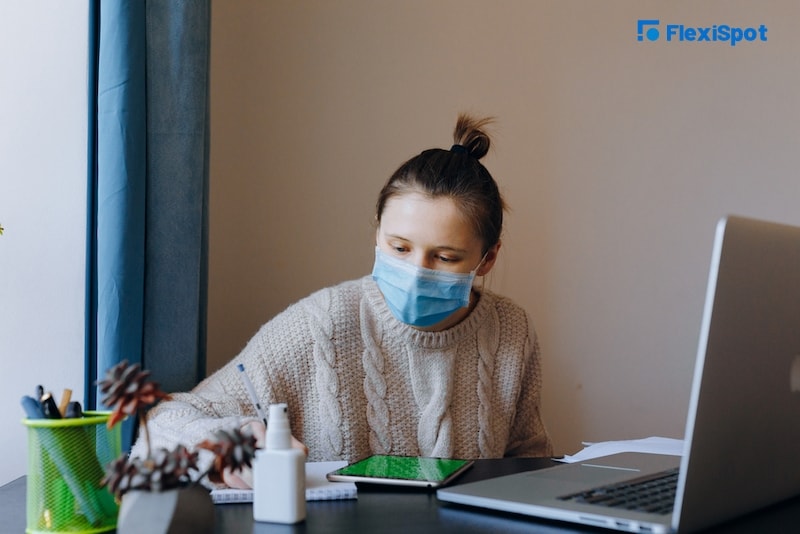 There are some studies that prove remote work could actually improve productivity. Now, workers are asking for work-from-home days after the pandemic. According to Al Jazeera, a study has found that American employees want to work at least two days per week when the COVID-19 crisis is over. These employees pointed out the benefits of working from homes such as no commute time needed and the environment is much quieter at home as compared to working in the office. This data means that for companies to be desired by employees to work at, they must be able to offer remote work flexibility.
For some companies, what has been working is a three-two hybrid approach. It entails one team working for the same three days at the office and the next two days at home. It will go alternately with other teams so that the physical office is not fully occupied but the workforce is in complete work mode.
It most likely works because if you break down a typical work set-up, around 50 % of it is done face-to-face and the other half is done on your own. So if the aforementioned model was to be adapted, team meetings, working lunches, and social gatherings could be scheduled during the in-office days. Work that only commands individual attention such as answering emails, preparing reports and presentations and meetings for only two people could be done during the work-from-home days.

So the next question is, who should decide?
Of course, the upper management gets to call the shots but there are companies who want to know what their workers are expecting. While this may be democratic, asking workers their preferred set-up might lead to problems. At the end of the day, companies must form a standard policy or a set of rules that will apply to all of their employees.
A poll might complicate decisions because, for instance, workers always choose Monday and Friday as their preferred work-from-home days, a problem. After all, not all teams could work at home during those days. If the workers are also given the power to choose, this could create a division in the office culture where workers who report at home may feel that they are not part of the conversation among those workers who are in the office. Another reason is that it might mess up with the goals of the company to be more diverse or to cater to the needs of different groups and minorities. PWDs, Black and Asian employees, women, and parents with children under 12 years old, and workers prefer to work from home than other groups. When it comes to promotions, those who will be working at the office may have higher chances than those working from home, even though their work outputs are equally significant.

What other models are out there?
Some don't find it appealing that there are a certain number of days where they have to report to the office. It breaks the uniform "work-from-anywhere" model they had realized they benefited from. One suggested model is to have a 25-percent in-office set-up for the work year. The teams or departments could decide themselves if they want to work three weeks in the office after every quarter, three months every year, or whatever works their fancy. It has to be uniform and standardized, meaning all employees must only work at this certain number of hours in the office and should not exceed what is set.

What must companies learn?
To employ the best approach possible, it's essential for a company to understand first what "productive" means to it specifically. This includes focus, energy, collaboration among the employees, and coordination. Companies will have to look at how these elements are affected by the time, place, and flexibility of work arrangements.
This also makes us think that it's about time for a redesign of the work set-up, given that the changes brought about by the pandemic are irreversible.

The Perfect Work-from-Home Set-up
Since most employees are still working from home and might do so permanently, having a dedicated home workstation has become a must nowadays. Sitting for long hours could be damaging to one's health and could also reduce one's efficiency. A good work-from-home set-up makes use of ergonomics to reduce physical pain as well as boost productivity. In the ergonomics, space is FlexiSpot with its wide array of options to make one's workspace comfortable and encouraging to work in. From desk chairs to desk bikes, standing desks to standing desk converters, file storage systems to task lighting, anti-fatigue mats, and monitor mounts, FlexiSpot is the place to go. Some companies have also been investing in ergonomic furniture to ensure the health and productivity of their remote workers.