Furniture is made up of many parts. There's the framework that forms the skeleton of the entire structure and is responsible for giving the said furniture a defined and identifiable shape. There are the nails and joints that ensure each part fits into the other, and there's the upholstery which is the outer cover of the furniture.
Furniture upholstery comes in many shapes, patterns, textures, and types. They are what gives furniture that complete look. When it comes to office chairs, there's not much that in terms of upholstery fabrics that go into their design compared to home furniture, but the little that is utilized serves a very important purpose.
We are going to explore the best office chair fabrics that every office needs in order to ensure the workstation is not only comfortable and conducive but looks aesthetically pleasing. If you are planning to buy or replace your office chair, then you are in the right place.
Getting the Right Chair Fabric
There are thousands of fabrics that can be used on office chairs, and new ones are being invented right now somewhere in the world. Getting the right fabric could be the difference between a functional chair and an uncomfortable one. The following are some of the common fabrics for your office chair.
Vinyl
Vinyl is a refined form of plastic. It is a clear material that can be used to create a long-lasting office chair upholstery, thanks to its tough nature and ability to repel water and dirt. Office chairs made using vinyl are easy to clean and maintain and are impervious to scratches unless you deliberately choose to destroy them with a sharp object. This makes them ideal for busy office environments that see a lot of human traffic, which raises dust that settles on furniture all over.
The only drawback to using vinyl is that it is not breathable, and you may end up sweating when it gets hot. They also tend to wear down over time due to friction, and if you happen to scratch any part by accident, that opens up a point of weakness that may spread to the entire chair.

Leather
Leather is considered to be among the most luxurious materials in the furniture world, but that depends on the type. Genuine leather is expensive and one of the best office chair fabrics you can go with. Leather adds a classy touch to the office chair, giving it a refined look that makes it easy for people who walk into your office to take you seriously.
It is durable, easy to maintain, and it comes in varying colors and textures. Well-designed leather chairs are impervious to liquid spills and scratch unless you choose to inflict damage knowingly.
But just like vinyl, leather is not breathable. Sitting down on a leather chair for too long will lead to a sweaty back once it gets hot inside the office. Over time, due to constant use, leather tends to start showing cracks caused by stress that's applied by constant shifting. This can be peppered over with ink to hide them, but eventually, they become too pronounced.
The best leather chair in the market right now is the Executive Leather Swivel Chair that comes in black has lumbar support and has leather covers all the way to the arm and neck rests, giving it a clean and professional look.
Woven Material
Woven material is usually made from cotton and a combination of other synthetic fibers. It is very common around offices because of their low price and availability. It is also easy to weave into varying designs using a wide array of colors, adding a refreshing look to the office space.
Woven material can also stretch a little, and this is why it is heavily used to make back supports in chairs as it gently grabs the entire back giving it all the flexible support and comfort it needs, reducing chances of developing back pains. It is also breathable, and that makes it a good option for hot places.
The only drawback to using this for an office chair is the lint that forms when you shift too much on the seat; this ends up sticking to your clothes after a while. Woven material is also very poor with stains as it absorbs everything, and getting rid of that is impossible.

Mesh Fabric
Mesh fabric is the most common upholstery for office chairs due to its functionality, availability, and affordability. Most times it is made of a combination of natural and synthetic materials for added strength and durability.
The biggest advantage of mesh fabric is its breathability. The backrest area is a network of double-sided covers that are made of perforated material that allows for the free flow of air to the back, ensuring that any heat that accumulates dissipates immediately.
The design of the mesh framework also makes it flexible, giving the back the support it needs every time you lean back. This helps counter the back problems as the lumbar is hugged from top to bottom.
The Soutien Ergonomic Office Chair is hands down the best mesh fabric office chair out there. It comes with a solid design and amazing features that range from a 3D lumbar support system, cushioned armrests, a breathable mesh, adjustable seat depth, and a backrest tilt.
Plastic
Plastic is the most versatile material in the furniture world as it can be used to construct an entire chair, providing different classes of material for each part. Plastic can be woven into a thin and strong fil which can double up as the upholstery for a chair. Considering how easy it is to change its shape, it can be used for the backrest, the headrest, armrests, the cutting surface itself, the mainframe supporting the entire structure, and the wheels.
Plastic fabric is lightweight compared to the other fabrics, making it the ideal option for those that love to keep things light and portable around the office. It is also durable and resistant to scratches, stains, and liquid spills. The cost of making one is also fairly low, the perfect combination for anyone with a constrained budget.
Factors to Consider When Choosing the Office Chair Fabric
Nobody buys the first office chair they see without giving it some little thought. You have to consider some factors that may affect your productivity in the office before committing your money to any fabric. The following are some of the notable ones that you have to keep in mind.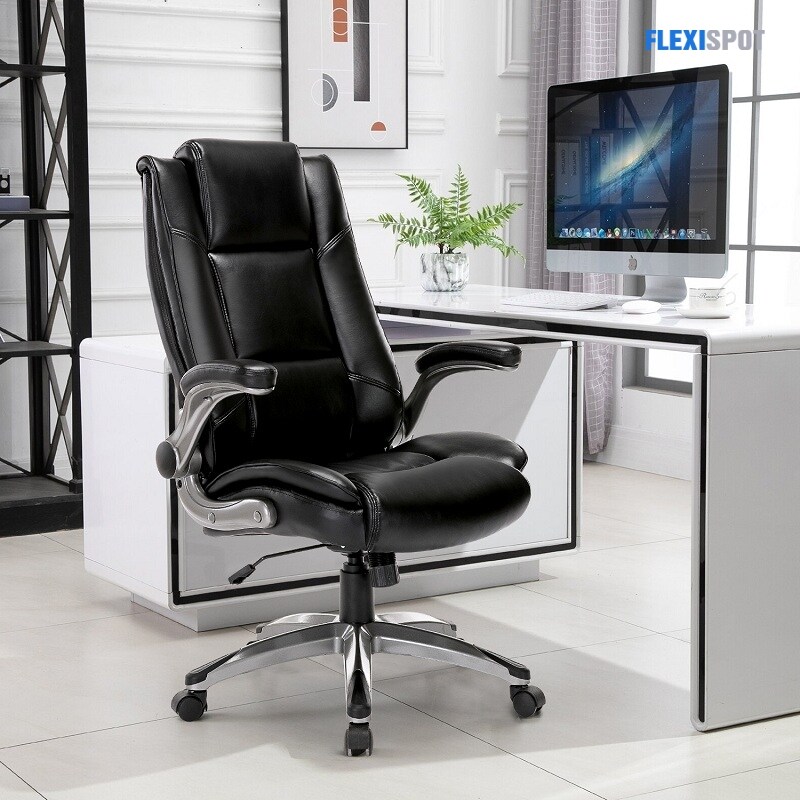 Your Needs: The best person who understands your problems and needs that have to be addressed is you. Don't go for looks only; consider your environment and the nature of your work before making a choice. If you rarely stand up, then you should avoid leather and vinyl chairs and go for chairs with woven or mesh fabrics.
Office Environment: If you are located in a hot climate, then you will have to deal with a sweaty back at some point, and this will need a chair that has a breathable fabric like mesh or woven. The sweltering heat will make it hard to use vinyl or leather fabric as they could lead to the formation of blisters on the skin.
Durability: You want a fabric that will last you ages without having to deal with the cost of regular replacements. On that front, you will be best suited to using plastic fabrics as they will serve you for much longer without losing any color or sustaining damage. Vinyl would be the worst fit as they are more vulnerable to damage than the rest on this list.
Ease of Maintenance: The last thing you would want to deal with is a stained office chair. A clean office is good for your image, therefore, having torn, stained, or discord fabric is not a good look. Go for fabrics that are easy to clean and can handle liquid spills and dust. Vinyl would be the best fit as it is dustproof and waterproof. You simply need to wipe it with a cloth. The woven fabric would be the worst fit as it is highly absorbent and stains permanently.
Budget: Money talks and you have no other option but to listen. You can only afford what your bank account allows. The cheapest fabric on this list would be plastic, followed by mesh and vinyl. Leather is the costliest but the most refined. Think about your budget to decide whether it is worth a dime to go for the most expensive fabric or make do with anything that gives you comfort functionality.
Conclusion
Using the right chair is important as it affects every aspect of your work. The wrong fabric can have a butterfly effect all around, leading to unwanted consequences. There are other types of office chair fabrics that you can check out online before making the final decision. Do your due diligence beforehand and if you can, make that physical visit to get a closer look just to be sure of what you are getting yourself into.