In this day and age, it's hard even to imagine living without a mobile device. Mobile devices have become essential to our lives, from checking emails to surfing the web. And while we may not realize it, we actually spend quite a bit of time using them.
According to a recent study, the average person uses their mobile device for at least three hours daily, translating into 45 days out of the year spent hooked on screens. While this may not seem like much time when compared to other life commitments, you would be surprised at the health effects that come along with the improper usage of these devices. The risks may not appear immediately, but they will eventually cause problems.
The reliance and usage of mobile devices on top of our normal screen time has led to a rise in ergonomic risks and a sedentary lifestyle, which harm our health. In addition, the posture often assumed while using a portable device is unnatural and can result in several overuse injuries and pains related to poor posture.
In this post, we will explore some key ways that using mobile devices can affect your body and offer helpful tips for avoiding these risks. Keep reading to learn more!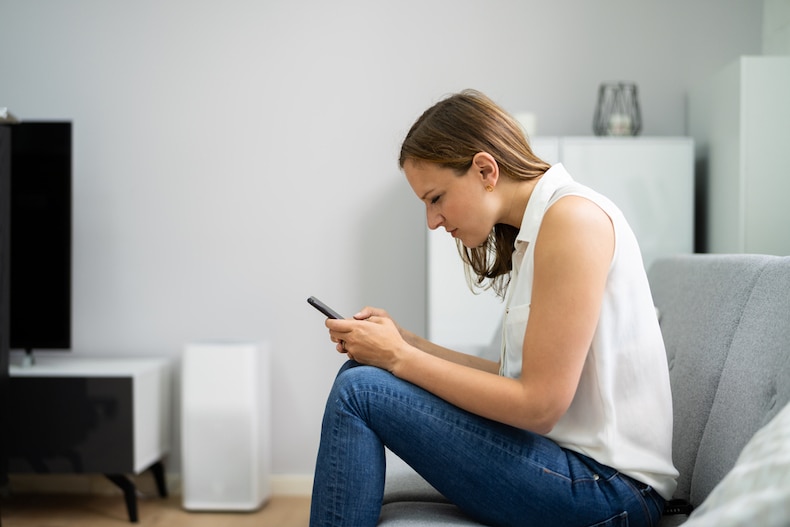 Understand the Risks of Mobile Devices and how they can Affect Your Health
Here is a look at some of the ways that mobile devices can affect your health negatively:
Repetitive Stress Injuries
RSI is caused by repetitive motions that strain the muscles, tendons, and joints. Over time, these repetitive motions can cause the tissues to become inflamed, leading to pain and stiffness. RSIs can occur in any part of the body, but they are particularly common in the hands, wrists, and arms.

Mobile devices are particularly susceptible to causing RSI because of the way they are typically used. They often require users to perform small, precise movements with their hands and fingers.
This is further magnified by the small size of these devices, which requires users to adopt awkward positions and use repetitive motions to interact with them. For example, texting involves a lot of small movements that can put stress on the muscles and tendons in the hand and fingers. In addition, The use of touch screens can also lead to RSI, as it requires the user to apply pressure to the screen repeatedly.
Poor Posture
Because many people are not conscious of the position they assume when using their devices, it's not uncommon to see them maintaining awkward positions for prolonged periods.

When we hunch over or tilt our heads down to use our phones or tablets, we put a lot of strain on our necks and shoulders. Over time, this can lead to muscle imbalances and joint pain, eventually leading to headaches, neck pain, and even upper back pain. And if you already have any pain or injuries in these areas, using a mobile device can worsen them.
One of the biggest posture risks you are most likely to experience from improper use of mobile devices is text neck, which is a condition that results from looking down at your screen for extended periods. This puts pressure on your neck and can lead to changes in the curvature of your spine, as well as neck and shoulder pains. The accumulation of this extra weight can lead to irregular stresses on the spine, early wear and tear, and the potential for an increased risk of musculoskeletal problems.
Eye Strain
While eye strain can occur with any type of prolonged visual activity, it is particularly common with mobile devices such as phones and tablets. This is because we tend to hold these devices closer to our eyes than other types of screens to focus on the small texts or objects. In addition, the bright backlights of phones and tablets can further contribute to eye fatigue. Extended periods of exposure to this can cause eye strain and fatigue, which can lead to headaches, blurred vision, and other vision problems.
Prompts Sedentary Lifestyle and Increased Level of Stress
When we are constantly tethered to our devices, we are more likely to be inactive and have lower levels of fitness which can take a toll on our bodies. This can lead to weight gain and a host of other health problems associated with a sedentary lifestyle, e.g., obesity, heart disease, diabetes, and even certain types of cancer. In addition, the constant stimulation from notifications and alerts is mentally fatiguing and increases our levels of stress hormones, which can impact our mood and overall well-being.
Tips to Reduce the Risk of Developing Ergonomic Problems While Using a Mobile Device
So what can we do about our sedentary and unhealthy postural habits related to the use of mobile devices?
Here are a couple of suggestions to help get you started.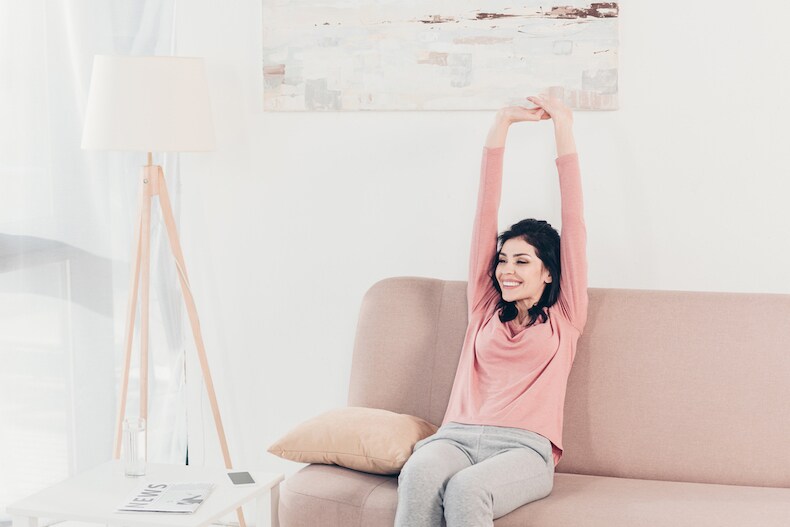 Take Breaks Often to Move Around and Stretch Your Body
Taking breaks often to move around and stretch your body is a great way to reduce the risk of developing ergonomic problems while using a mobile device. Our bodies are not meant to sit in the same position for long periods. Sitting for long periods can cause tension in our muscles, pain, and discomfort in the neck, shoulders, and back. It can also cause joint stiffness, muscle fatigue, and headaches. The best way to combat this is to take breaks often to move around and stretch your body.
The 20-20-20 rule is a great way to remember to take breaks: every 20 minutes, set a timer, step away from your device and look at something 20 feet away for 20 seconds. This will help reduce strain on your eyes and neck. Alternatively, every 20 minutes, step away from your device and do something else for 20 seconds. This can be something as simple as getting up and stretching or taking a quick walk around the room. Or, if you're feeling ambitious, you could even do some exercises. Also, try to mix up your position as much as possible. This can help reduce strain on certain muscle groups. For example, if you're holding your device in your hand, switch hands often so you don't put all the stress on one arm.
Use a Hands-Free Device or Voice Recognition Software When Possible
If you spend any significant amount of time on your mobile device, the repetitive nature of many common tasks, such as typing, scrolling, and taking calls while cradling the phone between your neck and shoulder, can lead to strain on the muscles and tendons in your hands, wrists, arms, shoulders, and neck. One way to help reduce the risk of this particular problem is to use a hands-free option whenever possible. This could include using a headset, speakerphone, Bluetooth options, auxiliary cords, and voice recognition software for your daily tasks and answering long calls.
By avoiding the need to constantly hold and operate a mobile device in awkward positions for extended periods, you can take the strain off of your arms and neck and allow you to use your mobile device for extended periods of time without experiencing discomfort.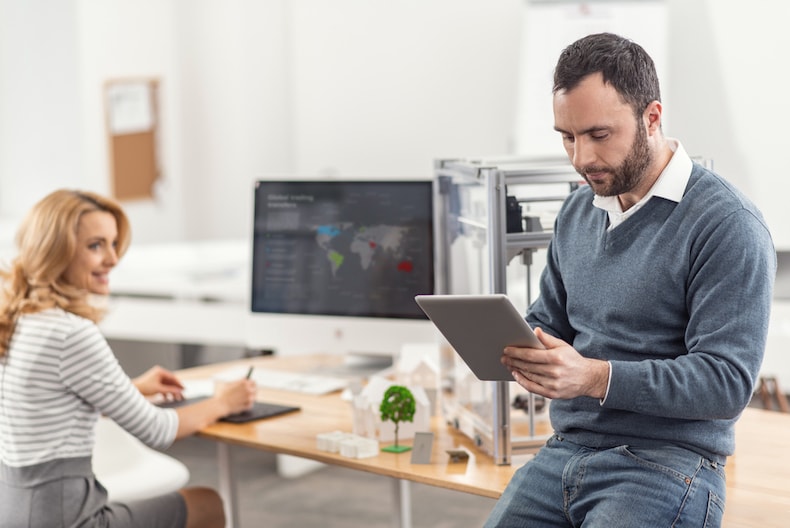 Adjust Your Device's Settings for Optimal Viewing and Comfort
By taking some time to adjust the screen brightness, font size, and contrast, you can ensure that you're able to see comfortably without having to squint or strain.
Here are some tips:
Adjust the brightness and contrast settings: If the screen is too bright, it can cause strain and even headaches. Conversely, if the screen is too dark, you may have difficulty seeing what's on it. Remember to adjust your screen's brightness depending on your environment's lighting conditions. For example, if you are in a well-lit room, you will probably want to increase the screen brightness to see the content more clearly.
However, if you are in a dimmer room, you may want to decrease the screen brightness to avoid causing eye strain.

Use larger font sizes to make text more legible. If you're having trouble seeing the text on your phone, consider increasing the text size or using a different font style. You can also adjust the font color and the spacing between lines of text to make it easier for you to read.

Enable auto-rotate so you can view your screen in both portrait and landscape mode.

Increase the sensitivity of your touchscreen, so you don't have to press as hard.

Use night mode or enable blue light filter settings if your device has them. Night mode can reduce eye strain in low-light conditions, and blue light filters can help reduce the amount of harmful blue light exposure from your device's screen.

Take some time to experiment with the settings until you find what works best for you.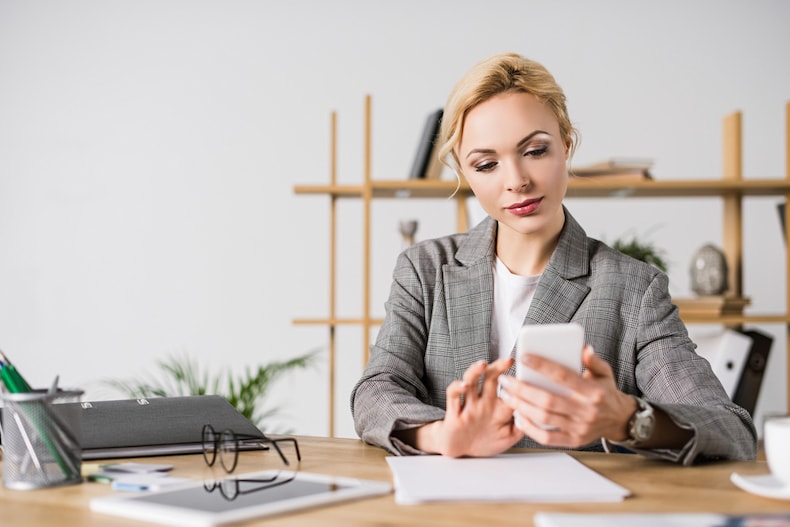 Posture and Device Usage
Because we often bend our necks and hunch our shoulders when looking at our screens, poor posture is sometimes inevitable and can lead to neck pain, headaches, and even upper back pain. To avoid these problems, it's important to:

Work on Your General Posture
First, make sure to Sit up straight and maintain an upright posture. Avoid slouching or hunched positions. Slouching puts extra pressure on your spine and can lead to neck, shoulders, and back pain.

Keep your head up and your shoulders relaxed back. Try not to hunch over your device but instead keep your spine in alignment.

Be aware of your neck position. When looking down at your phone, try to avoid tilting your head too far forward--this puts unnecessary strain on the muscles and ligaments in your neck. Instead, keep your chin level with the horizon. If your phone is below eye level, look down with your eyes rather than your neck.
Wrist, Fingers, Arms
Keep your wrists in line with your forearms. Avoid bending them up or down, as this can strain the muscles and tendons.

Use your fingers, not just your thumbs, to type. This may feel awkward initially, but it will help prevent pain in the thumb joints.

Keep your elbows close to your body and at approximately a 90-degree angle.

Avoid holding your device in one hand for too long. Try to switch hands frequently or prop up your device on a surface so that you can use both hands.
Device Consideration
Use a device that fits your hand and posture.

'When buying a new mobile device, either a smartphone or tablet, hold it in your hand and check if it's the right size. If you have to stretch your fingers to reach the buttons, it's probably not the right fit. Consider trying different devices until you find one that feels comfortable in your hand.

Be mindful of how you are gripping your device. Keep a light grip to avoid putting unnecessary pressure on your wrists and fingers. To limit the stress on your hands and wrists, purchase a protective case that reduces the need for grip strength when holding your device.

Finally, using a stylus can help to reduce the amount of pressure that is placed on the fingers and wrists.
Maintaining the right posture might feel awkward initially, but it will become second nature with practice.
Viewing Distance/Angle
Holding the device too close to your face can cause eye strain while holding it at an angle that is too low or too high can cause neck strain.

To avoid these problems, try to hold the device at arm's length and position it so that you are looking straight ahead. Avoid any position that will require you to constantly look down and excessively crane your neck, as this can lead to neck and back pain. This means keeping the device at eye level or slightly below and avoiding placing the device on your lap or below chest height.

In this case, a stand or dock or a standing desk converter can help raise the device height to your eye level. To find the perfect position, experiment with different distances and angles until you find a comfortable spot.
The optimal viewing distance and angle can vary depending on the size of the device and the user's eyesight. If possible, it is best to hold the device at a level where you can easily see the entire screen without having to tilt your head or neck.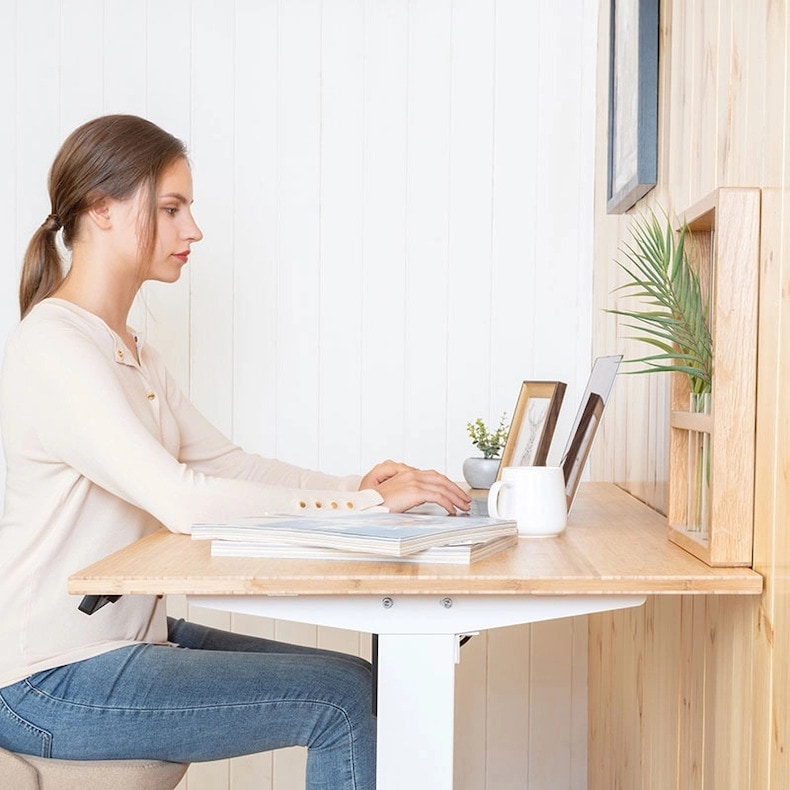 Make Sure Your Workstation Is Ergonomically Sound.
Most office workers do not report related health issues on a touch screen device. This is because; the causation link isn't well established. The good news is device manufacturers work with ergonomists to improve their devices in anticipation of such issues. You can even see improvements with subsequent generations of touch screen devices.
But are you willing to wait for the technology to catch up? Not, since you need to stay focused and energetic in the present.
They say a building is only as sound as the ground where you place the foundation. The same is true with your body. That's why all physical trainers start their clients with leg exercises as they work up to their core.
Think of an ergonomic office chair for your foundation. And a height-adjustable desk as the elevator will take your ergonomics to the next level.
But that's not all. At Flexispot, we've been working in anticipation of touch screen-related issues. The evidence is in our comprehensive catalog of ergonomically sound office equipment. Reach out today, and let's have a conversation that will end these and other issues.