Several people who are well conversant with standing desks already know their benefits. Since research has shown us that standing desks can help prevent a sedentary lifestyle, many people are increasingly considering using them. For those spending most of their hours sitting at a computer and have already invested in standing desks, you can attest to the comfort they bring compared to the traditional office desks.
American Journal of Public Health says we are not allowed to sit for more than 8 hours a. day. Sitting for extended periods can lead to an increased risk of chronic diseases up to 20%. More research by the UK'S NHS shows that spending all day sitting can slow down metabolism, which can impact the ability of the body to regulate blood sugar, and pressure and break down body fat.
Such reasons should encourage more people to get standing desks whether you work in an office or at home. But getting a standing desk isn't enough. Many people encourage the benefits of a standing desk, but it doesn't end there because durability should be a consideration. Getting a standing desk to help with your health and end up suffering is no need. Suffering, in this sense, means using a desk with instability and durability issues or one that will stop being functional within a few years. A durable desktop is necessary for the functionality of a standing desk. A durable desktop means:
Material/ durability and quality- a desktop material should be good and focused on user needs. Should have a warranty, and warranty duration typically depends on the number of intricate parts made up of the standing desk and the strength of the material used to make the desk. Cheap plastic might have a shorter plastic lifespan compared to wood/metal counterparts. Would you not trust a standing desk to hold a $2000 computer? The material which gives you the best value for your dollar might be a good old sustainable wood.
Weight capacity- not every standing desk and desktop is designed to hold the average desktop or laptop. If your standing desk is required to do some heavy lifting, you should check the maximum weight that the standing desk can hold. You risk destroying the desk's durability if you use heavy equipment on a standing desk that isn't made to handle more weight.
Work surface-this is a question of your work preferences and available space. Adjustable desks are made of different shapes and sizes, including L-shaped so picking the best option for your work habits is necessary for desktop durability. The work surface of a standing desk can be made from material that can be corrupted when you spill a drink or use it badly; hence checking the material used on the work surface can help you find a durable desktop and a suitable standing desk. Also, if you are a messy co-worker who requires multiple large screens, checking the available work surface of the standing desk is good.
As mentioned above, the surface of the standing desk is a significant consideration for you when purchasing one. It is common to spill drinks and snacks now and then while working, and some desktops can be left with a glaring stain that can be an eyesore. Regardless, it can be pretty challenging to find the right desktop because of the variety of materials used to build and design them. The type of material is vital because it determines many of the desktop's qualities, meaning you should consider this while looking at the different options.
Here is a list of the most durable standing desk desktops: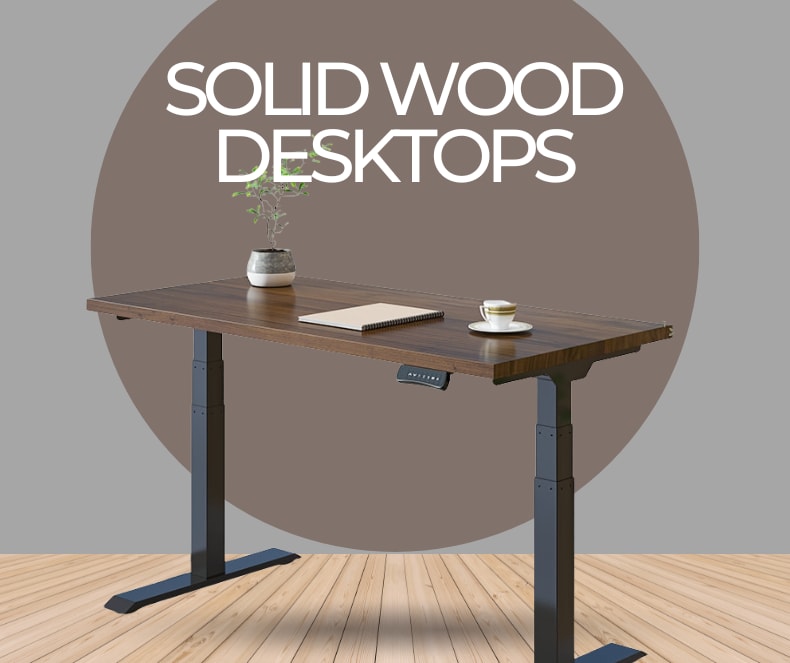 1. Solid wood desktops
For various reasons, solid wood is widely regarded as the best material for designing desktops. Consequently, their popularity has risen dramatically as more developers begin to incorporate the material into new products.
However, they are often pricier than other desktops due to the significant amount of input. Essentially, solid wood desktops are durable. A general rule of thumb is that the more expensive your desktop is, the longer it will last due to high-quality wood and excellent craftsmanship. One factor that can hugely affect the price of your desktop is the method used to develop it, whereby solid wood tops are made from single pieces of wood, which requires meticulous work for a quality finish. As such, they are among the most expensive of all desktops. Solid is less easily stained than other desktop materials meaning you will be safer from accidentally ruining your desk with spilled coffee.
One such desktop is the Willow solid wood standing desk from Flexispot, which is made from sustainable willow material. In addition, its design is elegant and sleek while remaining sturdy as you work; the extensive technical specifications also make it easy to operate. With different tree options to choose from, ranging from Cherry wood to the more recent Rubberwood that is harvested at the end of their cycles, the Willow solid wood desktop is more environmentally friendly than others while being free of harmful chemicals during development. Ultimately, it is a compelling option for environmentally conscious people while the extra strength ensures stability while lifting and lowering the desk's top.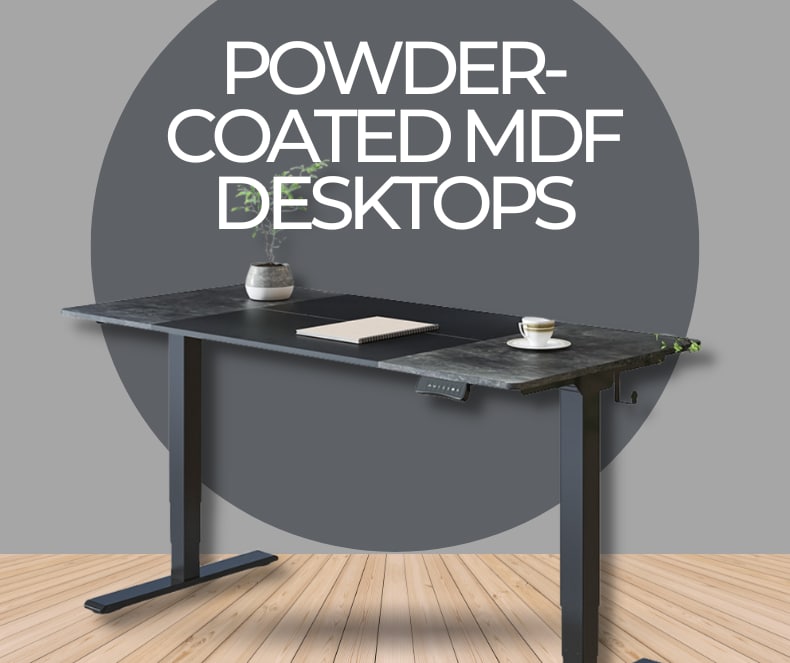 2. Powder-coated MDF desktops
Medium-density fiberboard is a material that has quickly gained traction in developing standing desk desktops. Made using recycled wood scraps that are then ground down to small particles and mixed with resin for binding, the mixture is pressed under intense pressure and heat, transforming it into a strong plank. MDF is an excellent alternative to natural wood desktops because they are often cheaper, depending on the quality.
One thing that allows it to stand out among other desktop materials is that the method of development removes the risk of knots and grains appearing because the resulting product is incredibly uniform.
Moreover, MDF doesn't change according to the temperature after being laminated, unlike natural wood, which makes it more resistant to fluctuations. Its primary weakness, however, is the fact that it can be easily stained depending on the quality and extent of the lamination, meaning that you will have to be extra careful about eating and drinking at your workstation. It is a glaring weakness that makes it vital for you to check the specs of any MDF desktop you wish to purchase because a lower quality one can leave you ruing the decision to put your hard-earned money into buying it. Flexispot's Seiffen laminated standing desk is one such desktop that you can choose and benefit from its laminated chipboard that is an inch-thick. In addition, seven different color options offer an exquisite array of desktops you can select from at the standing desk giant.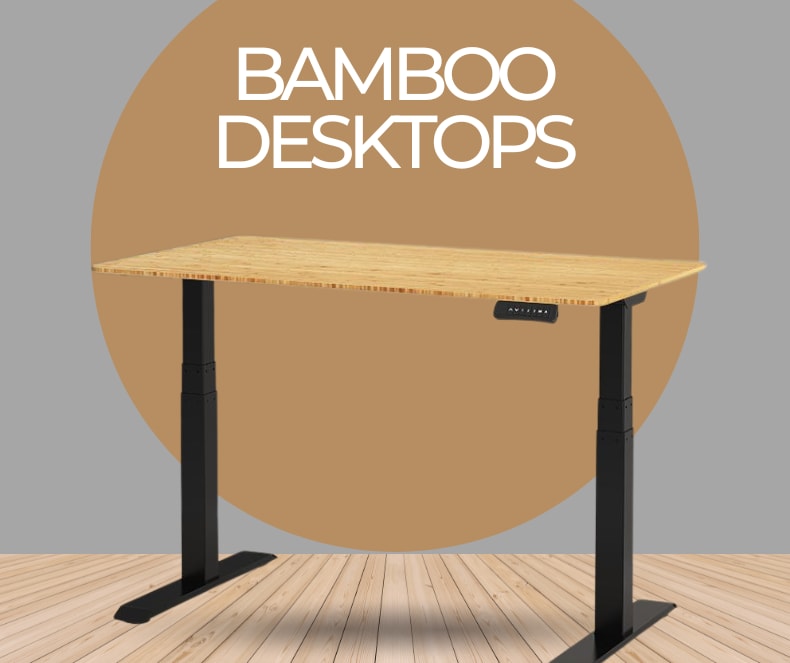 3. Bamboo desktops
Bamboo has increasingly been paraded as the way to develop standing desks, with its different benefits repeatedly reiterated. In most publications, however, the narrative is that a bamboo is an alternative form of wood used in making desktops while, in reality, it is a type of perennial grass. Bamboo has many uses, including house-building, clothing, and making standing desk desktops. Its main feature is the flexibility attributed to its form, which includes multiple strands of fiber, often making it an extensive task to convert it into usable wood. After binding together multiple thin sheets of bamboo, the plank is laminated for added protection and other design specifications. Bamboo is perennial, meaning it grows all year-round; as such, it is highly sustainable as a material for desktops, while it is more potent than some natural wood tops such as oak, which lets it support larger carrying capacities.
Due to bamboo's high flexibility, your standing desk desktop will not be affected by changing temperature and humidity while working outside and being easy to wipe clean. However, it is softer than most real wood desktops meaning yours may be more susceptible to scratches if you constantly drag heavy objects along its surface. In addition, there are emerging concerns regarding the ecological impact of bamboo furniture making
despite the apparent strengths its desktops possess. The Kana Bamboo Standing Desk from Flexispot is one that you can order from the manufacturer's website and enjoy its varying pros. Made from mature bamboo, the desktop is made to have more durability, while the coating process used ensures that the surface is resistant to water and even scratches. In essence, the Flexispot Kana is a desk you will enjoy using for its durability, environmental sustainability, flexibility, and frankly breathtaking aesthetics, making bamboo prime material for desktops.
A standing desk is significant for your health and productivity, but a durable desktop makes it even easier to manage a healthy and productive lifestyle. Check out the Flexispot website to get more standing desks with durable desktops. Every Flexispot standing desk is made with the safety and sustainability of the environment as a significant concern by observing industry standards. Consequently, they are made from only the most sustainable materials while checking the harvesting and production processes for the most minor environmental strain. You can scroll through the above suggestions for the standing desk desktop, which will meet all your working needs while also ensuring you remain environmentally conscious.