If you have paid attention to the world over the past decade, you are probably conscious of the latest hype train in workplace technology: standing desks. There's a huge chance that at least one person in your work environment is an advocate for standing desks. As people outfit their homes with the latest remote working tools, such gadgets have found their way to the living rooms, bedrooms, and makeshift home offices.
More and more people are focusing on mindfulness, and standing desks have suddenly become the rage as a way to counteract the lousy health impacts of sitting in a crouched position all through working hours.
While the hype about standing desks has died down a bit, they continue to grow in popularity, and several people swear by them.
The popularity of standing desks has led manufacturing companies to create different types of standing desks with different features that have different purposes. One example is the creation of two-tier standing desks.
These desks have split levels and smart functions that do not forgo the burden of managing a screen's vertical placement. Just like other standing desks that help with posture, 2-tier standing desks have been designed to support good posture whether you are sitting or standing. as mentioned, there are different types of standing desks. Some use internal motors to lower or raise the work surface giving you the option of standing or sitting. Others rest on top of your standard desk to turn it into a standing desk, and now 2-tier standing desks allow both mice, monitors, and keyboards to stay at individually comfortable heights.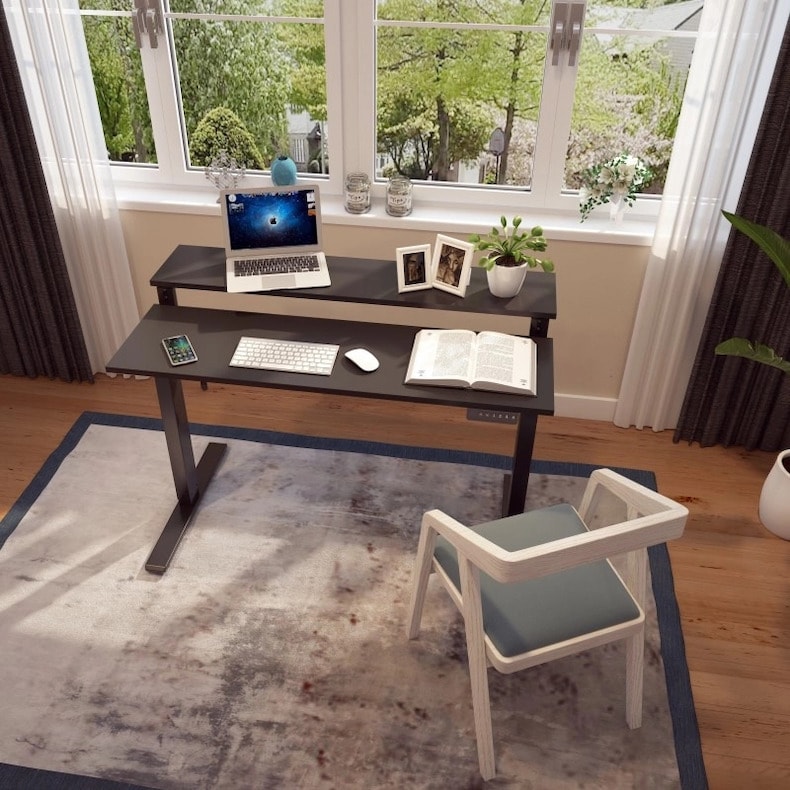 When to choose a 2-tier standing desk
When you need an all-in-one solution
Since 2-tier standing desks have optimum ergonomics built into the design, you can place one together and start working. They are suitable for people who don't want to buy additional accessories like keyboard trays and monitor risers.

When you use a separate mouse, keyboard, and monitor
The primary goal of a 2tier standing desk is to achieve ideal ergonomics ad comfort. When you can independently set your mouse, keyboard, and monitors at the correct height, it is simpler to maintain a straighter neck, back, and wrists while keeping your elbows at a comfortable angle of 90 degrees. However, you need a desk that raises the monitor a few inches above your desktop to accomplish this. It is where owning a split-level desktop comes in handy. If this is your case and you have a traditional desktop computer or a laptop with a separate mouse, keyboard, and monitor, a 2-tier desk is worth looking into.
Here is a list of the top 2-tier standing desks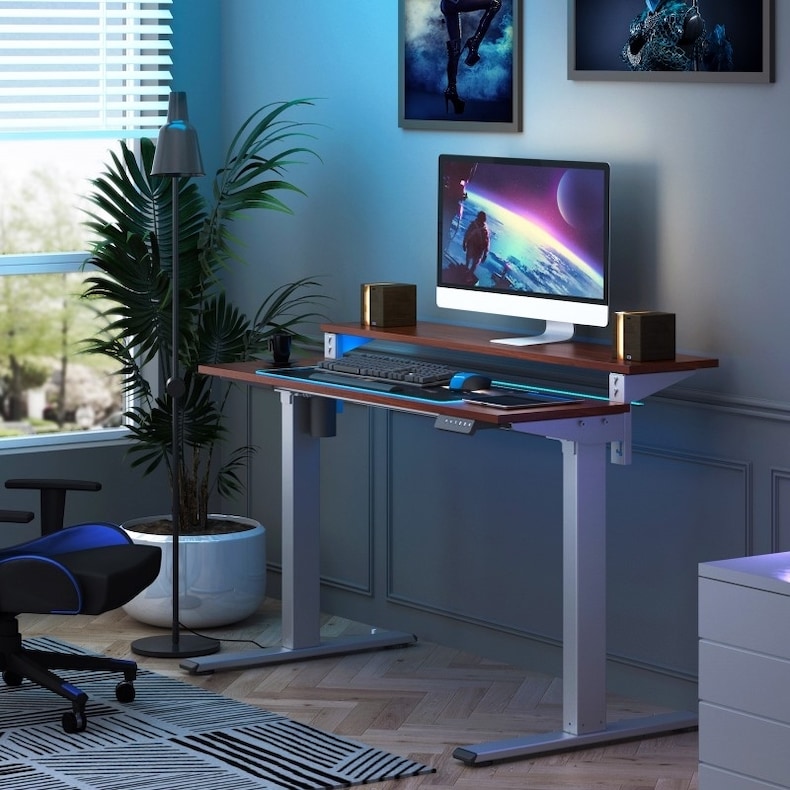 Since Flexispot is known to create quality products, the Vici Duplex is no exception. Some outstanding features of this desk include;

-Unique dual-zone two-tier design: The desk allows you to switch between one and two-tier desktop modes, which enables better versatility. In the 2-tier mode, you can raise the rear of the desk to offer a better

-ergonomic monitor placement if you want more comfort while working or using your computer. You can use the second raised tier to place plants, books, and photos for productivity and neatness if you have a home office. In the single-tier mode, an increased unbroken desk space makes it easy to work on tasks requiring a large surface area.
With the parent-child desk, you can use this desk to work with your kids at home. We all know the importance of spending more time with kids and helping them with work as it is good for the mental health of both the child and the parent.

-Adjustable desk feet: if the floor upon which the desk is standing is not even, working can be challenging and a pain in the ass due to instability. It is not the same with this Flexispot standing desk because you can glide the leveling slides along the bottom, shifting the height and weight until it becomes stable. In short, you don't have to move your desk to another area because Flexispot has you covered.
-Height settings: the desk has an advanced control panel that offers 4 memory preset buttons. It makes it perfect for programming the preferred height settings for more than two users. All you need to do is press a button and let the desk work its magic. There is also an LED display that shows you the exact height values when the desk is adjusting its height and when you save your preferred height.
-Construction: the desk frame has been constructed with powder-coated steel tubing, and this makes it resist stains and scratches at the same time and provides stability even at the highest height setting.
-Spacious working surface: the desk work surface that measures 55"by 27.5" has been environmentally sourced. Also, a solid desktop combined with a heavy-duty steel frame allows the desk to carry a weight of up to 132lbs.
-Pressure-sensitive height adjustment: the exciting feature of this desk is how it can sense pressure on the desk. When it detects pressure, it retracts downwards by a distance of 1.5 inches. You can adjust the desk's height without going for the control buttons when this happens to you.
Pros
Four handy memory presets
Stylish appearance
Easily adjustable

Cons
Lacks storage drawers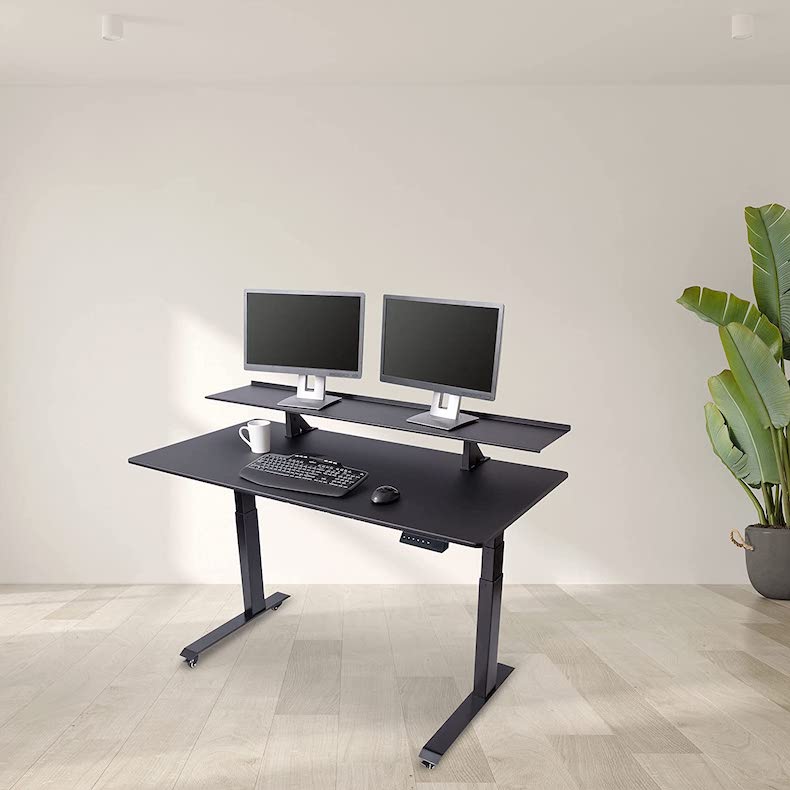 Photo Credit: Amazon
2. Stand up Programmable Electric Standing Desk with Adjustable-Height Shelf
This 2-tiers electric stand-up desk is the best choice if you need optimum ergonomics. It is a computer desk with an adjustable monitor riser that simultaneously places your screen at the right height and correctly positions your keyboard and mouse. Also, both desk shelves move in unison, allowing you to enjoy optimum ergonomics, whether standing or sitting. With the push of a button, you find the flexibility to stand or sit and effortlessly adjust in moments from one to the other. Also, the desk has rolling casters, which makes it possible for the desk to be moved around a multi-functional workspace for collaborative projects. The desktop is sturdy and spacious, with a capacity of 155 pounds, providing ample space for paperwork, dual monitors, and other office accessories. Finally, the desk has a beautiful selection of desktop color options and widths.
Pros
Has casters
It offers different desktop sizes
Cons
Lacks large storage drawers
It is a bit expensive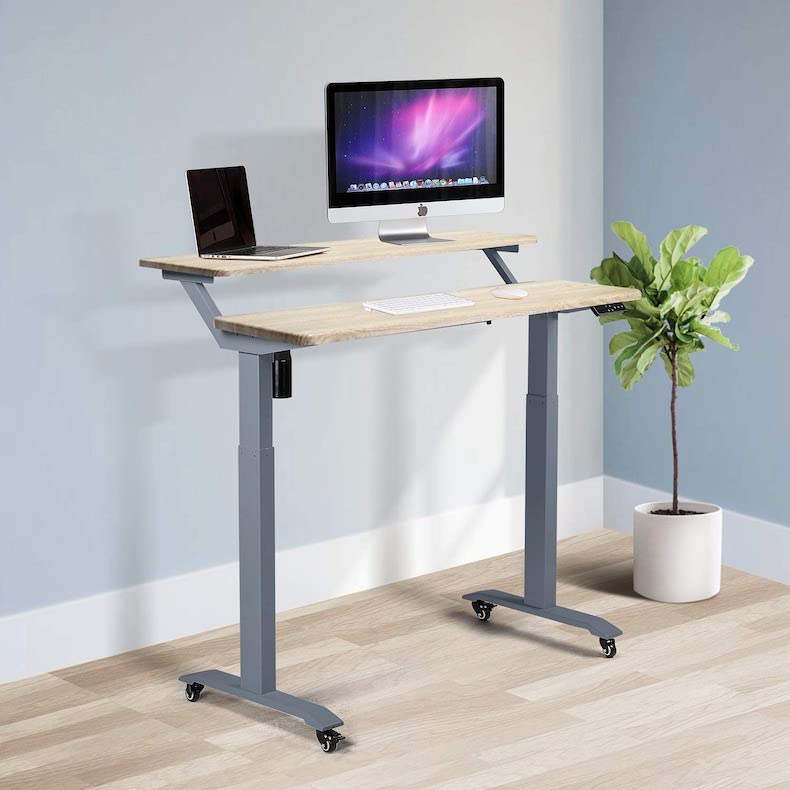 Photo Credit: Amazon
3. UNICO-2 Tier Electric Height Adjustable Standing Desk
If you are unsure of your expenses and still want a 2-tier standing desk, this is what you should go for. The desk's features include a solid construction. The industrial-grade steel frame, together with a solid MDF desktop, allows the desk to carry up to 225lbs hence accommodating your ideal workspace setup. The exciting thing about this desk is the LED memory control which contains an elegant 7-button programmable controller with 4 customizable presets that enable you to set your desired height. The desk also has advanced functions like; a collision avoidance system to help avoid accidents, overheat protection to prevent motor damage, and an auto balance protection function to protect a monitor from falls.
Pros
Outstanding advanced functions
Less pricey
Cons
Lacks storage
Assembly might be a bit complicated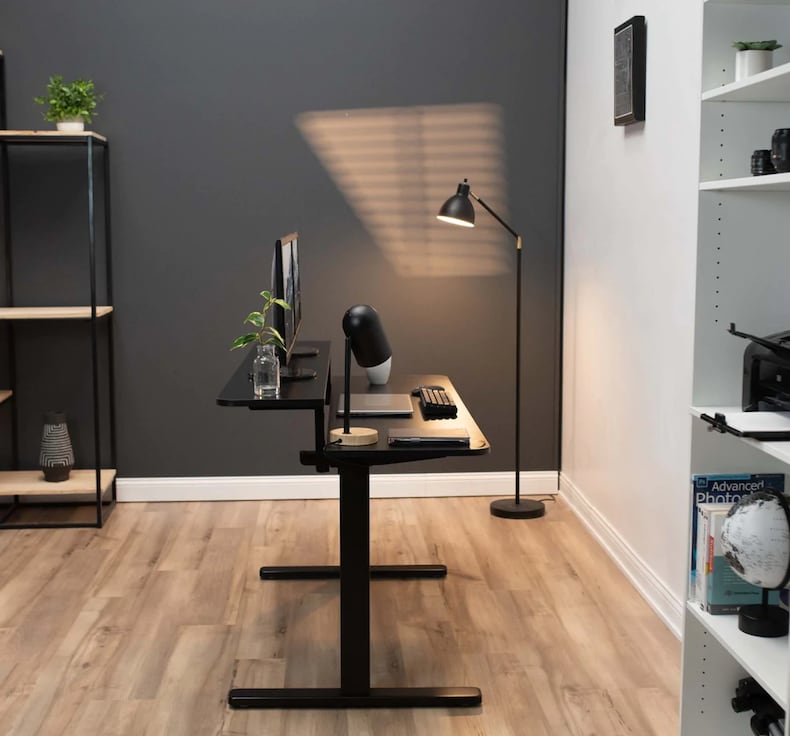 Photo Credit: Vivo
4. Vivo Electric 2-Tier height adjustable desk
The desk contains a powerful electric motor; the main desktop uses a single motor lift system with a height range of 29.2" by 48.2". Also, it has a push-button controller that features 2 memory settings that save your desired height. This desk is made with a sturdy particle board top and steel frame, allowing it to have a weight capacity of 176lbs. you can say goodbye to long sitting hours because the desk allows you to smoothly transition from sitting to standing. Finally, the desk comes with a 3-year warranty.

Pros
Modern appearance enables it to blend with several home office environments.

Cons
Fewer memory presets

Benefits of 2-tier standing desks
-Helps with posture- the mechanical lifts of most of these desks are designed to engage back and front motors either separately or together. When users adjust height levels, they work comfortably, especially those who spend time on computers. Instead of tilting the head to look at your monitor, you can raise the rear tier till the screen parallels the eyes. Doing this helps to maintain a natural neck posture, reducing pain, muscle stiffness, and fatigue from working.
-Boost productivity- When you shift from standing to sitting, you will avoid a sedentary lifestyle which could negatively impact health and productivity. 2-tier standing desks have been designed to ensure smooth transitioning from sitting to standing. You will be able to work comfortably and be productive with these desks.
-Reduces health risks-when; you can position your monitor and keyboard correctly by using the 2-tiers; you not only fix your posture but also take care of your health. Staying active by increasing body movement while working is the best way to fight cardiovascular diseases and diabetes. You can also achieve this by exercising and avoiding prolonged sitting or standing.
When choosing ergonomic standing desks, it is essential to understand the benefits of both the flat top and 2-tier models to make an educated purchase decision. We hope this article is helpful! Try the Flexispot website for more standing desks and recommendations.