Cleaning your home or office furniture as and when due is a significant determinant of how ergonomic and healthy you're living. So, you need to roll up your sleeves and give these accessories a brand-new look.
Meanwhile, we have varieties of furniture for both your workplace and home use. This follows that you can't use the same cleaning formula for them all.
For instance, your cleaning solution for a wooden desktop has to be different from the one made of iron. However, this cleaning guide is here to help you solve all the associated mysteries.
This guide will show you different types of furniture alongside the perfect techniques to clean them. In other words, cleaning your home office is about to get more fun-filled and easier. Let's pump the gas!
How to Clean Any Types of Furniture
Below is a list of easy and common ways to give your furniture a shiny look. But before we delve deeper, there's an essential rule you need to keep in mind. You should always start the cleaning process by testing the impact of the cleaning solution you want to use on a small part of the dirty or dusty furniture. At least, this will help you know if the solution is compatible with the material. And if it isn't, you can go for another cleaning formula.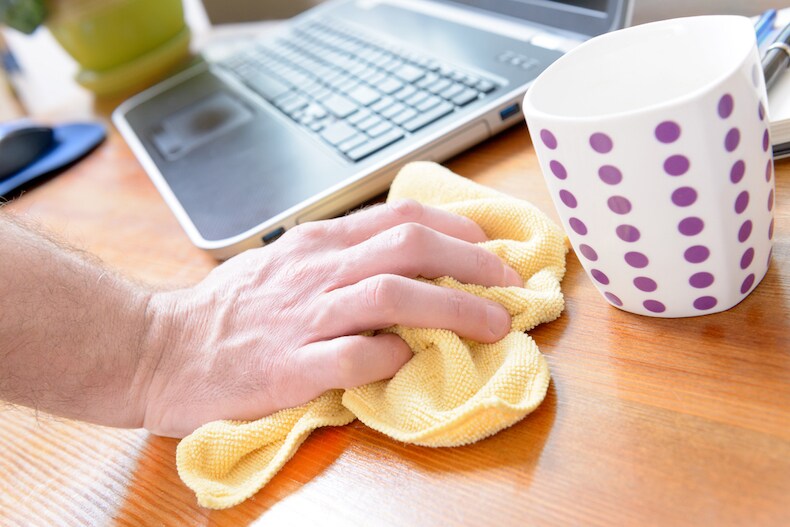 Polished Furniture
Is there a polished desk in your home office? Then you should read between the lines as we show you how to get rid of scuffs, dust, and other polish build-ups on it. You need to get a small quantity of light cleansers such as a damp microfiber cloth and a dishwasher to help you smoothen the furniture. However, heavy-duty cleansers will be needed if you want to check how you can deep-clean pieces with polished surfaces. There are tons of other cleaning solutions and wood polish on the market. But you should always remember to have a microfiber cloth nearby. It'll help you extract any residues from the surface of the furniture. And lastly, the furniture must be well-whipped to make the surface very spotless and elegant.
Veneer Furniture
Is there a piece of furniture with a veneer surface in your home or office? Then you should know that veneer is popular due to its fragile surface. It's very fragile to the extent that it can easily damage while cleaning it.
Well, that's if you exert too much pressure. So how do you clean this type of furniture? It's quite straightforward. All you have to do is cultivate the habit of daily maintenance and you need to use a fluffy dusting cloth.
But if you want to go on a deep-clean process, a warm cleanser should do the job. However, you'll also need a microfiber cloth to wipe it clean and dry.
Wrought-Iron Furniture
If your employer has turned to the latest wave of remote working, chances are that you plan getting an office pod to serve as your home office. Meanwhile, most of these pods are made of wrought-iron. You can also find them in the garden tools. Yes, wrought-iron furniture is very durable, the downside is that it easily catches pollen, dirt, and dust. On that note, you should get a soapy solution and dip an abandoned toothbrush into it to clean the furniture. Even after cleaning, these pieces of furniture should be kept away from moisture. And if the surface suddenly starts chipping off, the best way out is to do filly. This will also prevent it from rusting.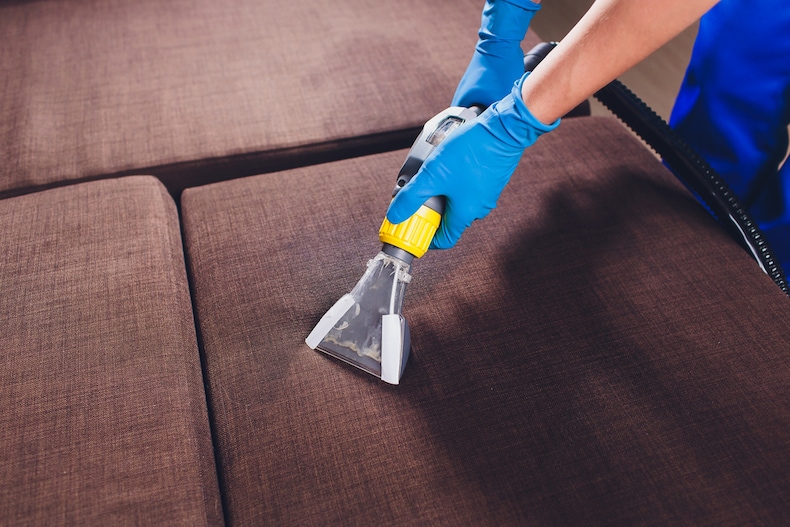 Fabric Upholstery Furniture
The material called fabric upholstery is primarily used to build furniture like office seats and sofas. And a major downside of this furniture is that it easily gets contaminated with the fur of your pet, dirt, or dust.
So you need to give them a proper and daily vacuum. But to clean any spots affected by lotion, oil, or the strains of hair conditioner, you'll need a gentle soap and microfiber cloth.
Painted Furniture
If you have a knack for painted furniture, the best spots to have them shouldn't exceed your home office or living room. And once it's time for cleaning, you'll need a little quantity of white vinegar and water for each of the pieces. You'll also need a soft cloth to dampen and dry the surface. The damp cloth will be used to put the cleaning solution on the surface of the furniture while the dry cloth will help you extract any residues clinging to the surface.



Stainless Steel
Whether you have a full set of furniture outdoors made of stainless steel or a couple of pieces, it's vital to clean them regularly to boost their longevity. And the ideal timeframe for cleaning should be twice a year, except if you've discovered some thick debris, dirt, or pollen lurking around. During the cleaning, you steer clear of bleach or any cleaning solution gotten from chlorine. Instead, you should get a sponge or a soft cloth and soap with no PH. And if you want to wipe out tough stains or dirt, you can apply an abrasive pad. In other words, waiting on the usual scrubbing sponges might not sufficiently scratch the dirts.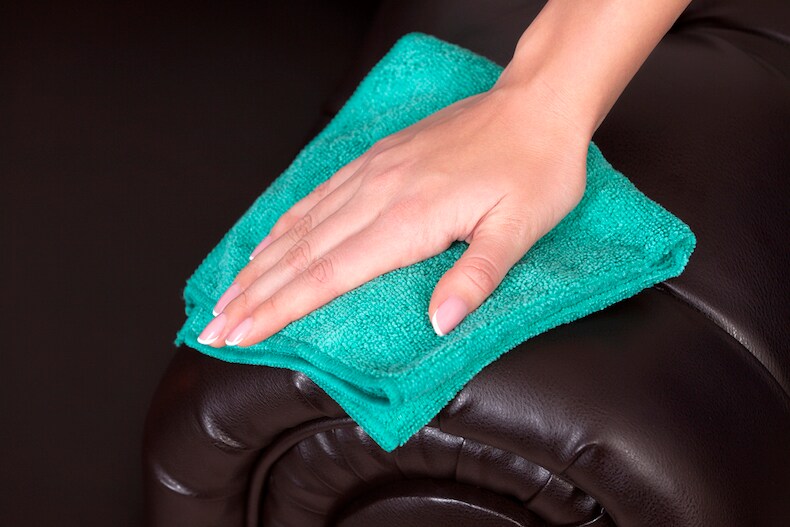 Leather Upholstery Furniture
Whether in your home office or at your conventional workstation, there'll always be pieces of furniture made of leather upholstery. This includes the sofa you're sitting on and the chairs in your office.
Meanwhile, this material is very prone to contract stains and dents if the furniture doesn't enjoy maximum maintenance. Hence, the first aid here is that you nourish the leather furniture.
This will save them from stains. Another preventive measure you can apply is making sure that the leather upholstery furniture is not in open contact with sunlight. That's a hack if you want to expand their lifespan.
Wicker
It's very easy to observe dirty wicker - that's usually when the weave has been clogged by dirt or dust. However, a gentle soap formula and a soft brush will be needed to clean the deep stains.
You can also use a vacuum to clean the furniture regularly.



Outdoor Patio Cushions and Canvas
Are there outdoor cushions and patios on your lawn? Then you need to be ever-ready to promote their lifespan and this is possible when you learn how to give the furniture a deep cleaning. First, you'll need any type of soap solution used in the kitchen and warm water to remove the dirt and mildew from the surface of the furniture. If there's a heavy-duty canvas, you'll have to pressure wash it using a dish soap solution.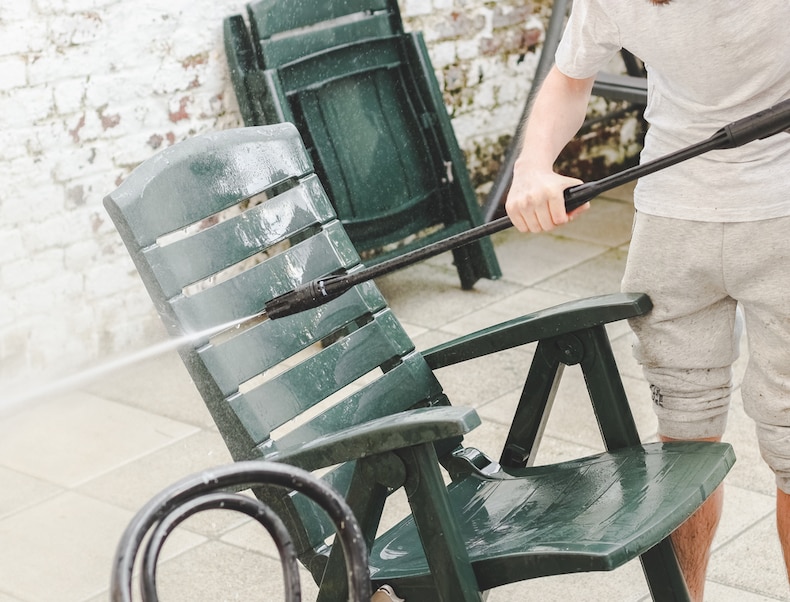 Plastic Outdoor Furniture
Before almost every office bought the idea of going leather and ergonomic, plastic furniture outdoors was once the order of the day. And people tend to adopt this furniture when they're frustrated by the endless cycle of changing simulated or molded furniture made of wood. However, that doesn't make the plastic furniture free of specks of dirt and clouds of dust. Plastic outdoor types of furniture are often prone to be contaminated with pollen. It can also be dirty or even damaged if exposed to extreme sunlight. Therefore, you need to keep it away from the sun or any extreme heat. And you should use a hose and soapy water to give it clean it up.
Vintage Fabric Furniture
With some slight differences from the usual fabric upholstery, the vintage fabric furniture might be a bit challenging to clean. So you should not scrub or rub the surface of the furniture. But as an alternative, you can give the blotting method a trial. All you have to do here is to apply gentle and diluted cleansers on a soft microfiber cloth while cleaning the upholstery. No doubt, this technique will prevent every form of damage.
As we earlier recommended, it's wiser to go for the hidden part of the vintage fabric furniture and check for the impact of the cleaning solution on it. Once the solution is confirmed to have no adverse reaction to the material, you can apply it to other parts of the furniture.
Final Thoughts
The best home takeaway while cleaning any piece of furniture is the cleaning process itself. If you're not armed to teeth with the needed instructions and solution that works for each furniture material, the cleaning might damage the piece. So you need to note that since one cleaning technique is appropriate for a particular material doesn't make it appropriate for others. Hence, you need to invest in the correct solution that will clean your furniture without any dirt or residue remaining.