The pandemic has perhaps had the most significant effect on everyday life as lockdowns saw people spending more time at home. As public gatherings were banned and travel cessations implemented, most of us had to move our work home and consequently set up workstations. Moreover, pc gaming gained popularity as we resorted to virtual worlds to escape boredom or anxiety and even take breaks from work. As avid gamers interacted on social media, cable management was one of the most conspicuous topics. Some of us only had to upgrade existing workstations while others had to start from scratch; all the same, the importance of managing cables within your gaming set-up is eventually clear to everyone.
PC gamers are obsessed with latency, often preferring the hassle of connecting devices using multiple cables in their set-up to wireless connections. Despite the ongoing trends of devices becoming wireless, pc gamers are notoriously stubborn due to the unbridled transmission speed of cables which is an essential factor in gaming. As a result, it is easy to eventually end up with multiple HDMI cables, power cords, and even Ethernet cables connected to different devices around your gaming station. If your pc gaming set-up is the real deal, then chances are it is a mess that you should not take lightly.
In light of the increasing insistence on ergonomics at work, standing desks are another feature of the gaming set-up that has generated attention. While setting up our home office and pc gaming stations, most of us incorporated ergonomic principles as people worldwide became increasingly concerned with their wellbeing. Gaming desks were thus thrust into the spotlight as players required more from them for better gaming experiences; people now put more thought into the choice of which to buy, with several key factors being considered. One among them is cable management which should be top of your list if you consider buying a gaming desk. The mess that is ultimately made by the cables lying all over the floor can have unforeseen effects with costly results; there are gaming desks that let you elegantly hide all your cables without compromising on effectiveness.
Before seeing some of them, it is essential to understand why the buzz around cable management is justified. Here are a few benefits of cable management in your gaming set-up:
Better PC performance
The most crucial reason for managing the cables in your gaming PC set-up is the improvement it grants to performance. Airflow is among the most necessary conditions for good pc health, and having a messy gaming set-up could prevent circulation around your devices. PC gamers are passionate, and it is common for some players to spend hours on end playing their favorite edition of Call of Duty. If you can relate, then you are already familiar with the amount of strain such gaming puts on the computer. The graphics card and processor are critical to pc gaming set-ups as they determine crucial aspects of gameplay; however, they are at increased risk of failure without the right conditions, such as airflow. Without sufficient air circulation around your gaming set-up, critical parts may overheat after intensive gaming sessions as the messy cables prevent hot air from leaving your PC's internal components.
Improved Aesthetic
Having spent your hard-earned money on expensive new gaming equipment, you wouldn't want the set-up looking like a pile of old computers. However, it is easy to fall prey to as the slowly building amount of cables in your set-up can prevent you from showing off your RGB lighting. Consider a desk that manages your cables for a better gaming set-up, leaving the set-up neat and professional. After all, who would want their set-up looking nicer than their online gaming opponents?
After seeing how much your pc gaming set-up stands to gain from a desk with proper cable management capabilities, it is time to have a glimpse of some gaming desks that will do this exceptionally well.
Top 4 gaming desks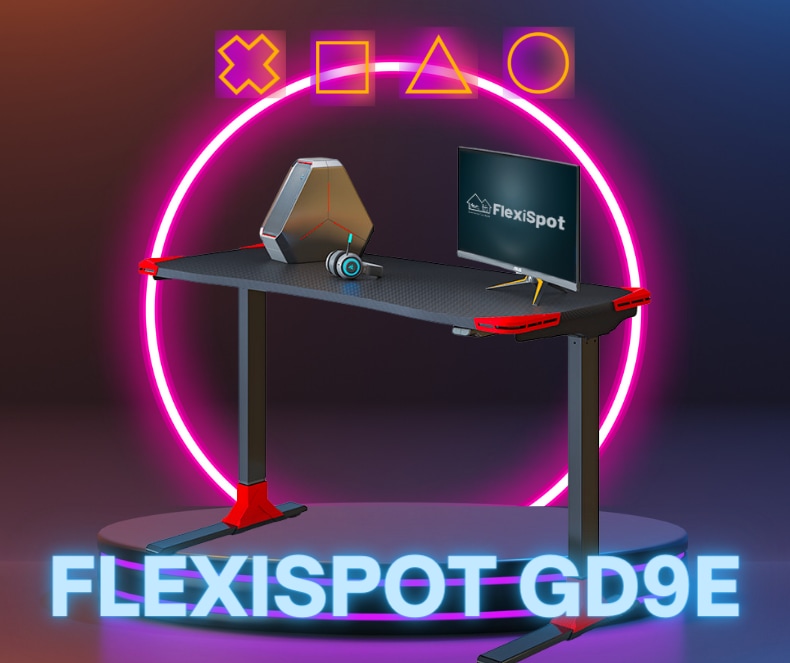 GD9E can lift your battlestation with the touch of a button to stand up and boost energy and circulation, taking your game to the next level. The carbon fiber textured PVC desktop is water- and stain-resistant and is non-slip, making it easy to keep everything in place during intense gaming sessions.Compared to traditional rectangle desks, the curved desktop matches your body more naturally and helps support your elbows and wrists.
A recessed desk leg opens up more room for your computer, drawers, and any other accessories. You can even place your PC over the desk foot with room to spare. A quick-install design with pre-assembled crossbeam means you can get up and running in under 15 minutes. The desk will automatically stop and reverse if it encounters an unexpected obstacle while in motion, enhancing safety and preventing damage or injury.
With a 48"x24" desktop size and capacity of 110 Ibs, the gaming desk is wide enough to fit nearly all of your gaming equipment and support it. The desk is built to support all your equipment comfortably for those with elaborate gaming set-ups.
Finally, the GD9E has a red and black design, bound to excite any pc gaming enthusiast.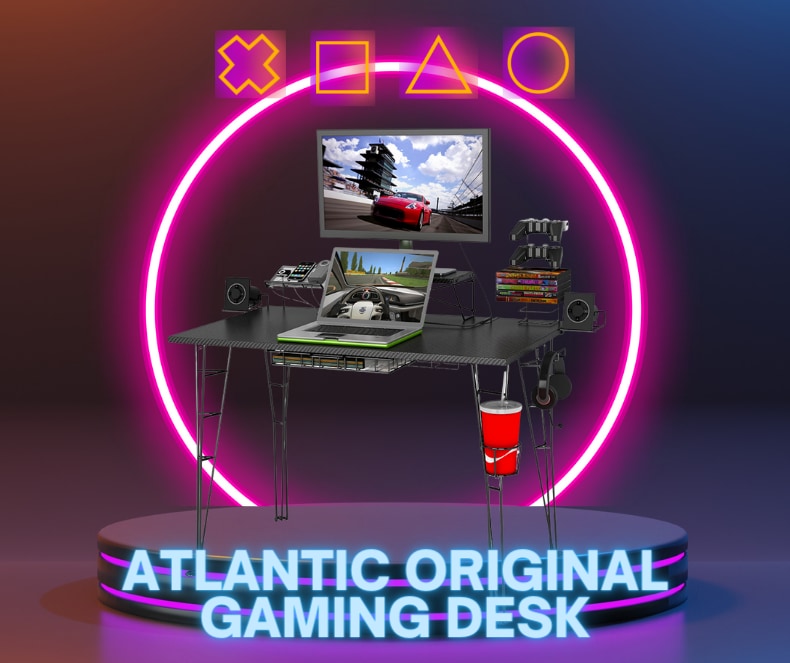 2. The Atlantic Original gaming desk
Another gaming desk that is great at managing your cables, the Original is designed for people with disorganized cable layouts. With a simple build that makes assembly similarly, it can quickly be put together, supporting your gaming set-up. The central aspect of the Original is its intricate system for managing cables which ensures you barely notice them. Placed at the back, the cable management system organizes all your cables, presenting your pc gaming set-up as neat and minimalistic.
In addition, the Original gaming desk from Atlantic is built with a stand for charging all your critical equipment. Moreover, it is equipped with a designated storage area that can hold a pair of controllers and about 10 video games. The desk's focus on the organization also means a monitor stand is present for taller players. The minimalistic build, however, means it is not as sturdy as the previous desk.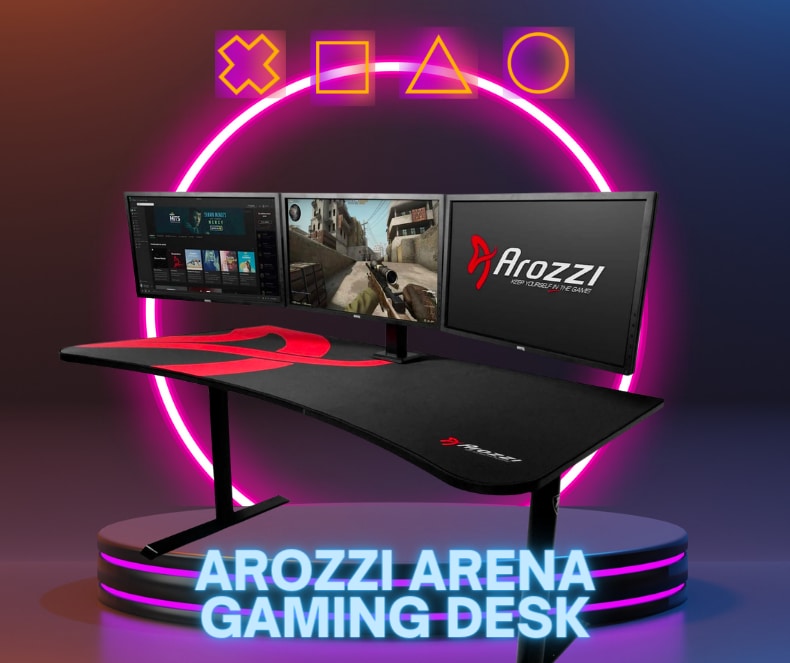 3. The Arozzi Arena Gaming Desk
With a minimalistic design, the Arena is developed to look simple but stylish. In addition, it comes in five different color options that gamers can choose from for a more striking aesthetic. It is one of the best gaming desks for organizing your cables because it is designed explicitly with modifications for effective cable management. To organize your cables, the Arena uses holes on its surface to manage any cables you may be using, which then directs them to a basket made of mesh that holds them together underneath. The system ensures you are not affected by a mess of cables that can even jeopardize gaming performance.
Moreover, the Arena is nearly 63 inches to accommodate as much of your gaming equipment as possible, while its mouse pad means you do not require a supplementary mouse pad. The pad is also made of material that is waterproof and easy to clean; it, however, lacks comfort amenities like a cup holder for your drinks.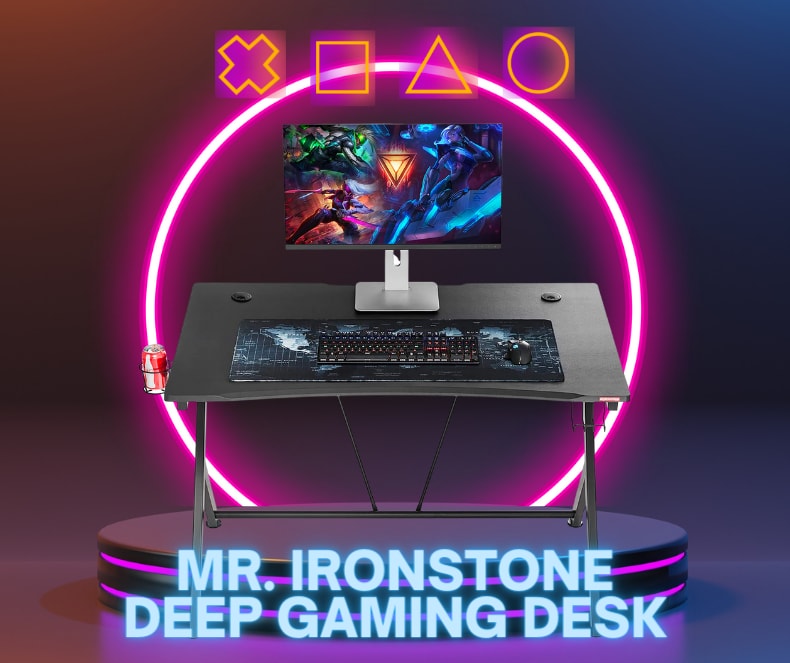 4. The Mr. Ironstone Deep Gaming Desk
The final gaming desk that offers you good cable management is the Deep from Mr. Ironstone. With metallic legs and frame in general, it offers impeccable stability for you and your gaming equipment. If you have different equipment, each with its cables, the Deep is made to ensure they do not cause clutter around your set-up. Its cable management system includes a pair of holes on each end of the surface for organization; the cables are neatly tucked away underneath the desk for a better layout. Assembling the desk is accessible, which can be attributed to its minimalistic design and simple concept.
Additionally, it has a laminated surface which makes it waterproof and ensures you can easily clean it, while its foot pads can be adjusted for better stability. With a cup holder and hook for hanging your headsets, the Deep is designed with your comfort in mind. However, its 45-inch width means some of your gaming equipment may not fit on it.