If you're a gaming enthusiast, you might spend hours sitting in front of your computer screen, playing your favorite game. As a gamer, it can be hard to stop, especially when the game is at a very crucial point. With games like Dota, Counter-Strike, and Halo, how can one possibly stop?
As much as gaming can help you relax, unwind, and forget the stress of the day, too much of it can have detrimental effects on your health. Sitting in one place for extended hours isn't a wise thing to do. You're physically inactive throughout the time you're playing. Some people get so carried away that they lose track of time and play through the day and night. Now, how can this not affect your health?
One way to prevent the adverse effects to your health that can result from extensive gaming is to take breaks and stand up or walk around. This will release the stress on the muscles of your shoulders, neck, and back and improve the blood flow through your body, ensuring that you don't feel fatigued. However, for a gamer who's completely engrossed in the game, taking a break, even if it's for a few minutes, can be difficult.
But worry not – you now have standing desks to your rescue.
Standing desks can really be up to your gaming experience. They enable you to play while you stand and protect yourself from all the adverse effects that you would otherwise suffer if you sit through long gaming hours. These are adjustable and can be adjusted to suit your height. You can use them as regular desks to use when sitting and then raise their height so that you can continue playing while standing. There's no need to take a break from your game. Now that's cool!
If you're an avid gamer who just can't stop playing your favorite games, you should consider investing in a standing desk. This blog post lists down some of the best standing desks for gamers that are available in the market today.
Our Top Picks

Flexispot Electric Height Adjustable Gaming Desk
The first on our list is the Flexispot Electric Height Adjustable Gaming Desk, and it's on the top spot for all the rightly justified reasons. This gaming desk features a wide and spacious tabletop that leaves plenty of space even after you arrange a wide monitor on it. You can place all your gaming devices on the tabletop without making the desk appear too cluttered. There's lots of space for a gaming keyboard and mouse movements, so you don't really have to worry about having to make space for the things you need during your play.
One of the reasons why Flexispot Electric Height Adjustable Gaming Desk stands on top is its durability. It's made from the finest quality carbon fiber, which is waterproof and looks aesthetically appealing. All this will make your gaming corner look welcoming even to non-gamers.
Some miscellaneous features that give the Flexispot Electric Height Adjustable Gaming Desk , the desk will automatically stop and reverse if it encounters an unexpected obstacle while in motion, enhancing safety and preventing damage or injury.
Pros
Highly durable
easy installation
ergonomic curve design
Cable guide hole
Aesthetically appealing
Cons
weight capacity is 110 lbs.

Image Source: Officeworks
Eureka Ergonomics Gaming Desk EGD-S62B
The next on our list is the gaming desk from Eureka Ergonomics. It has been designed to make gaming a healthy hobby for you so that you can thoroughly enjoy your gaming experience. It's one of the widest gaming desks available in the market today. It has got excellent load capacity. You can load your PC, gaming accessories, or a mini-fridge without worrying about it collapsing!
The best feature of the Eureka Ergonomics EGD-S62B is its adjustable height feature. You can use the electric control panel (we know, super techno) to adjust the height as per your comfort level. There are 4 height options that you can choose from. All it takes is a single click.
As if this wasn't enough, the gaming desk features gorgeous RGB lights that create just the right atmosphere to go into the gaming mode. You can choose from 6 lighting options. The full-cover mousepad is another pro that provides excellent traction across the surface of the gaming desk. You can use the mouse anywhere on your desk.
The cup holder and the double headphone hooks are other notable features that make this gaming desk from Eureka Ergonomics a fine choice.
Pros
Sturdy and durable
Electric control panel
Full-cover mousepad
Cupholder
double headphone holder
RGB lights with 6 color options
Adjustable height with 4 preset height options
Excellent value for money
Cons
It's extremely heavy
Setup can take hours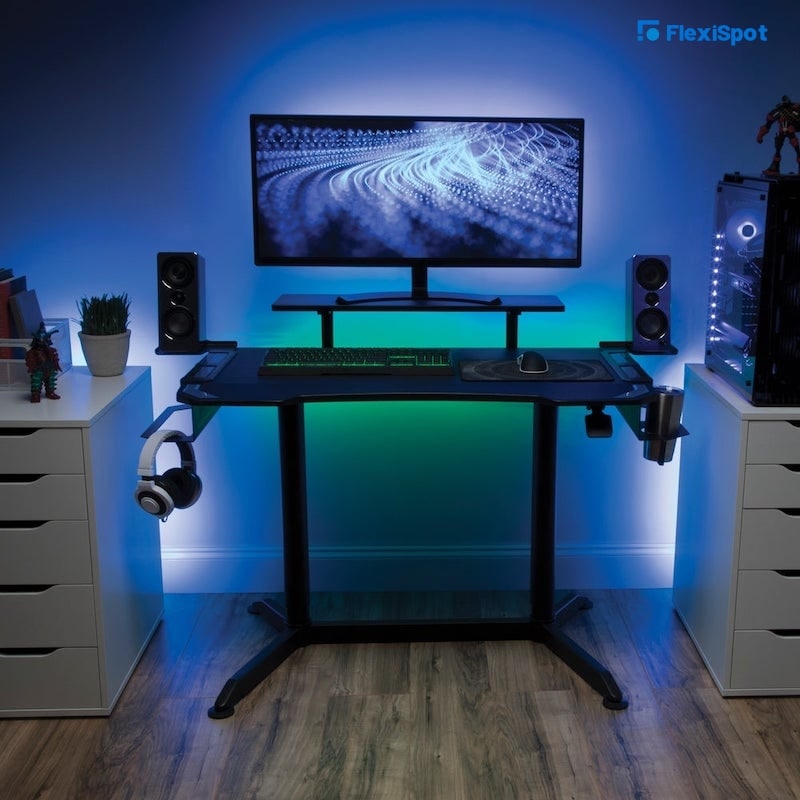 Image Source: RESPAWN
RESPAWN Standing Desk 3010
While most of the best quality gaming desks are expensive, this one from RESPAWN is quite pocket-friendly. Made out of steel, his colorful standing desk for gamers comes packed with numerous accessories that bring it to our list. The tabletop surface is slick that gives the feel of a high-end gaming desk. With numerous accessory mounts, it offers gamers the convenience they want during their play. The cup holder, headphone holder, and speaker shelves ensure that all your stuff is well-organized and there's no disturbance or distraction while you're engrossed in your game.
One of the best features of the RESPAWN 3010 is the monitor riser that comes built-in. You can raise your monitor level to your eye level for added comfort without the need for a separate mount for the monitor. Not only can you adjust the monitor's height, but you can also raise or lower the entire desk itself.
This ergonomic gaming desk from RESPAWN is quite durable and offers excellent value for money.
Pros
Adjustable height
Built-in monitor riser
Equipped with cup holder, headphone holder, and speaker shelves
Durable steel frame
Easy and quick set up
Ergonomic design
Affordable
Cons
It's quite heavy

Image Source: Amazon
ApexDesk Standing Desk
Although a bit pricier, the ApexDesk Standing Desk has received plenty of attention – and for good reason.
The ApexDesk Standing Desk features a heavy-duty frame that makes it one of the most durable standing desks in the market. The tabletop is quite wide – big enough to accommodate 3 screens! The tabletop is covered with an MDF laminate sheet that's available in 8 colors for you to choose from.
The best feature is the powerful motor that can adjust the level of the desk within seconds. There are also 4 preset heights. All you need is to click on the height you prefer on the digital control panel.
The assembly is quite simple and quick, which is another reason why it's so popular among users. It also comes with a cable tray that keeps all the cables organized. You can also buy-side desks separately if you want additional space to keep more stuff. The side desks can be purchased in the same color as your ApexDesk Standing Desk.
Pros
Large tabletop
Sturdy and durable steel frame
Convenient height adjustment
Digital control panel
Large cable tray
Cons
The edges are beveled that sometimes makes it difficult to mount the gaming monitor onto the desk

Thermaltake GT Battlestation
The next standing desk to enhance your gaming experience is the Thermaltake GT Battlestation. It's equipped with numerous features that are all worth praise and account for the hype around it.
The height of the Thermaltake GT Battlestation can be adjusted through a smooth height adjustment mechanism. Apart from this, the entire surface of the desk can be used as a mousepad because all of it is covered with semi-course material. The standing desk also has a cable management tray that ensures your gaming setup looks neat and well-organized.
Pros
Durable steel frame
Large tabletop surface
Adjustable height
Full-cover mousepad
Cable management tray
Cons
Height adjustment is manual
The surface gets scratched easily as a result of which the table starts to look old too soon


Standing desks are the way forward for the gamers where they can enjoy the best of both worlds. They can play all they want without worrying about any adverse effects on their health. Sitting for long hours has its consequences. Although it sounds like the most comfortable way to play, your perception will change once you set up your gaming station on a standing desk and play while standing. It's an all-new level of fun and thrill, and most importantly, it's healthier for you.
Now that you've got the list of the best standing desks that can help enhance your overall gaming experience, which one is going to be your pick? The sooner you invest in a standing desk, the better it's for your health!