Commemorating an anniversary could entail a fancy celebration or an intimate gathering. It could be between two persons who appreciate their time together or with the individuals who helped with getting to the place they are in now.

Let's Celebrate!
FlexiSpot wants to celebrate with our beloved and loyal customers the Standiversary sale happening from 27th to 29th of September. We are celebrating 5 years of ergonomic solutions that help everyone achieve their career goals and aspirations. In light of this, FlexiSpot welcomes everyone to come and join in on the fun with Spin-The-Wheel Giveaway!
For the Standiversary Spin-The-Wheel, customers can try their luck into winning extraordinary prizes. There are no losers since the wheel would only offer the best for those who dare to try. There are discounts, gift cards, FlexiSpot products, and even a secret gift up for grabs.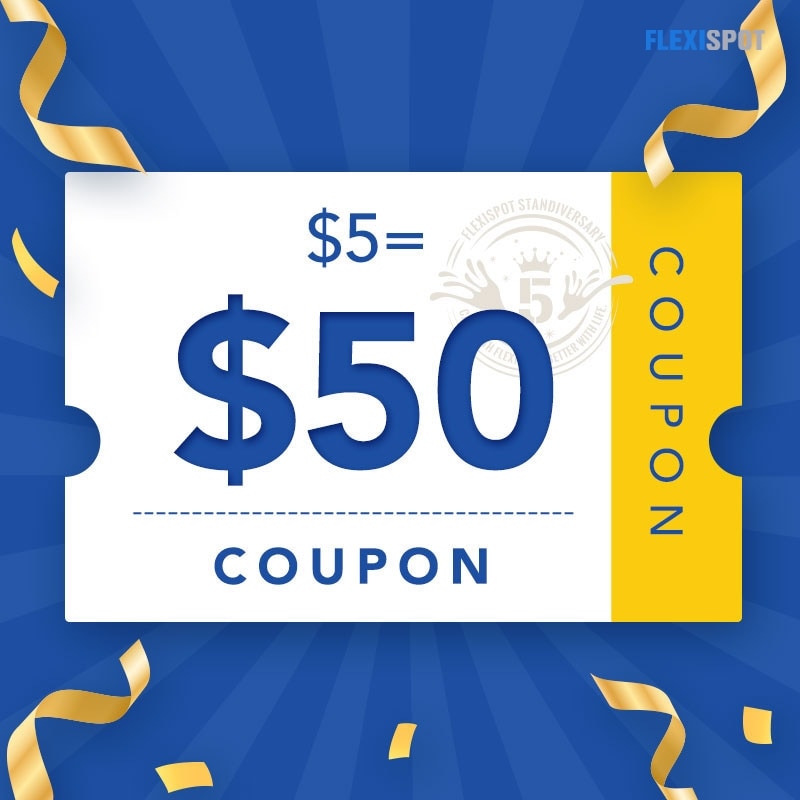 In addition to the Standiversary Spin-The-Wheel, customers are also welcome to turn their $5 into $50! Just pay the $5 deposit. Once the payment goes through, customers would receive the discount voucher through electronic mail. And on September 27 to 29, they can enjoy a $50 off discount on 3 of the FlexiSpot ergonomic solutions they want on top of the sale price! Isn't that amazing? Not only would customers save more money, but they would also have a piece of ergonomic equipment that would help them lessen their health expenses while looking good.
Exciting Products at a Discounted Price
The $50 off FlexiSpot discount can be used on the Smart Bike Trainer Stand BT01, Electric Height Adjustable Standing Desk E2AL, and lastly, the Ergonomic Gaming Desk with Mouse Pad - 63" W.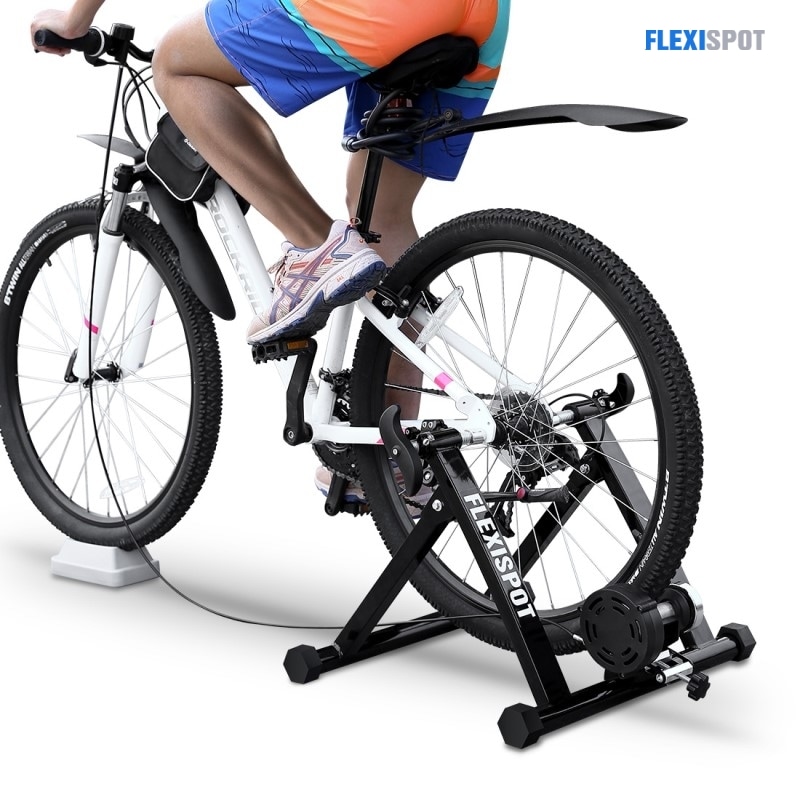 The Smart Bike Trainer Stand BT01 is the perfect exercise companion for those who want to lead more active lifestyles. Whether customers are exercising at their private residences, at the workplace, or the fitness center, FlexiSpot's dual magnetized tire cycling rider set will offer customers with a pleasant pedaling session. The Smart Bike Trainer Stand BT01from FlexiSpot, which allows customers to achieve a secure as well as comfortable workout condition regardless of how intensive the activity becomes. Users will be able to transport the Smart Bike Trainer Stand BT01 to just about any location they choose due to its lightweight design. Its collapsible design additionally enables a simpler way to carry, making it ideal for tucking beneath the table or in the cargo of a vehicle because the compressed diameter is just 6.3" when tucked flat.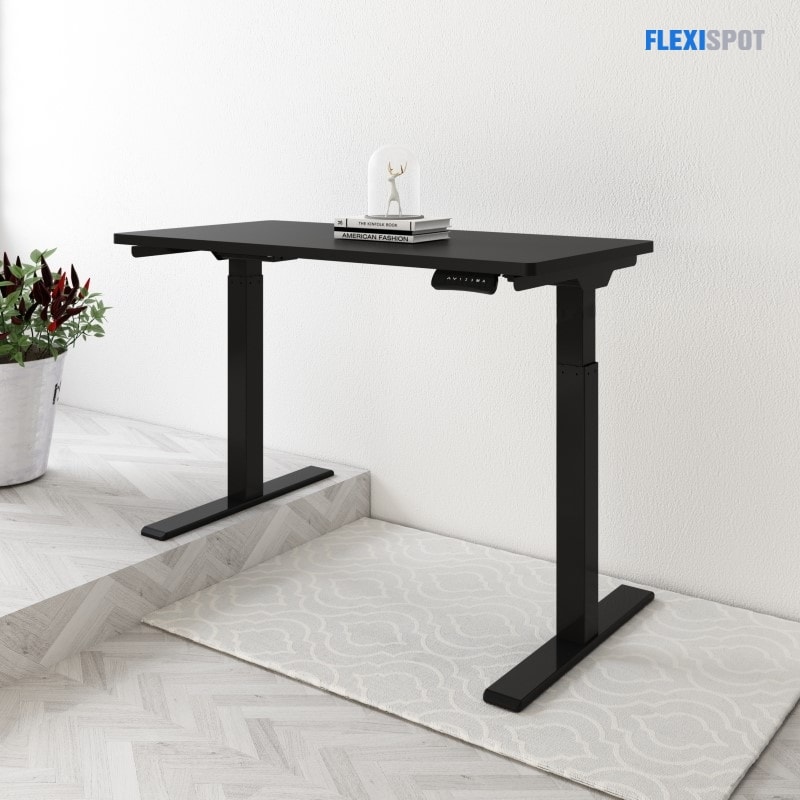 The Electric Height Adjustable Standing Desk E2AL is an amazing choice for the no-fuss office employee since it provides a simple yet effective working desk. Since it is equipped with greater twin engines, the standup workstation provides a more robust, yet dynamic and steady movement in milliseconds whilst going upwards as well as downwards and supporting up to 220 pounds of load to accommodate every day office activities. FlexiSpot's  Electric Height Adjustable Standing Desk E2AL, which combines sophisticated features with an affordable price, delivers a superb ergonomically-constructed sit-stand workplace approach while simultaneously increasing customer efficiency and enjoyment.
In order to provide greater flexibility in desk arrangement, the Electric Height Adjustable Standing Desk E2AL is sophisticated enough to be capable of adapting to an irregular terrain up to 13.8". Even if the Electric Height Adjustable Standing Desk E2AL is partly or completely on an elevated surface, it would remain upright, sturdy, as well as reliable. This ensures that customers would consistently be comfortable and productive when performing tasks. The Electric Height Adjustable Standing Desk E2AL, which is matched to the expectations of the majority of workers, is among the finest and technologically sophisticated workstations available, including greater twin engines. It is simple to remember one's preferred elevations for sitting, rising, and below the workstation pedaling with the configurable settings available on the Electric Height Adjustable Standing Desk E2AL.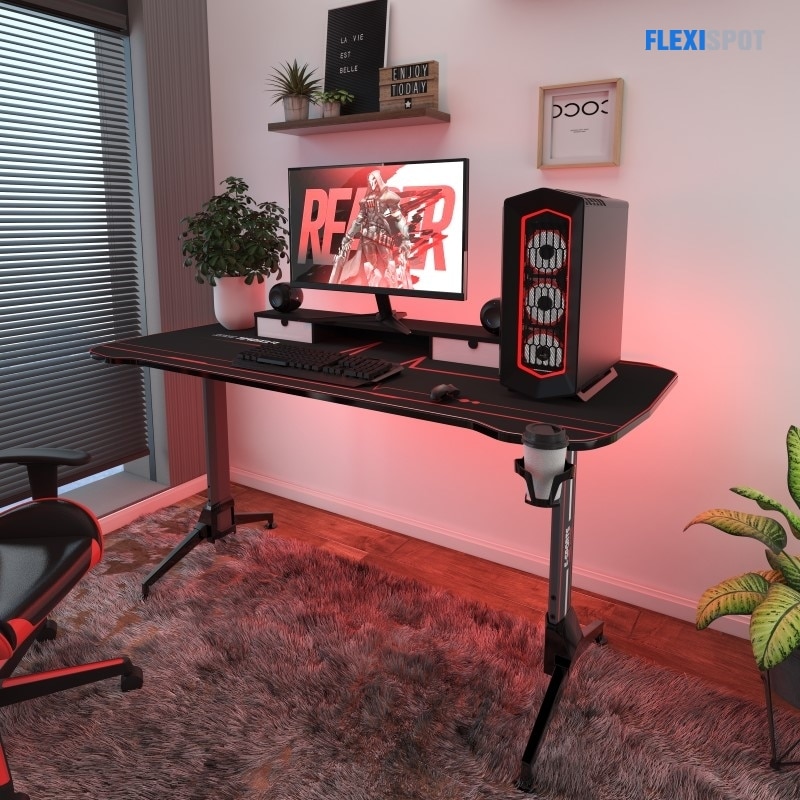 For customers who are avid video game players that are looking for a new desk, the Ergonomic Gaming Desk with Mouse Pad - 63" W gives more at an inexpensive price.in contrast with most alternative gaming tables available in the market, the Ergonomic Gaming Desk with Mouse Pad - 63" W by Flexispot may be modified and is therefore extremely versatile while it is being utilized. Customers may efficiently and rapidly modify the elevation of the Ergonomic Gaming Desk with Mouse Pad - 63" W which includes adjustments among three distinct configurations: 28", 30", and 32" Using the basic and intuitive adjustable height mechanism.
The solidly sewn borders of the mouse pad which covers the entirety of the Ergonomic Gaming Desk with Mouse Pad - 63" W are constructed of sturdy 3millimeters thick quality materials in a microfiber fabric layer. It is water-resistant plus specially designed to provide a perfect balance. Because of the non-skid function, customers are ready to roam the mouse as far as they want and as effortlessly as they desire minus the added worrying about wear and tear.
There is also no need for additional attachments towards an organized gaming desk since the Ergonomic Gaming Desk with Mouse Pad - 63" W features three helpful accessories for every customer. The first one would be a headphone hook which would prove to be very important especially if players are using the types which are bulky. The handy beverage compartment ensures that players stay refreshed during their gaming periods as well. The drink of customer's preference will continuously be around as they concentrate or conclude their online gaming sessions. It positions the beverage in the ideal location while reducing the possibility of spilling. The unsightly tangled cables are also kept out of the way with the convenient perforations and holes for quick accessibility to each of them. Managing the desktop to be neat and orderly is now better due to FlexiSpot's innovative wire handling solution.
Final Thoughts
Commemorating an anniversary with FlexiSpot is truly a way to sweeten things up. With our wide array of ergonomic selections and fun Standiversary activities, our loyal customers would truly have the time of their lives while browsing our site. So mark your calendars because September 27th to 29th are the dates to remember!