It pays to have your art area, whether it's a remodeled bedroom or a little pantry you've dutifully renovated if you want to liberate your creative energy. Most artists' most cherished ambition is to own an art studio. However, opening an art studio takes time and resources, making it impossible for many artists. Most ambitious artists choose a low-budget home art studio to pursue their goals. Building up a home art studio may seem like a crazy idea rather than a realistic aim, specifically if you're on a strict budget, but it's certainly easier to do than you think. Converting a spare room into a private spot where you can focus on your art and polish your skills is a relatively inexpensive and convenient option. You can turn any extra space into a big or small art studio with a little imagination and design ideas. Create and manage a home art studio, no matter what kind of space or funding you have. 
Before you go hunting for the elements you want for your home art studio, there are a few things you should think about. The first thing you must decide before establishing a home art studio is where it will be located. Walkabout your house and imagine your desk in several locations. Choose an area where you will be most comfy and where you will have adequate space for your supplies and equipment. Next, consider what kinds of items you will require in your studio. Examine what you now have and what you will need to build the studio of your dreams. Make a list of everything you definitely must have and everything you aspire to get in the future. Because it is a home art studio, you will most likely not require a large sum of money. But first, set a realistic budget for the materials you'll need to transform your home into an art studio.

THE SPACE
A practical art studio does not require a large amount of space. Whether you use an extra room or a loft for your artistic haven, these art studio setup tips should help you effortlessly transform unwanted space.
When you're on a tight budget, it's crucial to get creative and have spaces in your home that serve numerous functions. Create a custom desk in a place in your home that can be camouflaged as a console table, or use pocket cabinet doors that can be opened or closed to cover or expose legroom for the desk.

Another alternative is your shed or greenhouse, which you can buy prefabricated at most hardware stores and then construct yourself. You'll only need to incorporate in a portable air conditioner/heater.

Try converting a walk-in or medium-sized closet into a tiny studio workstation. Remove the doors, install a 

standing desk

 that works great in saving space, and then add 

shelves

 above if you're repurposing a closet. To keep the workspace uncluttered, wall-mount a task lamp as a sconce if you have the capacity.
Click here to see the best standing desks fir for your home art studio's space and style!
Everyone has alternatives, even if they live in a tiny house. Just think as imaginatively about the actual space as you do about the work you do inside it.
THE ORGANIZATION
Various storage options for art studio equipment include workstations with drawers, bookcases, fold-up tables, and more. Many pieces can even be constructed with a bit of do-it-yourself quirkiness. Check out the following art studio organization tips.

Ergonomic Chair
Artists prefer to stand when doing their work, although you may need to sit on occasion. The ideal seats for artists are those that are tall enough to allow you to reach your easel. Along with your height-adjustable standing desk, you should acquire a comfortable height-adjustable chair for when you need to sit after some time standing.
Click here to find ergonomic seats suitable for any workspace.
Wire Shelving Units
Wire shelving units are light and come in a variety of designs and sizes. Items should be stored freely on shelves or in storage baskets for drawing supplies, paper, and printer cartridges. Wire shelf racks are also excellent for storing and cooling ceramics.
Buckets, Containers, and Empty Jars
An artist's arsenal of paintbrushes is one of their most prized possessions. You may also have sets of pens, colored pencils, and charcoal. It is critical to keep these tools tidy and accessible. Empty jars, containers, and buckets can be repurposed to help with this.

Vertical Storage
Floating or corner shelves are ideal for keeping art books, whilst pegboards with metal baskets are great for storing paints or writing instruments. A few cups and zip ties on a pegboard can also be used to build a charming, low-cost storage solution for paintbrushes, markers, and other art equipment.
Under The Table
Unnecessary art supplies might make your workspace appear cluttered. As a result, it's best to store all of your spare supplies, such as blank canvases and paint jars, under the table and covered with a cloth.
Rolling Carts
On a wheeled storage cart, keep jars with brushes, construction paper, or glue sticks. This storage option not only maintains all of your supplies orderly, but it also lets you effortlessly transfer supplies about the space and have a portable painting studio.

Hanging Canvas Pieces
You might just keep your canvases straight on the ground, secured by the wall, but this will not allow your paintings to shine. Place hooks on the walls of your studio and put your finest pieces on them.
Clothespins
You may hang photographs, sketches, and drawings on the wall without damaging the art using a solid wire and few clothespins. You'll also be able to conserve room on a table, dry paintings quickly, exhibit polished work, and swap out projects regularly.
CONSIDERATIONS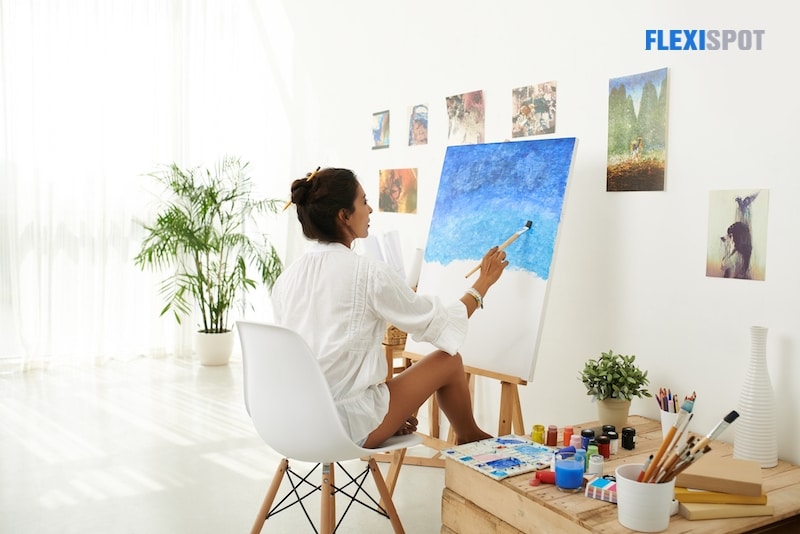 While the only requirements for an art studio DIY are a workspace and some management, there are a few more aspects to consider. Consider the following factors with your art style and preferences.
Ventilation
Paints emit toxic vapors. It is critical to have sufficient ventilation in your studio, or you may suffer from a nasty headache while working.
Running Water
Having running water within the studio is essential for cleaning and also sometimes combining colors. Make sure the area you choose for your art workspace has an accompanying sink or is adjacent to a kitchen or a bathroom.
Ample Space
Even in a limited space, ensure you have enough work area, whether you choose to work on a table, the floor, or an easel. If you can't adequately layout your materials, the space won't work for you.
Lighting
Because lighting is an essential means of generating art, your home art studio setup must have adequate lighting. Natural light is the ideal light, but because it isn't always easy to accomplish in a tiny space, you can consider investing in a daylight lamp or simulation bulbs, which mimic natural light.
Creating an in-home art studio does not have to be a monumental task. You'll be making art from the comfort of home in no time if you follow these home art studio design, organization, and storage ideas.