With more and more schools eliminating recess and physical education programs, thousands of students are becoming accustomed to sitting for seven or even more hours per day. Every year, a rising amount of children are diagnosed with ADHD and given medication to help them deal with the uneasiness and fidgeting that is hugely detrimental to their progress. Educators are starting to advocate for standing desks in the school environment, equipped with new research.
Standing desks are popular in modern workplaces, and companies such as Google and Microsoft allow their employees to work standing up rather than sitting down. What is already a popular trend in the workplace is steadily making its way into schools. Standing desks have been in use for much longer than you might think. Many successful writers and political leaders have chosen to stand up rather than sit down, including Virginia Woolf, Ernest Hemingway, and Winston Churchill.
Too much sitting is harmful to our health. High blood pressure, high cholesterol, obesity, diabetes, and decreased cardiorespiratory fitness are some of the health problems associated with increased sedentary behavior in children. Excessive sitting hurts children's physical well-being and their academic achievement and self-esteem. Regrettably, going for a stroll or going to the gym after class would not be enough to minimize the adverse effects of excessive sitting.

Standing Desks for Students, Classrooms, or Schools
Standing desks for students are among the most hotly debated important issues in classroom management. Most students prefer to stand up and move, and sitting for lengthy periods goes against their nature. Adjustable S desks for students are visualized as a remedy for making classrooms more in tune with students' natural impulses. While many teachers and students appreciate the multiple features that a standing desk classroom delivers, others are concerned about modifying standard rows of fixed-height desks. Standing desks may be disruptive to other students or distracting to teachers, according to one concern. A study looked into this problem and discovered that students in standing desk workstations could learn at least as actively as students in conventional seated desk classrooms.

Standing Desks for Children
Numerous manufacturers like FlexiSpot, have created a standing desk for kids by decreasing the dimensions and even including safety features. A variety of standing desks on the market could be well adapted to the classroom if they meet specific requirements. A suitable standing desk for children should have the following features:
Ergonomics, or the ability to sustain various postures

Adjustment range to meet the needs of different body sizes

Collision detection

Adjustment system that is simple and easy to use for smaller hands

Casters for easy rearrangement.

Sturdiness
FlexiSpot Kids Series Height-Adjustable Standing Desks
FlexiSpot came out with two standing desks packed with child-friendly features perfect for our young learners. 
The Height Adjustable Ergonomic Study Desk has a desk height ideal for growing kids and teens, ranging from 29" to 48.6", making it ideal for children between the ages of 4'8" and 6'3". With a slight touch of the two-button up and down keypad, children can easily adjust the desk's height for the best seating and standing position. The standard electric height-adjustable desk frame ensures more safe and effortless transitions. At the same time, the tabletop surface is made of high-quality chipboard that is both environmentally friendly and safe to use. The base, which is constructed for maximum structural stability, keeps the desk steady even at its highest height, ensuring the safety of the youngsters.
On the other hand, the Height Adjustable Ergonomic Kids Study Desk grows with your child and features a height range from 21.7" to 35", and the waterproof desktop resists stains and water damage. The smooth rounded corners offer added protection as well. With a strong hook that fastens to the desk frame and easily holds heavy loads, it holds your child's backpack nearby while studying. Parents can be confident that the desk is fully child-proofed with anti-collision sensors and smooth rounded corners on both the tabletop and desk feet. To prevent shaking and accidents, the powerful motor further stabilizes the desk during adjustments. The same features are seen with the Hand Crank Ergonomic Sit-Stand Kids Desk/Kids Standing Desk.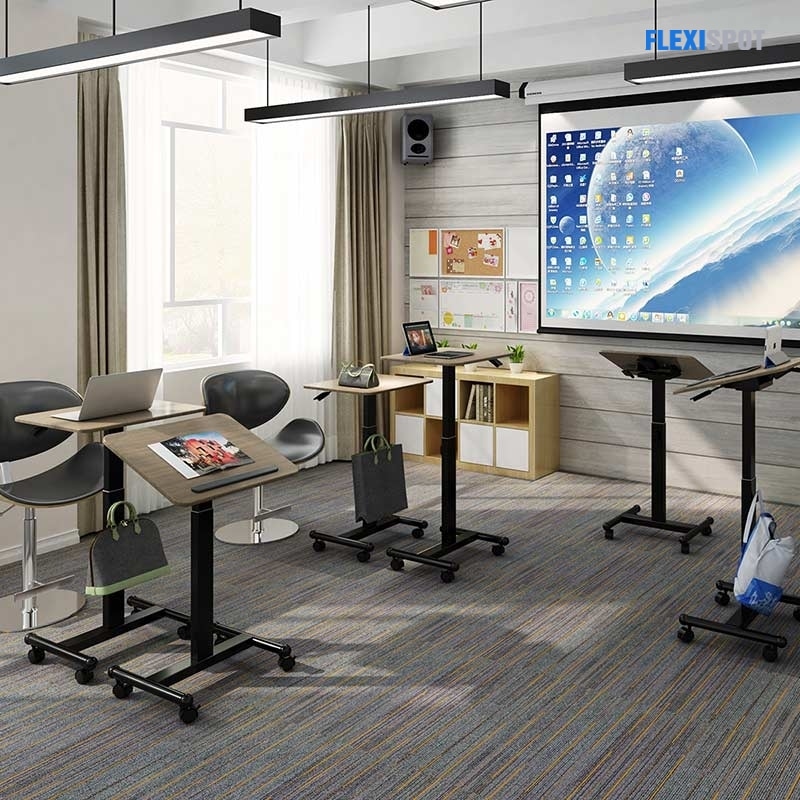 One other option would be the Height Adjustable Mobile Desk MT3 that comes with casters and is compact enough to be accommodated in packed and limited-spaced classrooms. This mobile standing desk also makes it easier for both students and educators or instructors to stay standing and still interact with their others by smoothly rolling this desk to a different spot in the room.
With four caster swivel wheels (2 lockings), you'll have smooth-gliding mobility, and front leg stoppers will keep your new stand firmly in place. It easily rolls around on hardwood or carpeted floors thanks to its large casters. The built-in gas spring mechanism aids in effortlessly raising the workstation platform from 29.3 to 45 inches from the ground. Just grab the lever to activate the spring lift mechanism, which allows you to move the desk surface up and down. You may tilt the tabletop for a more natural working position. It also comes with a stopper that keeps your computers, books, and tablets safe. Students and teachers can even store their bags on the desk stand's handy hook, ensuring that their valuables follow them wherever they roll the desk. This mobile sit-stand desk can be used in place of a traditional desk or a smaller laptop cart. Its top surface (23.6" x 20.5") is large enough to accommodate even the largest laptops and tablets. The desk has a lightweight aluminum frame finished in satin pewter for long-term durability and ease of maintenance, which makes it ideal for professional settings as well, such as offices, studios, libraries, and or doctor's offices.
You may visit FlexiSpot to learn more about these desks as well as other options for school, home, and office workspaces.
Enhance students' health and education by reshaping the learning environment and their home study atmosphere. FlexiSpot can assist you in determining the perfect standing desks for your home and school study and learning stations. Now is the time to invest in a height-adjustable standing desk. Start them young on their journey to making physical activities a habit. Contact Flexispot today.