To have a workspace that helps one meet his or her job goals is the dream. Ergonomic, spacious, and well-ventilated are three of the key features that employees look for in a workstation. Moreover, if it is organized, it's easy to reach out for tools or that they're easy to find on your desk because it's free from clutter and tools are arranged in an orderly manner. Plus in an ergonomic workstation, you would be avoiding or preventing injuries from happening. Most importantly, a set-up like this can boost your productivity which might result in promotion, commendation, or salary increase—a scenario that every worker would absolutely love.

Why would workers even want a workstation that's ergonomic?
Research has shown and continuously proven its direct effects on productivity. A worker who uses a non-ergonomic chair may experience discomfort and pain in the lower back part of his or her body. This is because the chair is uncomfortable to sit on and does not provide enough support when a worker needs to move and reach for something on their desktop. A much more cause to worry about is potential risks when using a non-adjustable chair. There are movements that may accidentally cause injury or freak accidents. Workers can also suffer from the improper posture that non-ergonomic office furniture could have exacerbated. Obese or non-obese workers may suffer even more from different issues concerning posture. For an employer, it is important to determine how certain office furniture impacts a worker's well-being and productivity in the workplace, regardless of whether it is in the office or at home. A workstation can only be rightfully called ergonomic if it is fully equipped with ergonomic office furniture that ensures the safety, comfort, and productivity of its user.
If an employer decides to invest in ergonomic furniture for the company employees or the latter decides to spend on themselves, an ergonomic workstation reaps a lot of benefits. It promotes good posture and eliminates potential risks of injuries and accidents among workers. A hard worker deserves the comfort and convenience that an ergonomic workstation can provide. When a worker is comfortable and finds it convenient to work in his or her workstation, then productivity is improved. So as a result productive employees could be up for promotion and salary increase while the company also gains success because of the hard and efficient work of these employees.

How do you set up an ergonomic workstation?
First things first, you have to choose a part of your home to transform into an ergonomic work area. If you live in a household with extended family members, you also need to consider what their opinion, needs, and choices are. You should achieve a consensus among all of you before you secure an area of the house to become your home office. Go to the senior members of the family and ask what they think and if they agree with your choice. You should also consider young kids before converting any part of your home—in this case, the work area. It's not only you whose needs should be met in the household but also everyone who is a part of and lives in the same house. To put it simply, you have to plan in order to decide with finality what location is the most ideal to turn into your workstation.
Your target area at home must have proper lighting during the daytime when you are deeply engaged and immersed in your work. You will be able to see your work clearly with proper lighting, making your work performance for the day more efficient. If you work at night, then all the more do you need good lighting to deliver and finish your tasks efficiently.
Another factor that you should meet in an ergonomic workstation is proper ventilation. Working in a location with big windows and fresh air coming out of it is a winning situation. It could give you a fresh feeling and sense of accomplishment in an instant. If you're stressed, a breeze of fresh air could make you feel that everything would work out fine. Because of COVID-19, we have become more appreciative of fresh air so the virus won't be staying in an area. It will help make the air circulate around the room. There have been reports, although not conclusive, that air-conditioned rooms may make the virus stay longer in an area and could cause diseases. We need fresh air now more than ever, especially during work hours.
Another issue if you are based in a big city or urban area is noise pollution. Noise is considered as an environmental pollutant and generally, people prefer to work in a quiet environment. There are others who could work easily with their headphones on with music but again, ideally, workers can work more efficiently with a calm and serene atmosphere. Noise could affect one's concentration and focus at work. For example, if there are kids in the area, their energy levels could be beyond the roof and they won't mind how much noise they are creating. You should be able to manage and handle these kids diplomatically and carefully, more so if they are your kids. Since they are still young, it would be harder for them to process the tone of your voice. So another thing to consider when you are designing your perfect workstation is the presence of kids and how you would be able to deal with them.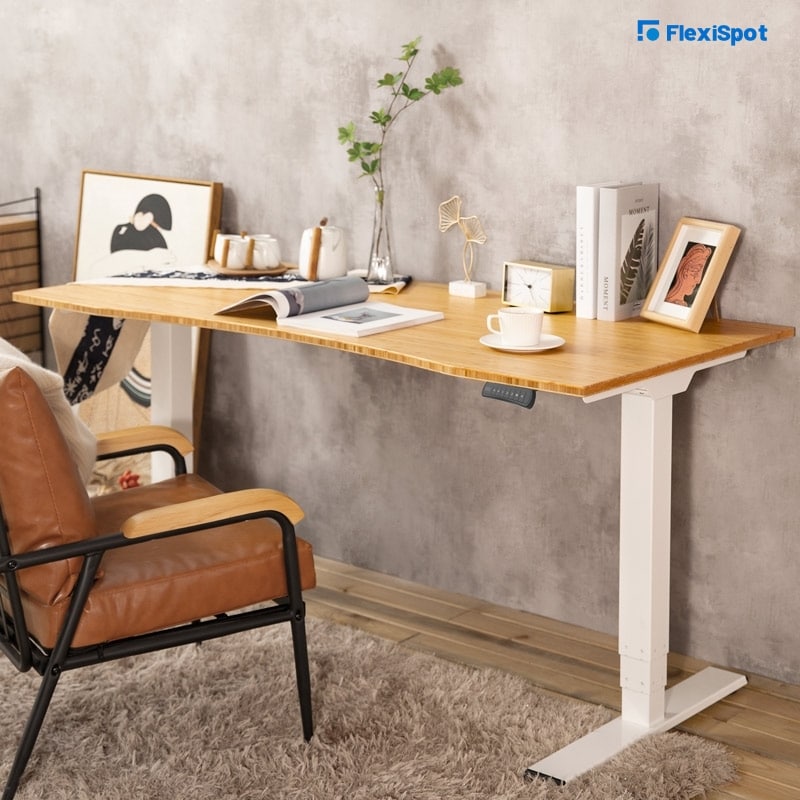 As a last note, a combo of an ergonomic chair and a height-adjustable standing desk from FlexiSpot will be perfect for your ergonomic workstation. The said company is well-loved and trusted by millions of customers around the world for its products that are exquisitely and ergonomically designed with durability and its clients' comfort in mind. For example, you may check out FlexiSpot's Kana Bamboo Standing Desk. Using carbonized 2H lacquer coating, the bamboo desktop is scratch, water, and insect-resistant. There are three Pro desk frames you may choose from that could provide your adjustable needs: Pro 2-stage, Pro 3-stage (inverted), and Pro 30-stage. The weight capacity of the first two is at 220 pounds and the third one could hold up to 275 pounds. The height is adjustable with a range starting from 22.8" to 50." FlexiSpot prides itself in the chemical-free production of this desk that makes it green and healthy to use on a daily basis.