How about a mini appreciation hang out to honor the amazing senior citizens in our community? You don't need to organize a special appreciation ceremony; there's a whole national holiday to this effect! 
August 21 is National Senior Citizens Day. This holiday is a day to recognize the achievements of elderly representatives in the country. 
It's time to express appreciation for their services, dedications, and accomplishments throughout their lives. And there's the part where you get to advocate for older people's rights - well, we'll get there soon. 
National senior citizen day is deeper than it seems. Beyond celebrating the senior citizens, you can engage in other beneficial activities as well. Not to worry, we are here to unravel all the goodies and lessons to learn from this national holiday. 
Let's get started. 

History of National Senior Citizen Day
National senior citizen day is a time to recognize seniors who have contributed positively to the community. Or spent their lives impacting lives and contributing to society. Thanks to improved medical care, the elderly population has maintained steady growth for years now. And by 2025, experts claim there would be over one billion citizens above 65.
Moreover, senior citizens are more active now more than ever. And luckily, they have opportunities to get second careers, thereby setting good examples for the younger citizens. 
Additionally, the country's strong foundation and functional sectors result from the effort put into nation-building by senior citizens. They all deserve gratitude.
President Ronald Reagan took the initiative to honor seniors by signing proclamation 5847 in 1988. Afterward, he declared August 21 as the National senior citizen day to celebrate seniors. 
According to him, "throughout our history, older people have achieved much for our families, our communities, and our country. That remains true today and gives us ample reason this year to reserve a special day in honor of the senior citizens who mean so much to our land." 
He further opined that "for all they have achieved throughout life and for all they continue to accomplish, we owe older citizens our thanks and a heartfelt salute. We can best demonstrate our gratitude and esteem by making sure that our communities are good places in which to mature and grow old-- places in which older people can participate to the fullest and can find the encouragement, acceptance, assistance, and services they need to continue to lead lives of independence and dignity."
These words haven't waned over time. They have withstood the test of time, and even after 30 years, the older populace is waxing stronger and leading productive lives.
The most remarkable part of being the brainchild behind this holiday is that Reagan lived an exemplary life as a senior citizen. He became the President of the USA at the age of sixty-nine on January 20, 1961.
Besides landing one of the world's most powerful titles at an old age, he also lived long at 93 years. He wasn't only the oldest elected President, but he was also the oldest when his term ended at 77 years-- a few weeks short of seventy-six.
However, the truth is we will have more senior citizens in the United States in years to come. The US Census Bureau claims that about seventy-eight million people aged sixty-five will reside in the USA come 2035. This number surpasses the number of the population below 18 for the first time.

How to Observe National Senior Citizens
Day 
Connect with A Senior Family Member
Remember nana, who's been a huge support for you? Or better still, the aunt that has shown you what it means to be a strong young lady? How about you show them how much you love and appreciate their efforts! 
Perhaps you have an uncle or an elderly neighbor who has been major support over the years. Visit them and spend quality time together. 
Send some roses or buy them their favorite snack. If you can't see them in person, do them the honor of calling. The warmth of your voice will send a better message than a mere text message. Tell them how much you appreciate their efforts. 
Donate to a Nursing or Retirement Home
"it's always the little things, those little gestures that matter the most."
An example of a little gesture is donating to a nursing or retirement home. It's one of the beautiful and rewarding gestures. Wondering what to donate? You can make a list of essential things an older adult would need.
Or better still, give the nearest nursing home facility around you a call and ask about their needs. You can confirm if they have a shortage of any essential items. 
Alternatively, you can drop off some juice boxes, chocolate, or a treat that can make a difference in someone's life. 
Enjoy the Day 
If you are a senior citizen yourself, there is no better way to observe national senior citizen day than to have fun. Cut yourself some slack and treat yourself to the best outings. 
Today is all about you!
Live it well and explore anything you'd love to explore. Now is the time to go on the date you have been delaying or try something new. Or perhaps, chilling at home is a preferable option. Just do what makes you feel comfortable.
Volunteer for Projects that Serve the Elderly
There are different ways to help the senior citizens in your community. You can start by becoming their companions whenever they need someone. Alternately, you can sign up for programs that help elders with tasks they can no longer perform themselves. 
For instance, picking up their medication, or groceries, etc. Some libraries and communities host programs for their seniors. You can make inquiries and find out if you can help them organize their next outing. 
Host a Party or Luncheon to Celebrate 
Show all the older adults around you that you love them. Having a party thrown in their name is a great honor, and it would make them feel special. It wouldn't hurt to raise a senior citizen's esteem. 
It wouldn't be such a bad idea to turn it into a festival for as many people as they would love to attend. Prepare for their favorite food, drink, and bake a cake.
Take Advantage of Senior Citizen Discount 
One good thing about National Senior Day is the discounts that stores offer seniors. Many businesses offer mouthwatering deals for older people. However, most of these discounts are often unadvertised. To avoid missing such discounts, look out for "senior days" sales at local business stores. 
Or ask if there is an arrangement for senior citizens. 

Fun Facts About National Senior Citizens Day
They are advancing technologically
Currently, senior citizens are warming up to social media, Facebook. They are the fast-growing demographics on Facebook.
Young at Heart
Approximately fifteen million senior citizens take up volunteering jobs just like younger adults.
Changing traditions
Based on statistics, only 3.6% of people above the age of sixty-five stay live in nursing or retirement homes. Most likely, the older women live alone while older men would rather live with a spouse.
Senior Citizens Manage Serious Illness
Four out of every five seniors have a medical condition or illness like heart disorder and arthritis. 
Marathon race
Harriette Thompson was 92-year-old when she completed the Suja Rock 'n' Roll San Diego Marathon in 2015. She became the oldest woman ever to finish a 26-mile marathon race. 
National Senior Citizens Day FAQ
What is National Senior Citizens Day?
It's a day when we recognize the achievement and contribution of the older populace. 
What Age Do You Become a Senior Citizen? 
A resident is a senior citizen when they are between the ages of 60 and 80
What are the advantages of clocking sixty?
As much as it may seem like sixty is a sign of old age, it has its perks. Being a senior citizen, you get extra coverage for healthcare expenses. 
When Should I Start Saving for Retirement?
There is no one shoe fits all when it comes to saving for retirement. The circumstances surrounding each individual varies. Hence, the best advice would be to start saving early and often save as well. This is the best tip for retirement savings.

Why Is National Senior Citizens Day Important?
Seniors are Generous
Everyone knows how much seniors love giving. Of all age groups, they make more charitable donations and seek to help. Most times, they devote time to others and volunteer to influence people. We appreciate how much effort they put into loving and genuinely making sacrifices for us.
This is an admirable quality deserving of some accolades.
Senior Citizens Give Wise Advice 
Our elderly relatives and friends always have wholesome experiences to share as regards different situations. 
For years, across all cultures globally, people look up to their elders for wisdom and knowledge to tackle challenges. In times of trouble, their unusual perspective always has a hidden lesson. You realize that when you spend more time with seniors, you learn more.
Senior Citizens Always Have Some Goodies
Does this stem from charitable nature and generosity? Well, it's hard to tell. Want to know what's easy to tell? How much effort do seniors put into making us feel special? If you have graduate parents, then you'd probably understand better. 
Grandparents dote on us at times when we don't deserve it and times when we feel entitled. Hence, every elderly parent, friend, or family who strived to ensure we are comfortable at every point deserves appreciation.
FlexiSpot National Senior Citizens Day Suggestions
Staying healthy regardless of your age is essential. Although not many people have the privilege to stay active regardless of old age, you shouldn't take your strength for granted. With all the typical stationary jobs around, it's easy to get stuck in one position without making a single move. 
FlexiSpot to the rescue. 
You see, you don't have to sit down and keep a dormant lifestyle despite your age. Luckily for you, we have workstations that can keep you active even while performing the most inactive activity ever. 
We have the best workstation collection during this National Senior Citizens Day as a gift guide or as a healthy workstation checklist.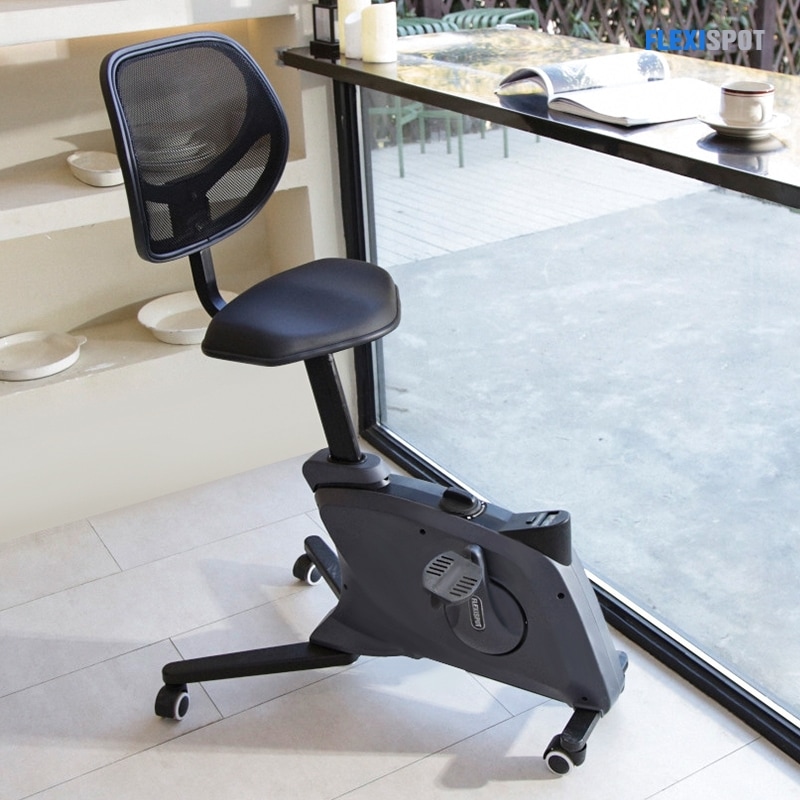 Imagine having access to a mini pedal on your seat that keeps you exercised while you go about your daily task? Well, that's the opportunity Sit2go 2-in-1 Fitness Chair offers you. The workstation is comfortable enough as an ergonomic chair, and at the same time, it's conveniently active. 
So, if you belong to the senior category and you have a fitness goal, this is the workstation for you. You can go fast, slow, medium-paced whenever you want-- All you need to do is pedal and ease into light cycling. 

This is another workstation with all the features that signify it's for hard-core players. It's sturdy, with a dual lifting system that works like magic, making it easy to trust it with heavy tasks. As a senior citizen who works, this is one of your best shots at owning a workstation that puts your health first.
With the advanced control panel, controlling it is effortless. 
Wrapping Up 
National Senior Citizens Day is about acknowledging the maturity and wisdom with which seniors influence our nation. So, grab your phone now, and give all your adorable elderly family and friends a call.