Sitting all day long or only for a couple of hours can be surprisingly tiring. Be it for office work or a gaming session, a person's hip needs to have a comfortable base to land on in order to survive a while when seated. That is where ergonomically designed chairs come to the rescue by offering a comfy seat with customization options to allow users to find the perfect resting position for themselves. The most commonly used two ergonomic seat choices are office chairs such as the Ergonomic Mesh Chair 1839 and gaming chairs such as the Gaming Chair GC02.
Since both are supposed to provide superior support to the user's body, choosing one between the two can be tricky.
However, if you have a better understanding of the design and structure of both, you can make an informed decision suitable for your needs. Keeping that in mind, we decided to lay down an in-depth comparison between a gaming chair and an office chair.
But before we get down to it, let's first go over each prototype separately.
Ahead is everything you need to know about gaming and office chairs.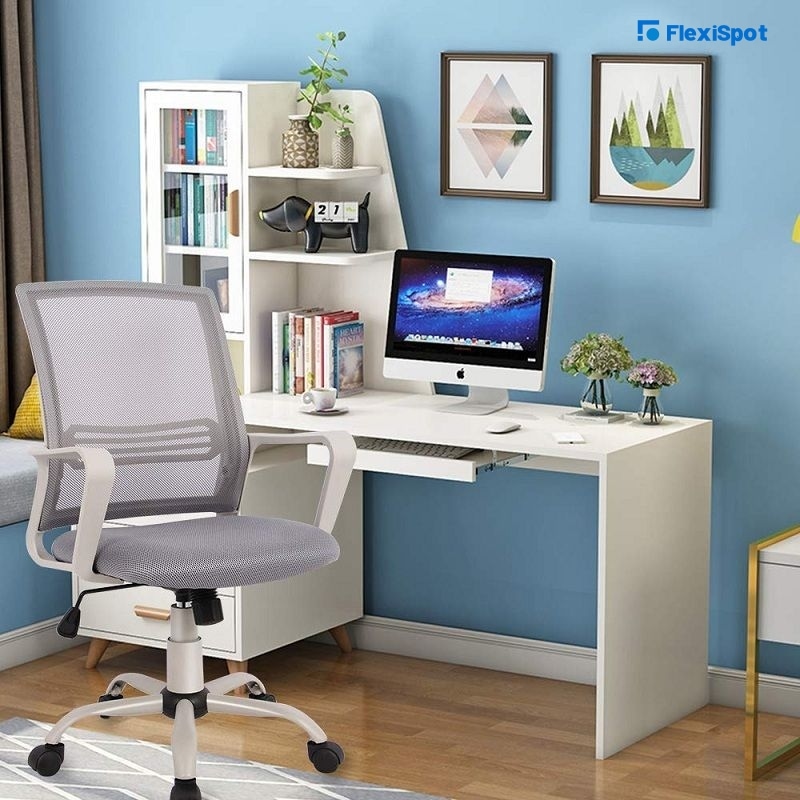 Ergonomic Office Chairs
With the rising awareness about providing comfort to employees, many corporations now have ergonomic seats, and understandably so. After all, an enterprise carrying out business cannot really put gaming chairs in the office as that might seem odd, not to mention question the credibility and professionalism in the place.
So, simply put, most workplaces, if not all, keep ergonomically-designed office chairs to give the support employees need to perform their best.
However, when choosing a chair for your home office (or even gaming room), decision-making can get difficult because you can pick either of them. So then, which one should you go for?
Seat: Fluffed Up And Wide
Since a person has to spend long hours in an office or gaming chair, the first factor to consider when buying any of the two should be comforting. You want to ensure that your hip, back, and neck are all intact and functioning right after you have spent a considerable time sitting.
Therefore, knowing that a chair will give you maximum comfort should be your first deciding factor in purchasing an ergonomic model. And ergonomically constructed office chairs offers convenience and plushy support to users.
Furthermore, they are quite broad in the seating area. This means if you get tired while working and wish to put your feet up or sit cross-legged, you will have plenty of room to do that in an office chair.
The seat is also completely flat, allowing the user to keep their knee parallel to their hips rather than propped up or inclining down.
The position of your knees while sitting is crucial; you don't want them to be slightly bent or hoisted because, either way, it will strain your back.
Mesh Back
Perhaps the feature that often tips the scale in favor of office chairs is their meshed back.
Mesh is an excellent material to ensure airflow. On top of that, it doesn't absorb sweat, making it perfect to use for long durations without fear of stinking it up with sweat.
Height Adjustment
Besides the mesh back, an ergonomic office chair has a height adjustment lever that the user can pull or push to adjust their sitting level. This option is incredible for people with a short height as they can rise up the chair to bring the screen to their eye level and not have to stretch their neck awkwardly.
Recline
Regular office chairs don't come with an extra cushion or pillow in the lumbar support area of the backrest, which can put pressure on your lower back and eventually lead to the constant pain. However, they are designed with a reclining mechanism to incline backward maximum at a 110-degree angle.
Armrests
Lastly, ergonomic office chairs seldom come with adjustable armrests. They typically have 1D armrests, meaning they cannot be adjusted or rotated.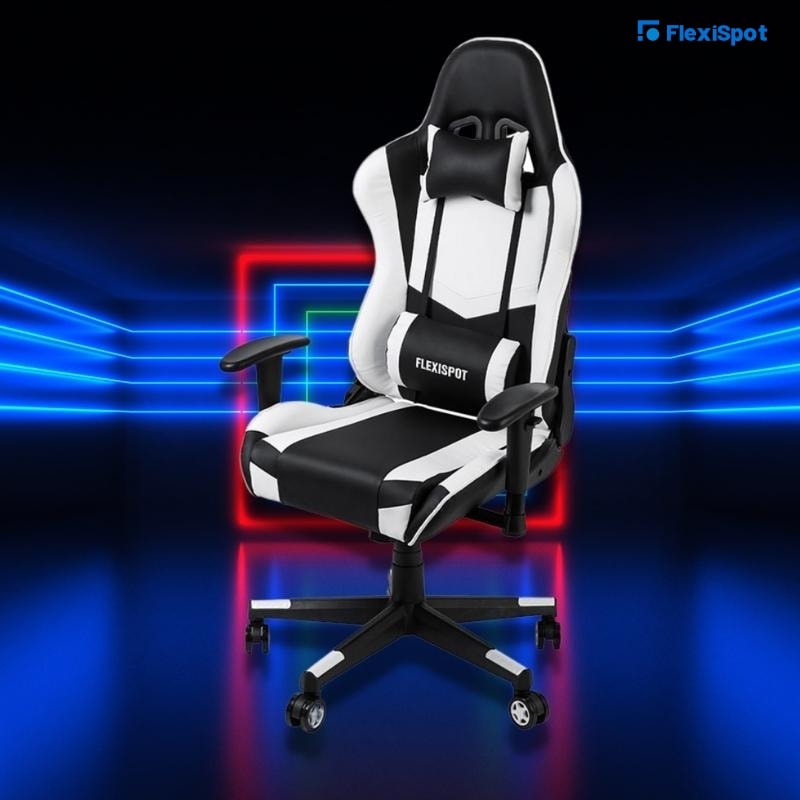 Gaming Chairs
For a layperson, gaming chairs like the Gaming Chair GC02 and office chairs can seem the same; however, that's not the case. As discussed above, ergonomic office chairs have particular features that gaming models may not have. Therefore, knowing everything about the latter is also important to make the right pick.
Back Rest
The most liked aspect of a gaming chair is its broad-winged back, offering maximum support for the spine. But it doesn't necessarily keep the vertebral column upright as it has a protruded cushion for the lower back along with a headrest.
Seat
Gaming chairs draw inspiration from a racing car's seat, which is why they are bucket-style with raised edges.
A bucket-style chair has a cushion in the middle of the seat with slightly raised corners, creating a crate-like sitting place. This particular style is better-suited for cars to ensure that the driver remains seated should they get hit a bump or the vehicle skids. So, it might not be the best for casual sitting because it doesn't allow room to sit cross-legged.
On top of the high edges, a gaming chair has a raised lip. That is, the front of the chair has an elevated end, which is also not a comfortable offering as it doesn't give the user space to put their feet up.
Thick Padding
Gaming chairs come with super thick padding to keep the gamer sucked in, comfortably. This remains true even for the back. In simple words, a gaming seat has a significantly padded sitting area and back.
While said feature may be good for your posterior and back, it can lead to a smelly chair because of the absorbing texture of the cushioning material.
Adjustments
Like office chairs, gaming chairs enable users to adjust the height and tilt of the model. If you use such an ergonomic gaming aid, you will be able to lift or lower the altitude along with sideways angling. This customization option is arguably an appealing quality for gamers, urging them to invest in one.
Recline
Gaming chairs have a brilliant mechanism when it comes to leaning back. These seats can recline up to a 180-degree angle, forming a bed-like flat plane to lie down.
Armrests
If you like to play with your chair's armrests, a gaming model should work well for you as you will get to rotate your armrests however you want.
Moreover, the wide expanse of the armrests will allow you to rest your elbows comfortably while you type away on your laptop.
Headrest
Since gaming chairs replicate the driver's seat in racing cars, they have headrests to keep the neck straight and lay back as per the need.
Similarly, the lumbar cushion at the bottom of the winged back in gaming chairs offers extra support for the lower back. However, for some, it may be uncomfortable.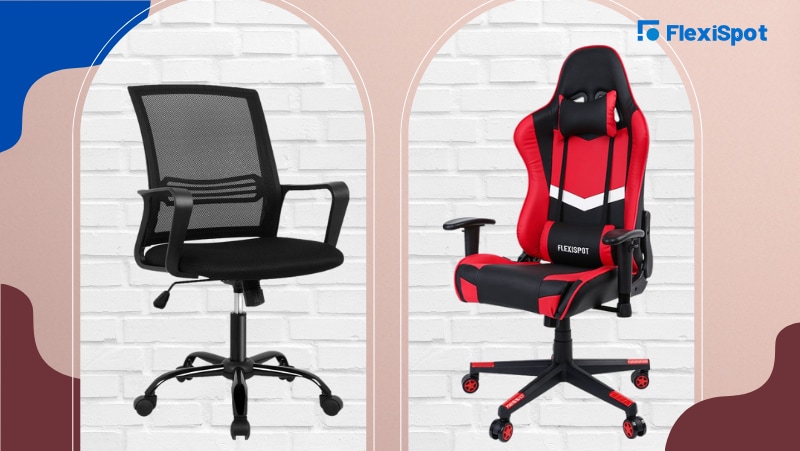 Comparing Office Chairs And Gaming Chairs
A Standard Office Chair
A Gaming Chair
Seat
Flat without raised borders
Bucket styled with lifted borders
Back
Short height, no winged back
Mesh Back
Longer in length, broad, winged back
Padded back
Height Adjustments
Lever to change the height
Lever to change the height
Tilt Adjustment
Not present
Present
Recline
110-degree reclining capacity
180-degree reclining capacity
Armrests
One-dimensional, non-adjustable
3D, can be rotated to personalize the position of armrests
Headrest
Not available (in most models)
Available
Office Chairs And Gaming Chairs: Which Is The Better Choice?
While individual features are essential to make a decision when choosing between an office or gaming chair, ultimately, personal preference takes the crown. In simple words, it all boils down to your own taste and comfort requirement to pick one of the two ergonomic options.
People who like to kick back their feet and slump back into their chair should opt for an office chair as it offers substantial room to relax and sit comfortably. It's particularly a suitable choice for those who are habitual of contorting their spine while working. Having a back-supporting seat will keep their posture upright and spinal column straight.
On the other hand, for individuals who don't mind sitting in only one position for hours, a gaming chair will work just fine. But surely, it will provide superior comfort to users, thanks to the thick padding and neck and lumbar pillows. And while a gaming chair doesn't have space for people to put their feet up, it goes back up to 180-degree, making up for the absence of a flat seat.
From a wellness perspective, both options are good for one's health as each provides comfort to the spine. However, an office chair is better for keeping the vertebral column upright and fixing posture, allowing better blood flow to the back.
The Final Verdict
As already mentioned, picking a model between a standard office chair or gaming chair has to be about your preference. If you want to stay alert while working, the latter is more likely to serve you better. And when you get tired, you can take a break and recline back to rest your spine.
But if you like to take mini breathers while working by putting your feet up or sitting cross-legged, an office chair should be the better option for you.
With everything said, be sure to consider how you feel about a particular product/prototype when buying a chair.