Humans have considered a four-day work week numerous times. Despite the fact that the idea is not very new, it has been in the news recently due to successful experiments carried out in various regions of the world.
Who would say no to a three-day weekend while receiving the same pay?
One realization that the pandemic has imparted to us is that if we are willing to take a chance and give radical workplace changes a shot, they might actually be successful. For instance, while many people have expressed skepticism about working remotely, after two years and counting with the same prevailing setup, businesses have discovered it to be feasible, especially in this age of technology when everyone can communicate via the Internet.
An arrangement with a work week of just four days is almost the same. Companies from several nations have demonstrated that it is not only feasible but also contributes to increased employee productivity.
When the five-hour workweek was extended by one day in 2018, the New Zealand company Perpetual Guardian claimed a 20% improvement in productivity after eight weeks. Microsoft Japan reported 40% productivity in 2019, which was a twofold increase from 2018, when Fridays became an extra day off. The Spanish government stated in March 2021 that it would be launching a study to test a four-day workweek while covering the costs for about 200 interested enterprises. In July 2021, Iceland announced that a significant study it conducted for 2,500 of its employees had been a resounding success. Now, four days a week are when 85% of the workforce reports. Needless to say, it is conceivable.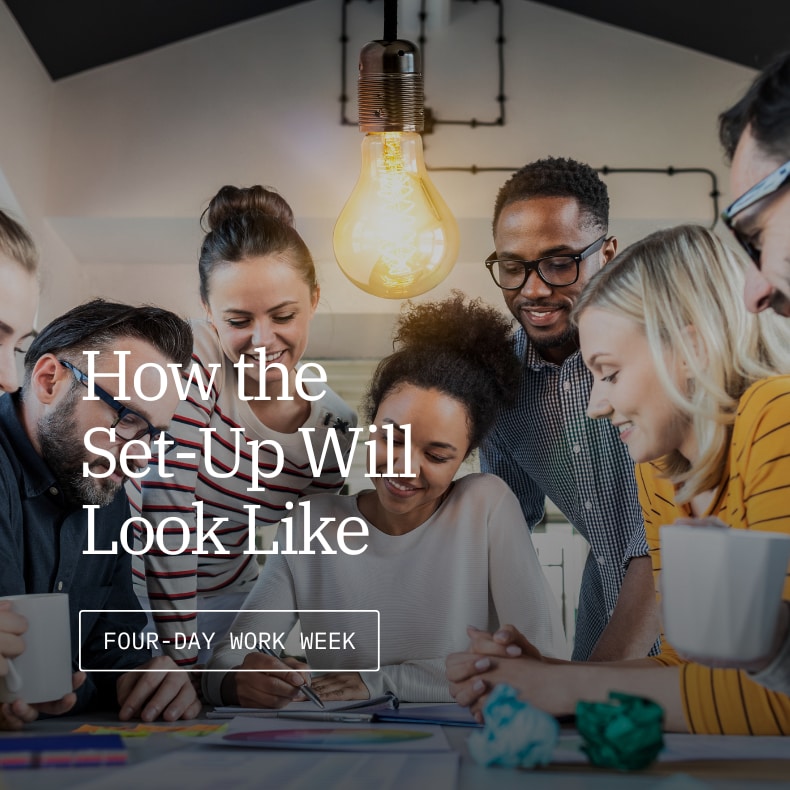 How the Set-Up Will Look Like
The typical misunderstanding about changing work weeks into four days instead of five is that they merely entail announcing an additional day off. Nothing could be further from the truth than this. Cutting one day off will not be the only change required to go to a four-day work week. For it to even be feasible in the first place, there must be a complete transformation of the mechanisms that function in the workplace.
According to TED, there are three issues that need to be resolved: 1) making meetings more efficient; 2) instituting "concentration-time" during which everyone may focus on their primary job, and 3) employing technology more thoughtfully.

To give more time for their passions, hobbies, and families, employees essentially have to work in focused bursts of time. It involves eliminating meetings that are pointless or reducing the number of hours in a day that doesn't correspond to any work completed. It entails maximizing technology's potential for more effective labor.
Today, ergonomics has been a significant factor in increasing staff productivity. With its high-end ergonomic chairs that feature plush seat cushions, permeable mesh backrests, and cushioned neck pads, Flexispot ensures that body pain or tension is kept to a minimum or completely absent. In order to make standing and sitting at a workstation easier, the company now sells height-adjustable standing desks and standing desk converters.
In order to lessen the discomfort of standing, Flexispot also provides an anti-fatigue mat with massage points that will keep your feet and legs comfortable even after prolonged standing.
In addition to ergonomics, a clean workstation increases productivity. Installing Flexispot storage options, such as mobile file cabinets and under-desk drawers will help maintain your workspace at its tidiest ever.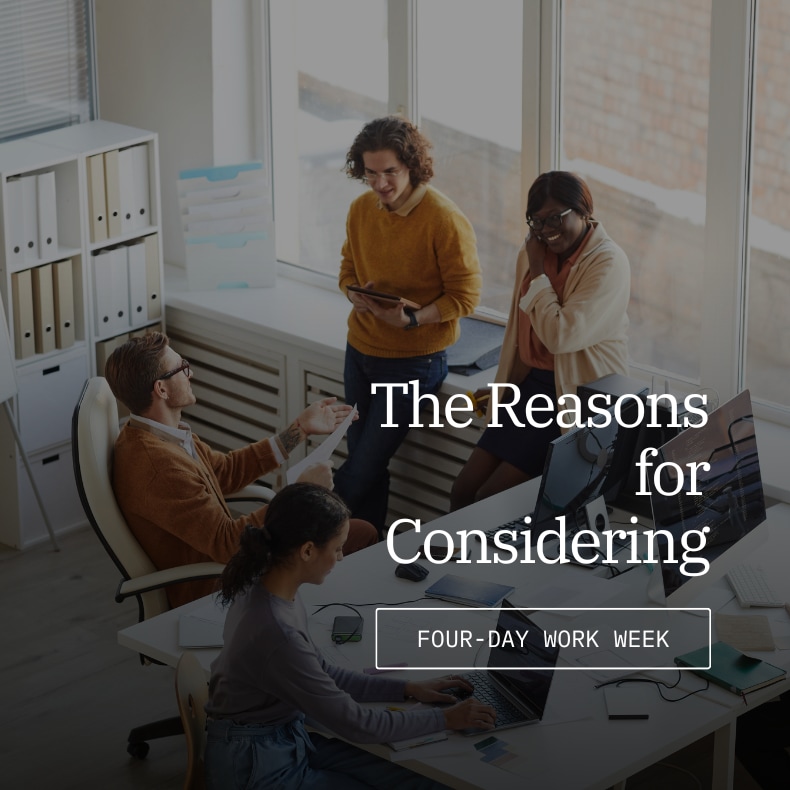 The Reason for Considering 4-Day Work Weeks
A four-day work week improves the quality of life for employees.
Another day will be available for coworkers to spend time with their loved ones and friends. They could also allot hours for self-care and reflection.
A four-day workweek reduces the carbon footprint of the organization and the entire planet. With one day without utilizing the office utilities, the company will use less energy. There wouldn't be as many people making the commute to work. In general, the nation's carbon footprint will be significantly reduced if more businesses adopt this idea.

A four-day workweek boosts productivity. A worker who relies on brief periods of concentration is driven to work more and won't stop until the job is finished. The motivation to finish early and head home boosts productivity all day long.
Structural inequality might be eliminated with a four-day workweek.
New mothers will have more opportunity to rest from work and can go back once they've fully recuperated from childbirth.
A four-day workweek can help an employee have a more positive outlook on their job and their free time.
The 4-day setting teaches employers that the correct incentives and culture may turn "destructive creativity" into a more sustainable form, which, according to TED, makes sustainable creativity feasible.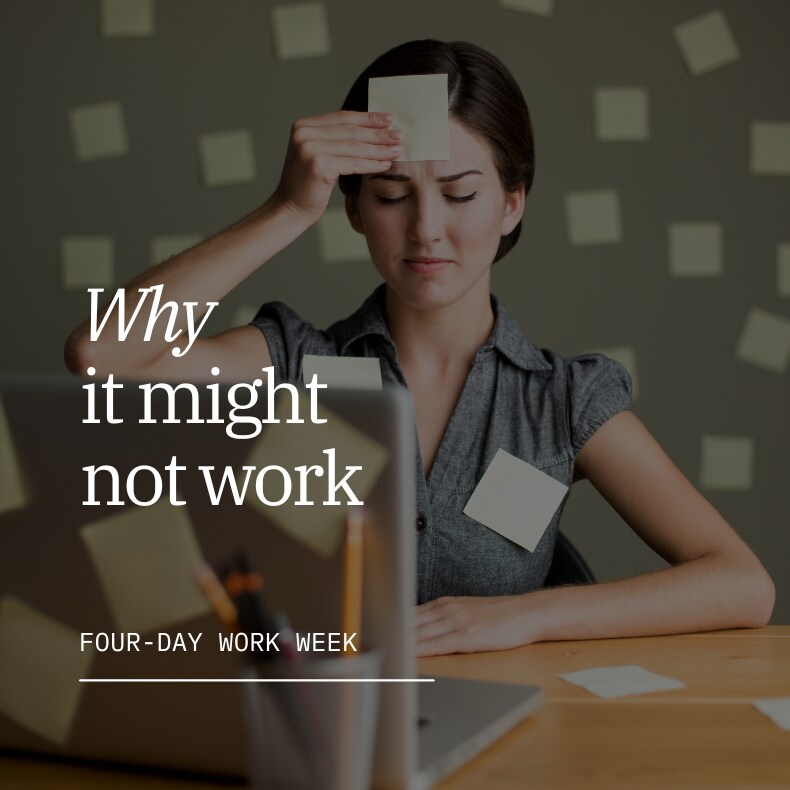 Why 4-Day Work Weeks Might Not Really Work
The company will incur more expenses with a four-day work week.
To make up for the lost work, employers would need to bring in new staff. There will be new salary and benefits to pay for with new hires.
Not every industry will benefit from a four-hour workweek.
For instance, taking a day off could harm a company's reputation with customers who need the customer service to be open 24/7. In certain circumstances, a four-day workweek destroys office culture. Employees spend less time with one another, and when they do, they are actively working during that time.
This kind of set-up might also cause more inequality. Different hours are needed for blue-collar and white-collar employment. It also becomes challenging because the former is often compensated by the hour while the latter is compensated by output.
A four-day work week can make scheduling for the team more challenging. The manager will need to designate alternate days for employees to come in to make up for a lost day. He or she might find it more difficult to control schedules with various objectives.
Final Word
The future may very well include four-day workweeks. It doesn't matter if your business is willing to adopt this idea; what matters is that employees are always treated with respect and fairness.