Simply put, teachers are the busiest people you've met in your life. They dedicate most of their lives to pursuing a passion for facilitating the learning of their children. Day in and day out, they spend 70% of their time thinking of the best approach and method in their class. Once you check a teacher's device, you'll see how a single lesson needs more than an hour to prepare. 
The Teacher's Nook
A teacher's nook is a place where they centralize their lesson plans and class strategies. It's where you will see all the documents like class goals, students' records, assessments, evaluations, and class materials. Surprisingly, when a teacher teaches a lesson like a topic on a subj-verb agreement, they will need more than an hour to prepare such activities. From the introduction to the wrap-up, they invest time and knowledge. Through this act, they narrow the gap between the students and the learning. Hence, they become prone to musculoskeletal disorders. 

The Threat of MSDs to Teachers
Like any other employee, the teachers are the ones who get exposed to the threat of biomechanical pain. It's not just conditions like Goiter or respiratory diseases that they acquire but also spine-related injuries. 
Before the global pandemic, teachers were prone to these injuries because they needed to do a lot of work in class in the standard school setup. When they require the total physical response from the students, they also need to involve themselves or participate in the activities. Moreover, there are instances that they need to get physical so that when a student needs assistance to carry their bags or if they need to reach the books from the shelves, the teacher needs to achieve those things for their students. So, if 20 students were asking for help from the teacher, you could imagine the body pain they encounter in a day. 
Consequently, they get spine strains and numbness every after class, most especially when the global pandemic happened last year. Most of these teachers suffered from the pain of prolonged sitting. Remote instruction was kind of a pain in the neck because it was challenging to adjust quickly to the new way of instructing kids. Even now that there are schools that have resumed their face-to-face learning, there are still classes that need to get done online. So, in this case, teachers need the best ergonomic protection, which they can get from the most trusted brand in the US regarding ergonomics, FlexiSpot. 

An Ergonomic Gift for Teachers
FlexiSpot is the home of outstanding sit-stand desks, standing desks, ergonomic chairs, and stand-up desks. When you look for products that teachers need, such as the Comhar All-In-One Standing Desk Glasstop, it has excellent functionalities like heightmemory presets and aesthetic design. There is also the Esben Standing Desk UD4, which has a spacious drawer. FlexiSpot can offer you a wide array of truly world-class products. These products are the ones that teachers need with the kind of workload they need to accomplish in a day, and they need the products that have the sturdiest and most stable frames. Moreover, with the FlexiSpot standing desks, teachers can choose from single and dual motors. 
Single & Dual Motors
When you hear of the terms EC1, EN1, EC3, or EC4, you might be thinking of combinations only, but at FlexiSpot, these are the desk frames' motors. These are the motors that you can choose if you're looking for stability and robustness, and they are indeed the ones you could purchase if you're working as a WFH-teacher.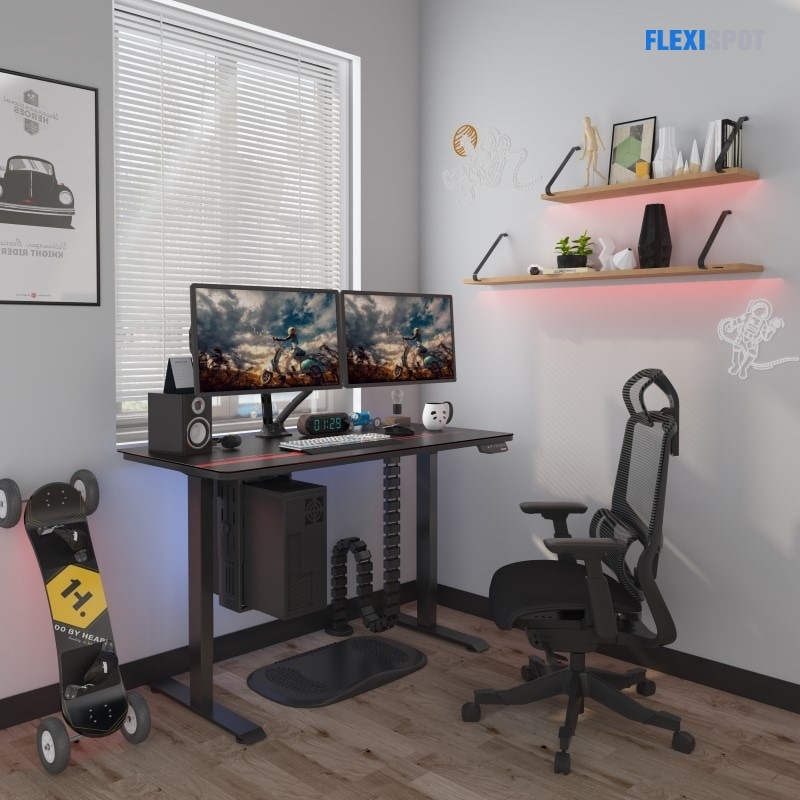 The EC1 and EN1 are models with a single motor. If you're looking for a lighter product because the devices you have are compact or small such as the wireless mouse, keyboard, and a small monitor that would not need a heavy desktop, then these single motors are what you can consider. It's because they are lightweight, and it's so light that it wouldn't take a minute before it lifts. So, if you need a lot of sitting and standing, then desk products with single motors will be most suitable for you. 
This single motor is robust and stable; however, you need to consider its weight capacity too because it can only handle up to 154lbs. So, if you're planning to put more devices on it, you might want to change your mind and check the desk products that have dual motors.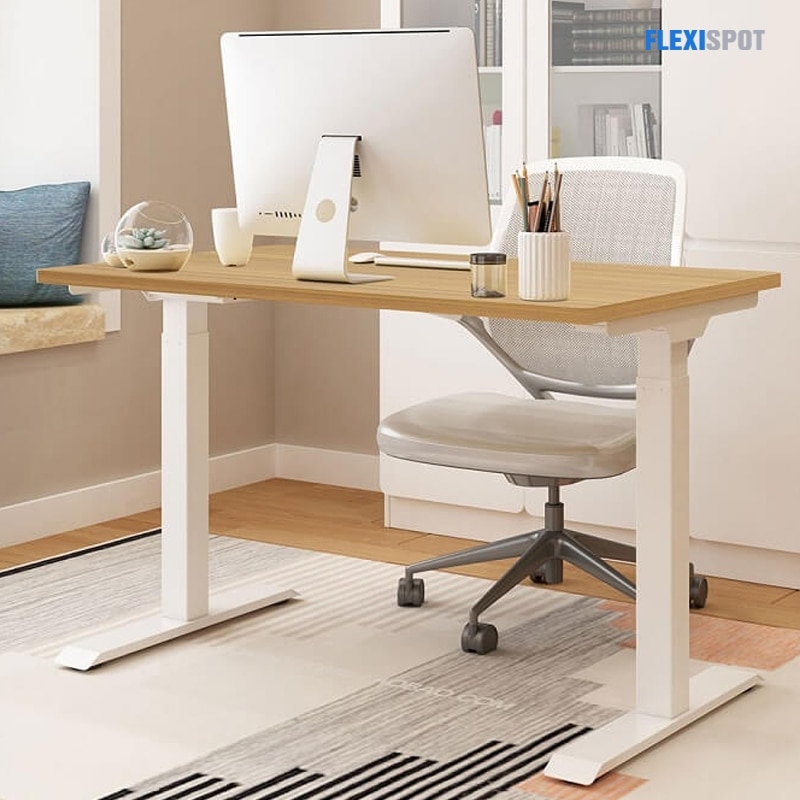 The EC3 and EC4 are the dual motors that you might want to look at when you buy at FlexiSpot. When a desk product has dual motors, it means that each leg has its engine. So, you can ensure that the operation such as lifting is faster than the single motor. When it comes to stability, smooth transition, and strength, the dual-motor is what you may consider. The loading capacity of a dual-motor is 275lbs. So, you can ensure that you can put heavy devices atop it without the fear of having a damaged table product. 
Moreover, the utmost strength and mobility of the dual-motor come with powder-coated steel tubing so you can ensure that there will be no stains and scratches when you use the desk product. Scratches can also damage the durability of a product hence a desk that has this kind of tubing can stand long years of usage. You can ensure that you won't be having problems when it comes to the desk product. 
Final Thoughts
With these specs and features, teachers can decide now which would be more valuable and reliable for them. Some teachers may choose lightweight products, especially for those involving total physical response in their classes, because they can help them sit and stand faster. In contrast, others would prefer heavier frames because they have heavy devices. Whichever would suit their needs, one thing is for sure, FlexiSpot products are above and beyond the competition.