It is that time of the year again. 
The holiday is over, and it is time to get back to school. If you have been struggling with finding a gift to spruce up your kids back to school, then today is your lucky day.
Considering that each school session ushers in new responsibilities, there is always a lot to learn. This fact is independent of your kid's level or class. Regardless of their level, they need to learn new things, complete assignments, engage in extra-curricular activities like sports. 
The truth is all these responsibilities are precursors of various needs. And as a parent, your major responsibility is to make all the essential things available. 
So, whether your kids are fully back to school or study remotely, you need to help them have a hitch-free session. In this article, you will find creative gift ideas for all categories of children. Keep scrolling. 
The perfect back to school gift for your kids
Pondering on a gift that hits the mark for back to school and back to college is stressful. More so, when you do not want a repetitive gift yearly, to ease this stress, we have curated a list of perfect back-to-school gift ideas for your kids. 
Our top picks for back-to-school gift ideas are: 

Top-notch workstation
Schooling remotely comes with its challenges. And the most common challenge is having an uncomfortable workspace. Remote schooling requires a perfect workspace with the best homeschooling desk setup. 
Even kids attending school physically also need a comfortable space to do assignments, study or perform other basic school tasks. They need a place to trigger their creativity and spur academic excellence. 
A lot of things go into creating a comfortable workstation for your kids. It would help if you considered convenience, lighting, comfort, and space. A perfect study setup includes essential ergonomic desk accessories like a mouse, phone charger stand, keyboard, and other accessories. 
Sleek backpack
Every student needs a backpack. Whether to move their books around or any other school essentials they need. However, since a backpack is a basic gift idea, you must buy one that will blow their minds. 
Every student loves a sleek backpack, so it is a back-to-school gift that will make your ward happy.
Smartphones and laptops
With the advancement in technology, working smart has become the order of the day. Consequently, a workspace or study space without these gadgets is not incomplete. Your kids need a smartphone and a laptop to fit into the tech space. 
Access to digital devices can help shape how they perceive things, and their learning ability would be unlimited. The internet offers a big opportunity to expand your knowledge base, learn and grow skillful. 
So, buying digital devices like phones and laptop is a great back-to-school gift. You do not even have to break a bank to buy one. They come in various prices and quality depending on your budget. 
Fountain pen
Every session user in unending scribbling. A pen comes in handy, from scribbling short messages to a friend across the class to noting the teacher's points. Hence, getting a versatile, durable, and quality fountain pen is the perfect back-to-school gift from your ward. 
There is a different quality of fountain pens out there-- a lot are of inferior quality. Be careful with your choice of pen. Buy one that is affordable and has good quality. 
Smart wristwatch 
Smartwatches are an amazing back-to-school gift that any student will appreciate. High school and college students always have a lot on their plates. So, having a smartwatch can be a blessing in disguise since they can create schedules with it. 
Smartwatches can also work with their phone to create schedules and alarms to make schoolwork easier. 

Video games
All work and no play can make anyone dull-- even kids. We understand that a new session comes with new intellectual challenges and responsibilities that help them grow mentally, but they also need time to unwind. 
So, buying your kids a video game is s de-stressing technique that would help them relax. However, the only issue is that video games have addictive tendencies if unchecked. You must develop rules to guide the usage of video games during the week and even on weekends. 
As a parent, be cautious enough to prevent an early addiction to a video game. Help your kids understand that it is strictly for relaxation and nothing more. 
Water bottle 
It is easy to get dehydrated with the daunting school tasks. Hence, buying a beautiful and quality water bottle can help your ward stay healthy at school. Moreover, owning a fanciful water bottle can encourage students to stay hydrated throughout the tedious school tasks. 
High-quality speakers or headphones
Your kids may sometimes need to listen to an audio or join a class-- having high-quality headphones make all the difference. This is a one-of-a-kind back-to-school gift for your kids. It is even more valuable if your child is into music production or music generally. 
Generally, kids with a penchant for music will appreciate a headphone with impressive sound quality anytime. You can put a smile on your child's face with this gift. 
Books
No man can perform beyond his mental ability. One of the most common ways to build capacity mentally is by reading books. This is a clever way to start up a school session for your ward. Get them books about different aspects of life like finance, health, and positivity. These will help them grow mentally and learn some intricacies about life. 
Books can also make them vast both academically and in life issues. This is by far one of the best back-to-school gifts for your kids. But do not forget that they need the best desk set up to read healthily. Consider making the lightning in their study room standard for reading. 
Smart desk 
Finally, a smart desk. Buying your kid, a smart desk is a good back-to-school idea. To start with, it is a healthy choice workstation that makes studying comfortable and effortless. Plus, if you buy one of FlexiSpot's top-quality standing desks, your kids will have no trouble with studying all day or attending all their small classes. 
Our smart desks have customizable features to suit any preference or taste and create sit-stand possibilities while studying. When your kids work for long hours on their site, they may start developing backaches that eventually affect their academics. However, a smart desk offers an alternative posture that makes studying a cinch. 
And guess what? Buying a FlexiSpot desk as a back-to-school gift is less expensive than ever. To mark the end of the summer break, FlexiSpot is offering 10% sales for students. Technically, you can call it a special back-to-school gift deal. 
FlexiSpot Summer Sale 
Are you a student? Or a parent interested in sprucing up your child's study room? Then this FlexiSpot summer sale is for you. We have decided to give students a 10% discount on some workstations. Trust us; this deal is one of the best backs to school deals you will ever get. 
Here is a list of the top workstations to gift your wards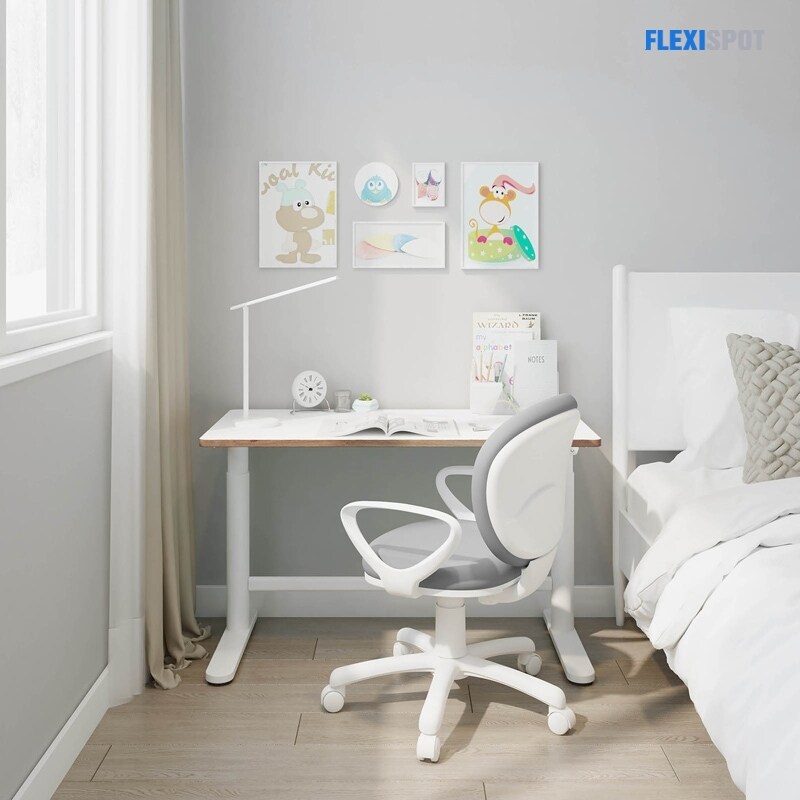 Height Adjustable Ergonomic Study Desk/ Kids Desk- 40W
When you need a workstation to grow with your child and prevent any health complications, this sit-stand desk should be top on your list. It is meant to give your child a smooth study experience anytime. More importantly, alternating between standing and sitting has never been easier. 
And the best part is that it is currently available at a discounted price for a summer sale. What more can you ask for? 
Height Adjustable Whiteboard Standing Desk
Imagine a standing desk that also serves as a notepad. Now quit imagining. Flexispot has brought that imagination to life with the height-adjustable whiteboard standing desk. 
We equipped it with Pet high-gloss film with a smooth surface for scribbling down ideas. Your kids can capture their ideas while studying without necessarily using a book. You can also flip the table uprightly and convert it to a whiteboard. 
For a remote student, this would be a mind-blowing back-to-school gift. Well, as you would have rightly guessed, it is also on sale!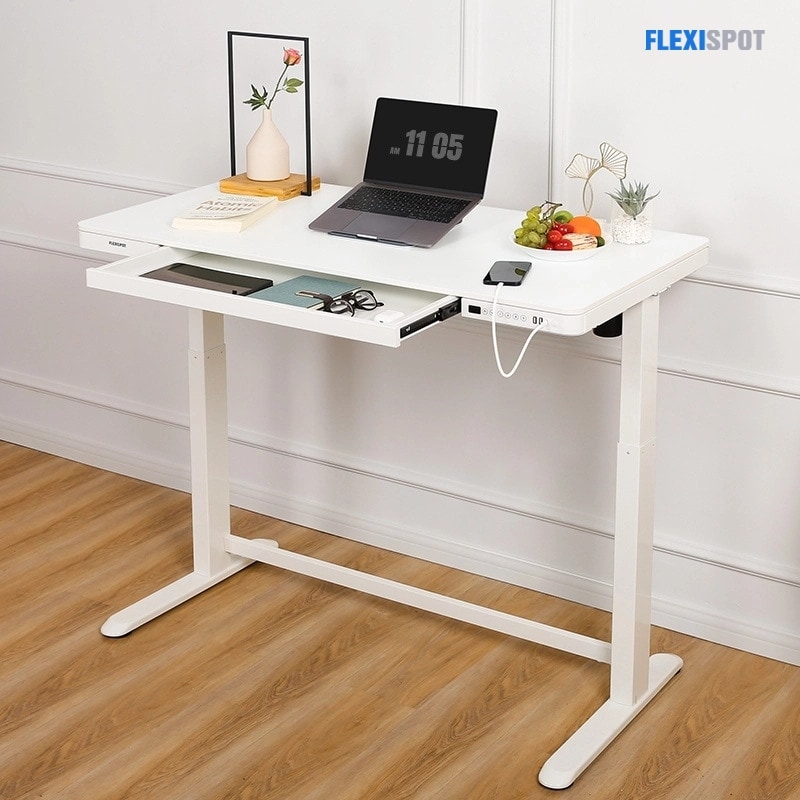 Comhar All-in-One Standing Desk Wooden Top
Comhar standing desk has almost every accessory you need on a desk. USB charging port, a drawer, a simple operating system, and an attractive design. Undoubtedly, this is one of our top picks for a back-to-school gift. Speak of making life easy, Comhar all in one standing desk does just that. 
There are more workstations that you can buy at a discounted price. You can set up a comfortable study room for your kids at an affordable rate, thanks to the summer sales. Ready to explore this huge window of opportunity? Click here.
In a nutshell
Getting your kids to focus well enough to ace all their subjects could be a tricky deal. But buying them some of these gifts might be of great help. Smartphones can open them up to explanatory classes on YouTube, a smart desk offers them comfort, just like all other gifts on this list are important. 
It is time to get back to school, help them get started with the new session in the most stress-free way possible. Trust us; these back-to-school gifts will motivate any kid to perform well.