September 2021 is the most exciting month at FlexiSpot (the home of the best standing desk, sit-stand desk, and stand-up desk), because it's when the best ergonomic products can be had at exciting discounts. This event at FlexiSpot is what we call the Standiversary, which started last September 27. 
The Events at Standiversary:
a. Spin&Win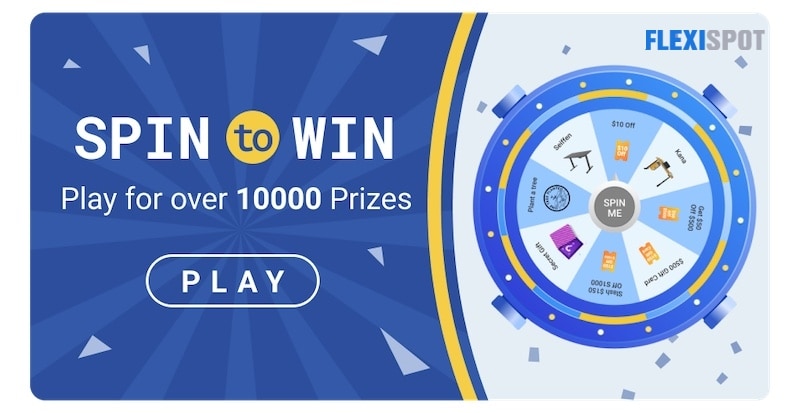 The 5th-anniversary event at FlexiSpot offers the most exciting events like the Spin&Win, where you can take chances in spinning the wheel. Then, you could find the best ergonomic standing desks like the Seiffen Standing Desk and Kana Bamboo Standing Desk as surprise gifts. 
At the Spin&Win, you could also win a massive amount of discounts through the vouchers. What you need to do is to get more free spins by logging in, subscribing, and sharing the good news with your friends. 
What's impressive about this activity is you can enjoy more spins once you share them with your friends. It's a bit challenging, nonetheless, because you only have one free spin, but if you keep sharing this activity with your friends, you can have more spins. If you are fond of using vouchers, then the surprise discount codes from this activity would excite you more because you could win a gift card worth $500. So, you can ensure that you will be able to enjoy this activity. 
b. Turn $5 Into $50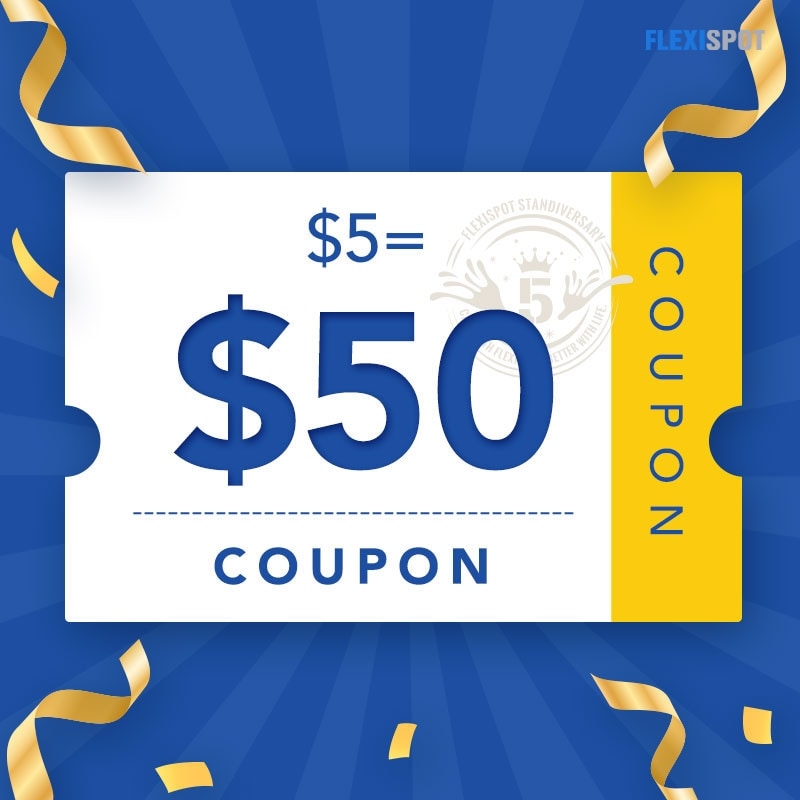 The next activity at the anniversary event is the Turn$5 to$50. Some subscribers are not as adventurous or risk-takers, and some would like to make sure that they could have the discount value. Hence, those who are willing to deposit $5 first could enjoy this activity. 
If you have already availed of the discount code, you still have a day to use them in your purchase. Just remember that the code is valid for just one transaction or investment. You may buy a coupon for either one of the following products:
So, if you want to have more than one product, you can buy more than one coupon. 
c. 9.27s Challenge:

You might have played timer games multiple times before. It's a fun game that challenges you to hit a goal for an exact time to win a particular prize. That activity is what you are going to do with this challenge at the Standiversary. It would be best if you hit the target timestamp to win raffle entry for the prizes like the Comhar Standing Desk EW8. The announcement of winners will be on October 7. If you do not win the raffle entry, you can still win a voucher code that you can check in your email. 
So, these first three activities at the Standiversary are challenging. You have to exert extra effort to achieve the prizes, but the last two activities are not that difficult but still are exciting. These are the Flash Deals and the Best Sellers on Sale. 

Looking at the Flash Deals and Bestsellers on Sale:
The Flash Sale:
In this event, you will see the best ergonomic products that are at affordable prices. These are what WFH individuals need in the current work setting. In this great sale, you will see how low their prices are and how significant the discounts are. 
As of writing, the ergonomic products that you can buy at the flash sale are Seiffen Laminated Desk (Eco and Pro), Deskcise Pro V9, AlcoveRiser Standing Desk Converters M7L, Vici Quick Assembling Standing Desk, ClassicRiser Standing Desk Converters M2B. 
These products at the flash sale are at huge discounts. You can save as much as $130! It's a great buy, so when you try checking the Flash Sale now, you will realize that you can buy all these products without breaking your bank. You can stack up for the holidays and prepare for the gifting season. 
With all these products as well, you could have a significant office upgrade. You don't have to worry about the office equipment when you check the Flash Deal products because they are the best buy to make this 2021. 
Bestsellers on Sale:
If there are Flash Sale products, there are also the best sellers. These are ergonomic products like Soutien Ergonomic Office Chair and Kana Pro Bamboo Standing Desk. These products are the all-time favorites and are what most workers need in the office. So, it's your chance now to grab all these products and spend less of the original price. 
When you have these best sellers in your home office, you can get protection against biomechanical pain. It's because the Flash Sale and Best Seller on Sale products are the superb FlexiSpot items that stand out in the market. Thousands of reviews prove that these ergo pieces have helped workers avoid the possible threat of musculoskeletal disorders. So, now that they are on sale, it's best to grab this chance to own some of them or prepare them for the holidays. 

The Wonders of Buying Items that are on Sale:
When you buy discounted or on-sale items, you give yourself the chance to own superb products without spending too much. You can get ahead of the others when you purchase items on sale because not everyone gets the opportunity to find them online. You help yourself enjoy the perks of these products that could have a high regular price. Grand sales only come on a blue moon, so when you have the opportunity to spend less on a product, then don't miss out. 
When you buy discounted products, you learn to budget your finances well to save more money with these items. Whether it's a $20 off or $130 discount, it's a considerable amount that can prevent you from breaking the bank. 
Final Thoughts:
The epic 5th-anniversary celebration is about to end in a few days. Still, it has been a fulfilling month for FlexiSpot because it has given back to all the loyal customers that have trusted the company over the years. So, with these, FlexiSpot promises that as you all face a new year, more significant developments will strengthen their commitment to delivering the best ergonomic solutions to all customers like you.