In whatever area of your life you choose, not everyone will share their opinions.
Therefore, when people say that you need to be tough as you go through life, take their word for it because you'll really need it. You must be able to accept criticism and respond to it politely. Every employee must be capable of increasing their performance and acting professionally at work.
As soon as you join the workforce, you'll discover that criticism is on the weekly menu. Not only would your supervisor criticize you, but it might also come from a co-worker or a client.
However, it's important to distinguish between constructive criticism and insults meant to harm your feelings. If the critic's criticism is supported by knowledge and experience, you'll be able to tell if it can be of use to you. It also includes remarks that are complementary. Its objective is to make you a better employee. Take it, particularly if it comes from a senior employee who might even act as your work mentor.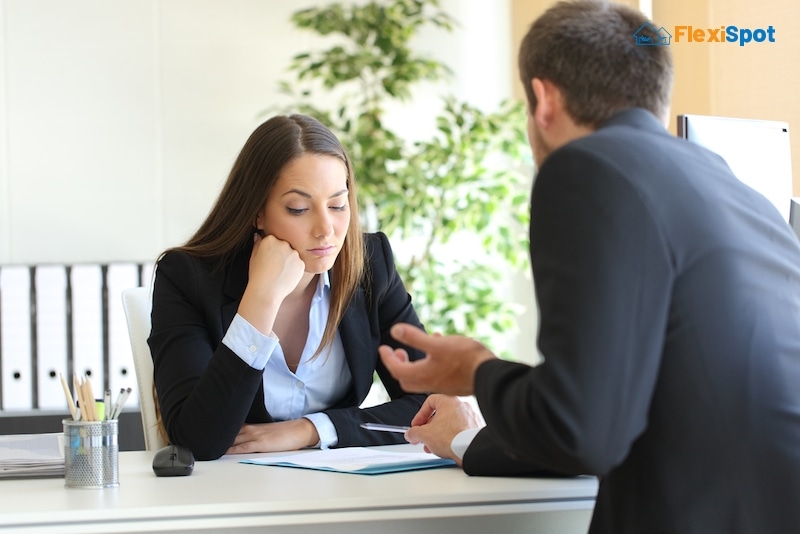 So what should you do if you get unfavorable feedback?
Be a professional to the best of your ability. Keep in mind that the majority of our communication consists of body language and facial expressions. Watch your language, but also pay attention to how your whole body reacts when you receive constructive criticism.
Take a moment to relax and consider what was stated to you before responding. You should try to be as impartial as you can. This opinion seeks to improve you rather than being a personal assault. Do your utmost to avoid offering justifications or self-defense. Consider the big picture and only present your argument if you are given the chance to or if whatever you said has been misunderstood.
Let them know how much you value their input while doing your best to react in the most humble manner. You may have a fantastic opportunity to learn new things, develop useful attributes for the workplace, and get new talents.
Acknowledge your wrongdoings, apologize for making them, and do your best to not repeat the same mistakes the next time around. Again, don't take anything personally, so stop thinking about the criticism that was directed at you. Consider it as a challenge to improve your skills in your field.
The only option you can do now that it has happened is a pledge to perform better the following time. Investing in the correct tools that will make you more productive and efficient at work is one method to increase your performance at work.
Your productivity will increase and your health will be protected by having an ergonomic workspace. Therefore, you may reply to criticism in a professional manner and also demonstrate that you eventually learned from it.

We can all benefit from using an all-in-one standing desk. Your workstation will be more organized and minimalistic the fewer things you have. Beyond the final look though, it is also a great deal more convenient and easy to move around on a daily basis. With wireless charging, a storage drawer, and an improved design, this new FlexiSpot product seals the bargain. The design was refined by the clever brains at FlexiSpot HQ, who also incorporated a dual-motor lifting mechanism to ensure that the desk is stable even when it is at its highest point. Since the desk's height range is wider than that of comparable FlexiSpot products (24.0" to 49.2"), customers with heights ranging from 4'3" to 6'5" can utilize it.
You can wirelessly charge your smartphone on the desktop without connecting it in because it has an integrated wireless charger. Don't worry; the majority of wireless charging devices are compatible. The Q8 also features an under-desk cable management tray to prevent tangled cords.
Of course, who wouldn't like the fact that a drawer is already integrated into it? The desktop is composed of bamboo, has a working space of 55" x 28", can hold 220 pounds of weight, and measures 28.3" x 12.8" x 1.97". Additionally, a smart control panel with adjustable height presets and two USB charging connections are provided.
Last but not the least, this desk includes an anti-collision mechanism, just like other high-end FlexiSpot products, to help protect both the item and the things on top of it during the desktop's descent.

This chair has an adjustable rising height of up to 3.1". To provide exceptional comfort, the back incorporates an S-shaped curvature and lumbar support. If your head or neck is feeling any tension, you can move and adjust the headrest. Since this chair is composed of breathable mesh, sweat and moisture won't accumulate even if you use it frequently for extended periods of time. Your hip pain may be lessened by the support in the seat cushion. Additionally, the caster wheels of this chair may be turned 360 degrees.

Organization can change the way you work and help you commit less mistakes. You would need a reliable storage solution in your workspace to organize your things as well as save you the hassle of looking everywhere for your items when you need them. The majority of contemporary desks can accommodate this storage box under their desktops. Your workspace's documents are safer thanks to its two drawers, each of which is locked with a separate key. It has a straightforward design and measures 14.6x17.1x26.6 inches. It can support a maximum weight of 200 lbs. It has two utility drawers with full extension slides for convenience. You can move it about the room with ease because it comes with caster wheels.
Final Word
You need to have mental fortitude in order to make it in this world. What that means is that you need to be thick-skinned when hearing negative feedback or criticisms. Analyze what you heard, talk to a mentor, and see for yourself what applies to you and what does not. In a workplace, you need to be as professional as possible. If you feel the need for it, by all means, ask for clarity from the person who gave you negative feedback. Contextualize the situation and note whatever you discussed to guide you in the future on what to do in similar instances.