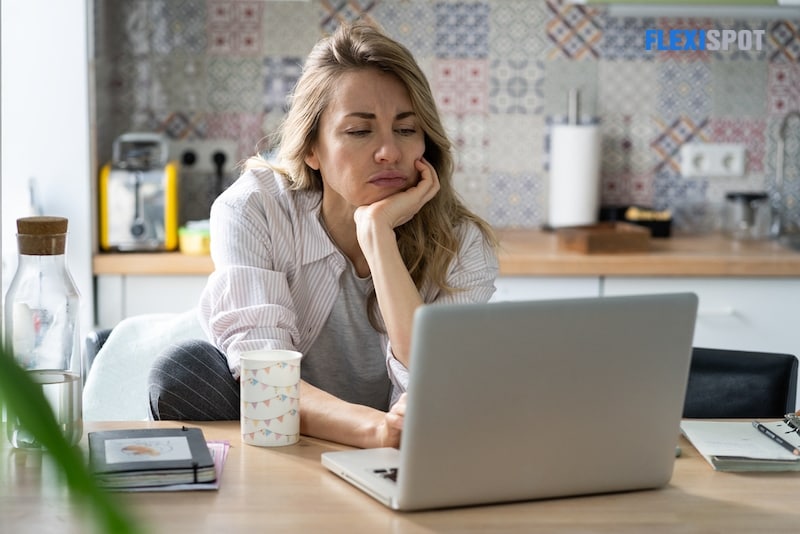 We thought that now that so many people are spending more time at home, it's time to address how individuals stay active while working remotely. People who are new to working from home are often thrilled about just how much they will be capable of achieving and all the personal habits they will be able to establish now that they are not wasting so much time on a commute or going out for lunch all the time. 
We may all become homebodies, even the most outgoing of us (thanks, COVID-19). With so much of our personal and professional relationships now taking place in the comfort of our own homes, it's tempting to yield to the couch's temptation. Working from home has many advantages. However, moving from an office building to a section of your hallway or a backyard workspace hurts certain employees.
Working from home, regrettably, can result in a more sedentary lifestyle. That isn't to say that staying in shape is unachievable. With the abundance of free fitness tools available online, it's pretty easy than ever to learn how to keep active at home. While discipline and drive are essential, a strong dose of enthusiasm can keep you and your team active – even when working from home. Sitting has replaced smoking as the leading cause of health problems such as back discomfort, weight gain, eye strain, and much more.
Check out these strategies on how to remain active at home — regardless of your current level of fitness — whether you're working at home or living a quarantine life.

Get a Dog
If you've been considering having a dog, it can significantly increase your level of activity. Any dog needs to be active to thrive, and adopting a dog guarantees that you are as well. Dog ownership may help you be responsible for your and your furry friend's play sessions, whether you're going for a walk with them, chasing them around the lawn, or just trying to avoid them when they've got the zoomies.
Put On Your Workout Gear for Work
Wearing sportswear while working remotely is not only comfy but can also mentally prepare you to exercise during your lunch break or after work. Consider wearing gym clothing to your home workspace if you don't have a Zoom meeting booked. You'll be able to fit in mini-workouts during the day or just get to your exercise faster once you've done your work. There's no need to change; there are no excuses.

Clean Up
Cleaning is the epitome of multitasking. It's not only a terrific method to get your house in order, but it's also a fantastic idea to get you moving. Scrubbing the bathroom or vacuuming the family room are excellent ways to strengthen your arms while washing the dishes or tidying your house keeps you standing and moving.
Go Up and Down the Stairs
Running stairwells is an excellent cardiovascular exercise, as any football player will tell you. It also improves balance and enhances different muscle groups.

Do Some Yoga
Create your own yoga routine with a free online program. A little stretch break might help to refresh both your mind and body. Whatever workout you do, remember to keep hydrated and listen to your favorite music to keep active.
Just Dance
Getting in a groove session is good for your body and your brain. Dancing releases endorphins, making you feel better and more energetic.

Get Up from Your Comfy Seat
While you may be nestled in your plush office chair, you may complete many of your work responsibilities by standing. Purchase a standing desk for use at home. It will protect you from the health risks linked with long periods of sitting. It may have been tough to work while standing at the workplace, but now that you're working at home, you may create your workstation in any way you like.
Some folks even use their kitchen counter or bedroom dresser as a standing workstation for a couple of hours each day. Standing also helps to improve your leg muscles, and using a standing desk encourages you to burn more calories than sitting does. A standing desk converter may be a better option if you don't have the space for a new desk or don't want to give up any of your current desks or tables. Take a look at these FlexiSpot suggestions and determine which one fits your needs:

Resist Being a Couch Potato
Rather than sitting on the couch and waiting for Netflix to check if you're still watching, get some exercise while you're streaming. If you have an exercise machine, such as a stationary bike, treadmill, or elliptical, set it up in front of the television and jump on as the latest show begins. Alternatively, set up a mat in your living room and stretch or perform some workouts while binge-watching. A stationary bike or under-desk bike can also be used along with a standing desk. FlexiSpot has got you covered on these solutions:
Take Micro-Breaks
If needed, set an alarm to notify you whenever you need to take a break from work. For your optical health, this may be a water break or an eye-resting break. Whatever you name it, there are various ways to get some exercise in those few minutes. It might be a fast HIIT program or something else entirely. You don't need any special equipment for these activities. All they need is for you to be determined and to go all-in.

Improvise, Experiment, Have Fun
Find ways to strengthen yourself with bags of rice or liters of water. Explore dancing as a technique to make your exercise more fun. You can watch a workout show on TV or follow the instructions on YouTube. Changing up your workout routine improves your fitness. It also works to prevent injuries caused by overuse of the same muscle and make exercise more enjoyable. For many individuals, working at home is already tedious, so make your workouts enjoyable.