We all have a checklist of things we would love to own. For some, it's a dream house in the most expensive areas in the city, while some work enthusiasts have dream workstations.
Well, if you belong to the latter category, we've got good news! 
You can own the best workstations while saving megabucks. We bet that got your attention. It's FlexiSpot's Standiversary, and we are keen on making all your wildest workstation dreams come true! It isn't your usual Standiversary; it commemorates FlexiSpot's five years of fantastic ergonomic service. 
We have the crème de la crème products available on flash sales from now till 30th September. As if that's not enough, we intend to guide you through the process of selecting the finest products on sale. Don't get agitated if you are still in a fix as to which workstation to buy during these flash sales; we've got you covered. 
Here's a short product guide for flash sales. Let's dive in. 

Is Flexispot Products a Sound Investment?
No kidding. The Ergonomic industry has grown into a massive industry, with more companies sprouting up yearly. Undoubtedly, the rise in numbers makes it difficult to identify the products that provide sterling ergonomic services. 
However, FlexiSpot is a leading company in the Ergonomic industry. Besides the dedication to our customers, we also have an astute team that strives to create innovative furniture. We aim to offer the best services to students, modern-day workers, creatives, and other people in need of healthy workstations. 
But that's not all. 
FlexiSpot doesn't just follow the trend; we are on par with technological trends. So, we create futuristic and unique designs. We also hold nature to heart; hence we make eco-friendly products. Ultimately, catering to your workplace needs is our priority.
We deal in products that appeal to anyone's workplace taste. Doesn't matter if you are an avid fan of minimalist setups or love incredibly stylish workstations; we've got something for you.
We all know how much a sedentary lifestyle affects productivity and health. Hence, we can't overemphasize the importance of a standing desk. That's why we always create the best workstation for active life and ensure your workspace stays healthy. We don't want you to take our word for it but feel free to check out feedbacks from all our customers globally.
Celebrate Standiversary with Our Top Five Products on Discount
The countdown to the end of Standiversary has begun. The question of the century is: have you been a part of the fun activities? We have more than enough engaging activities to keep you hooked, from the Spin&win to $5 to $50 and 9.27s challenge. 
As for our flash sales, we have some recommendations in mind. Below are the top products we believe you shouldn't miss during the Standiversary. 

Are you an advocate for eco-friendly products? We are sure this workstation is perfect for you. Besides its elegance, we didn't tamper with the naturalness of the bamboo in any way. Having used lateral compression technology, we preserved each bamboo strip ingrained in its production. 
We can't help but mention its unmatched durability. This standing desk is worth the investment. More so, the powerful motor and healthiness it promises are worth much more than $299.99. But guess what? That's how much it costs-- for now. If you are ready to invest in your workstation, this is one of the best deals out there. 

It's about time you got rid of sedentarism in your workspace. There is no better time than now! With the Home office All-in-One Desk Bike/Bike Workstation V9 on sale, you can have the active workstation needed.
You get to save $100 on this desk. Now, this isn't a regular deal. This desk has a pneumatic adjustment lever to adjust the seat to a suitable height without hassle. You can cycle and work with this desk. 
It can also tell you how many calories you have burned. It keeps you exercised while you stay focused on work. If this interests you, don't miss this deal from 27th September will 29th September. 

Help your spine stay healthy this September! Seiffen Standing desk is the answer to most spine health issues with its high-quality frame to switch from sitting to standing. You can smoothly adjust the height without knocking things over. So, it's suitable for any work-related meeting. 
Besides, it's wide enough for your work equipment. The sturdiness is also noteworthy. Are you an avid gamer? Well, this is also perfect for gamers. You can position all your gaming accessories and desktop conveniently without encountering any space issues. 
And the good news is you get a $100 discount on this desk from 9:27 till 9:29! Grab this opportunity while you can.

This product is known for its dual motor, which enhances its swift transitions from sitting to standing. With desk frames as strong as that, you should expect no form of wobbling. Besides the top-notch features, it provides adequate space under deals and a spacious work surface. 
Even better, it has an adjustable desk foot to adjust and stabilize your desk when the need arises. With such a combination of modern features, this workstation is a must-have! And the best part is that you can now own at a discounted price of $299.99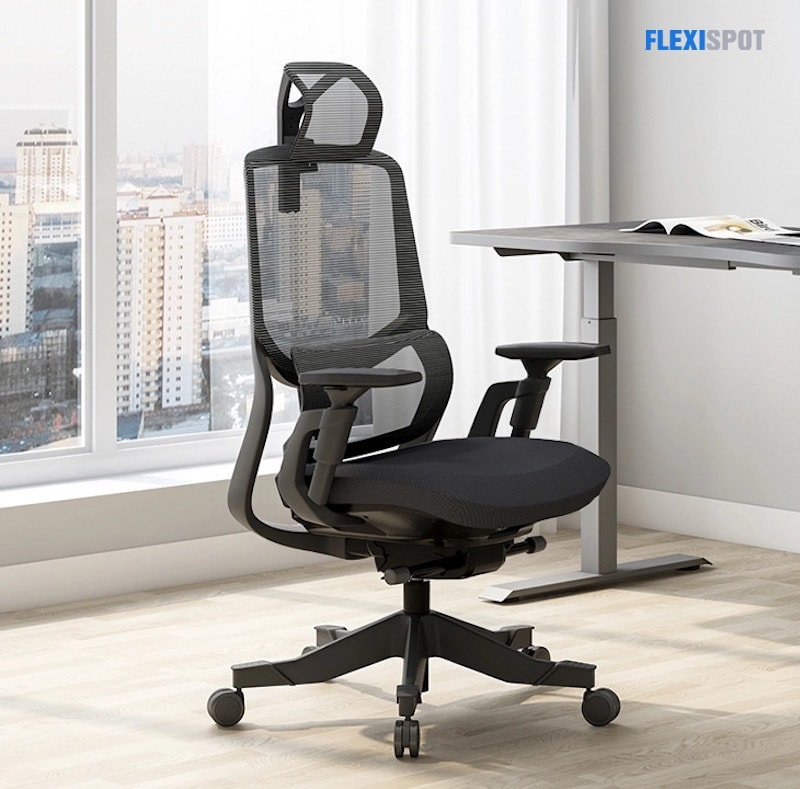 Every standing desk needs an ergonomic chair because standing for prolonged hours is as dangerous as sitting for long. 
And we can't think of a better adjustable ergonomic chair than the Soutien Ergonomic Chair. This chair offers 3D lumbar support, adjustable seat depth and other ergonomic features. The least you can expect from Soutien office chair is an ultimate sitting experience. Regardless of your height or body structure, you have no worries with this ergo chair. 
Be sure to look out for it between 9:27 and 9:29 because it would be available at a discounted price. 
In a Nutshell
You can't afford to miss out on the Standerversary deal. Flexispot is holding nothing back! We never offer counterfeit products. So, click on the links now to access the generous Standversary deals!