Devs perform miracles when they pump out entire universes and immersive realities from basic code. In the same way Zeus and his court reside on Mount Olympus, game developers also need a throne to watch over their creations.
It's true to say that there can be no Xbox or PlayStation without a workstation. A simple look at any game reveals a lot about the originator's intrinsic values – a sense of aesthetic, taste, the frustrations, and small victories they endure to produce captivating releases.
The average game Devs workstation is home to a collection of peculiar tools and artifacts. Here you'll find not just computing hardware but stacks of comic books, headphones, action figures, old pizza boxes, among other artifacts.
Sure, gaming laptops have allowed game developers to unshackle themselves from dark and dreary back rooms. Now, the coffee shop can also serve as a melting point for camaraderie and collaboration.
But, processes like rendering and compiling code still require a GPU-heavy desktop setup. Therefore, as a game dev, you still need to set up an ergonomic and stable desktop setup. Today, we'll explore how working a standing desk into your workstation can help you stay ahead of your game and possibly level up.
Hopefully, you'll pick up a few hacks that can improve your prospects after going through this brief yet insightful piece.

Ergonomic Gaming Desk with Mouse Pad
When building the ultimate game Dev space, the first thing you need to consider is an Ergonomic Gaming Desk with Mouse Pad. Something that adequately addresses all the comforts and needs of a gamer.
What Features Should You Look for in the Ideal Standing Desk for Game Developers?
The winning candidate should factor in advanced functionality but still come at a cost that won't break the bank. With such a surface, you can code, design while standing or sitting. You are effectively avoiding some of the pitfalls that often lead to spinal and cardiovascular issues.
Attention to detail in their design
Contoured desktops are all the rage these days because of their aesthetic appeal and reduced accident-prone nature. But, they are not available in many sizes. So, you can find a worthy compromise in a rectangular design.
It would be best to look for a thick laminate top as it's less of a dust magnet and can be wiped clean with a cloth. If possible, settle on a standing desk with a curved desktop that includes two or more grommets. This feature comes in handy for your cable management needs (we'll cover this later in the article).

A Sturdy Desktop
A sturdy desktop features a material that's somewhere between 0.7" and 2" thick. They come in various materials. Here are some of the most popular choices:
Chipboard: It may be a reclaimed material, but it's pretty sturdy. Contrary to popular belief, chipboards can sustain a lot of pressure and create stable desks without weak spots.
MDF (Medium Density Fiberboard): comes with zero knots and kinks, so it creates a smooth surface for launching your next project.
Bamboo Desktop: This is the material to go for if environmental sustainability is something you endure. This material is as sturdy as steel, smooth, and has a unique sheen to it.
A Stable Frame
The ideal standing desk frame needs to conform to the North American ergonomic standards. The first thing you should look for is high-grade steel material construction. Such a detail enhances the desk's durability and eliminates wobble even at the highest level of adjustment. Couple these with an advanced keypad for superfluid transitions, and you have a winning combination.
Other minimum spec requirements worth investing in include:
Lifting capacity: 154 lbs
Adjustable width: 33.5" - 50.8"
Adjustable height: 27.9" - 47.6"
Operating noise level: less than 50dB
Compatible Desktop Size: 63" wide
Minimum lift stages: 2-staged legs
Advance Control Keypad for the Lift Mechanism
Standing desks come with an array of keypads that dictate how you can program them. Some are simple, while others are so complicated you need to consult a manual to deal with the mechanism.
Let's reduces this to 2 viable options:
The basic keypad: allow you to switch from a sitting position to an upright posture through the simple tap of a single button.
The advanced keypad: can program and save your preferred sitting, standing, or even under-desk cycling heights. The setup also features convenient activity alerts with friendly alarms that remind you to sit or stand regularly.

An Ergonomic Gaming Chair
Not just any old seat will do! An Ergonomic Gaming Chair lets you code in style and with the utmost comfort. They are built with all your ergonomic concerns at heart, which effectively eliminate muscular fatigue in the spine, elbows, shoulders, and other trouble spots.
You can sit on this kind of throne for hours on end and attend to more tasks than you previously thought was possible. Let's look at some of the minimum spec requirements before we get ahead of ourselves:
Dimensions and capacities
Supported weight: 250 lbs.
Footprint: W 29.53" x D 11.02"x H 20.47"
Seating area: 19.5" x 20"
Backrest coverage: 23.5" x1 9"
Height range: 48.4" - 51.2"
Overall weight: 35 lbs.
Material
Gaming chairs come in a variety of materials that run from canvas to faux leather. However, your needs are best served with genuine PU leather. This material is cozy, hypoallergenic, and looks cool under any light. Other benefits include:
Higher resistance to wear and tear
Easy to clean and repair or replace
Breathable and moisture-wicking properties that ensure you remain cool even under pressure.
Performance Enhanced Padding
Sitting for extended periods takes a toll on your ramp and spine. And this could lead to long-term problems if not addressed. The best way to avert such RSI (repetitive strain injuries) is opting for a seat with performance-enhanced padding.
Look out for such padding on the chair back, armrest, and sitting area. Observing such design details maximizes your comfort as it helps you power through your busy workday.
Adjustability
Having various levels of adjustability ensures that you can correct your posture when the standing desk is at various heights. Look out for the following; adjustable seat height, rocking functions or tilt mechanisms, and electroplating gas lift mechanisms.
Sturdy Casters
Gaming chairs are usually heavy, so dragging them around can damage your floor or tear your carpet to shreds. That's why it pays to have smooth casters that have 360-degree rotation.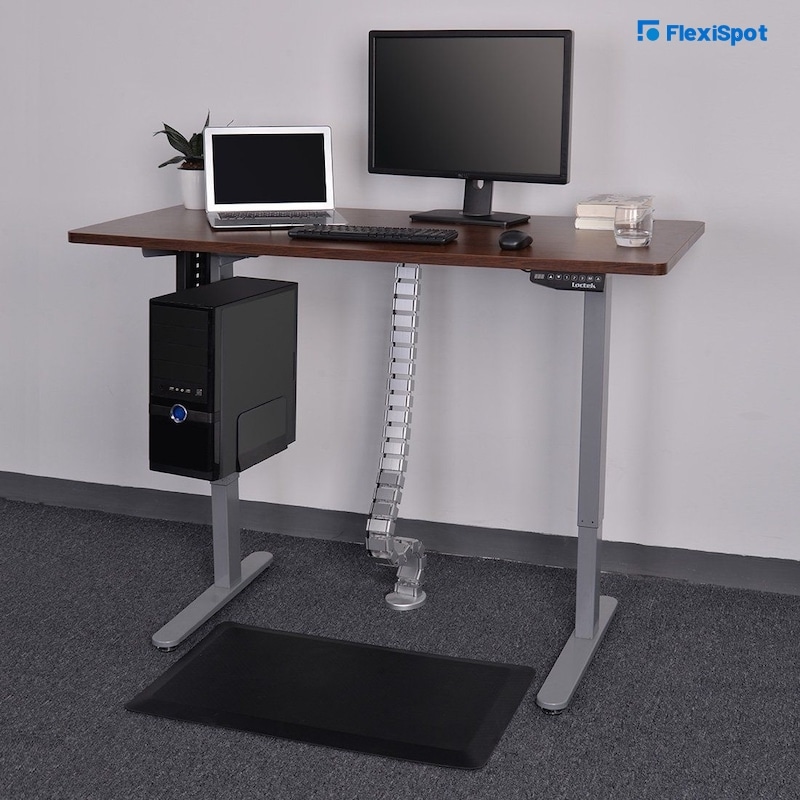 Cable Management Systems
A game developer deals with more electronics and computing hardware than the average human being. This can get messy, especially since you can't do away with the cables that power and connect your devices. Fortunately, there are various ways to sort these errant cables and reduce the clutter they cause.
A Cable Spine offers a pragmatic and attractive way to ensure your wiring remains tidy. It encases all your power cords in a protective ABS material that keeps them out of sight. The base also features a metal weight that anchors them to the ground without posing a tripping hazard.
What about all the cables that you can't keep out of sight? Well, they don't have to clutter your workstation as they can fit neatly into a Cable Management Tray. This doubles as a way to keep cords out of reach for children and pets that can damage your cables or harm themselves.
Lastly, you probably have so many power cords and cables that you don't know what goes where. You can get a Cable Management Kit to help you color coordinate all these cables so you don't pull out the wrong cable when looking for an outlet.

A Dual Screen Setup
What's better than one 4K screen? 2 or more 4K screens, of course? The only problem is one screen occupies loads of desktop real estate. So, two or more can take up space you need to put other things.
You can find an elegant solution to this puzzle in the shape of a Dual Monitor Mount. Aside from supporting screens that come in at 17" to 36". They also ensure your monitors don't fall off your standing desk when in motion.
Monitor mounts are easy to install and allow you to move or position your screens however you want.
Compatible Workout Equipment
Most programming-heavy fields like gaming make their practitioners feel like they have to choose between staying in shape and getting ahead in the industry. But you don't have to pick either. You can get the best of both worlds if you have a standing desk.
The only caveat is finding exercise equipment that complements your standing desk. Here are a few ideas to get you started on the road to fitness:

An Under Desk Bike
Under Desk Bikes and standing desks pair so well that one feels empty without the other. With such fitness equipment, you can stay in step with your fitness goals and key productivity milestones. This is because under desk bikes also feature ergonomic seats in place of bike seats. That means you can also recline as you feel the burn.

Vibration Plate Exercise Machine
Soft drinks and trans fat foods are the stereotypical fuels that power most DEVs through tedious tasks. The problem is they contain additives that can clog up your arteries, especially if you don't have a workout regimen in place.
A Vibration Plate Exercise Machine offers a hack that can cut through all the grueling workouts that take you away from your workstation. These machines create waves that stimulate muscle contractions like you would experience if you did CrossFit or other cardio-intensive workouts.
The best thing is you'll be able to activate your metabolism and burn off all that bad fat from your system. As a result, you'll be able to increase lean muscle mass, bone density and experience higher cortisol levels that reduce stress.
Conclusion
If you've been struggling with an office-related injury or pain, it may be time to get a standing desk. Standing desks are proven to improve concentration and productivity while reducing the risk of developing chronic conditions like diabetes, high blood pressure, cardiovascular disease, obesity, and musculoskeletal disorders. As game developers work on their latest project in front of screens for hours at a time without breaks or proper posture, they need all the help that they can get!
Signs your body is telling you it's time for a change include constant fatigue when working long periods sitting down, feeling stiff after taking breaks from sitting still too long, or discomfort in your neck when looking up at computer monitors. We have provided some helpful tips for getting started on your journey to a healthier you. Feel free to add anything that went unmentioned in this brief article.