With new variants of the COVID-19, it seems like the pandemic's end is nowhere in sight. Vaccinations are rolling but while we are not trying to instill fear into your already tired spirits, the cases are still at a high. This is why this new COVID-19 variant has sent most of our families back home to us. Perhaps their workplace permitted them to work remotely. Perhaps our family and friends chose to return to their hometowns to be isolated in a lonely town where they have been working for quite a few years.
A far more integral aspect is that our families are protected and comfortable inside the household. Whenever folks are doing their school work and business, we get to enjoy quality time alongside each other. Eating dinners and trying to be certain our nearest and dearest are satisfied and motivated at work as they toil tirelessly for their career can also be addressed.
But maybe you want to take a step further? The practice of presenting and accepting goods is among the affection cultures. Is devotion never enough? This could appear superficial. Buying your significant others presents, on the other hand, might express towards them that you acknowledge what they are doing for their careers.
On the other hand, it could be an issue for individuals whose affection isn't measured by material possessions. But don't feel anxious; this list will show you how to choose the ideal things to buy your special someone in order to assist them towards an excellent future.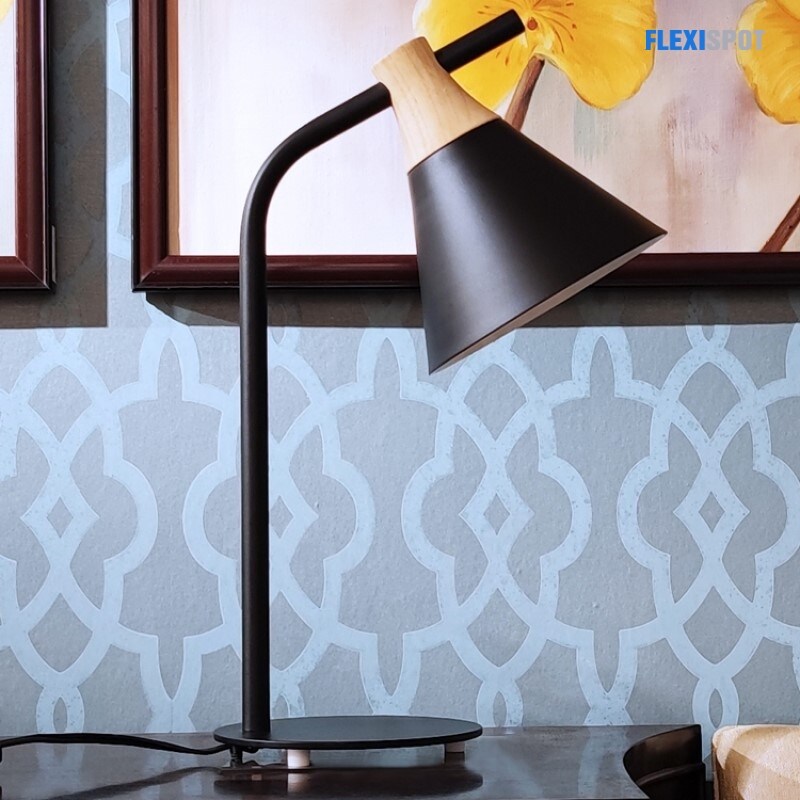 For Individuals Whose Faces are Their Money-makers
You can gift FlexiSpot's Modern Table Lamp TA1001 and Three-paneled Mirror With 2.3 Times Magnification and Led Light MR01 for the significant others whose face and stylish looks bring in tons of cash and adoring fans.
Applying cosmetics in a poorly illuminated environment is indeed a bad move when it concerns making impeccable images. That's why the LED lighting that surrounds these paneled mirrors is a treat for anyone who would like to accent out their proportions and features.
Although the LED can undoubtedly assist everyone who works as a multimedia star, having an extra source of light will allow them to produce visuals with higher resolution. Every look will indeed be a proven double-tap delight once they publish their videos and images with FlexiSpot's Modern Table Lamp TA1001.
These two brilliant gadgets are a must-have for the household's influencer.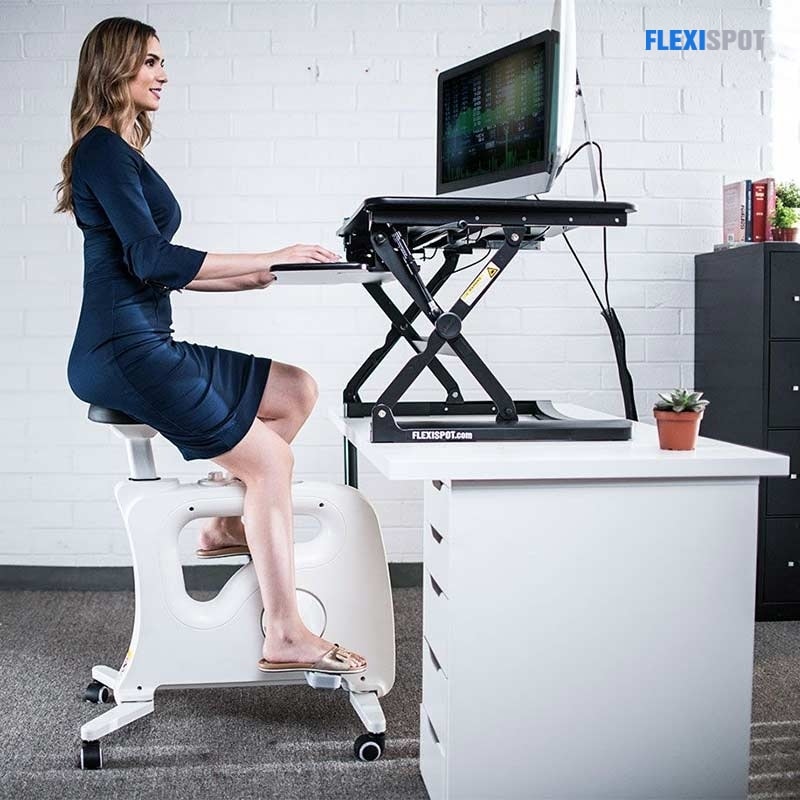 The Perfect Match for the Fitness-Obsessed Individual
The FlexiSpot Under Desk Bike V9U — Best Standing Desk is what every fitness junkie needs while they work remotely at home.
Maintaining exercise goals can be difficult if a significant other is preoccupied with job responsibilities. And that is precisely the reason why you have to try all possible options to keep them focused and engaged for any task they may have at home. Grab the Under Desk Bike V9U — Best Standing Desk Mate as a surprise for your busy partner! This nifty desk seat will truly make their jaw drop and their fitness on the rise. Including its changeable complexity settings that can be modified according to the person's whim, the cycle that will always be at your disposal also provides the perks of a normal spin bike. The absence of a backrest allows more air to infiltrate your significant other's garments, allowing them to remain cool while also exercising. As a result, the deserving staff has a more pleasant and convenient workplace.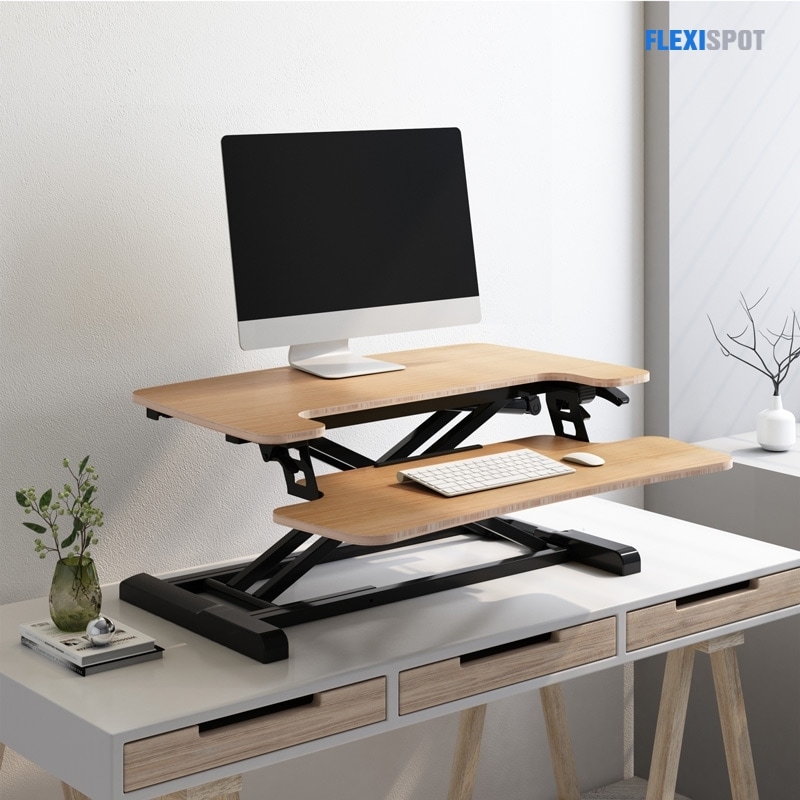 The Professional Tastemakers
Consider giving your partner the FlexiSpot AlcoveRiser Bamboo Standing Desk Converters- 28"/35".
Such employees value having a beautifully pleasant workspace.
This charming and elegant standup table converter blends in wonderfully with a modern workplace, causing no inconvenience to your adored person.
Since this mixes the splendor of bamboo with the stylishness of black, there's no reason to think too much about how to have this attractive standup table converter seem coherent with your family members' office.
A messy table is therefore not an issue since the ergonomically designed standup desk converter can hold whatever your spouse requires, such as markers and documents. With all of this in consideration, it can be used to turn any type of fixed workstation into a standing desk.
Maybe you are concerned that the AlcoveRiser Bamboo Standing Desk Converters- 28"/35" will not be able to support equipment larger than 17 inches. There's no reason to be concerned since this workplace desk can accommodate all. Isn't it a good bargain to give to your diligent family member?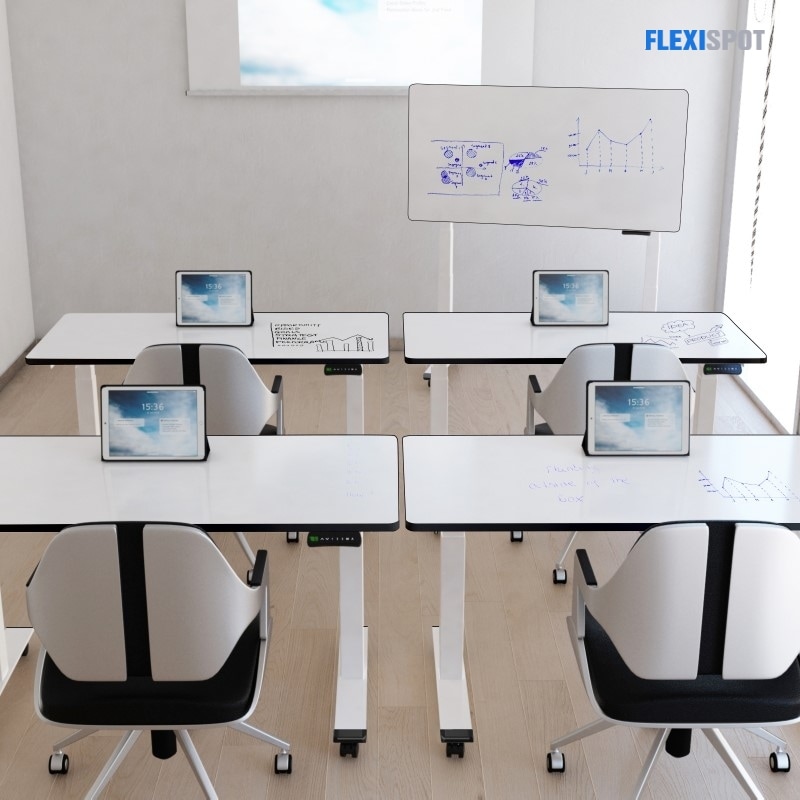 The Quick-Witted Entrepreneur with Tons of Innovative Ideas Needs this Table
The best present you could give them is the FlexiSpot Height Adjustable Whiteboard Standing Desk.
The 2-in-1 Whiteboard Standing Desk is the result of combining a normal desktop table with a drawing board. This design is fantastic for this entrepreneur's fast-paced, speedy, and results-oriented strategy.
The premise that thoughts are immediately documented is also what distinguishes this standing desk from the competitors. When inspiration strikes, it's like a bolt from the skies. Your significant others could jot down their innovative ideas straight on the board. Furthermore, thanks to the PET high-gloss material utilized in the table, this equipment is extremely washable. 
The Height Adjustable Whiteboard Standing Desk also offers an effortlessly adjustable height capability thanks to the three customizable presets from the keypad. It even has an environmentally-friendly LED panel that indicates the desk's precise elevation. Your beloved partner can also arrange notifications to encourage them to rest or rise on a frequent basis, which is a pleasant accessory. Additionally, reminders can be turned off during voice calls. 
Blessing your significant others with the perfect gift may become a stressful affair, particularly if you are unsure of what will bring them happy smiles. To simplify things for you, keep in mind that it's the sentiment that matters and what smarter way to express and demonstrate it than with items they'll enjoy for a considerable period.